Life Style
Experience all kinds of vehicles, beautiful scenery that even adults like to say to children
Summer is coming, take advantage of weekends or holidays, let's take your children out to play. The trips not only help children discover new things, experience the wonderful nature, but also help strengthen family bonds. Below is a detailed review of Mr. Tran Thanh Tu (32 years old), the father of baby Cam (2.5 years old) about the family trip to Cat Ba by train lasting 4 days and 3 nights, departing from Hanoi.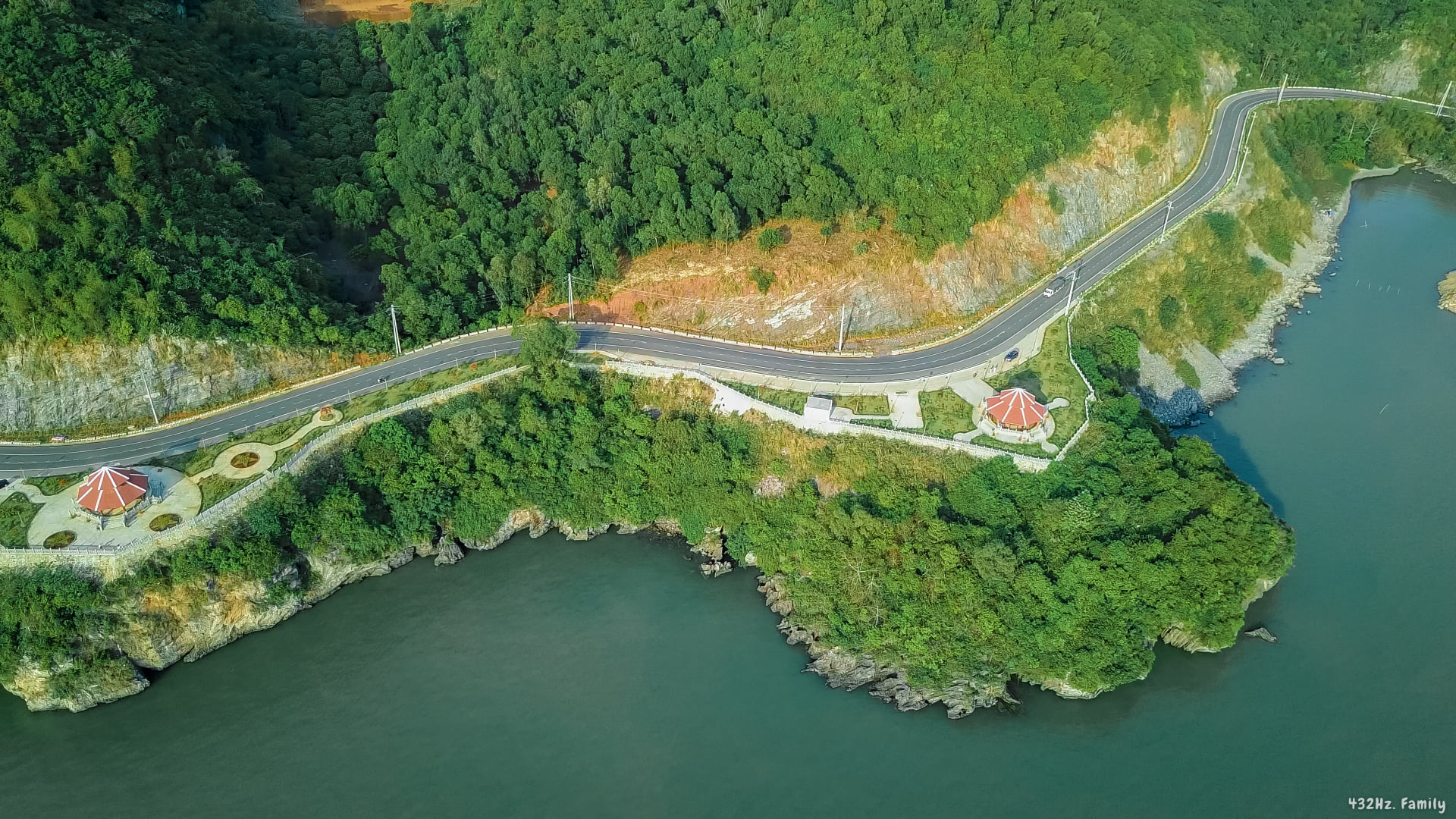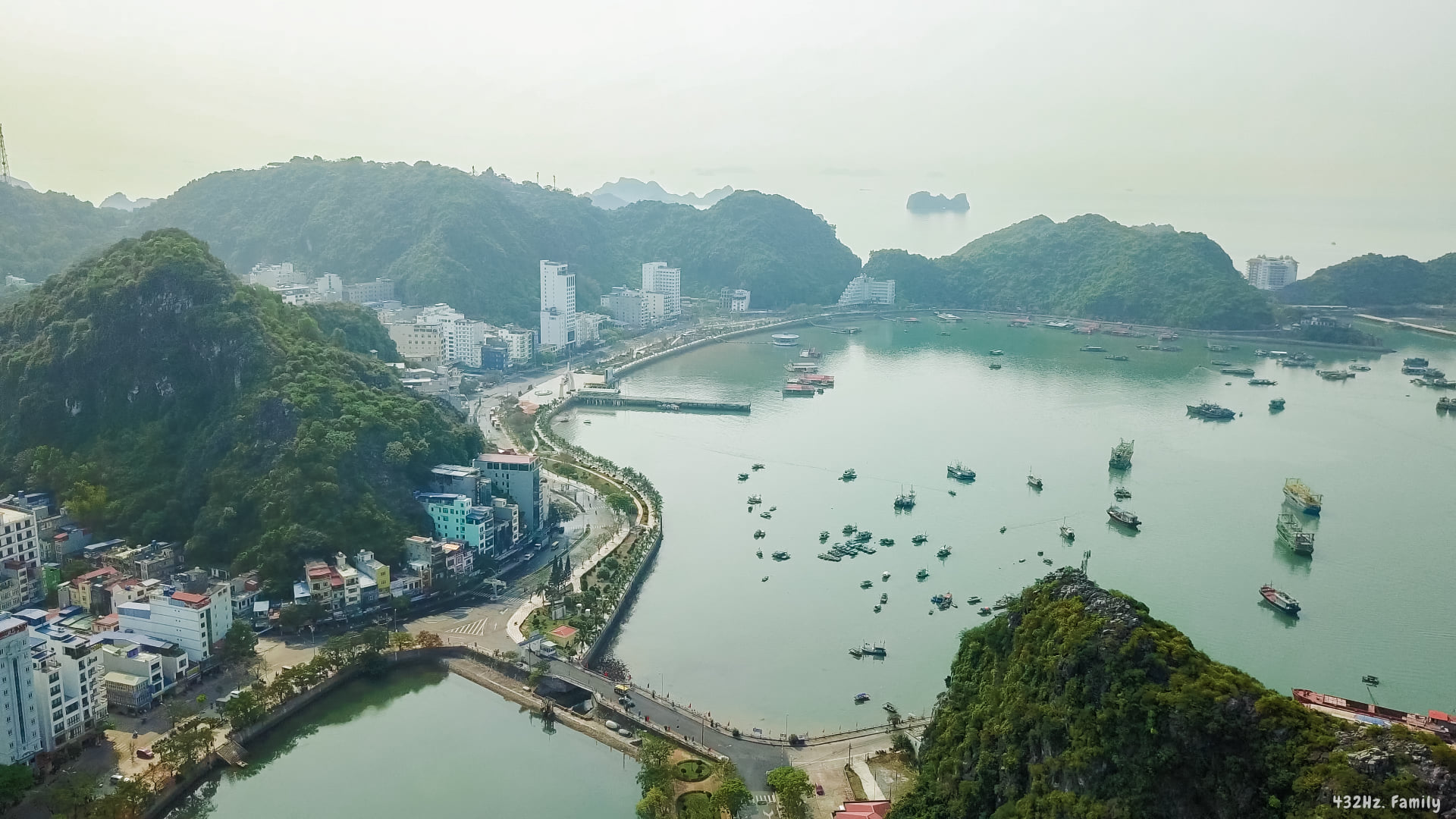 MOVE
Moving Hanoi – Cat Ba: train and taxi
From Hanoi to Hai Phong, parents can go from Hanoi station (all days of the week) and Long Bien station (from Monday to Friday). My house goes from Long Bien station, the LP3 train departs at 9:30 am, arrives in Hai Phong at 12 am.
All passenger cars of this train are air-conditioned soft seats, the fare (round trip) for adults is 178k/person, children under 6 years old are free if sitting with their parents, but for comfort, the mother buys a seat. exclusively for Cam with a ticket price of 134k/one-way ticket.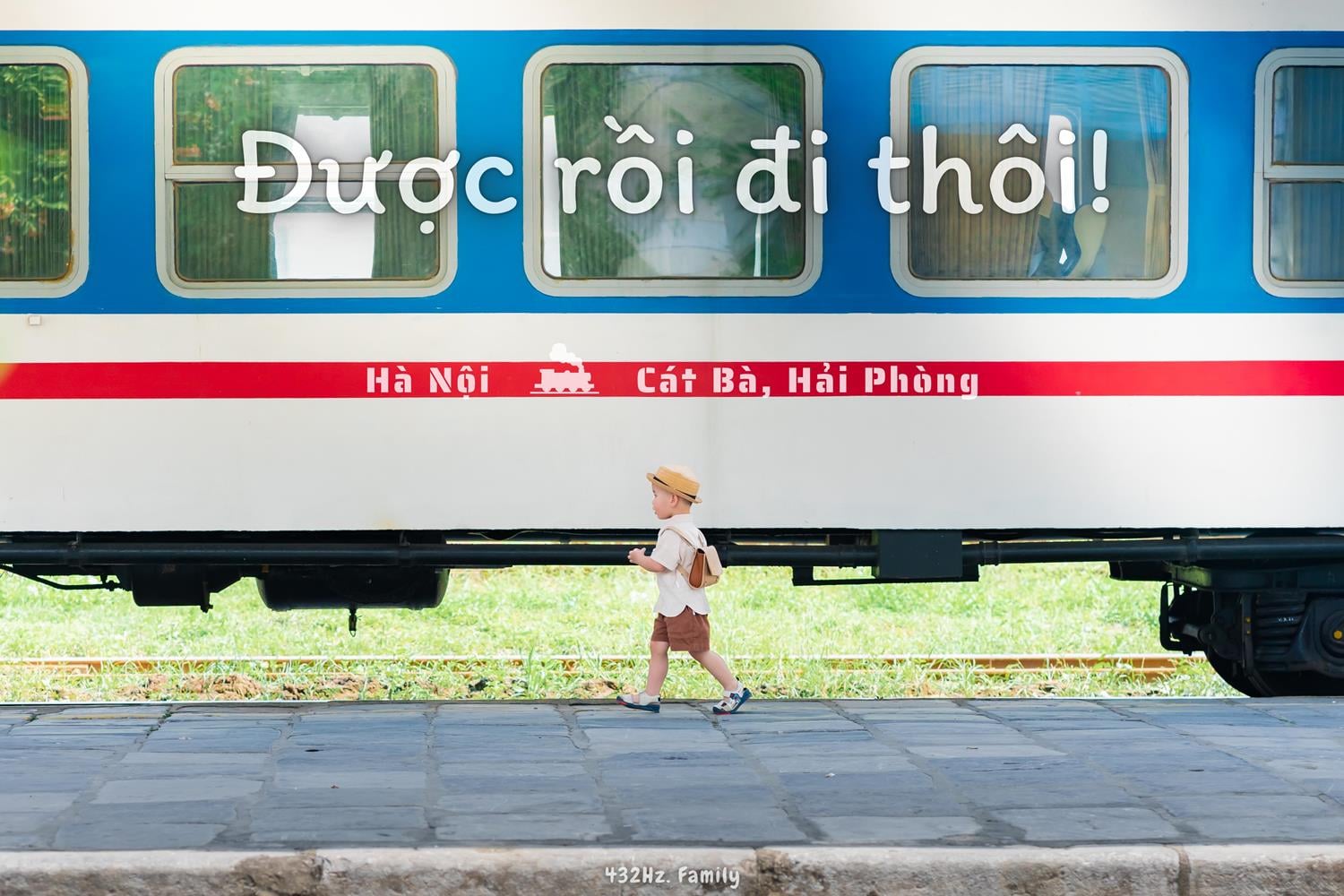 Although the train is not new, it is quite clean, with a luggage compartment above, an electrical outlet and a hanger; The bathroom is small but clean. On the train, there are banh gio, gai cake, tea, coffee, coconut tea, snacks, snacks… The downside is that the train is a bit shaky and noisy, but the little guy who gets to ride the train for the first time is jubilantly, engrossed in watching the whole way without sleeping at all.
12h train to Hai Phong station. My family had lunch at a restaurant near the station. Here, they sell rolls, Hue spring rolls, clean and delicious food.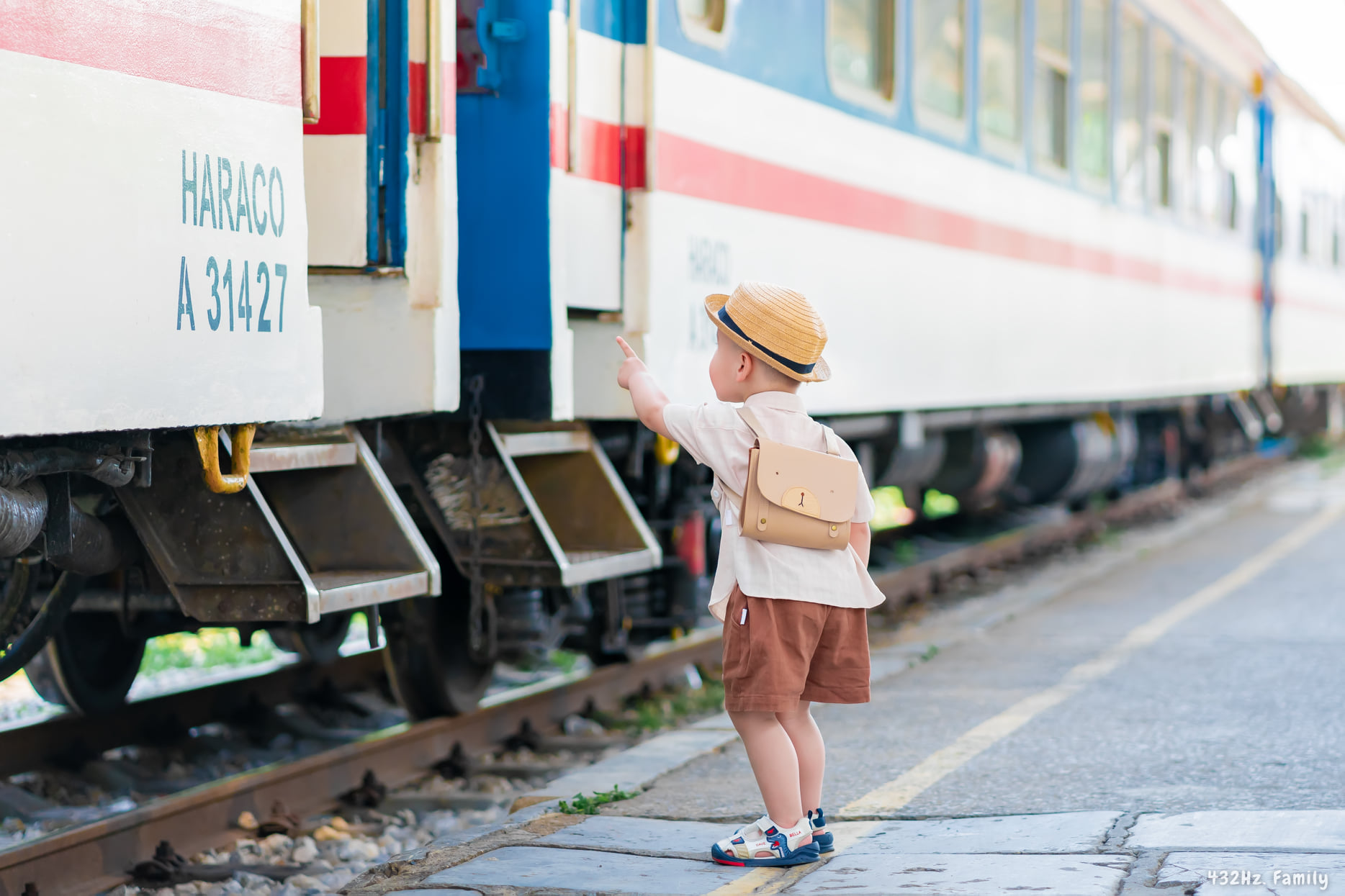 After lunch, around 13:30, we left for Cat Ba. From Hai Phong, parents can take a bus/coach at Ben Binh, then take a cable car or ferry across the sea to Cat Ba. At home, I call a taxi to take the initiative in time and save me from having to drag things. Taxi price for one-way Hai Phong – Cat Ba is 1,600k including ferry ticket.
If traveling by private car from Hanoi, parents just need to follow google map to Got Ferry Wharf and then take the ferry for 15-20 minutes to Cai Vieng Wharf and move to Cat Ba center (about 23km). Total travel time by private car takes about 3h – 3h30 minutes depending on traffic situation and waiting time for ferry.
In addition, there are quite a few shuttle buses from Hanoi to Cat Ba such as Cat Ba Discovery… fares from 250k, parents learn more.
Moving in Cat Ba: motorbikes and electric cars
Cat Ba has trams running everywhere, parents just need to wait along the road for a car to pass. The price of the tram going to the beach and around the town is 10k / person / time, in addition, you can also go to any other place on the island with a negotiable price. The drivers are very comfortable and friendly.
The roads are beautiful and convenient, so Cam rides a tram to the beach, while going around, his parents drive him by motorbike. Motorbike rental is 100k/day, you can rent it yourself or ask the homestay/hotel to call for help.
REST
Cat Ba has many homestays, hotels, resorts… Cat Ba town is small, so it's convenient for parents to stay anywhere. Cam's house went close to the day and determined the time to go outside is the main, so her mother chose a beautiful homestay on Tung Dinh street, near Tung Thu beach.
Homestay is right at the entrance to the town, located in a residential lane so it is not noisy, the owner and your parents are super friendly and lovely.
If you want to stay luxurious, parents can book a room at Flamingo Cat Ba, located on Cat Co 2 beach or MGallery in Cat Co 3, room rates from 2.5 million/night.
PLAY
Go to the beach
Cat Ba has beaches: Cat Co 1, Cat Co 2, Cat Co 3, Tung Thu beach (beach no. 4). In my family, Cat Co 3 has the cleanest sand and the most beautiful beach, Tung Thu beach is quieter but the sand is not as clean as the other beaches, so even though it's right next to Tung Thu, Cam often goes to Cat Co 3 to play the most.
There is no fee to enter the beach, but to rest, it costs 200k / sun umbrella, 30k bath / person, 5k / person to go to the toilet.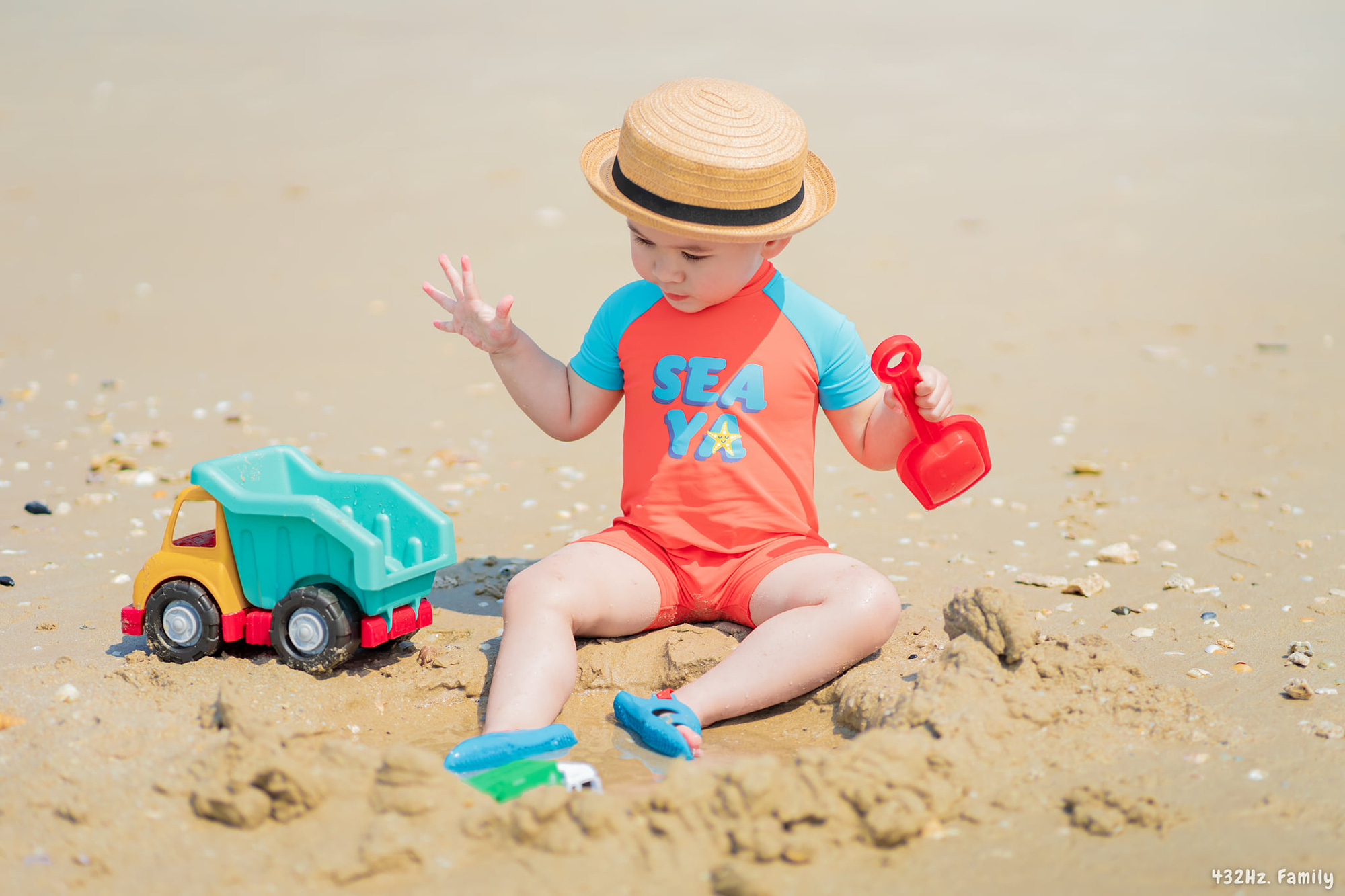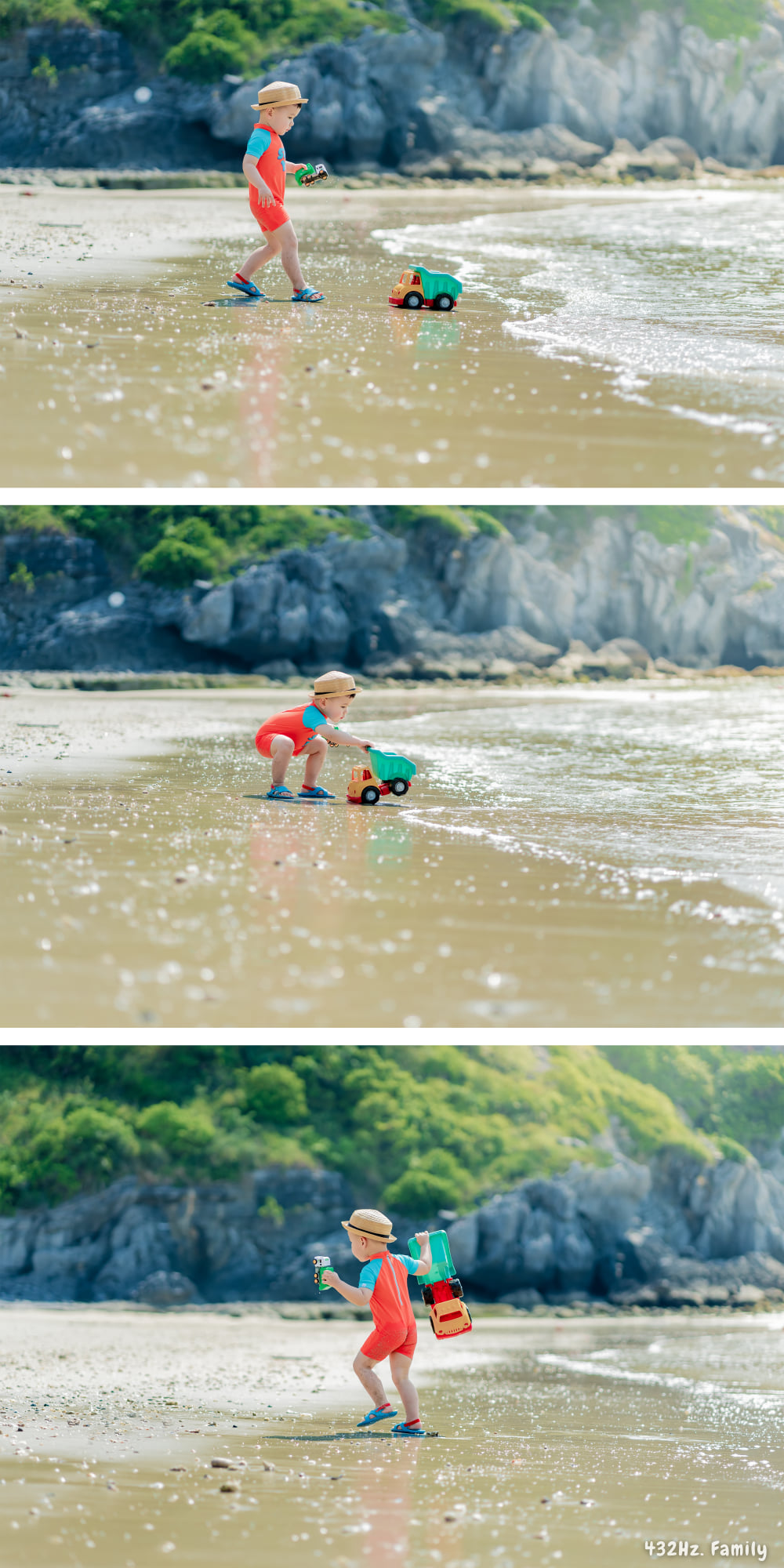 Watch the sunset on the coastal road
Because we were fascinated by the view of the sun on the sea from the moment we took a taxi into town, the very next day we rented a motorbike to go back up to watch the beautiful sunset with Cam.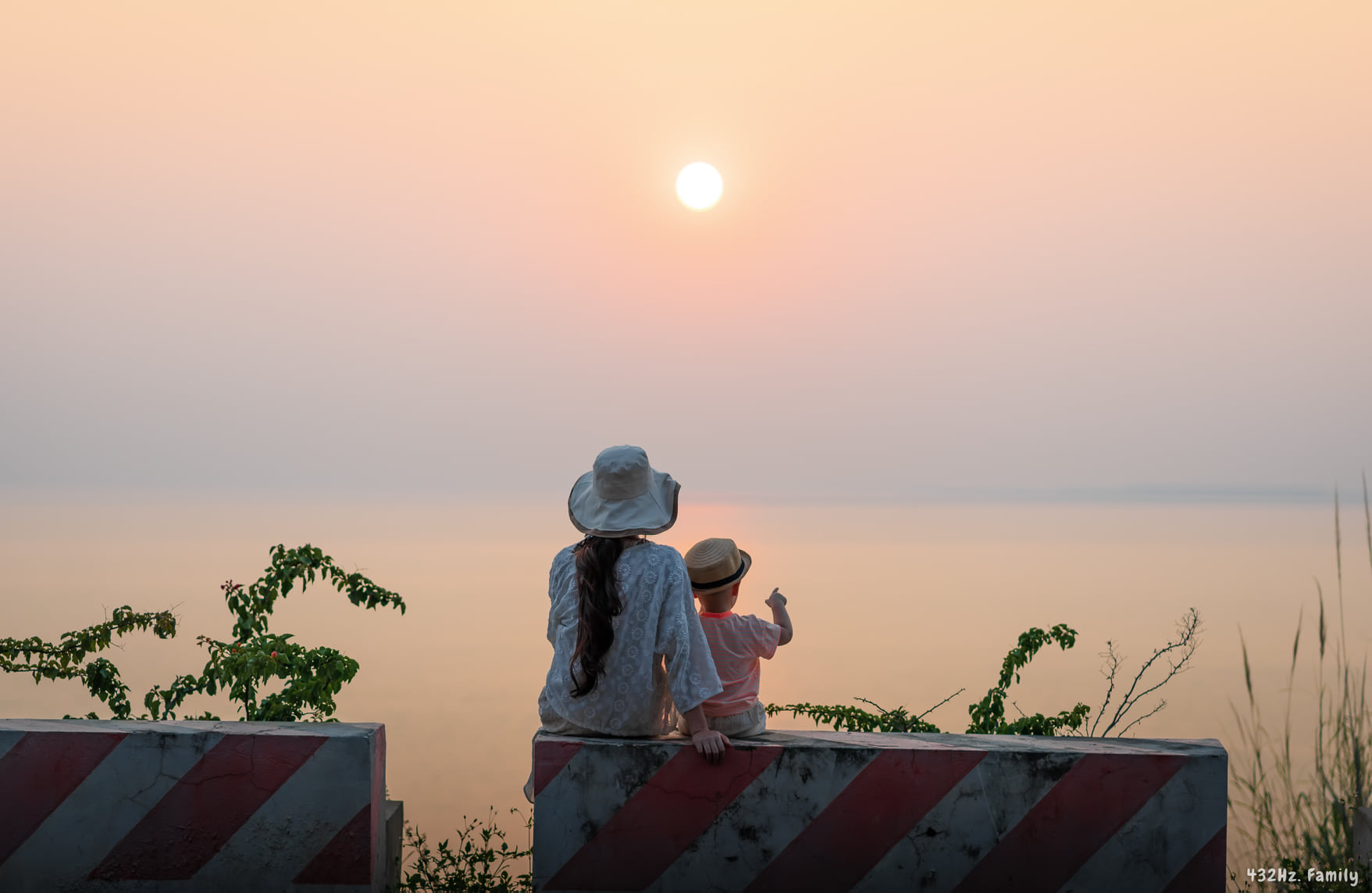 The scenic spot is about 12km from the town, quite far, but Cam can also ride a motorbike and sing along the way. Along the coastal road, there are vast grasslands where people graze a lot of goats. Cam has been able to fly kites, play with grasshoppers and goat friends… really don't want to go home.
Explore Viet Hai fishing village
To go to the fishing village, parents will need to take a wooden boat or canoe from Cat Ba island. According to my family, here the children can cycle to visit the ancient fishing village, try the feeling of "fish massage", explore the Cat Ba national forest…
Viet Hai fishing village was originally an intended destination on our family's trip this time, but both parents and Cam were so addicted to the beach that they didn't have time to visit, will definitely visit next time!
In addition, parents can book tours to visit the bay and islands. This time, my family spends a lot of time breathing and enjoying, so I don't move much, next time I have the opportunity to buy a tour to visit around.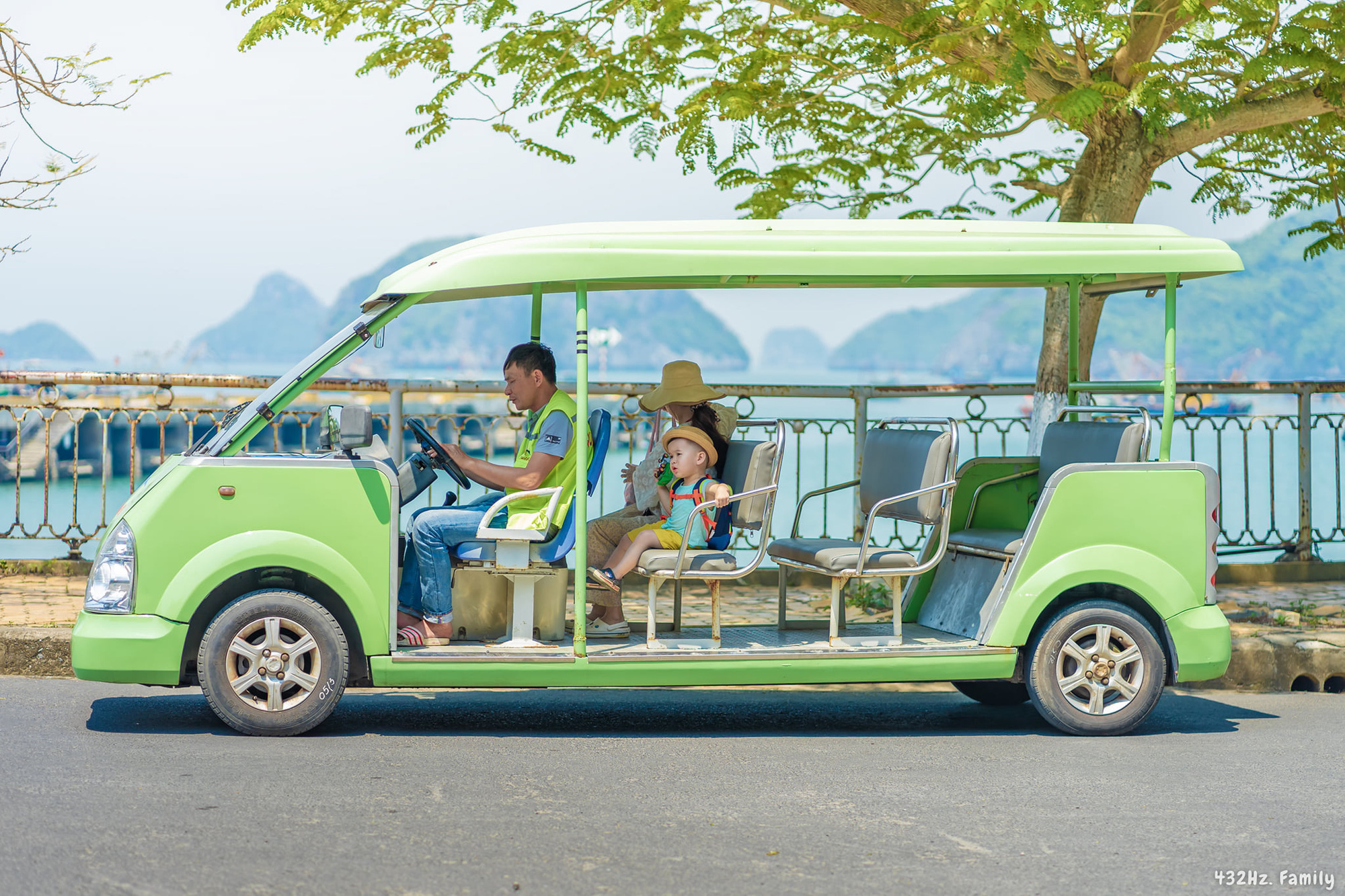 EATING
Cat Ba has many restaurants and eateries with many prices. Fortunately, my homestay also has a food service, so I order food here. The food is super plentiful, fresh and the price is almost half of what it is to go to a restaurant.
If you don't want to eat at home, you can try restaurants such as Thuy Anh Grilled Hot Pot, or the rice stalls in Cat Ba market, which are also appreciated by many people.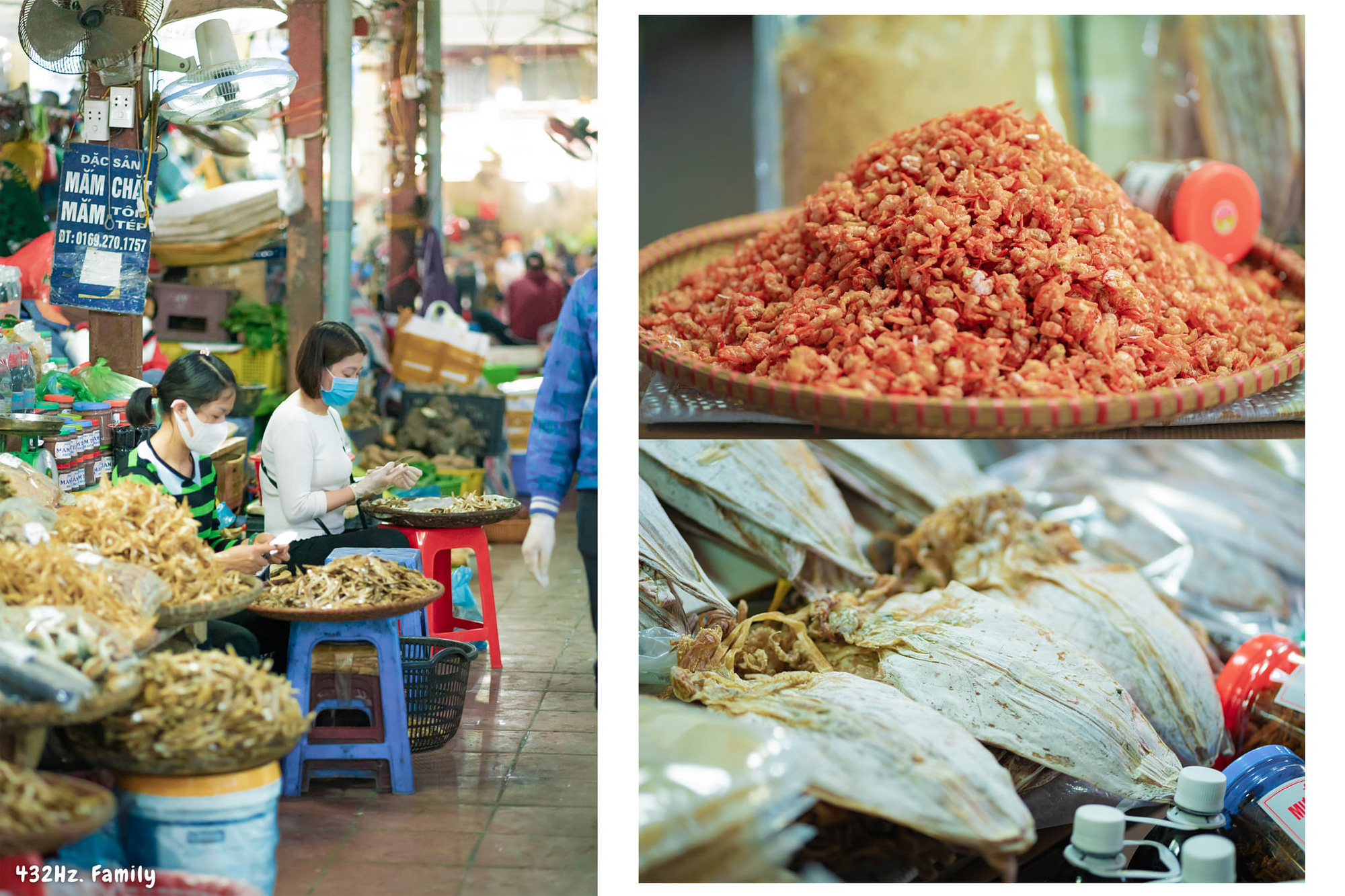 SUMMARY OF THE TRIP
Cam has a lot of experience with transportation: trains, taxis, ferries, trams and motorbikes.
Going by train is an interesting experience, but it takes a bit of time to travel, so next time perhaps the whole family will drive by themselves to have more time to play and more convenient to move on the island.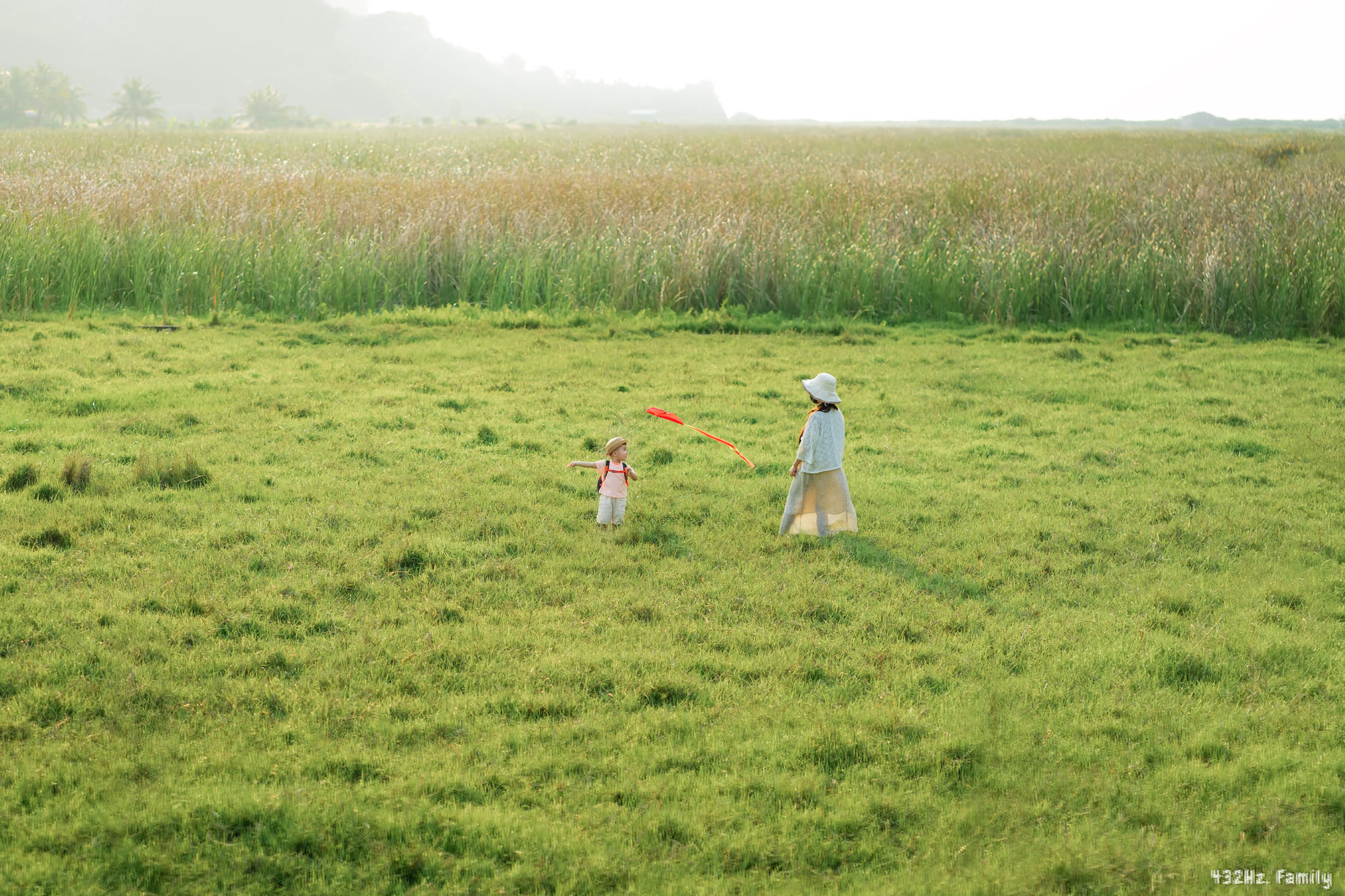 Cat Ba is usually crowded from May to September, my family goes to April so everything is relaxed and comfortable, the weather is cool, not too hot, but still warm enough for children to play in the water as much as possible.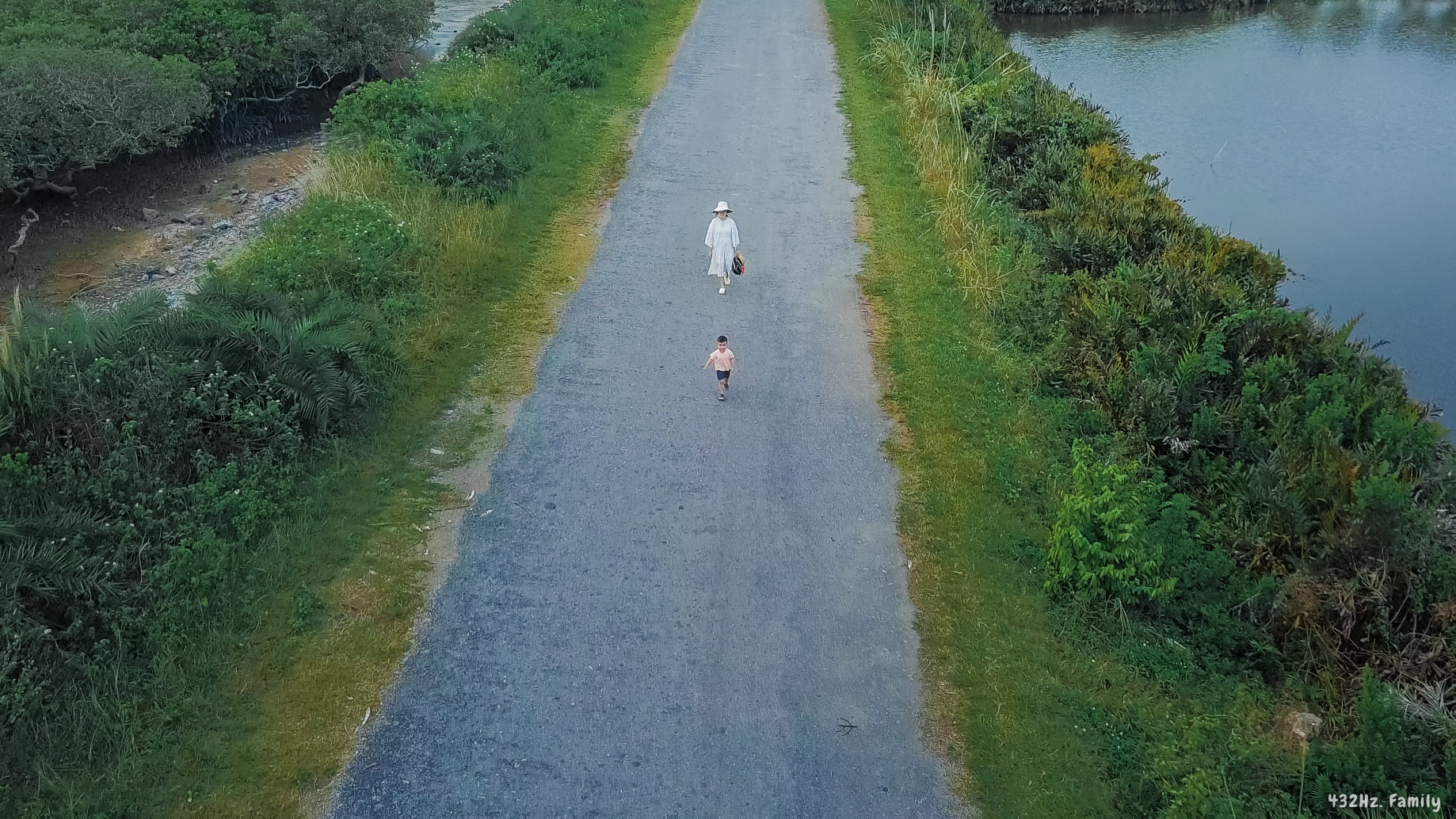 The town is touristy, so it is inevitable that there will be hustle and bustle at the service points, but in general, the ladies and gentlemen here are all very friendly, happy, during our journey, we did not encounter anything uncomfortable.
The biggest holiday of the year is coming, wishing all the small families a wonderful trip!
https://afamily.vn/chuyen-di-cat-ba-4-ngay-3-dem-bang-tau-hoa-cua-em-be-25-tuoi-trai-nghiem-cac-loai-phuong- Tien-canh-vat-dep-me-den-nguoi-lon-con-thich-noi-gi-tre-con-20220427124208007.chn
You are reading the article
Experience all kinds of vehicles, beautiful scenery that even adults like to say to children

at
Blogtuan.info
– Source:
Afamily.vn
– Read the original article
here