Giải trí
Minh Hoang tells the story of 'sweating, red face' when paired with Quynh Nga
Minh Hoang is receiving the audience's attention with the role of Hao in the movie "Ex-husband, ex-wife, ex-lover". In the movie, Minh Hoang is paired with "crocodile queen" Quynh Nga. According to the actor's share with Tien Phong, the sister-sister couple promises to bring many interesting and interesting details to the film.
Having won many titles such as Fashion Star, Hoa Student Icon and being the winner of a reality TV show, does Minh Hoang feel that he possesses many advantages to become a famous actor?
Minh Hoang's simple concept is: famous or not, we must also try our best at work. Of course, everything takes a little luck. It's a pleasure to be a famous actor.
What does the role in Ex-husband, ex-wife, ex-lover mean to you? How much do you rate yourself and the character Hao in the movie?
The role of Hao in Ex-husband, ex-wife, ex-lover is not the first TV role that I take on. But this can be considered the longest role that Minh Hoang has ever played. Previously, I played a bodyguard in the movie Quynh Doll and a small role in Sinh/Death.
This time, my character is a straight guy, think about it. Hao is extremely warm, sometimes even very lovable. This character also has a lot of similarities with me in real life.
Minh Hoang plays Hao – Vu's younger brother (Chi Nhan) in Ex-husband, ex-wife, ex-lover.
What do you think when you pair up with a beautiful, charming and experienced senior like Quynh Nga?
When working with Quynh Nga, I feel very comfortable. Actress Quynh Nga is a serious person at work but always gives me a very friendly and open feeling. The two sisters always take advantage of the exchange to have the best and most satisfying segments on the film.
That said, but to be honest, Hoang was also quite nervous when filming emotional scenes with Quynh Nga. Maybe it's because the way I address myself in the movie makes me a little shy (laughs). The character Hao and "big sister" Minh Minh (Quynh Nga) will have attractive and interesting segments in the next episodes of the film.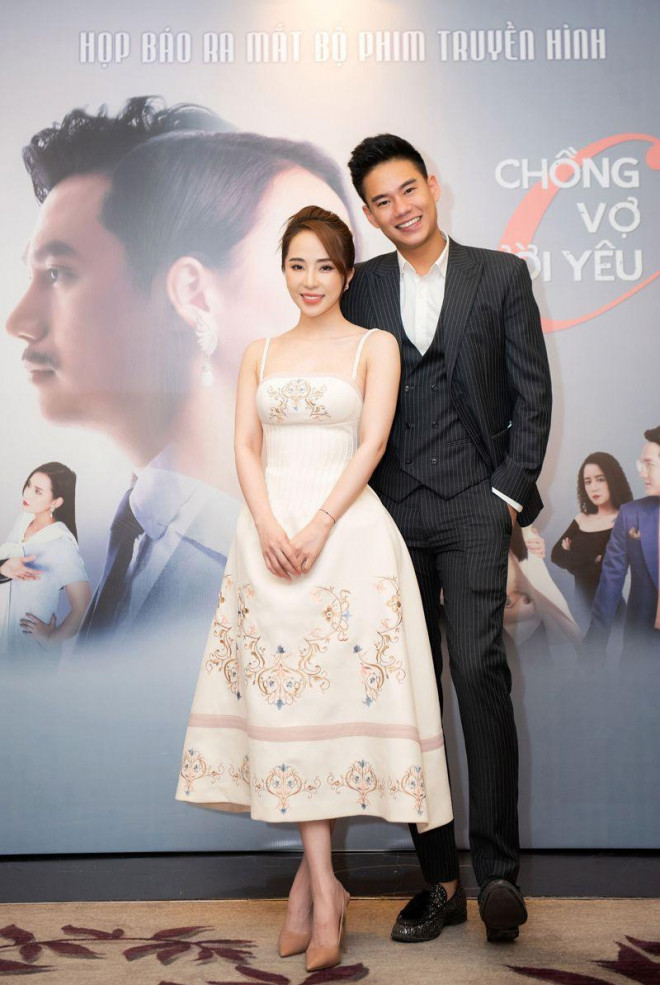 The love story of Quynh Nga and Minh Hoang makes the film interesting.
Do you have any fond memories of filming this movie?
In addition to actress Quynh Nga, in the film, Hoang has many scenes with Meritorious Artist Quang Thang (as Mr. Tien – Hao's father) and actor Chi Nhan (as Vu – Hao's brother). Especially when acting together, Meritorious Artist Quang Thang helps me get very natural emotions.
I am also an emotional person with my family, especially my father. When I played with Meritorious Artist Quang Thang, I felt as authentic as with my father in real life.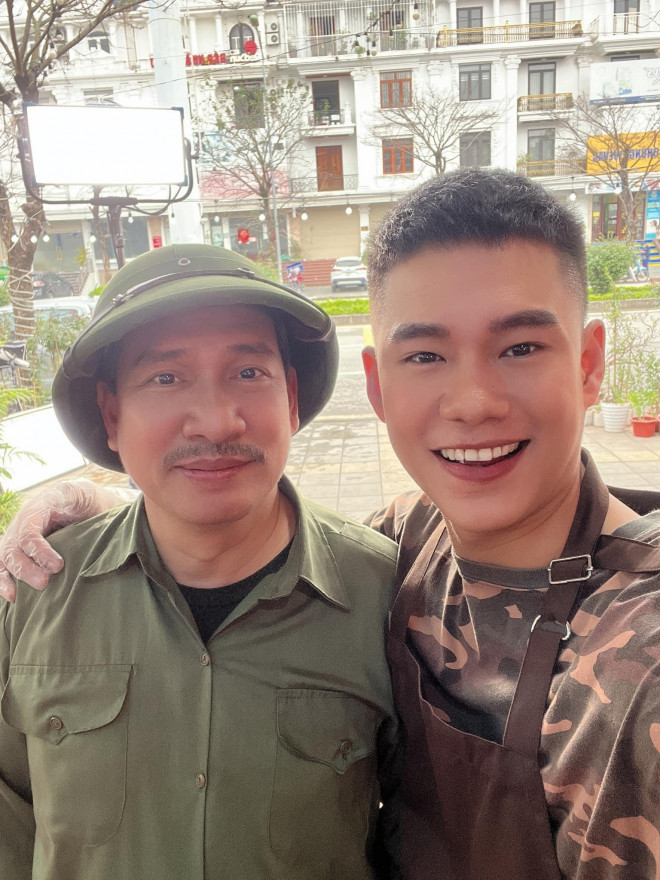 Minh Hoang and "father" – Meritorious Artist Quang Thang in the backstage.
Ms. Quynh Nga and Mr. Chi Nhan are also two experienced actors and helped Hoang a lot in the filmmaking process.
I have a very memorable memory when filming with actress Quynh Nga. When filming the emotional segments, even though the weather in Hanoi was very cool, for some reason I was sweating profusely and my shirt was wet. At that time, my heart was still beating very fast, and my face was red. The feeling is indescribable (laughs).
In real life, if you have to deal with old people appearing, how will you react?
I have encountered many cases of "old people" appearing in my life. This situation is probably also very emotional and especially very awkward. But for those who have gone through his life, Minh Hoang has a certain respect. All will certainly be solved in an easier, simpler way, unlike in the movies (laughs).
As a model, MC, and acting in a TV series, your income must be stable. Hoang intends to continue to work and devote at the Drama Theater?
Vietnam Drama Theater is the place where my dreams and passion for art give wings to. I never thought about leaving the theater. I studied for 4 years at the University of Theater & Film, acting is still the most important to me. When I was at school, my homeroom teacher was the late People's Artist Anh Tu. He was like a second father to me, instilling in me passion and teaching me the first lessons in the profession.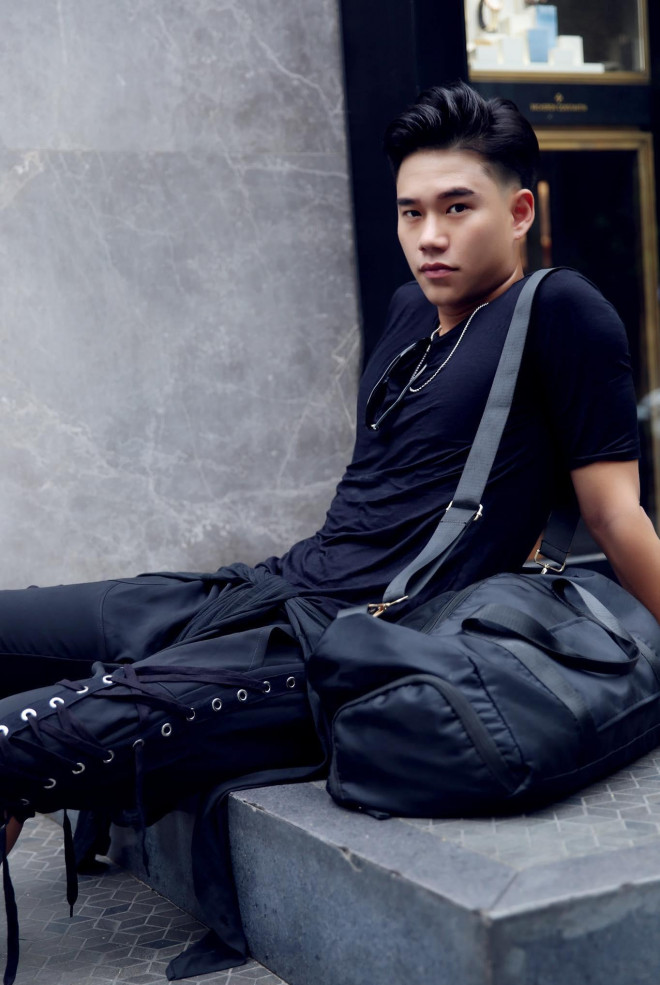 Quynh Nga's "Baby Sugar" is also known as a model.
Although he has taken on many roles, Minh Hoang sees them as challenges for himself, so that he can constantly strive and improve. In addition, I also have an interest in business and am doing business in several fields.
Hopefully in the future, the audience will accept Minh Hoang's new roles so that Hoang has more motivation to try his best.
You are reading the article
Minh Hoang tells the story of 'sweating, red face' when paired with Quynh Nga

at
Blogtuan.info
– Source:
24h.com.vn
– Read the original article
here