Thế Giới
QUICK READING May 2nd: The First Lady of the United States visits Romania and Slovakia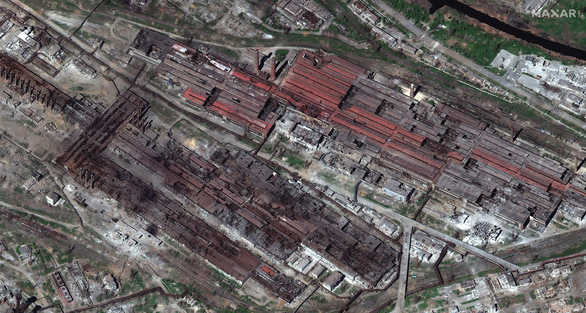 Satellite image shows the extent of destruction at the Azovstal steel plant in Mariupol, Ukraine, on April 29 – Photo: REUTERS
* Tass news agency quoted the 2-5 pm announcement of The Russian Defense Ministry said that Russia shot down 10 drones and 1 MiG-29 fighter of Ukraine on 1-5. The Russian side also attacked 38 "military targets" in Ukraine with high-precision air-to-ground missiles. The representative of the Russian Defense Ministry did not mention the information that Ukraine claimed that its drones had sunk two Russian patrol boats in the Black Sea on May 2.
* According to CNN, Speaker of the US House of Representatives Nancy Pelosi met with Polish President Andrzej Duda in Warsaw on May 2 to discuss ways to further support Ukraine. The visit comes shortly after Ms. Pelosi made an unannounced trip to the Ukrainian capital Kiev on April 30, making her the highest-ranking US official to meet President Zelensky since the outbreak of hostilities.
* According to Reuters news agency, in an announcement on Telegram on May 2, Ukraine's military commander-in-chief Valeriy Zaluzhniy announced that a Ukrainian Bayraktar drone had sank two 17m-long patrol boats of the Russian Raptor class. The incident happened on the same day of May 2 in the Black Sea in the waters near Snake Island. The Russian side has not yet commented.
Earlier, The Guardian newspaper quoted the statement of the General Staff of Ukraine saying that Ukrainian soldiers had discovered a number of Belarusian military units near the border and warned that there is a possibility that Russia will continue to attack targets in the country. Ukraine from gathering points in Belarus. Also in the statement, the Ukrainian side claimed to have repelled 10 Russian attacks in the Donbass region, destroying 2 tanks, 17 artillery systems and 38 Russian armored vehicles.
* In an email sent to Reuters on May 2, the Government spokesman Hungary Zoltan Kovacs emphasized the country's perseverance protest against the European Union's ban on Russian oil and gas imports. Previously, there was information that the EU was preparing to ban the import of Russian oil according to the schedule that will take effect from the end of this year.
* According to AFP news agency, the war in Ukraine will overshadow the visit to Germany, Denmark and France by Indian Prime Minister Narendra Modi from 2-5. According to the Indian side's announcement, Modi will meet German Chancellor Olaf Scholz first, then go to Denmark for the India-Northern Europe summit and visit France to meet President Emmanuel Macron.
* In an interview with Australia's 60 Minutes program broadcast on May 2, Ukrainian President Zelensky accused Russia of trying to block the country's economy. According to him, Ukraine could lose tens of millions of tons of grain because ports in the Black Sea have been blocked by Russia. The Ukrainian leader warned that this would lead to a food shortage crisis in many parts of the world.
* In an update on the military situation in Ukraine broadcast on Twitter on the afternoon of May 2, the British Ministry of Defense said that Russia has deployed 120 battalion-level tactical groups, accounting for about 65% of the strength of the ground force. However, about a quarter of these have "lost the ability to fight effectively". These units and some elite forces, including paratroopers, will take several years to restore to their former glory, according to the UK Ministry of Defense.
* CNN reported from the Mariupol City Council of Ukraine that the government will continue to evacuate citizens in Mariupol on 2-5, starting at 8am local time. On the night of May 1, the evacuation of citizens was suspended due to security issues.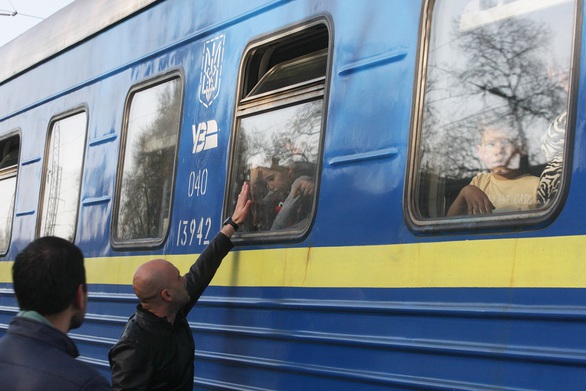 Ukrainian refugees board a ship from the port city of Odessa, Ukraine to Poland on April 25 – Photo: REUTERS
* South Korea's Foreign Ministry said that its top envoy to Ukraine and some embassy staff have returned to Kiev to resume activities at the embassy, ​​starting from May 2, according to Yonhap news agency.
South Korea had to evacuate its embassy in the capital Kiev to a temporary office in the city of Chernivtsi, western Ukraine, in March 2022 after Russia launched a military operation in Ukraine. So far, more than 20 embassies of other countries have resumed operations in Ukraine after being evacuated due to the previous war situation.
* May 1, Office of America's First Lady Jill Biden tell her will visit Romania and Slovakia from May 5 to 9. During the trip, she will meet US service members, US Embassy staff, humanitarian aid workers, teachers and Ukrainian refugees.
* Mr. Vyacheslav Gladkov, governor of the region Belgorod of Russia, the update on the social media account said There were 2 explosions out early in the morning on May 2nd in this locality. Belgorod is an area in the south of Russia, bordering Ukraine.
"There were no casualties," Mr Gladkov wrote. He did not say what caused the explosion.
* Chairman of the US House of Representatives Intelligence Committee, Congressman Adam Schiff, on April 30 said that the U.S. president Joe Biden to visit Ukraine 'it's only a matter of time'. Adam Schiff was part of the delegation accompanying House Speaker Nancy Pelosi during a visit where Ms. Pelosi affirmed her support for Urkaine's fight.
"I think the President's visit is being studied and it's just a matter of timing," Schiff told CNN.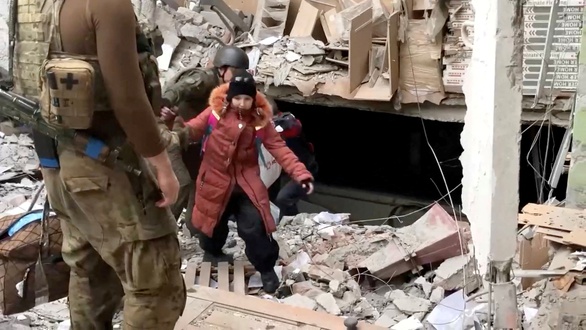 Image of people being taken out of the Azovstal factory underground in Mariupol in the video broadcast on May 1 – Photo: REUTERS
* Denmark and Sweden summon Russian ambassadors on May 1 after accusing a Moscow spy plane of violating the airspace of these two countries. AFP news agency quoted officials from both countries as saying that the Russian plane entered Danish airspace on April 29 and then entered Sweden. Denmark said it sent two F-16 fighter jets to intervene.
The Swedish Foreign Ministry said in a statement that it carried out the summons in accordance with the diplomatic protocol inherent in such violations. The Danish side made the announcement a few hours before Sweden.
A week ago, the newspaper Expressen of Sweden, citing two government sources, said that two neutral Nordic countries, Sweden and Finland, could apply to join NATO in mid-May, coinciding with the time of the Finnish President's visit to Stockholm. Lan Sauli Niinisto.
Meanwhile, the sheet Iltalehti Finland has "made a request to both countries to jointly express their readiness to join" the NATO military alliance on the same day.
* Ukrainian President Volodymyr Zelensky said, About 100 Ukrainian civilians were evacuated from the Azovstal steel plant in the city of Mariupol on May 1after the United Nations confirmed "safe passage operations" were taking place here.
"For the first time, there was a two-day cease-fire in this territory and we were able to remove more than 100 civilians, women and children," Zelensky said in his daily video broadcast on the night of May 1.
The first evacuees will arrive in the Ukrainian controlled city of Zaporizhzhia on Monday morning, May 2. Zelensky said the evacuation would continue on May 2 if conditions permit.
Russia's Sputnik news agency also reported that 80 civilians had left the Azovstal plant at the initiative of Russian President Vladimir Putin. Those who left said about 300 civilians were still trapped here. Earlier, on April 21, Russia announced that it had "liberated" Mariupol.
Meanwhile, CNN quoted a Ukrainian commander in Mariupol as saying that the area of ​​the Azovstal steel factory complex continued to be attacked.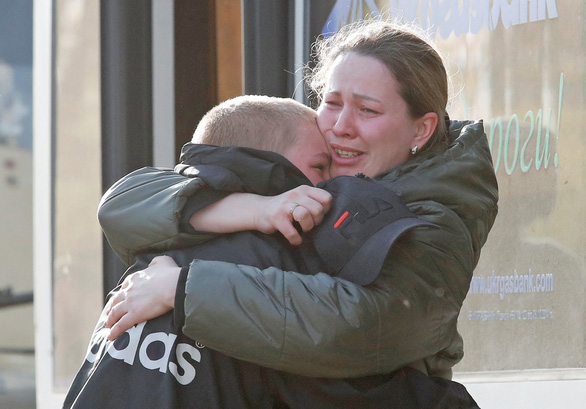 A mother evacuated from the Azovstal factory underground in Mariupol meets her son at a shelter in Bezimenne in the Donetsk region of eastern Ukraine on May 1 – Photo: REUTERS
* Speaking on Italian television on May 1, when asked if May 9 would mark a turning point in the Russia-Ukraine conflict, Russian Foreign Minister Sergei Lavrov affirmed: "Our soldiers I won't base their actions on a specific date."
"We will celebrate our victory with solemnity, but the timing and speed of what is happening in Ukraine will depend on the need to minimize the risk to Russian civilians and soldiers," Lavrov said. .
Russia is scheduled to parade on Red Square in Moscow on May 9, the anniversary of the defeat of Nazi Germany.
Lavrov also affirmed that Russia is working to prevent nuclear war. "Western media misrepresent threats from Russia. Russia has never interrupted efforts to reach agreements that guarantee that a nuclear war will never form," the Russian diplomat stressed. strong.
He said the goal of the operation in Ukraine was to ensure the security of pro-Russian forces in the Donbass region and criticized the West for "stealing" money from Moscow through sanctions.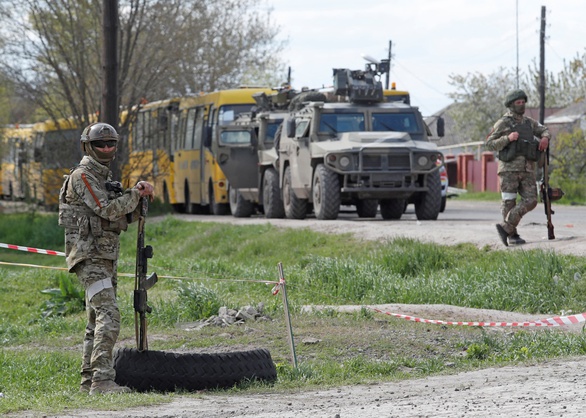 Pro-Russian forces guard a convoy used to carry evacuees at the Bezimenne shelter in the Donetsk region on May 1 – Photo: REUTERS
* Democratic leader in the US Senate, Chuck Schumer, said he would act to add provisions to the $33 billion aid package for Ukraine that would allow The US confiscated the assets of Russian oligarchs, then sold these assets to send to Kiev.
"The time has come for the sanctioned Russian tycoons to be held accountable for the illicit wealth they have received," Schumer said. Last week, US President Joe Biden asked Congress to pass the aid package. This, marked a turning point in Washington's support for Kiev.
* Congressman Adam Kinzinger of the US Republican Party announced that he would draft a resolution that would allow the US to deploy troops in Ukraine if Russia used "nuclear, chemical, biological weapons", according to Radio. Russia Today. Mr. Biden has so far denied sending troops to Ukraine, saying the move could trigger "World War Three" with Russia.
* Turkish Foreign Minister Mevlut Cavusoglu said thatThe country's President Recep Tayyip Erdogan is still working to arrange a meeting between Putin and Zelensky.
"Our president is in talks with both leaders. We are making sincere efforts. Our president also calls them when needed, or they call him," the newspaper said. Sabah quoted Mr. Cavusoglu.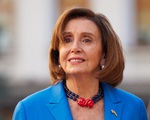 QUICK READ 1-5: Speaker of the US House of Representatives is in Kiev
You are reading the article
QUICK READING May 2nd: The First Lady of the United States visits Romania and Slovakia

at
Blogtuan.info
– Source:
tuoitre.vn
– Read the original article
here