Business
Renting a car to Porsche, G63 seduce players
The transaction amount bet is nearly 2000 billion
The Hai Duong Provincial Police Investigation Police Agency has just dismantled a large-scale gambling ring and multi-level gambling organization in cyberspace with a bet transaction amount of up to nearly 2,000 billion VND.
At the same time, prosecuting the leader Nguyen Tuan Anh (32 years old, Hoang Mai district, Hanoi) and 12 people for organizing gambling and gambling including ": Nguyen Quang Huy (resident Kim Van – Kim Lu), Dai Kim ward, Hoang Mai district); Dinh Hai Yen (24 years old, residing in Ninh Giang town, Ninh Giang district, Hai Duong); Nguyen Duc Thinh (26 years old); Nguyen Bao Duy (28 years old, residing in Ai Quoc ward) , Hai Duong city)….
Previously, on April 8, the police discovered two objects of fighting behavior at the gate of Hoi Do market (in Thanh Binh ward, Hai Duong city), so they invited them to the headquarters for clarification.
At the police, these two people claimed to have bought points from Dinh Hai Yen to organize gambling.
Searching Yen's house, the Criminal Police Department of Hai Duong Province Police discovered that there were a number of subjects operating on electronic devices such as laptops and mobile phones to support customers to place bets on the site. this website; In phone and laptop there are many accounts.
According to Yen's testimony, she is an subordinate of Nguyen Bao Duy (28 years old, in Ai Quoc ward, Hai Duong city) but currently lives in Gia Lam (Hanoi). Previously, Yen was an employee of Bao Duy, then opened an office and separate group.
The investigative agency immediately searched Duy's house, found in the laptop and phone related to the case.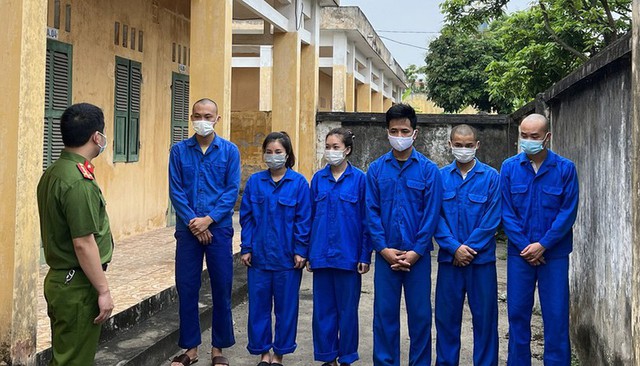 Subjects in the case.
At the police station, Duy claimed to have taken the account of his younger brother, Nguyen Duc Thinh. From Thinh's testimony, the Criminal Police Department of Hai Duong Province Police clarified Nguyen Quang Huy's violation. Working with Huy, the scouts clarified the violation of Nguyen Tuan Anh, Huy's superior. From there, the case was clarified.
As a result of the investigation, Nguyen Tuan Anh – the boss of the above gambling chain bought the code of the binary options trading floor on the Internet, named it Vitsa floor, and then attracted many subjects to participate as subordinates for him. me.
This gambling line operates in a multi-level form: the "upper bridge" will enjoy a trading profit of 1% of the total trading amount of the live "underbridge" account. The next "under-demand" profit will be divided by 2, to the last level is level 7.
Through social networks, they create associations, groups to post advertising information, organize online meetings to teach how to operate, how to entice players to benefit from direct players.
Objects to develop multi-level system in Hai Duong province, Hanoi city and some other provinces to directly gamble and organize gambling in the form of betting on Vitsa floor at website address: http: //vista2.trade
Participants gamble on Vitsa through betting to win and lose based on the up and down chart of the Bitcoin virtual currency rate; the lowest bet is 1 USDT/1 time (1 USDT is worth 1 USD).
During the period from December 29, 2021 to April 8, 2022, the total bet amount of gamblers on the Vitsa floor organized by Tuan Anh's line was up to nearly 2,000 billion VND.
The investigation shows that, in April 2020, the binary options exchange (BO) Wefinex.net was established. After a year, the Wefinex exchange split into different exchanges, including Deniex.net. Around July 2021, the Deniex exchange changed its name to Vista and used until now, with the access address vista.trade, later with additional addresses: vista1.trade and vista2.trade, currently only accessible go to the address vista2.trade.
Nguyen Tuan Anh (Facebook is "Ricky Chau") knows Le Ngoc Tuan, commonly known as "Tuan Scam".
Around April 2021, Tuan Anh set up an account on Vista, then Tuan discussed with Tuan Anh about Tuan Anh accepting as Tuan's subordinate system to organize gambling and gambling based on the site "vista2.trade" " on the Intenet. Tuan told Tuan Anh how it works, divided commissions, guided how to entice players, advertise themselves, develop Vista floor system to enjoy profits.
Participants in winning and losing bets (gambling) use USDT virtual currency as an intermediary to gamble on Vista2.trade. Players gamble with the floor system, when they win, they will be paid by the system with points that can be converted into USDT, then converted into cash (VND). In addition to the commission received from the system, Tuan will divide to Nguyen Tuan Anh an additional 0.2% of the total trading volume of 7 subordinates of Tuan Anh (about 200,000 USDT/month), Tuan Anh agrees to participate.
To open the system and entice players, at the end of 2021, Tuan Anh met and agreed with Nguyen Quang Huy about Huy working as a subordinate in the Vista floor system to jointly organize gambling and earn profits; in addition to the commission Huy is entitled to on the floor and will share with Huy a profit of 0.1-0.12% of Huy's total transactions of 7 subordinates (equivalent to $20,000 – $30,000/month).
Rent a car to Porsche, G63 to seduce players
In order to develop the system, Tuan Anh instructed Huy to find participants to build the Vista floor system, create a group to operate, buy luxury cars to advertise his image, create Zalo, Facebook groups … to guide show subordinates how to entice players, the more players, the more commissions Tuan Anh and Huy get.
After that, Huy developed his lower leg system, establishing TOP GROUP to attract participants, including Nguyen Duc Thinh and Kieu Van Vu. Thinh has developed his lower leg system, including Nguyen Bao Duy.
Duy founded EMM GROUP located in Nam Sach town, Nam Sach district, Hai Duong province, the purpose is to entice and entice many people to join Vista floor to bet (then move the group's working location. to building S1-01, Vinhomes Ocean Park urban area, Da Ton ward, Gia Lam district, Hanoi).
Duy assigns tasks to participants whose role is "order reading expert" who plays the role of livestream to read bet orders for players to follow; the person who plays the role of enticing players, the person who specializes in selling USDT points to players, the operator of the BOT (automatic betting software)… Among Duy's underdogs is Nguyen Van Tai; Dinh Hai Yen and Le Anh Quan.
Notably, in this line, most of the participants in the line are those who do not have jobs.
To attract players, the number of objects involved in propaganda about making money quickly and easily. Some operators, even debtors, also polish by renting and borrowing luxury cars such as Porsche, G63… to seduce participants.
Subjects also presented a chart like a stock image, with a bet button, not increasing and decreasing; Instead of winning and losing buttons, many people misunderstand this as a legitimate exchange.
Therefore, at first, players did not understand, but when they joined, they knew this was a form of gambling, but because they were greedy, they actively participated in enticing players. Accordingly, if the player wins, the player gets 95% of the gambling amount; If you lose, you lose all your money.
https://soha.vn/duong-day-danh-bac-da-cap-gan-2000-ty-thue-xe-sang-porsche-g63-du-do-nguoi-choi-2022050215093711.htm
You are reading the article
Renting a car to Porsche, G63 seduce players

at
Blogtuan.info
– Source:
cafebiz.vn
– Read the original article
here