Giải trí
The message "Because you are the whole world" received a strong response from the community
To this world, you may be just an ordinary, small person, but to your loved ones, you are "the whole world" – this message of humanity is being strongly responded by the community through the articles. participated emotionally in the writing competition of The Moment of Realization "Because We Are Each Other's World" organized by Chubb Life Insurance Company Limited ("Chubb Life Vietnam").
In the vast and vast world, have you ever wondered who you are in this life? Is a person with a great reputation, a brilliant career, or an ordinary individual who is working hard every day on the journey to become a solid pillar for loved ones, or just a small member who dedicates his whole life to the world. love for the whole family…? When you understand the great value of yourself, about the really big difference that you bring to your family, it is extremely necessary to develop a protection plan for yourself and your family, to loved ones don't have to live a "compromised" life when misfortune strikes.
Understanding that great value, Chubb Life Vietnam continues to strongly spread the message "Because you are the whole world" to the community through a contest to write the Moment of Realization "Because We Are Each Other's World" . The contest is receiving a positive response from the community with authentic and emotional stories that readers will easily find their life stories in.
"Out there, the world is vast and vast, and the world of a mother is only a child…". Unfortunate to have a full happiness, the sudden departure of her husband made Ms. Vu TN reluctant to become the breadwinner in the family, both taking on the role of father and mother to raise two children. grown up child. Striving every day to fill the void for her two children, the hard life of worries sometimes makes her tired and depressed.
However, just stepping through the door frame, warm hugs and bright smiles on the two children's lips helped her regain the joy of life. She understands that she is the "whole world" of peace, the one who guides and accompanies her two children on every step of their life, which unfortunately lacks the father's warmth. And for her, her two children are also a solid rear, dispelling all the hardships of life, like the way she sincerely shared through touching lines: "Darling! You are all I have in this world. And she also understands that, to her children, she is the whole world."
"Love is empathy and sharing" – this sentence is absolutely true for Ms. Nguyen TBL's family. During the first 6 years of marriage, there was no "good news for children", she was sad many times. But he was always by her side, loving her to the fullest and encouraging her on the arduous journey of infertility treatment. And then, after the rain, the sun was shining again, and they suddenly received the good news of having their first child with a burst of happiness. At that precious moment, the two brothers and sisters realized that they were each other's "whole world", and that world is now not only encapsulated in the love of husband and wife, but also in the call "daddy, mother" of children… To her, he and two children are definitely "the whole world". In the opposite direction, although it may not be often expressed in words, in the hearts of the three dearest people, she is also their "whole world".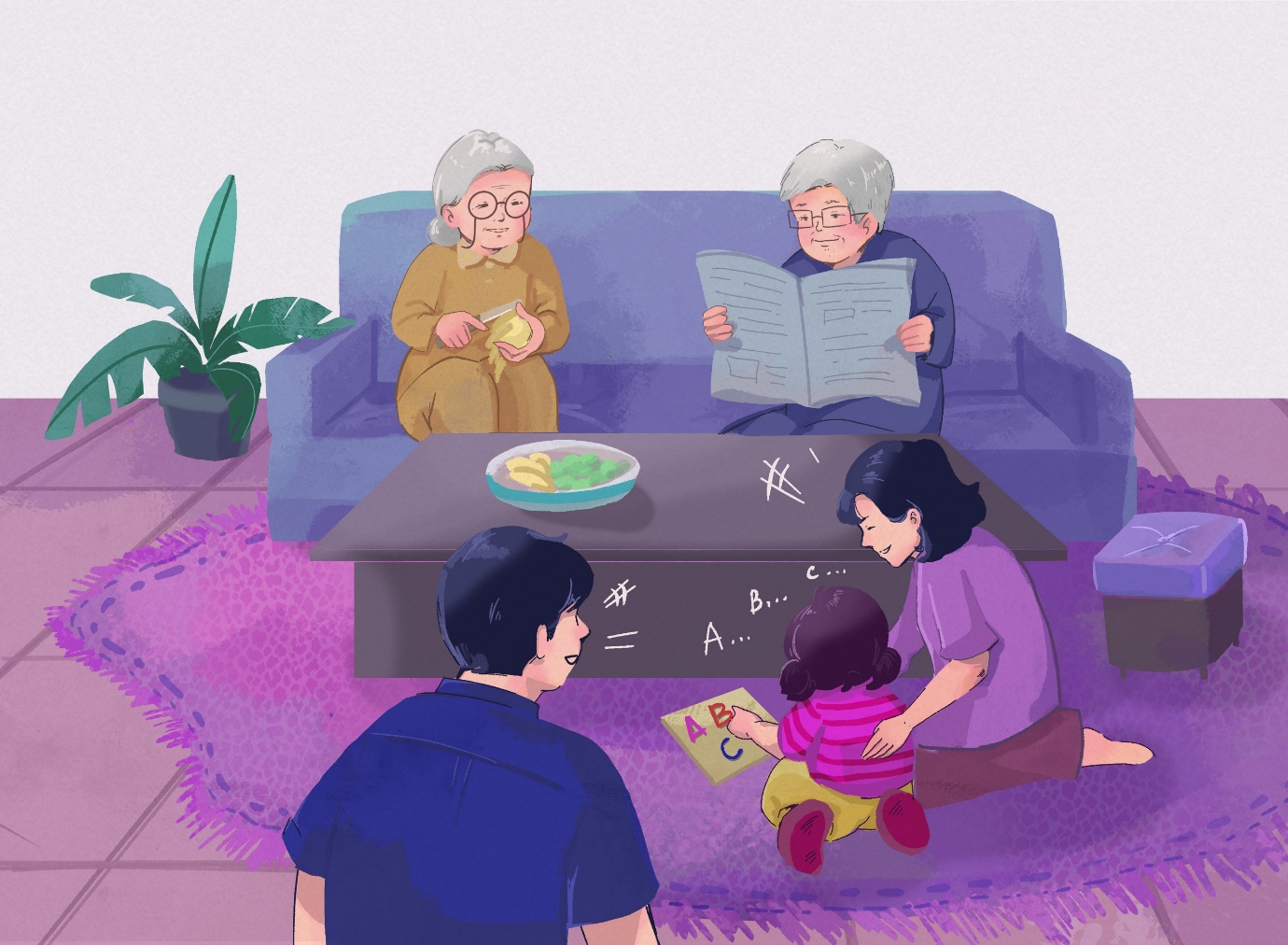 Sharing about a tumultuous time in the past, Mr. Pham TT said that he used to be very heartless, unruly, and did many times against the advice of his parents. Time and life experiences ups and downs made him realize he was wrong. That was the first time in his life, he had the courage, honestly to face himself, to understand that if he lost his parents, he would lose everything. Years of youth experiences have helped him become more mature in thought, so that now, as a husband and father, he cherishes more than family members.
He believes that couples living together sometimes easily disagree, but after all, all disagreements are just for us to understand, tolerate and love each other more, to realize that we are the whole world. each other's gender. He always feels lucky that he still has loved ones – his "world" – by his side: "My parents are my world, the one who gave birth to me, gave me a healthy, healthy body. and always forgive my mistakes. Daughter is my world, the one I was born and love above all else, is the motivation for me to strive every day. My life partner is my world, she helps me realize that there are too many people in my life worth cherishing."
In order to protect his "world", he, as a pillar, promises himself to protect himself, because only then can he become a solid support, shielding everything. storm and protect loved ones, because he is also "the whole world" who fully nurtures his family.
The message "Because you are the whole world" is being accepted and replicated by the community itself to spread love, to emphasize the deep humanity that "everyone has their own value, and is also precious in life." this life". The contest to write the Moment of Realizing "Because We Are Each Other's World" initiated by Chubb Life Vietnam is a "catalyst" for each of us to have the opportunity to express our very own thoughts and feelings. for his beloved "whole world". Believe that, when everyone realizes their own great value, we will know how to act to protect and preserve that sacred value.
The writing contest "Because We Are Each Other's World" is still active, don't hesitate to share your own inspirational story and win a chance to win valuable prizes. Learn more about the contest and enter now here.
You are reading the article
The message "Because you are the whole world" received a strong response from the community

at
Blogtuan.info
– Source:
24h.com.vn
– Read the original article
here