Domestic gold price
End of trading session yesterday, gold bar price 9999 at SJC and Doji listed as follows:
SJC Hanoi: 69.65 million dong/tael (buy in) – 70.37 million dong/tael (sold out)
SJC HCMC: 69.65 million dong/tael (buy in) – 70.35 million dong/tael (sold out)
Doji Hanoi: 69.55 million VND/tael (buy in) – 70.25 million VND/tael (sold out)
Doji Ho Chi Minh City: 69.55 million VND/tael (buy in) – 70.25 million VND/tael (sold out)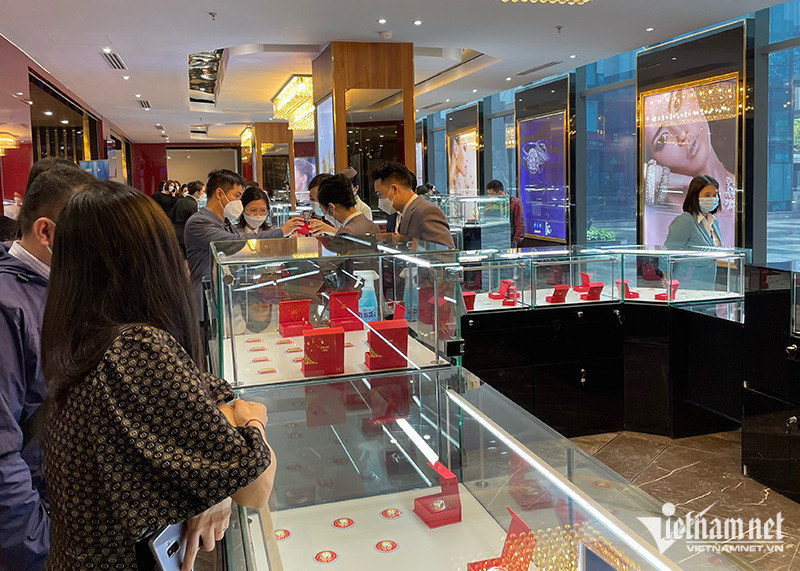 International gold price
On the world gold market, spot gold price in the US increased by 8.2 USD/ounce to 1,894.2 USD/ounce. Gold futures for delivery in June 2022 on the Comex New York exchange increased by $2.6 to $1,891.3 per ounce.
The Dollar Index jumped to its highest level in 20 years, ending the session slightly lower but overall, it still posted its biggest monthly gain in 7 years. The dollar rose in the context of the US Federal Reserve (Fed) showing a tough stance on monetary policy. It is likely that the Fed will sharply increase interest rates by 50 percentage points at the next meeting in May and another 50 points at the meeting in June.
Yields on 10-year US Treasuries fell 2.4% to 2.84% this session, after hitting a very high 2.981% on April 20, ending a five-month streak of gains.
The US Department of Commerce on April 28 announced that the US GDP unexpectedly fell at an annual rate of 1.4% in the first quarter of 2022, in contrast to the 1% increase forecast by experts.
The US Department of Labor announced that the number of people applying for unemployment benefits for the first time in the past week (as of April 23) decreased by 5,000 people to 180,000 people, in line with the forecast of economists.
Gold fell sharply to a 2-month low as the dollar continued to strengthen, reaching a new two-year high as it became a safe-haven for money flow amid the growing geopolitical crisis.
According to the World Gold Council (WGC), global gold demand increased by 34% in the first quarter. Gold remains a safe reserve asset for investors amid many geopolitical fluctuations. Central banks of many countries boosted gold purchases in the first quarter.
Gold price forecast
Gold prices have held high above $1,900 an ounce, experts say, but have been pressured by the dollar and the fundamental factor that the Fed will raise interest rates by 50 basis points next week. The pressure on gold came after the price failed to break through the resistance at $2,000 per ounce.
According to Commerzbank, gold may rise back to $2,000/ounce in the second quarter. However, the average price of the whole year will be only 1,900 USD/ounce. That means Commerzbank believes that, at times, gold will go very low.
Told him
You are reading the article
World gold fell, domestic increased

at
Blogtuan.info
– Source:
vietnamnet.vn
– Read the original article
here