Melasma or freckles are concepts that make many women shy when they turn 25. It is not necessary to have wrinkled skin to call it old, but sometimes on the cheeks, there are tiny freckles and freckles. Deep foot troughs cause darkening of the skin, uneven skin tone has made the face look a few years older. If freckles are mild pigments that can be treated more easily, melasma is quite difficult. Even the most advanced laser methods are not guaranteed to cure melasma completely.
However, abundantly in remote rural areas or small villages, there is now a trend of spots and freckles of unknown origin.
A post on a beauty group is the focus of public opinion about this somewhat unprofessional and somewhat unhygienic beauty method.
This account holder said: "…women who want to be beautiful should find out the origin of the cosmetics they use to put in their body, don't listen to the sweet and beautiful temptations, just watch out for the money, not everyone wears the shirt. Blouse is also a doctor, a medical staff, everyone. Everything needs a process, not being beautiful for a day or two in a row."
As a witness and photographed the image, the owner of the post was also terrified: "I'm sorry to lose my face, but you also have the courage to show your face to do it."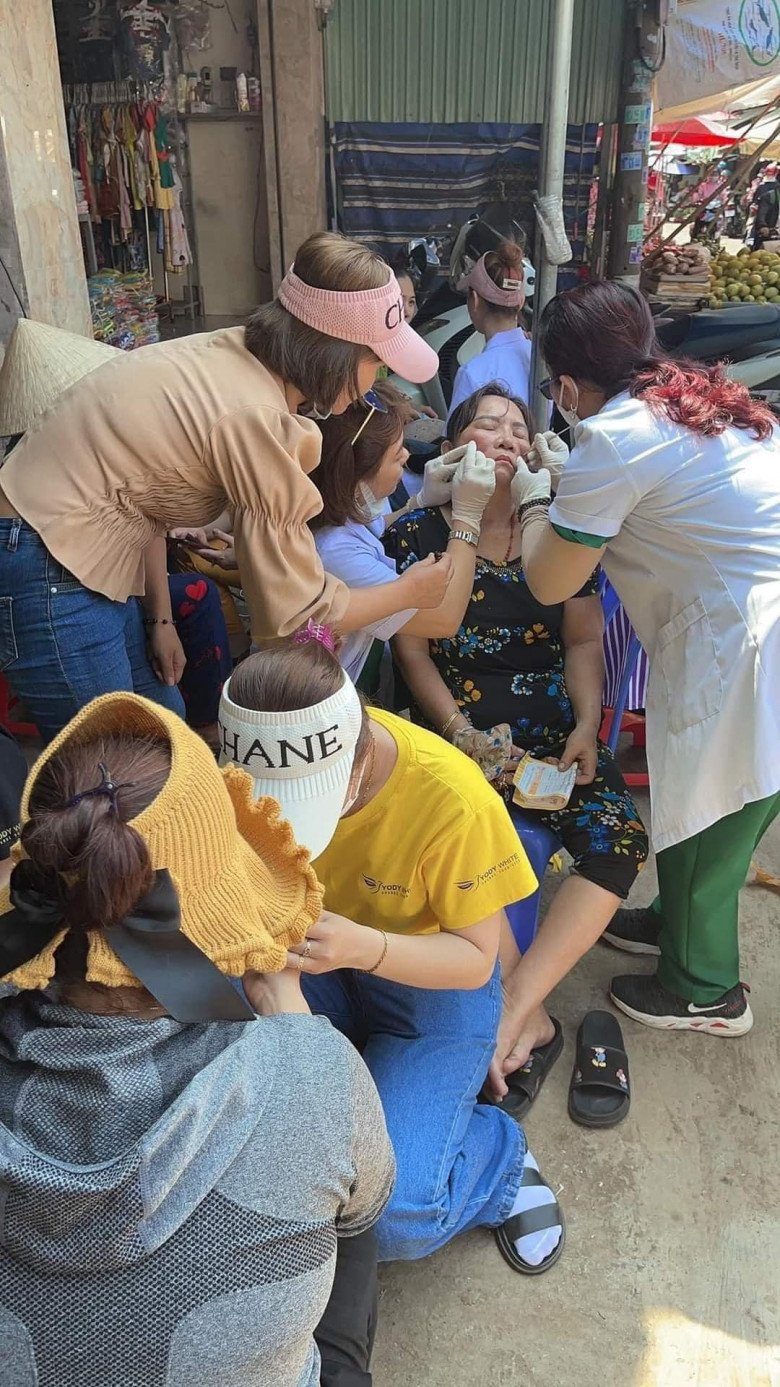 Looking at the pictures taken, it can be seen that the beauty scene here is quite bustling. Perhaps this is the market lane, where there are many stalls selling goods and also the place where women have a passion for beauty but lack the time and tools to learn.
In the photo, people are taking care of their nails, others are rushing to dot some medicine on their faces with specialized sharp-pointed sticks. Notably, the work was done by 2 people women wearing a blue uniform – a common item in operating rooms and wearing a stack of white blouses outside.
The woman performed had a rather tired look on her face, her face flushed red after being doused with the drug described as melasmafreckles on cheeks.
Below the post, there are hundreds of comments and discussions. The majority condemned the indiscriminate practice of fake pharmacists and doctors. Rather, there are many people who have not undergone training or have a recognized degree confidently put on the prestigious coat of arms. At the same time, they label themselves as real doctors and doctors and perform beauty treatments with chemicals.
Netizens nodded to the story, dabbed chemicals indiscriminately on their faces, sooner or later they would "break their faces".
People also provide more first-hand stories about groups that dot moles, skin tags, and freckles in markets and villages. Marketing forms that tempt the gullible for this beauty remedy are free, but then trick people into buying extra bottles of medicine (mostly homemade, unknown origin) at exorbitantly high prices. .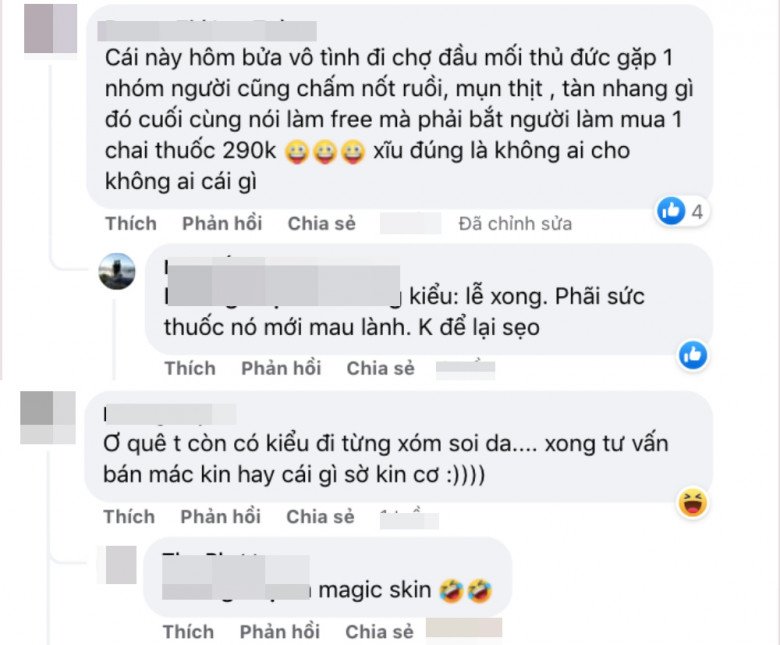 The advertisements represent the "magic skin" beauty method crept into the villages and countryside.
Measures to treat freckles or melasma, moles performed in spas and beauty salons sometimes have risks such as burning skin, increasing pigmentation if not performed by a highly skilled technician. lake the roadside performance. When using chemicals on the face, it is necessary to ensure hygiene, the face is disinfected clean, the environment is free from dust or the effects of sunlight.
Women need to raise vigilance or propagate to their relatives in remote rural areas lest they be deceived empty-handed. At this time, the money lost, but the face may not be beautiful, have to be hospitalized to ask for help, the risk of injury is completely possible. Ideally, each person with beauty needs should find out carefully at the places where the hospital has a cosmetic institute/department to be warranted and performed by experts and doctors.
You are reading the article
Beware of the trend of melasma spots, roadside freckles by experts wearing fake blouses

at
Blogtuan.info
– Source:
Eva.vn
– Read the original article
here