Business
Once a "land fever" hot spot, the land in this province is vibrant again
Outstanding land transaction
According to the report of Thua Thien Hue Department of Construction on the real estate market in the first quarter of 2022, land plots have an outstanding transaction volume compared to the rest of the market. The number of transactions of land plots in this province in the last quarter reached 4,334 lots while individual houses only traded 189 units and apartments with 27 units.
The selling price of apartments in the province is currently fluctuating at 25 million VND/m2, the selling price of individual houses fluctuates at 28 million VND/m2 and the selling price of social housing is currently fluctuating at 16 million VND/m2. , 5 million VND/m2.
Regarding commercial housing projects, the province currently has 8 projects under construction with a scale of 644 apartments and 580 individual houses.
In the province, there are currently 4 commercial housing projects formed in the future that are eligible for sale in the first quarter of 2022 with 644 apartments and 289 individual houses.
According to this province, there are currently 21 licensed tourism and resort projects with a scale of 3,212 tourist villas and 10,818 rooms. Of which, 14 projects are underway and 7 projects have been completed.

Real estate transactions in the first quarter of 2022 in Thua Thien Hue province.
According to the Department of Construction of Thua Thien Hue province, there are many difficulties and obstacles affecting businesses and the local real estate market, such as a shortage of labor force due to the Covid-19 pandemic and the price of materials. materials and labor prices fluctuated higher.
Used to be a "land fever" hot spot
According to the survey, the current land price in Phu Vang ranges from 9-17 million VND/m2; City. Hue ranges from 27-61 million VND/m2; Huong Thuy ranges from 10-17 million VND/m2; Huong Tra land price fluctuates 11-18 million VND/m2; Phong Dien ranges from 2.5-7 million VND/m2; Phu Loc ranges from 3-9 million VND/m2; Quang Dien has a price ranging from 6-12 million VND/m2.
Previously, in mid-2021, land prices in the suburbs of Hue City recorded a sudden increase of 30-40% compared to the beginning of the year. In particular, there are areas that double. The reason for this situation is because the Central Government approved the adjustment and expansion of the administrative boundaries of Hue City.
At that time, in Thua Thien Hue, there were some hot spots for land prices. For example, the auction of land plots in the planning area (expanding the border of Hue city) in Phuoc Linh village, Phu My commune, Phu Vang district on March 27, 2021. The starting price of lots in position 1 is from 6 million VND/m2, then skyrocketed to more than 18 million VND/m2.
Or the land auction that created a "fever" in Huong Phong commune, Huong Tra town in May 2021 also shocked many people. The land, which was originally farmland, was recovered by the government, converted to residential land and then auctioned in Thuan Hoa village, at first just over 1 million VND/m2 but at the end of the auction, the smallest lot with the area about 160m2 more than 1 billion dong.
Also during the "land fever" at the beginning of 2021, land in the central area of ​​Hue City recorded a price increase of 10-15% compared to the end of 2020. Faced with the above complicated developments, Thua Thien Provincial People's Committee Hue has taken steps to correct the market, preventing land fever, price fever and real estate bubbles.
Many impulses create "waves" for the new cycle
Thua Thien Hue with the orientation to 2025 will become a city directly under the Central Government on the basis of preserving and promoting the value of the ancient capital's heritage and typical cultural identity.
According to DKRA, Thua Thien Hue has been promoting investment in urban infrastructure embellishment, focusing on building real estate development maps to attract investment. At the same time, synchronously develop the inter-regional transport system, in which priority is given to the implementation of projects connecting directly to Da Nang and Hoi An.
Agreeing with this orientation, Dr., Architect Ngo Viet Nam Son said that: "Besides the space of "Old Hue", Thua Thien Hue will have more space of "New Hue" with modern urban areas. Smart, with high-rise buildings, international commercial services, as well as a modern infrastructure system including airports, highways, metro lines,…
We can expect the new urban areas will bring the identity of the 21st century of Thua Thien Hue and this will be a place to settle down with a world-class livable urban environment for future generations."
On the other hand, encouraging the development of urban projects with modern infrastructure in new lands can both meet future development needs and help reduce development pressure on existing urban areas. Thanks to that, both urban growth can be achieved and indirectly contribute to the preservation of Hue heritage – Dr., Architect Ngo Viet Nam Son shared.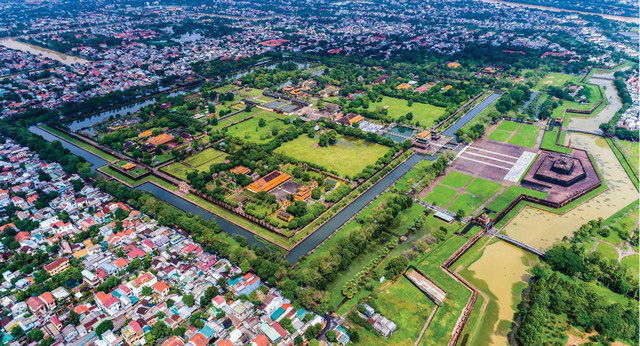 Thua Thien Hue is forecasted to be the new focus of the real estate market. (Photo: Thua Thien Hue Newspaper)
In recent years, real estate giants such as Bitexco, Apec, BRG… have been racing to pour thousands of billions of dong to implement urban and resort projects in order to develop and exploit the maximum potential. tourism here.
In March 2022, Hoa Phat Group expressed its hope that the departments of Thua Thien Hue province would assist in finding a suitable location for the Group to invest in a modern and large-scale urban area, becoming a new urban area. "worth living" town in Hue.
According to DKRA, from the end of 2021 to the beginning of 2022, a number of alarm signals of the beginning of a new period appeared in the Hue real estate market after a quiet period due to the impact of the Covid-19 epidemic. . Not only investors are preparing to welcome the "wave", many investors across the country are also turning to the central region.
Planning information, traffic infrastructure support to increase liquidity, primary and secondary market selling price, but still depends on the epidemic control situation.
https://cafef.vn/tung-la-diem-nong-sot-dat-dat-nen-tai-tinh-nay-soi-dong-tro-lai-20220503142530064.chn
You are reading the article
Once a "land fever" hot spot, the land in this province is vibrant again

at
Blogtuan.info
– Source:
cafebiz.vn
– Read the original article
here