Thế Giới
QUICK READ 3-4: Odessa, Mariupol hit by air strikes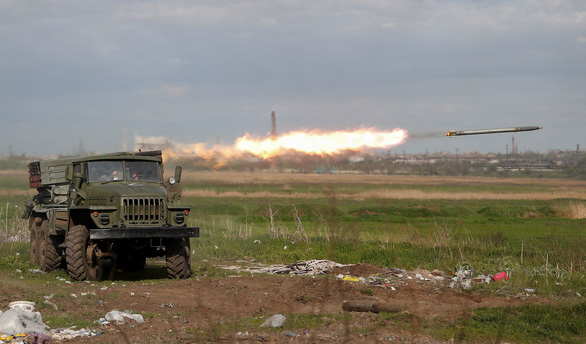 Pro-Russian forces use BM-21 Grad rocket launchers during the battle to destroy the Azovstal stronghold of Ukrainian forces in the city of Mariupol on May 2 – Photo: REUTERS
* Regarding the information "President Joe Biden's visit to Ukraine is sooner or later", on May 2, the White House confirmed that up to this point, they There are no plans to host President Joe Biden's visit to Ukraine.
On May 2, White House press secretary Jen Psaki said, "I know the President would love to visit Ukraine, but (the White House) has no plans at this time."
* According to Reuters news agency, Odessa Governor Maksym Marchenko said on Telgram A missile attack on the port city of Odessa in southwestern Ukraine on the evening of May 2 left many people dead and injured.
In addition, according to CNN, the Southern Command of the Ukrainian army reported that "there was a missile attack other in the Odessa area to the city's infrastructure, one of the religious buildings was damaged. There is no information about the victims."
The Russian missile also hit a strategically important bridge over the mouth of the Dniester River in the Odessa region. The bridge, which has been attacked twice by Russian troops, is the only road and rail connection in Ukraine with the southern region of Odessa.
Information about the attack in Odessa coincides with information written by Serhiy Bratchuk, a spokesman for the Odessa government, on Telegram that there was an attack on the locality but did not give further details.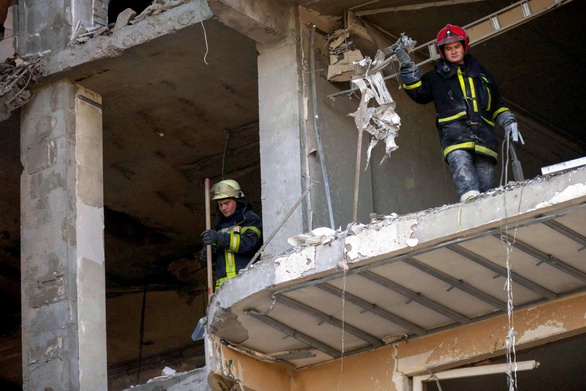 A building in the city of Odessa was hit by an air strike on April 24 – Photo: REUTERS
* The US Senate hopes to pass 33 billion dollars in aid for Ukraine. According to Reuters news agency, US Senate Democratic leader Chuck Schumer said he expected the Senate to start deciding on President Joe Biden's $33 billion request for Ukraine assistance from next week. In addition, Mr. Schumer expected this to be an issue supported by MPs from both parties.
* According to CNN, a commander among Ukrainian soldiers at the Azovstal steel plant said the complex has been under "constant attacks" since the beginning of May 2.
Mykhailo Vershynin, Mariupol police chief, told CNN that "after the Red Cross mission left, we were under continuous shelling since early morning".
About 100 civilians were evacuated from the factory on May 1, but the planned evacuation on May 2 did not take place.
Mr. Vershynin said: "There is a huge amount of injured people here. The place can be destroyed. We really want to get the wounded and the civilians out. I see 5-6 people dying every day from bombs and bullets. and the wounded died because they didn't get the medical care they needed. And when I saw what the soldiers ate, I think they started to faint from hunger," Mr. Vershynin described.
* According to Reuters news agency, speaking at a press conference after the meeting of European Union (EU) energy ministers in Belgium, Ms. Kadri Simson – EU's energy minister, warned paying for Russian gas in rubles according to the Russian specifications is a violation of EU sanctions and is unacceptable..
She said that the EU needs to focus on renewable energy more.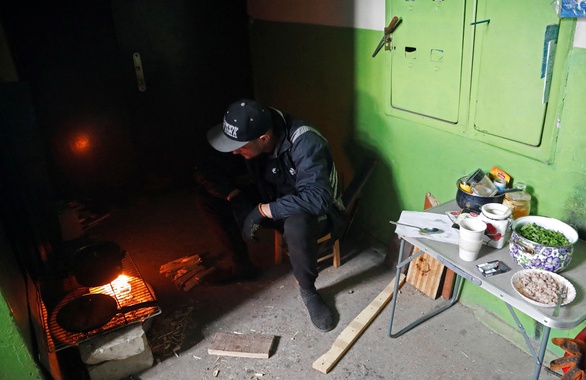 People cook in the stairwell of an apartment building in the port city of Mariupol, Ukraine on May 2 – Photo: REUTERS
* In an interview with ZDF TV on May 2, German Chancellor Olaf Scholz said: sanctions against Russia will not be lifted if Russia and Ukraine fail to reach a (peaceful) agreement."
* According to Sputnik news agency, on May 2, speaking at an information session to the press, US Department of Defense spokesman John Kirby said that The United States has yet to see any indication that Russia is receiving military assistance from a third country.
In addition, the US Department of Defense said: The United States has trained more than 170 Ukrainian servicemen at various locations outside Ukraine in the use of howitzers. On May 2, 50 people completed the training.
According to CNN, the US Ambassador to the Organization for Security and Cooperation in Europe (OSCE), Mr. Michael Carpenter said: The US has "very reliable" intelligence that Russia will try to annex the two breakaway regions of Donetsk and Lugansk. around mid-May and there are plans to create a similar breakaway region as the "Kherson People's Republic" for annexation.
Russia has not yet commented on this.
You are reading the article
QUICK READ 3-4: Odessa, Mariupol hit by air strikes

at
Blogtuan.info
– Source:
tuoitre.vn
– Read the original article
here