Quốc tế
Revealing the number of terrible weapons the US has handed over to Ukraine
Radio RT According to information from the Pentagon on May 2, the US military has delivered about 80% of M777 howitzers along with half of the 155 mm caliber ammunition that the administration of President Joe Biden pledged to provide to Kiev last month. prior to. In addition, the US also provides almost all anti-aircraft and anti-aircraft radars and 5,000 Javelin anti-tank missiles.
"The US has not yet handed over any helicopters to Ukraine" – radio RT of Russia emphasized.
Initially, the Biden administration promised to supply Ukraine with 18 howitzers, then pledged 72 more howitzers, 140,000 155 mm caliber ammunition, 10 anti-aircraft radars, 2 anti-aircraft radars, and 200 armored vehicles. troop transport, 100 Humvee military vehicles and 11 Mi-17 helicopters.
Information after a Pentagon briefing on May 2 also revealed that half of the 155 mm ammunition had reached Ukraine, the rest continued to be delivered almost daily. In total, the US provided Ukraine with 72 howitzers along with almost all radars.
"In the past 24 hours, the US has had 14 flights to transport aid gas to Kiev and is expected to add 11 more flights in the next day along with 23 flights from 5 other countries" – radio station. RT citing sources from the Pentagon.
These flights were supposed to land in Poland and then weapons and military equipment were transferred across the Ukrainian border by rail or land – still according to the radio. RT said.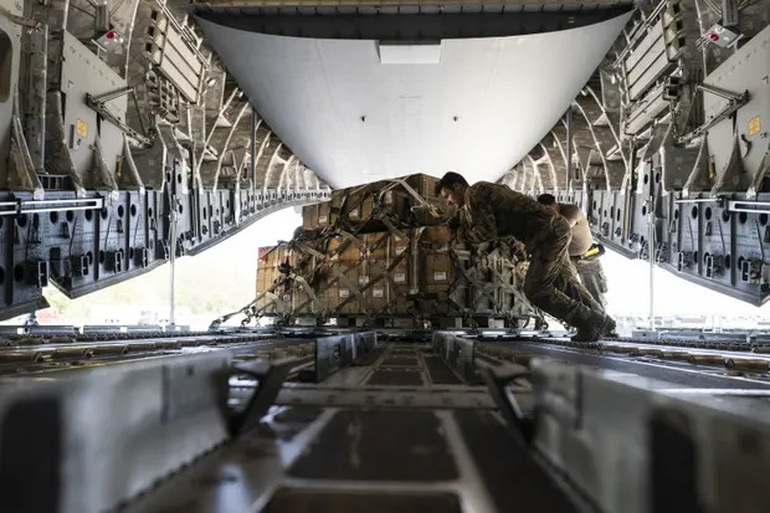 The US C-17 transport plane prepares to deliver weapons to Ukraine. Photo: AP
The Pentagon further revealed that training for the Ukrainian military in the use of new artillery pieces is taking place in Germany. More than 170 Ukrainian soldiers have been trained to operate the M777 howitzer, while about 50 other service members have completed the training. About 20 Ukrainian servicemen have begun a week-long training to use the Phoenix Ghost tactical drone.
Russian President Vladimir Putin on February 24 launched a special military operation against neighboring Ukraine. The conflict between Moscow and Kiev has entered its 69th day, but there is still no sign of abating.
Against this backdrop, the British government announced an additional 300 million pounds (nearly $376 million) in military aid to Ukraine.
Radio RT According to information from the office of British Prime Minister Boris Johnson, London will provide night vision equipment, satellite navigation jammers, and heavy drones, according to information from the office of British Prime Minister Boris Johnson. Ukrainian troops and armored vehicles for civilian officials.
London has sent Kiev more than 5,000 anti-tank missiles and five air defense systems, as well as other ammunition and explosives since the conflict in Ukraine – radio station RT said.
You are reading the article
Revealing the number of terrible weapons the US has handed over to Ukraine

at
Blogtuan.info
– Source:
nld.com.vn
– Read the original article
here