Suggested dinner this afternoon will have the following dishes:
– Shrimp satay: 65,000 VND
– Bitter gourd soup stuffed with meat: 30,000 VND
– Squeezed beef salad: 65,000 VND
– Stir-fried bean sprouts price: 20,000 VND
Total: 180,000 VND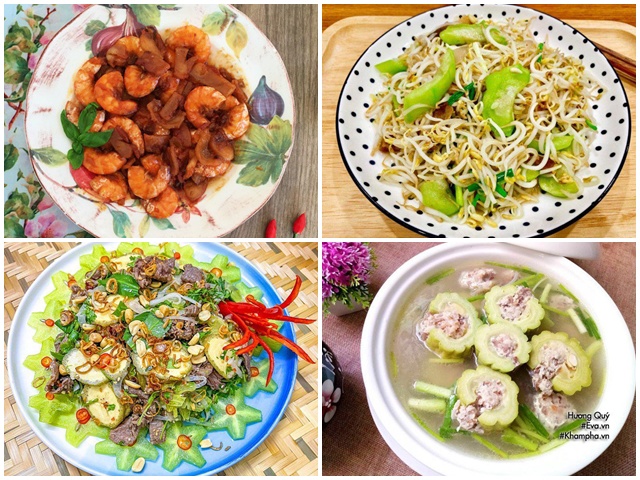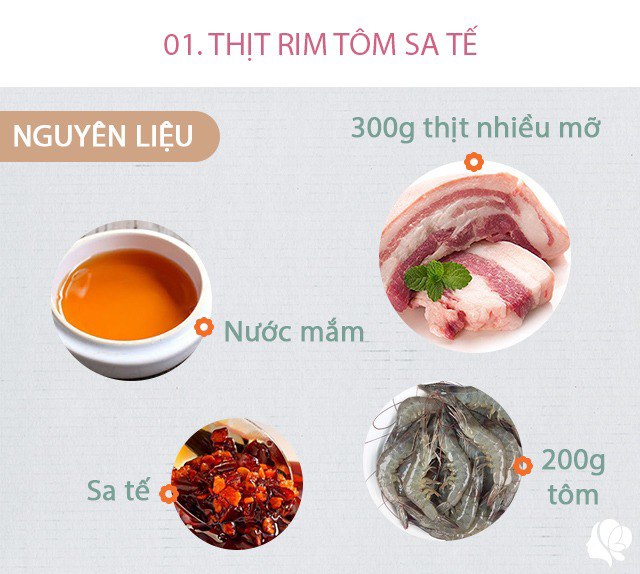 Preparation: 200gr fresh shrimp, 200gr fatty pork, 1 teaspoon spicy shrimp satay, 2 dried onions, 3 spoons of delicious fish sauce, 2 teaspoons of sugar, 1 teaspoon of noodles
Preliminarily washed shrimp, fatty meat cut into medium thin pieces. Marinate shrimp with satay, fish sauce, sugar and diced onions, then mix the spices to blend with the shrimp and marinate for 20 -30 minutes. Roast the meat on the side until fragrant, then we add the marinated shrimp and satay and cook for about 20 minutes until the shrimp turns red and pink, turn off the heat and season with a bit of main noodles (optional) and it's done.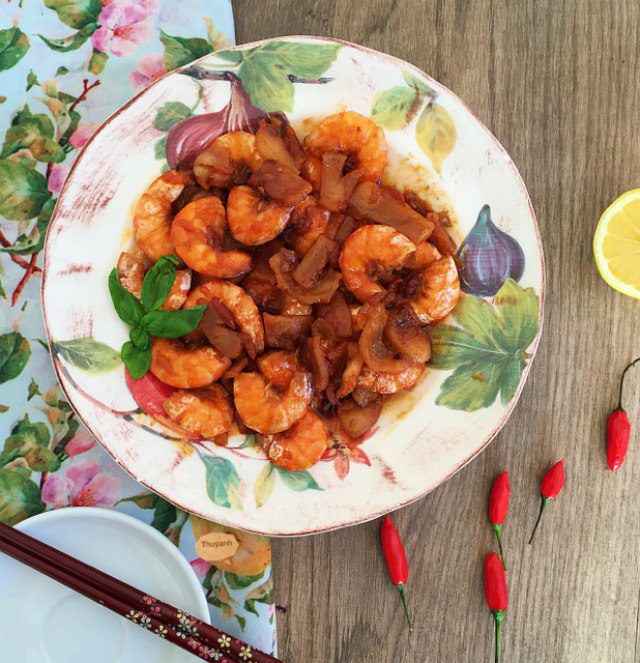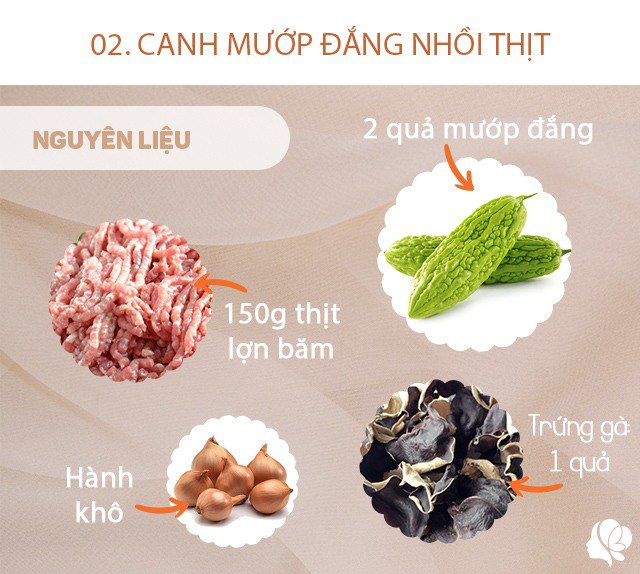 Ingredients: – 2 bitter melons – 150g minced meat – 3 soaked wood ear mushrooms – 2 dried onions – 1 little scallions – 1 egg white – 1 bowl of bone broth – Spices: seasoning seeds, soup powder, cooking oil, pepper.
Put 150g minced meat and a little minced wood ear with 1 egg white in a clean bowl. Add 1 small chopped dried onion, ½ teaspoon pepper, ½ teaspoon seasoning powder and mix well.
Use a knife to cut off the top of the loofah, wash it again to clean it.
Gently stuff the meat inside, doing the same for the rest of the ingredients. Then you bare the bitter melon and then cut it into small pieces about 2-3 cm long.
Sauté minced dried onions with a little cooking oil, then pour in bone broth and bring to a boil, season to taste. Then drop each piece of bitter melon into the pot. Boiled bitter gourd soup skimmed off the foam. Finally sprinkle some chopped scallions with 1 tablespoon of main noodles and then a little soup into the bowl to enjoy.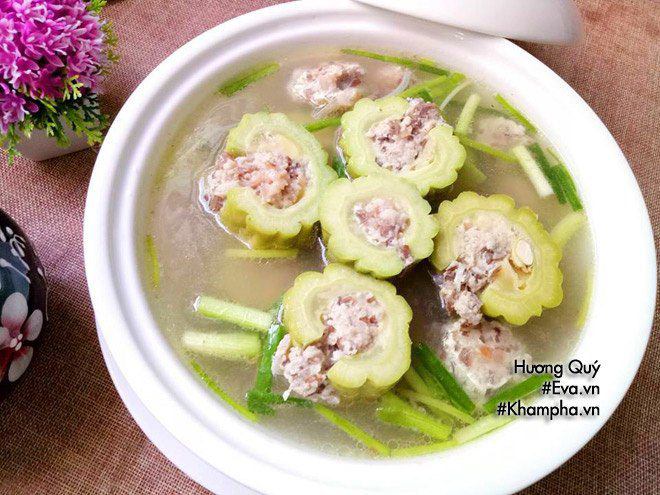 Ingredients: – 300g beef tenderloin – 2 green bananas – 2 star fruit – 1/2 onion – 1/2 pineapple (if available) – Roasted sesame – Dried onions – Golden fried garlic (who wants to eat, can do it) ) – Roasted peanuts – Herbs: basil (dog basil), coriander (Chinese coriander), coriander – Spices: fish sauce, sugar, lemon, garlic, onions – Chili, pepper, seeds seasoning, salt, vinegar…
Thinly sliced ​​beef marinated with: 2 teaspoons minced garlic, 1 teaspoon seasoning powder, 1 teaspoon oyster sauce, 1/2 teaspoon pepper, 1 tablespoon cooking oil, 1 tablespoon pineapple juice ( with pineapple juice, beef will be softer and more delicious), mix well with spices and marinate for 10-15 minutes. (Spoons: use a tablespoon to eat pho).
Crushed roasted peanuts. Thinly sliced ​​onions, golden brown. Thinly sliced ​​garlic and fried to a crispy golden color (if you don't like fried garlic, you can skip this step, just fried onions, roasted peanuts, and roasted sesame are delicious). Onions are cored, thinly sliced ​​and soaked in ice water to make onions less spicy and crispy.
Green bananas remove tendons, peel and cut thinly, soak in salt water, add a little vinegar to reduce acrid and reduce darkening. Peel off the thinly sliced ​​star fruit and soak it in water mixed with a little vinegar and salt to reduce bruising. Thinly sliced ​​pineapple (if available). Wash the herbs and cut them into small pieces.
Mix salad dressing: 2 tablespoons sugar + 1 tablespoon lemon juice + 2 tablespoons fish sauce to dissolve the sugar, add minced garlic and chili.
After the beef is marinated, soak the spices, put the pan on the stove, wait for the hot pan to cook until the beef is cooked through, no need to add cooking oil because the meat has been marinated with cooking oil before. Cook meat in a bowl to cool. Note: You can blanch the beef if you don't like stir-fry, but stir-fry will have a richer flavor.
Mix salad: Squeeze star fruit juice to reduce sourness. Mix a tablespoon of salad dressing into a bowl of beef and wait for it to infuse. Then pour the beef bowl into a bowl with banana, star fruit, onion, pineapple… pour the salad dressing into it, mix gently and evenly, season to taste. Finally, add herbs, mix well and sprinkle peanuts, sesame, dried onions, and deep-fried garlic on top. Squeezed beef salad can be used as a snack, eaten with rice, served with shrimp puff is also very delicious!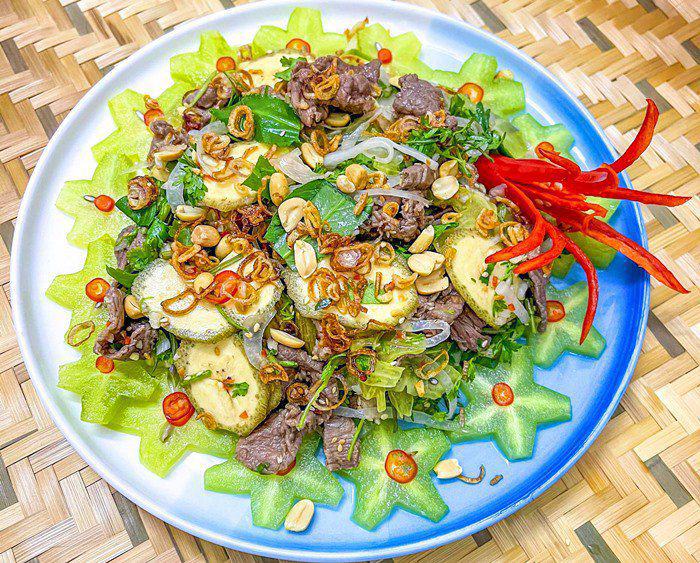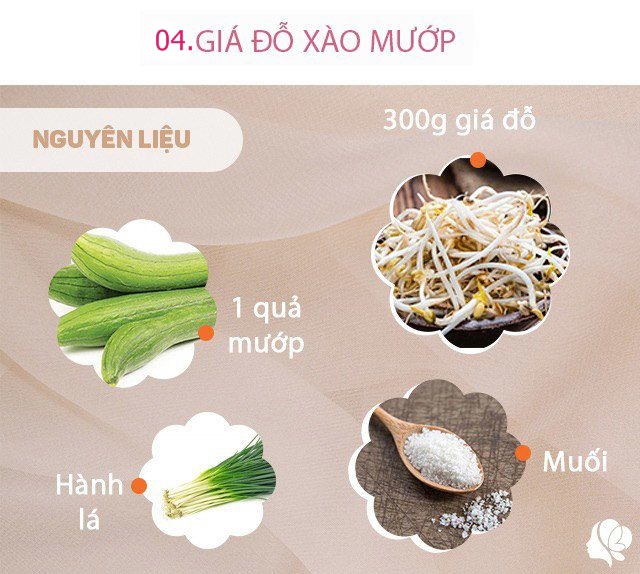 Preparation: 300g bean sprouts, 1 melon, green onion, salt, cooking oil, dried onion
Wash bean sprouts. Watermelon peeled, washed, cut into bite-sized pieces. Put a little oil in the pan, saute the chopped dried onions, put the melon on the island for about 2-3 minutes and then drop the bean sprouts in. Season with salt and seasoning to taste. Stir for another 2 minutes, see the bean sprouts turn slightly clear, then turn off the heat, sprinkle with scallions and then put on a plate.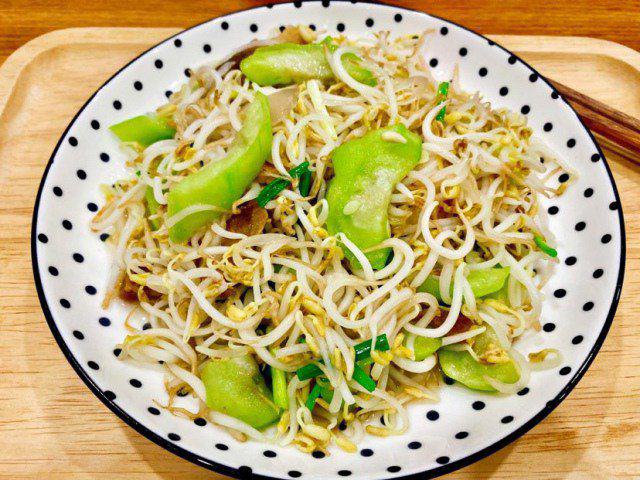 Good luck!
You are reading the article
The 4-course meal is very delicious, and there are drinks for the husband to enjoy

at
Blogtuan.info
– Source:
Eva.vn
– Read the original article
here