Du Lịch
Typical dishes visitors should enjoy when coming here
The origin of Hoi An cuisine attracts all visitors
Chicken rice has been around since about 1950. It is known that Tam Ky countryside is famous for delicious chicken, so it is possible that chicken rice also originated here. Then, with creativity and skillful hands, Hoi An people took advantage of fresh chicken from Tam Ky and fragrant sticky rice grown by the Thu Bon river to make a famous delicious chicken rice dish.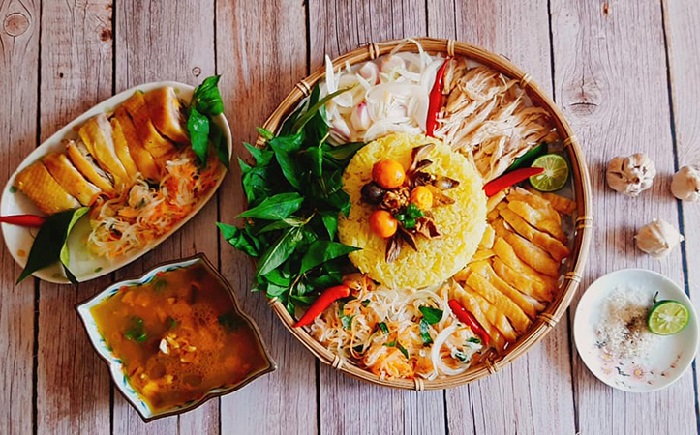 Previously, chicken rice was sold on street vendors all over the streets and alleys of Hoi An ancient town. Gradually, chicken rice was sold in large restaurants and more and more people knew about it.
Hoi An cuisine: Chicken rice dish – the pride of Hoi An people
Hoi An chicken rice – an elegant dish suitable for all times has long become the pride of Hoi An people, that's why there is a saying "If you haven't eaten chicken rice, you haven't been to Hoi An". Hoi An chicken rice is also loved by diners because when eating, one can feel the very unique soul of Quang in each ingredient that makes up it.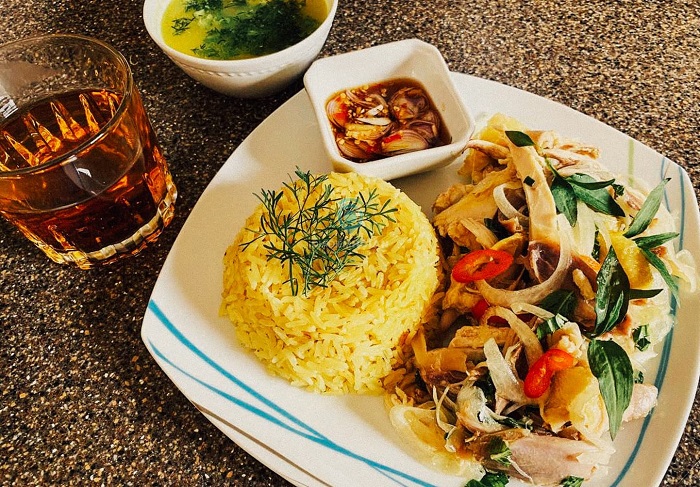 The standard set of chicken rice must be made from good rice and delicious chicken. Chickens are usually naturally raised chickens, weighing over 1kg. Selected rice is a soft, fragrant rice cooked in chicken broth with pandan leaves. This Hoi An culinary dish is usually served with a bowl of chicken broth with eggs, coriander and a sauce made according to a typical recipe.
Top restaurants to eat delicious Hoi An chicken rice
Ba Van chicken rice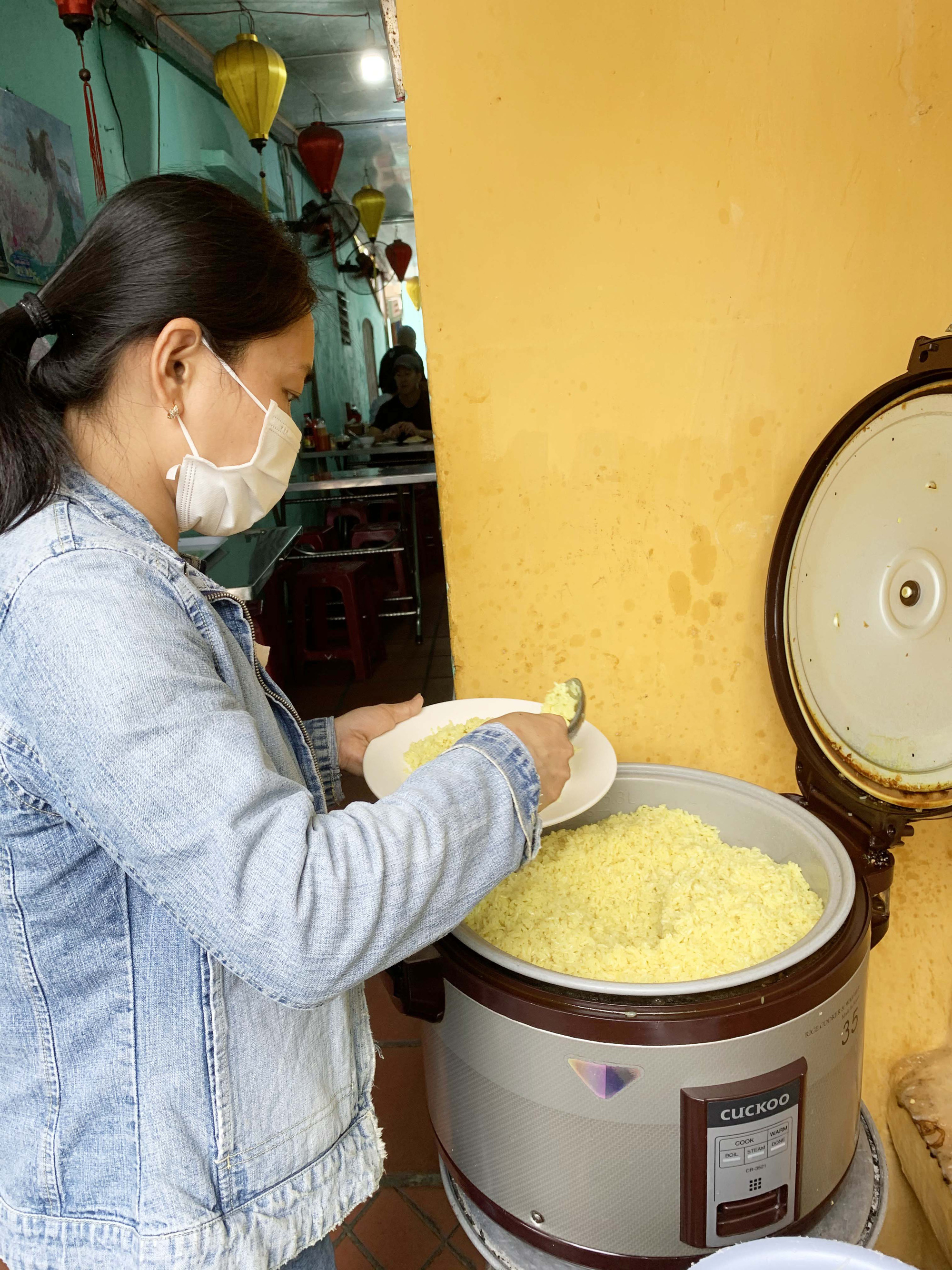 One of the best places to eat chicken rice in Hoi An is Ba Van chicken rice. Although there is no famous brand with foreign tourists like Ba Buoi chicken rice, Ba Van chicken rice is the number one delicious place that Hoi An people choose to eat.
Mrs. Van's chicken rice is full of rice, the rice grains are golden and fluffy, but when eaten, it is soft, not dry and hard, especially with the sweet taste of chicken broth. Chicken is not greasy, fragrant, sweet, even white meat is tough and fragrant.
Said to be Mrs. Van's chicken rice, but the owner is just over 30, quick and easy to deal with customers. Sharing about her restaurant, Ms. Van said that this restaurant has been open for twenty years.
"At first, the shop was only opened by my husband, and I went to work at the hotel, but after the restaurant was crowded, I stopped working at the hotel to help my husband sell rice.
My husband is a very skillful person, a good cook, all the stages of cooking chicken rice are done by my husband's hand, I just help him in the kitchen and be guided by him."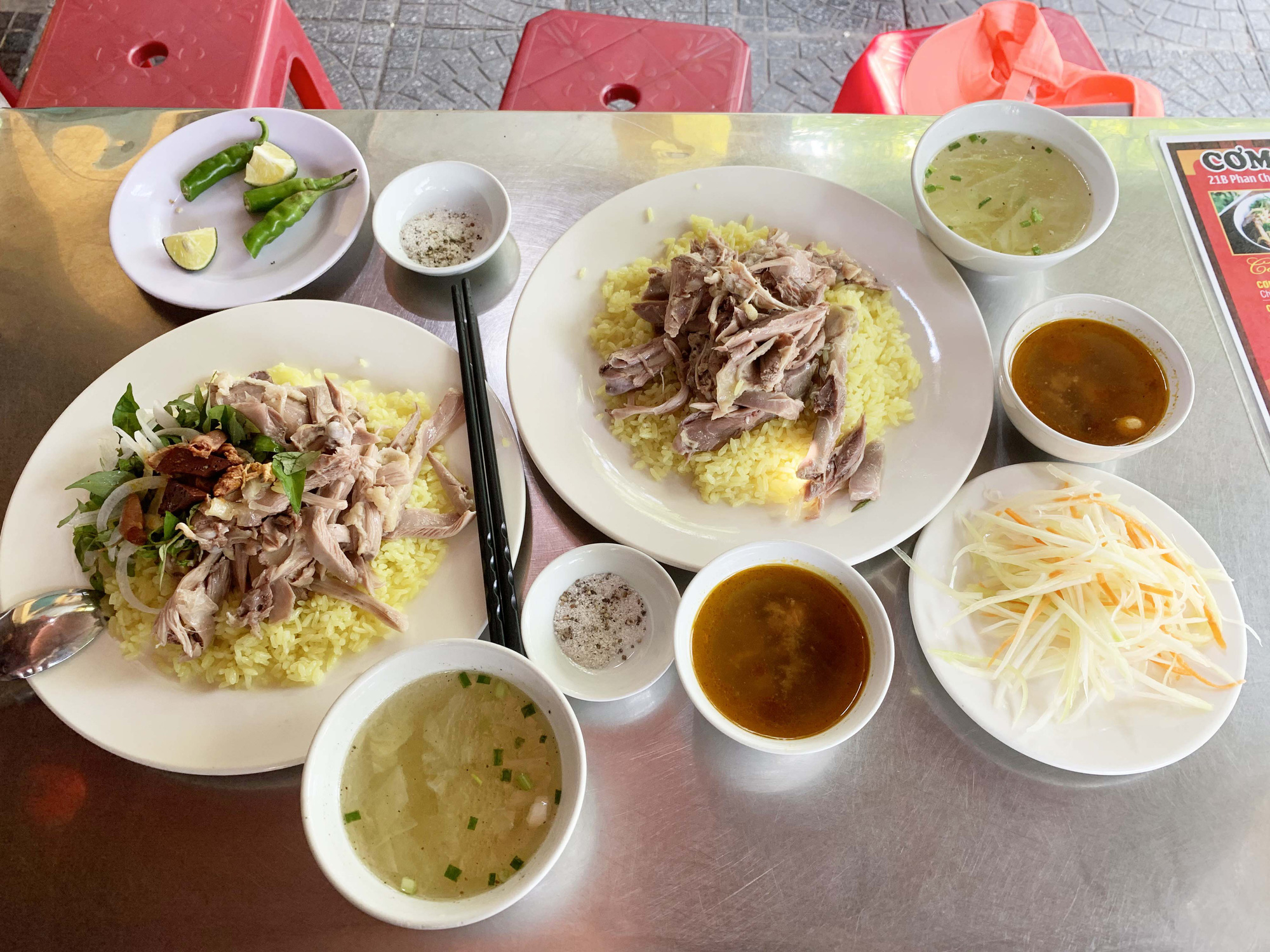 Sharing about the process of making Hoi An chicken rice, Ms. Van said that making Hoi An chicken rice also needs to be meticulous and clean, so right from the stage of choosing chicken, you have to choose good chicken, chicken is selected to buy at Que Son (Dai Loc) chickens are not old, but they are also not young, that is, the chickens have laid several litters, if the young chickens have not laid any litter, the meat will be easy to break, if the chicken is too old, the meat will be dry. Then come the meat part and clean the chicken so that the chicken no longer has a fishy smell.
How to boil chicken must also take care and attention to every cup, there are restaurants that give a recipe for 25 minutes to boil chicken and then pick up the chicken for exactly 25 minutes, but in my house, I keep soup and constantly check, there are Sometimes it will be more than 25 minutes and sometimes it will be less than 25 minutes. Same with the rice cooker, you also have to watch and check, not leave it alone.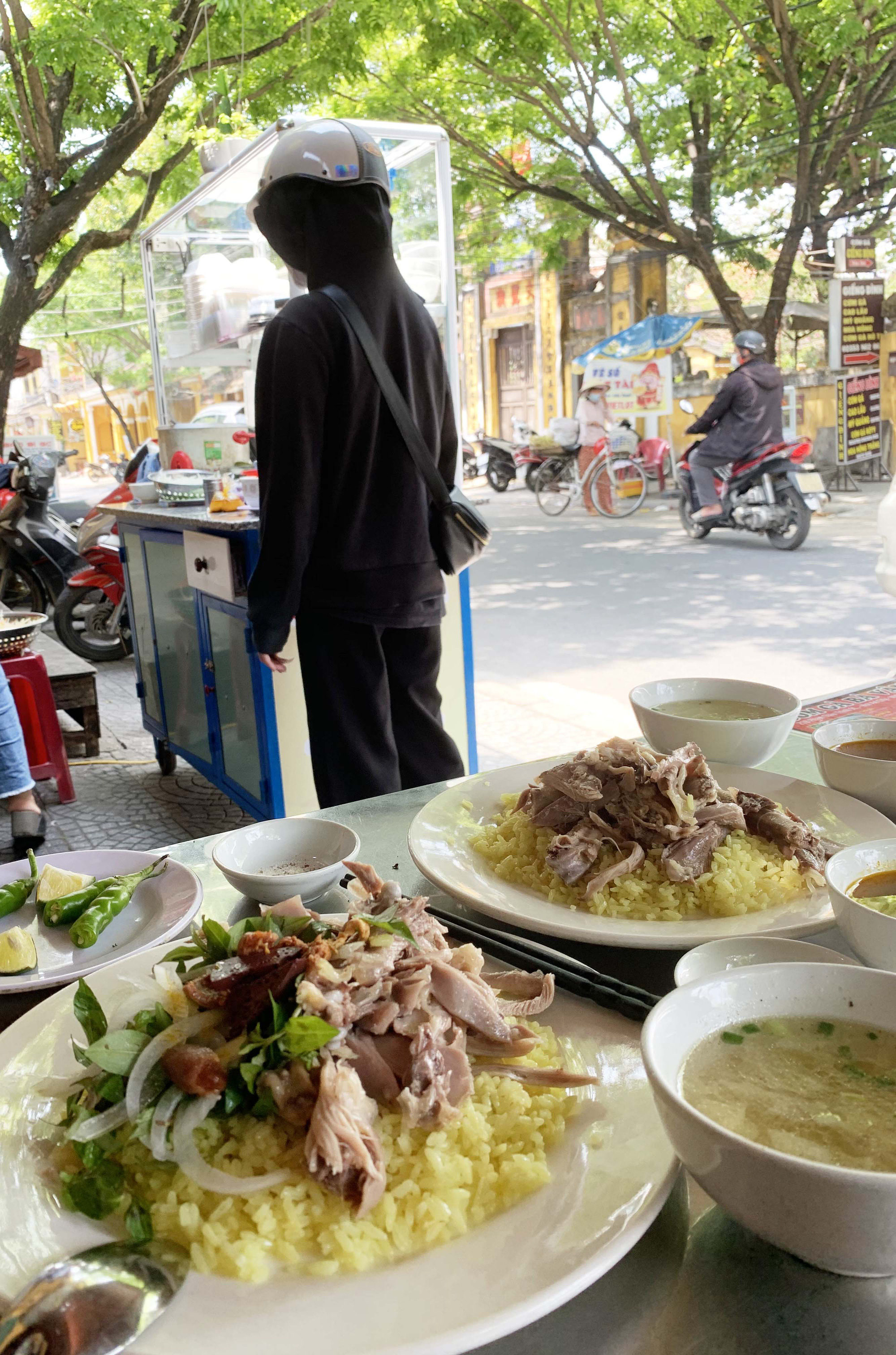 "Even the cooking part must be taken care of, as meticulous as boiling chicken, usually with many restaurants they just follow the recipe and ask the staff to follow, so there will be days when the rice is dry and the day the rice is a bit crushed, As for my restaurant, the husband and wife always have one person to keep the rice cooker and one person to be responsible for keeping the chicken pot soup.
To make the dish of rice delicious, sweet and fragrant, after boiling the chicken, That water is kept to cook rice, also because cooking rice with chicken broth, the rice grains will be fragrant and sweet of the chicken.
Besides delicious chicken, my restaurant also adds a bowl of chicken broth to sprinkle on the rice plate. The sauce is made from chicken intestines, then added with fish sauce, seasoning…and with water to cook rice, my husband also gets it from the chicken broth itself, so the rice grains are both fragrant and sweet of the chicken."
The special thing about Mrs. Van's rice plate is that the yellow color of the rice dish is not a chemical dye but is mixed from chicken fat with turmeric starch, making the rice both fragrant and fragrant without the smell of turmeric.
Address 21B Phan Chau Trinh
Open from 11am – 9pm
Selling price from 25,000 – 70,000 VND / 1 serving
Hoi An chicken rice at Ba Thuan restaurant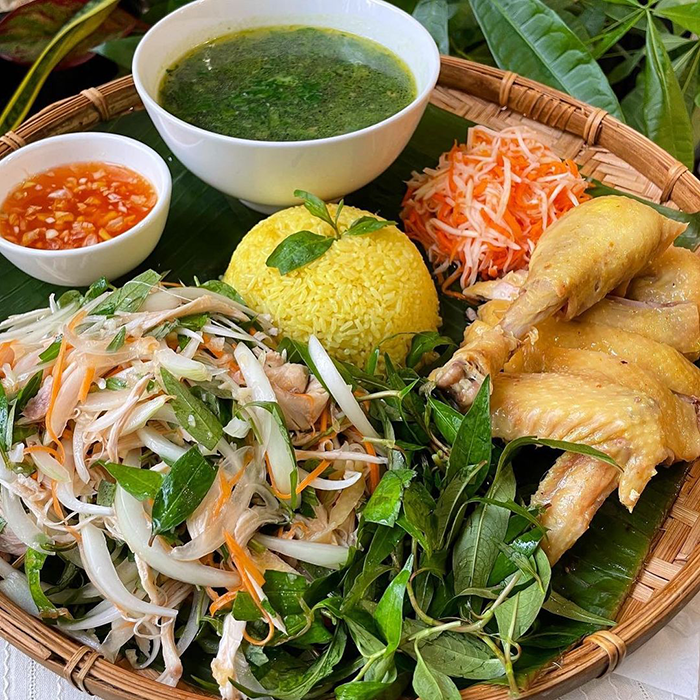 Ba Thuan restaurant is open until late at night, so you can choose this as a destination to enjoy Hoi An cuisine. This is one of the famous chicken rice restaurants with fragrant sticky rice, flavorful chicken and freshly prepared vegetable salad. For the most demanding customers, Ba Thuan's meal will surely make them satisfied.
Address: No. 17/4 Hai Ba Trung street, city center. Hoi An, Quang Nam
Opening hours: 7:00 – 22:00
Reference price: 25,000 – 100,000 VND/person
Hoi An Chicken Rice – Anh Xi A place serving attractive Hoi An cuisine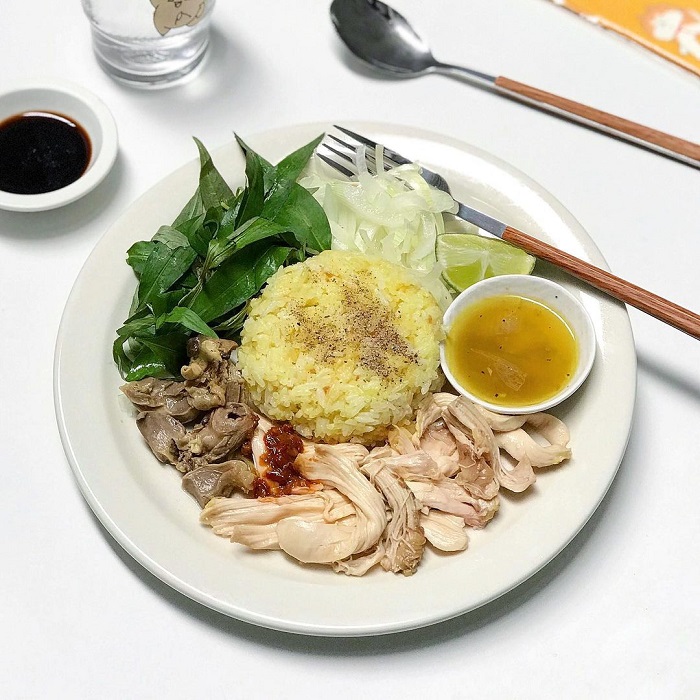 One of the oldest Hoi An chicken rice restaurants that is also loved and loved by all Hoi An people is Mr. Xi's chicken rice. This is the oldest chicken rice restaurant in Hoi An. Mr. Xi's chicken rice shop was born before the chicken rice stalls of Mrs. Buoi, Mrs. Ty or Mrs. Van and Mrs. Thuan.
Nearly 60 years of selling rice, Mr. Xi, who used to sell rice every day, is now an 80-year-old old man. Although he is no longer selling rice, the secret of cooking heirloom rice has been passed on to his descendants, so his restaurant is still crowded with people to eat and buy.
The special thing is that Hoi An – Anh Xi chicken rice restaurant is very cheap, it can be said that it is the cheapest rice restaurant in this ancient town of Hoi An.
With only 20,000 VND, you can order a delicious Hoi An shredded chicken rice at this restaurant. In addition, the shop also has chicken drumstick salad, drinks for diners to freely choose. The restaurant is also highly appreciated for its fast and dedicated service.
Address: No. 47/2 Tran Hung Dao street, city center. Hoi An, Quang Nam
Opening hours: 9:00 – 21:00
Reference price: 20,000 – 50,000 VND/person
Hoi An chicken rice: Mrs. Ty's cuisine makes visitors remember forever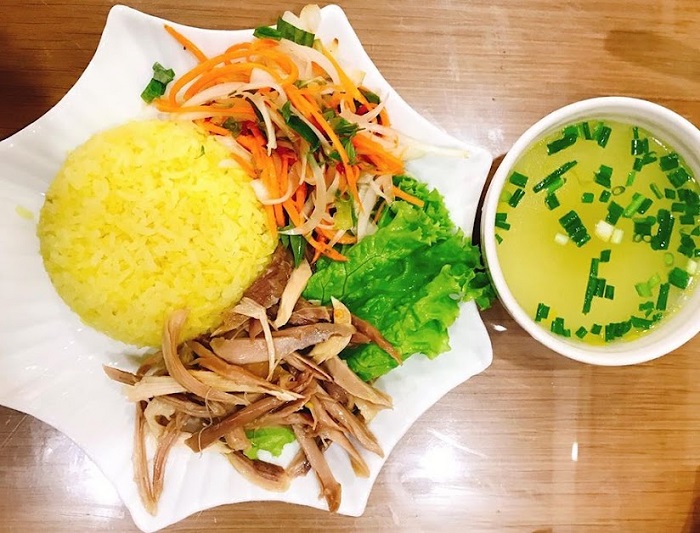 Ty chicken rice restaurant is the most attractive in the rice with golden seeds, fragrant, delicious, cooked with chicken broth and pandan leaves with the kind of sticky rice that has been carefully selected by the owner. The chicken soup here is full of finely chopped gizzards, seasoned very well, adding a little ginger for a mild and warm spicy taste. The strong aroma of chicken, combined with the sour taste of papaya salad, the mild pungent taste of onions, and delicious fresh vegetables will make diners remember forever.
Address: 27 Phan Chau Trinh, Hoi An City, Quang Nam
Opening hours: 09:00 – 21:30
Reference price: 30,000 – 44,000 VND/serving
Ho An Chicken Rice Restaurant – Mrs. Huong (Ket Sica)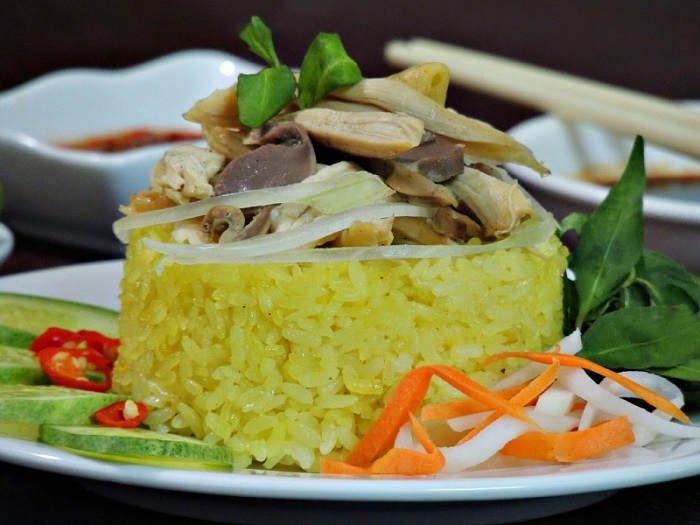 Although it is a small restaurant located in an alley, it is very clean and the space is comfortable, so many visitors do not hesitate to come to Mrs. Huong's chicken rice. Therefore, this is a restaurant that is always in the top of the most delicious and crowded chicken rice shops in Hoi An. The chicken rice here has a special recipe, is beautifully decorated and the taste is unforgettable.
Address: 56 Le Loi, Hoi An City, Quang Nam
Opening hours: 09:00 – 21:30
Reference price: 25,000 – 50,000 VND/person
You are reading the article
Typical dishes visitors should enjoy when coming here

at
Blogtuan.info
– Source:
danviet.vn
– Read the original article
here