For the community that loves learning English, Annie Mushroom is not a strange face. Although not yet of school age, she has the ability to communicate fluently in English, making many adults admire. Annie is a talented bilingual girl loved by many, whose video series has attracted hundreds of thousands of views. I have been exposed to foreign languages ​​since birth, at the age of 2, I can communicate fluently in English. Currently, the girl is 5 years old, possessing standard pronunciation and natural communication like a native.
Behind Annie's outstanding brilliance in language ability is a very patient father – Mr. Nguyen Hai Dang, who has taught his son to learn English since he was 5 – 6 months old. Hai Dang himself is also a person with a lot of experience in teaching and learning English. Listening to Annie's father's share, parents will have more new perspectives on teaching English-Vietnamese bilingualism to their children from a young age.
Mr. Nguyen Hai Dang and his daughter Annie.

Can you share a little bit about the journey of teaching bilingual children?
It's been a long but exciting journey. The most difficult thing is to overcome the reputation of family and society when starting out. I only use English with her, and her mother will speak Vietnamese. This is very common in multilingual countries.
It took more than 2 years for my little one to communicate well in both languages. If I don't talk to my father, strangers standing near will not be able to know that I know how to speak bilingual because Annie's Vietnamese is used naturally, even somewhat better than her peers.
Why did you have the idea to teach your child bilingual from an early age?
I've been using English since I was in college. Being able to interact and work with many people in different countries, experience many cultures through the use of languages. I have always had the desire to teach my children English since I was a child, so that my child can grow up to be integrated into the international environment right here in Vietnam.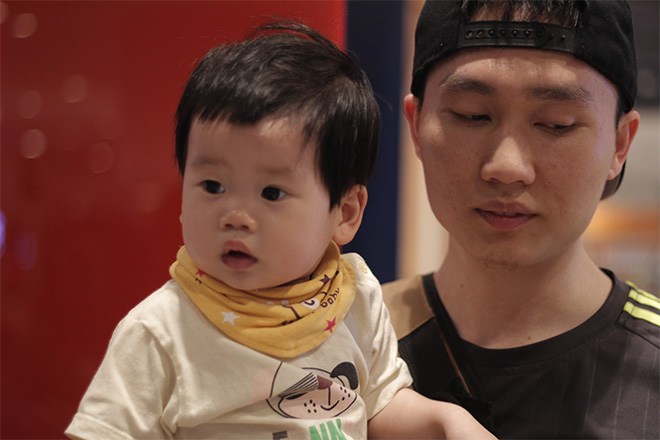 Annie was taught English by her father from a young age with the desire that she could integrate into the international environment.
Do you research the method thoroughly or do you base it on your own experience?
Most of us teach our children in the same way that our parents and grandparents teach their children Vietnamese. Practice single words, repeat, cheer every time your child says single words. Become a companion with your children.
In addition, my 5 years of teaching experience has helped me a lot in listening and giving me the right to freely express my opinions and views. This helps a lot in language teaching because children have extremely large imaginations, and remember for a long time if we listen and immerse ourselves in their stories.
How is Annie's Vietnamese now, is it as good as English? Which language does your child use more often?
Currently, Annie is rated by her teacher as the "fastest" friend in the class. Meet everyone actively talk to get acquainted. Everyone says that you are well-spoken. Therefore, in terms of Vietnamese, Annie is really outstanding.
As for English, my wife gave me the privilege of only opening TV programs at home in English. Because the environment you live in is Vietnam and most of the time interacting with people is in Vietnamese. I have to spend time every night reading stories to interact with you. I hope to grow up just need to communicate well with my father to be able to confidently do many things. To communicate like a native requires more than that.
Do you have a funny story or memory when the children spoke both English and Vietnamese? Have you ever surprised your parents with your abilities?
Memories are many and I remember every story one by one, because I record videos of children growing up every day as well as parents growing up every day. The first memory is Annie meeting her friend Khanh Vy – a girl who speaks 7 languages. Vy is very friendly and communicates with Annie, at first I said what language to start a conversation with Annie first, then she will speak that language. And will only talk if the person is friendly.
Surprisingly, after a while of getting to know each other, when saying goodbye, Ms. Vy gave Annie lucky money (just finished Tet), and said in Vietnamese: "She celebrates the age for Annie who eats quickly." As a habit, I say "What do you say, honey?". You immediately noticed"I thank you"without hesitation.
Bilingual girl Annie meets Khanh Vy – "The girl who speaks 7 languages".
Do you think your child is bilingual because he's smart or does every child have this ability?
Every child has this ability. I've met a lot of kids at Annie's age, even many friends (due to busy parents) just sitting at home watching English Youtube but still listening very well. Every time I talk to Annie in English, she comes closer and wants to talk to me. And I asked simple questions, all of them understood and answered briefly.
Even now, I'm still teaching a 6-year-old friend (Annie's cousin), which means that her Vietnamese is very good, past the golden age to learn languages ​​(before the age of 6). Almost 7 months have passed, according to the way I have interacted with Annie, now the 6-year-old has heard and understood what he said and knows how to express opinions and simple commands in English. Your mother said, when you are in kindergarten like Annie, you often stay at the end of the class to take notes because you are slow. Regarding speaking two languages, in my opinion, there is no such thing as a possibility. Just method and timing.

Many people fear that teaching their children to be bilingual too soon will result in a language disorder. What do you think?
In fact, in multi-ethnic countries like the US, many children grow up with Passive bilingual. That is, there is one main language used, and the other language can only be understood but not spoken or spoken incorrectly due to lack of interaction.
A language disorder is the inability to speak concise sentences in one language. Most of you have some kind of disease. It is largely because parents let their children watch programs in all kinds of languages ​​on TV, especially Youtube, but do not spend time interacting and communicating with their children, do not know how to listen, say words, and cheer.
I myself, when teaching Annie for more than 1 year, began to have a lot of people talk about this and give examples of cases brought on TV about dysarthria. I read on my own, researched on the internet and went to see an American education expert, Mr. Pedro, who is a colleague with 20-30 years of teaching experience. He has strengthened his faith. After that, I didn't think about it anymore, I just kept doing it.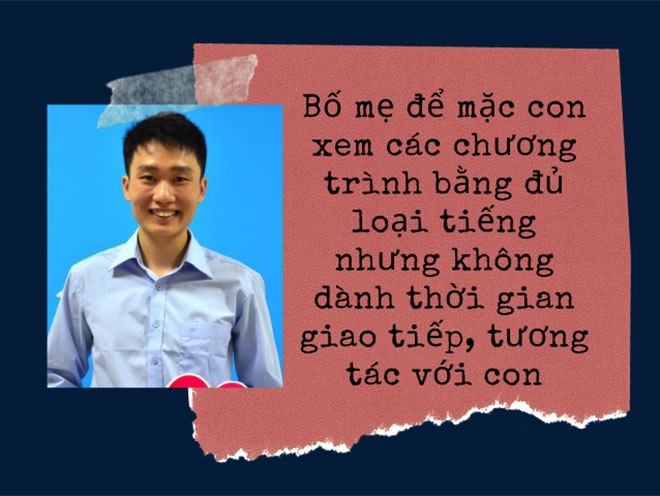 What do you think are the difficulties and mistakes of Vietnamese parents in teaching and letting their children learn English?
The most common mistake I see is translating from Vietnamese to English or vice versa. This makes the brain take a long time to use a language. At a basic level, when learning English, in many countries they still teach in English, not in their mother tongue. But this mistake is not as important as letting children listen to English materials every day and parents must spend time interacting in English based on those materials.
What about your family, do you have difficulty in teaching bilingual children?
The biggest difficulty is that family members and neighbors think that early childhood education affects the child's ability to speak Vietnamese. As well as bad comments on social media about why living in Vietnam speak English. After 4 years together, Annie gradually became better at both languages, those comments and criticisms decreased over time, replaced by praise.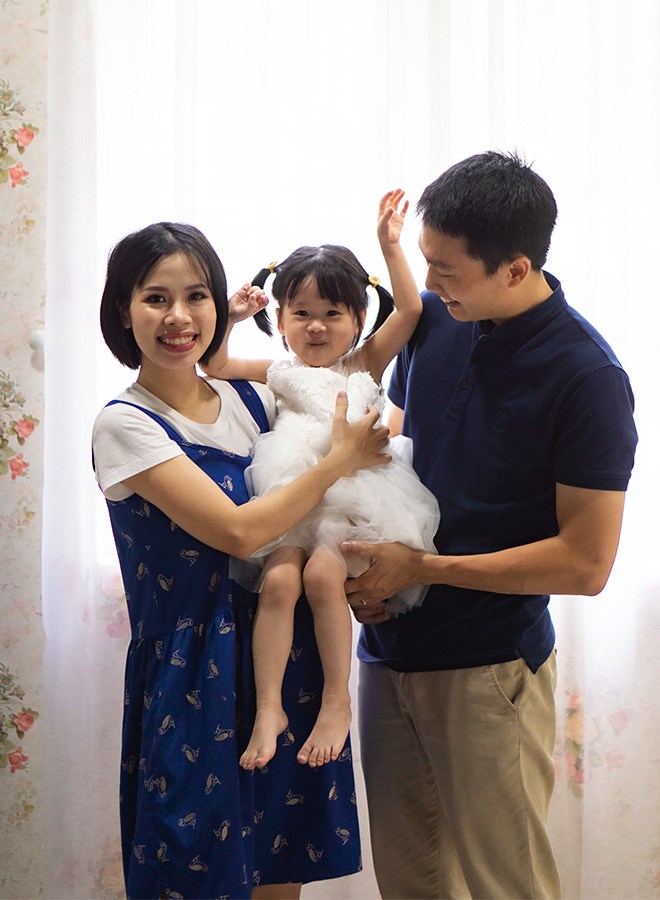 The small family of Mr. Nguyen Hai Dang.
When being opposed by relatives and neighbors to teaching bilingual children, how do you convince people?
Grandparents are always supportive of their decisions, moreover, both are primary school teachers, so it is normal to teach children a language with grandparents. Only relatives and neighbors are curious and sometimes joking. Attitude is not heavy, only comments on social networks make me feel scared. Please do not repeat.
I'm not convincing anyone either. I only talk to Annie most of the time when I'm at home and we're father and son. Take advantage of waking up in the morning, going to school, and talking in the evening. If I go out, I will only whisper to her, most outsiders don't know that I am speaking English with Annie in the first 2 years. Only if she's a little older and talkative. They just noticed and asked, do you speak both English and Vietnamese? I simply answered: "Yes, just like the Mong people speak Kinh".

Teaching children to be bilingual from a young age is an option, so what if parents want their children to start learning English when they enter school age (5-6 years old)? Will the children lose to their friends?
If there is a method and time for children, it is never too late. Loss and loss must be compared with any environment, public school, private school or international school. Teaching bilingual children must rely on parents having time to spend with their children and being willing to learn methods and materials.
Do you intend to let your child learn another language, how many languages ​​do you want your child to know?
Right now, I only want to let Annie use English until middle school. If then you want to learn another language or learn another skill, I'm willing to invest time and effort to help you.
Annie is talented and famous since she was a child, are you afraid that she will be pressured when she grows up?
Big boat meets big waves. It is important for the ferryman to accompany him, that is his parents. Without pressure, life has no meaning, no growth. We are ready to accompany and share with you.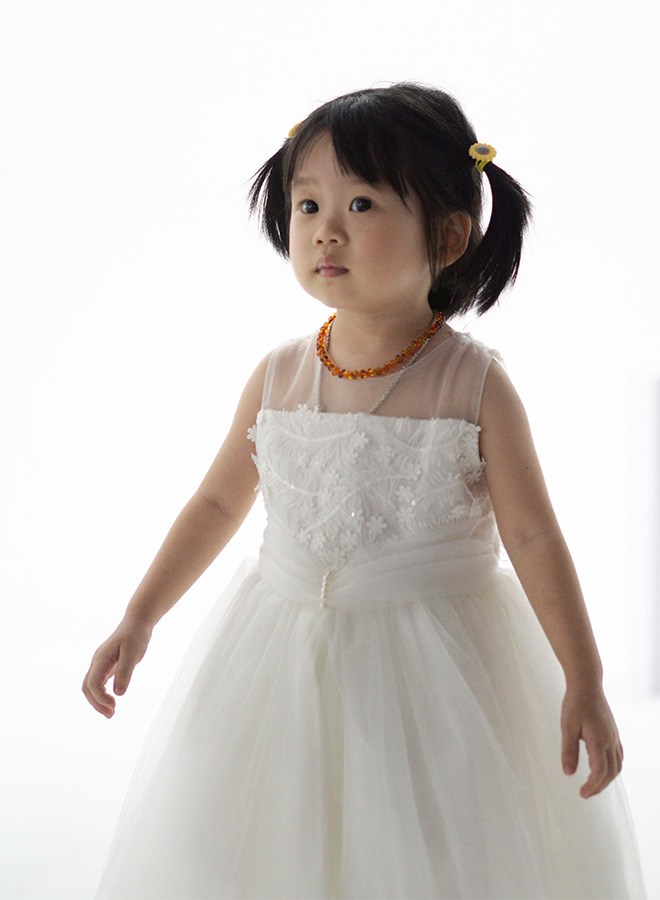 Hai Dang is not afraid of Annie being pressured, ready to accompany his daughter.
To teach bilingual children from a young age, families need to have good economic conditions or parents must have an English background, what do you think about this view? What advice do you have for normal parents to teach their children to learn English from a young age?
I can't give children that I don't have. If you don't want to teach but your child is bilingual from a young age, then make a lot of money to let your child study bilingually. It is very difficult for parents who do not have an English background to teach their children. Moreover, English is not a measure of intelligence or social status. If you don't study first, learn later. There should be lice. Perhaps, the self-help and self-study mindset is what parents need to teach their children.
Thank you for sharing!
You are reading the article
Father teaches bilingual from birth, 2-year-old Vietnamese girl who shoots English has been idolized by thousands of people

at
Blogtuan.info
– Source:
Eva.vn
– Read the original article
here