Ký sự pháp đình
Half a month of living in hell of a girl who was tortured to death by her father and 'step-aunt'
The People's Procuracy of Ho Chi Minh City has just completed the indictment against 2 defendants related to the case of an 8-year-old girl being tortured to death in an apartment building in Ward 22, Binh Thanh District.
Specifically, defendant Nguyen Vo Quynh Trang (27 years old, from Gia Lai) was charged with "murder", "torture other people" and Nguyen Kim Trung Thai (37 years old, living in District 1, Ho Chi Minh City) was arrested. prosecuted for "Torturing others", "Concealing crimes".
The victim in the case is NTVA's nephew (SN 2013, Thai's biological son).
According to the prosecution, grandchild A is the biological child of Thai and Nguyen Thi H. In the process of living together, many conflicts arose, so in August 2020, Thai and sister H. divorced, Thai was allowed to raise grandchild A.
In September 2020, Thai brought his lover Nguyen Vo Quynh Trang to live together as husband and wife at Topaz 2 Saigon Pearl apartment (Binh Thanh district).
Around October 2021, due to the Covid-19 epidemic situation, A. studied online at home, Thai assigned Trang to stay at home to take care of and tutor An.
During the period from December 7, 2021 to December 22, 2021, Trang repeatedly used her hands, feet, wooden sticks, whips, metal rods (connecting pipes of vacuum cleaners) to beat and brutally torture her. child A. in many different ways, over many days, many hours.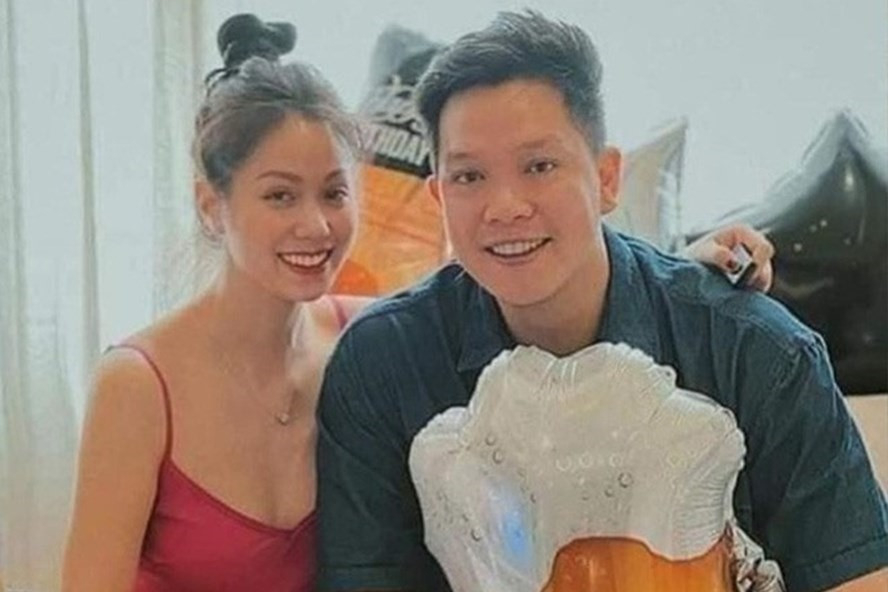 There are days when Trang beats up A. in a state of no clothes, kneels and raises her arms, forcing A. to go into the doghouse and keep the dog, kneeling in the doghouse.
Many times, Thai witnessed her lover torture her daughter, such as on the afternoon of December 7, 2021, Trang forced her to kneel with both hands raised high, beat her with a whip, Thai sat on the bed and witnessed and cursed at her. Then, Trang forced A. to kneel to study until 18:28 before getting up.
And yet, from 10:14 pm on 10/12/2021 to 02:16 pm on 11/12/2021, Trang and Thai took turns using whips and metal rods to hit grandson A. in the state that grandchild A was not wearing any clothes. Trang used her hand to strangle A. and Thai took a whip to hit A's head.
On December 11, 2021, starting at 8 o'clock and continuing until 10 o'clock, Trang took a hair cut, grabbed A.'s hair with her hand, put her head on the table, hit her head with a stick, and covered her head with a towel. hit A.'s head with his hand repeatedly on the table until he fell to the floor.
Trang repeatedly kicked her stomach with her feet, whipped her face with a towel, hit her nephew with a stick, and forced her to kneel and raise her hands. Thai was present to witness everything, but did not intervene, but also cursed with Trang.
After Trang finished beating, Thai discovered that her daughter was bleeding on her head, so she gave first aid and took her to the hospital to stitch the wound. Although she was injured, at 16:57 pm on the same day, Trang continued to beat her with her hands and feet and a metal stick (the connecting pipe of the vacuum cleaner).
At 16:30, Trang and Thai left the house but still forced them to kneel at home, Trang and Thai watched through the camera.
When Trang and Thai came home, from 19:57 to 20:20 on the same day, Trang continued to force A. to take off his pants and hit him with a metal stick. During this time, Thai saw Trang beat A. but did not intervene.
On December 12, 2021, at 16:27, Trang forced An's nephew to kneel, raise his hands high, beat him with a metal rod with a plastic head, and use his foot to kick A. along with the dog, cursed while slapping his face with his hands, lying in his hair, pulling A's ears.
Thai holding a metal stick with a plastic head stood beside it to witness; At 5:00 p.m., Trang forced A. out of the doghouse to take off his pants and lie on his stomach so that Trang could use a wooden stick to beat him and interrogate with Thai.
The climax was on December 22, 2021, from 14h to 14h30, Trang forced A. to kneel to do homework for Trang to check.
Less than 20 minutes later, from 14:51 to 18:00, Trang let her child study. During this time, Trang did not let her child wear clothes, and used a wooden stick to hit him hard in succession, pounding on grandson A.
More brutally, when this hand was tired, Trang changed the other hand to beat the baby. When her hand hurt, Trang put on gloves and continued to beat A.
Not satisfied, Trang also used her foot to kick, kick repeatedly in the abdomen, hip area, back, genital area or hit her head and face with her hand. A. Just hit, she just scold the child.
Around 15 o'clock, Thai watched the camera in A's bedroom. However, Trang continued to beat and torture A. continuously.
At 6pm on the same day, he lost consciousness, Trang phoned Thai to report. At the same time, Thai had just come home from work and ran to give first aid to A., then accompanied Trang to take him to the hospital for emergency treatment.
Then, to cover up his cruel behavior and his lover's nephew A., Thai deleted all the data of 4 cameras in the apartment.
According to the conclusion of the forensic examination of the Criminal Technical Department of the Ho Chi Minh City Police, the cause of death of Nguyen Thai Van A. was acute pulmonary edema due to traumatic shock.
At the investigation agency, Thai and Trang confessed all acts of beating and torturing grandson A.
Thanh Phuong
You are reading the article
Half a month of living in hell of a girl who was tortured to death by her father and 'step-aunt'

at
Blogtuan.info
– Source:
vietnamnet.vn
– Read the original article
here