Suggested dinner this afternoon will have the following dishes:
– Fried shrimp with meat: 70,000 VND
– Boiled okra: 8,000 VND
– Potato salad: 20,000 VND
– Stir-fried mussels: 25,000 VND
Total: 123,000 VND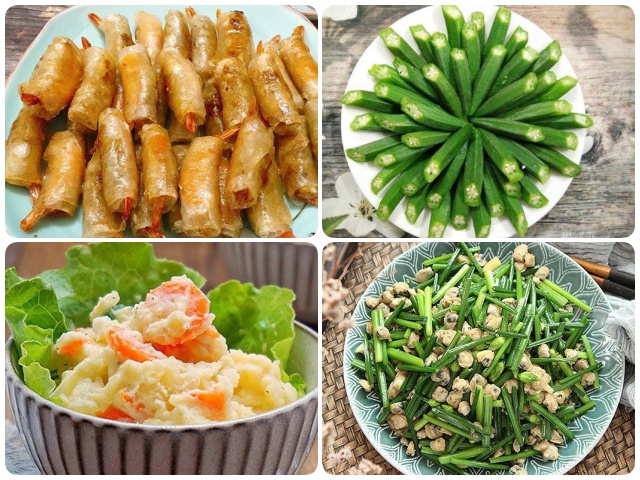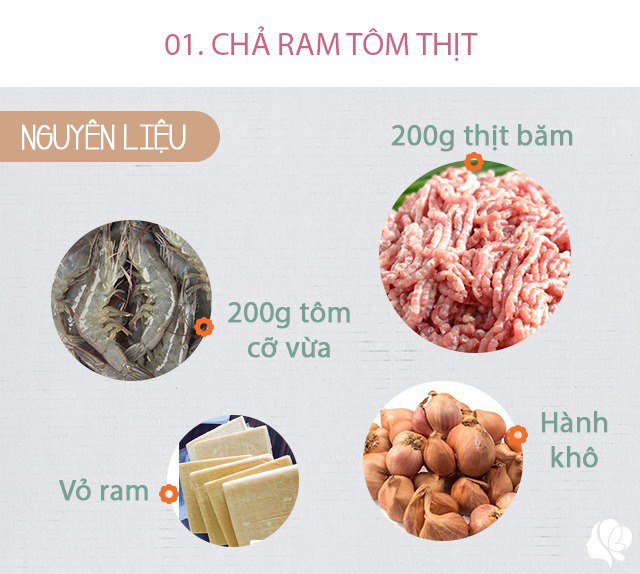 Ingredients: 200g minced meat, 200g medium-sized shrimp, dried onion, green onion, soup powder, pepper, ram shell
The filling consists of peeled shrimp, marinated with a bit of soup powder. Shrimp can be left raw or lightly steamed, ground meat mixed with chopped dried onions, finely chopped scallions, soup powder, and pepper. Wrap the meat on the outside of the shrimp into long members, fold the ram shell in half, and then put the shrimp meatballs in and roll them like spring rolls. Fry on low flame until golden.
Preparation: 350 okra, a pinch of salt
Wash okra brush to remove all fluff. Bring a pot of water to a boil, add a little salt, and then drop the okra in to boil. Cook okra on a plate. Boiled water for soup.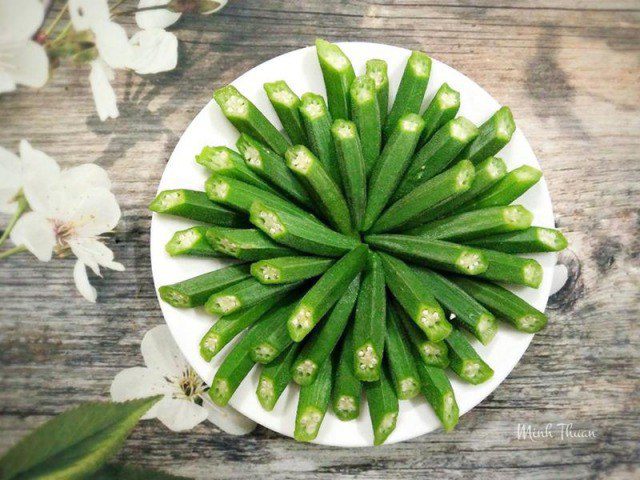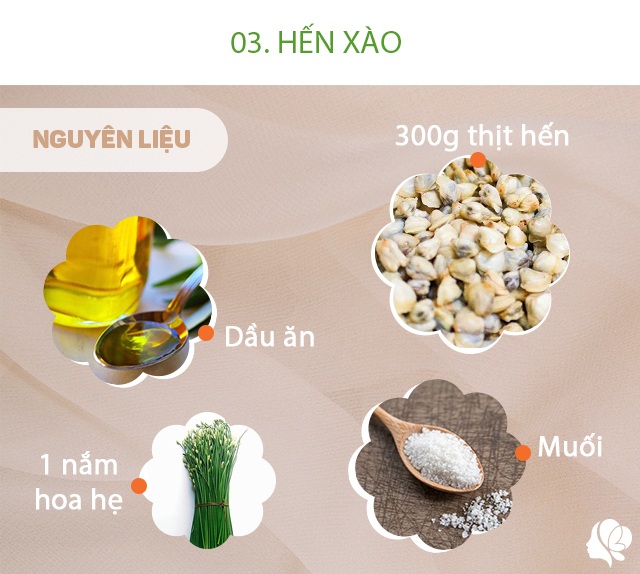 Ingredients: – 1 handful of shallot flowers (150g), 300 grams of mussel meat (choose a large one, you can replace it with clam meat), garlic ginger just enough, 1 teaspoon oyster sauce, 1 teaspoon cooking wine, half a teaspoon salt, a little ground pepper.
Wash chives, cut into pieces. If the bud is young, keep it, if it's old, discard it. Buy clam meat and put it in clean water to soak for a while or you can also blanch it in boiling water for about 10 seconds, take it out and let it dry.
Heat a pan, add cooking oil, then add ginger and garlic and sauté until fragrant. Then pour in the clam meat and stir-fry for a while, at this time add cooking wine to remove the fishy smell. The mussel meat will release water. Stir-fry until the mussel meat is soft, slightly in and a little dry, then add the chives and stir well.
Add a little oyster sauce, season with salt to taste, stir well, then turn off the heat. Chives should not be fried for a long time, they will lose nutrients. Sprinkle some pepper if you like.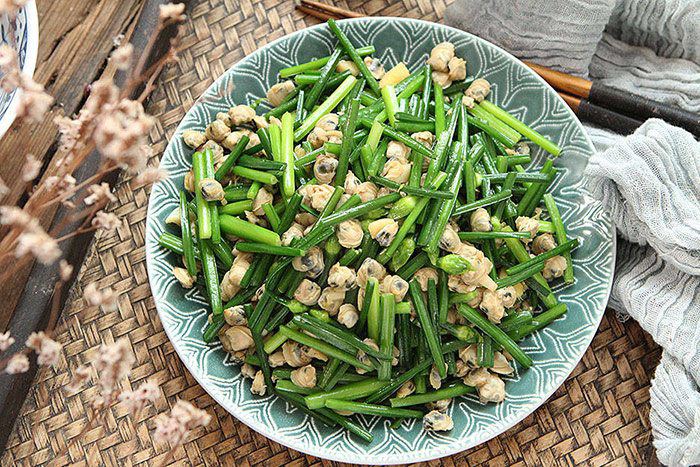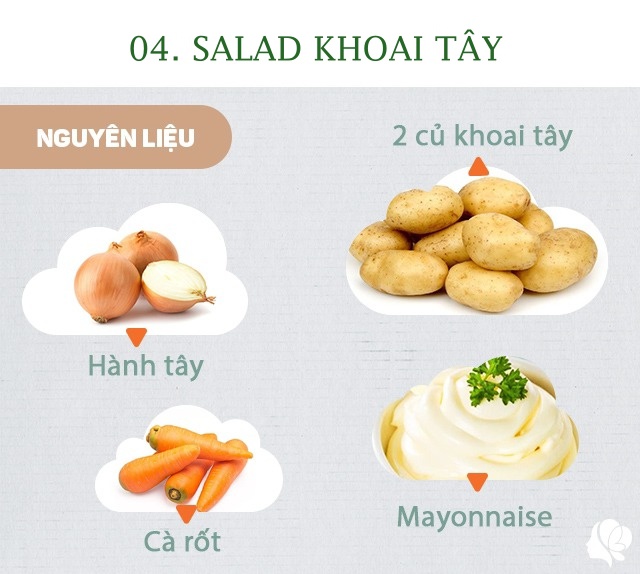 Preparation: – 2 large potatoes, 1/3 cucumber, 1/3 carrot, 1/3 onion, 30ml fresh milk, 1 boiled egg, 5g salt, 2g black pepper, 5ml vinegar rice, 50ml mayonnaise
Potatoes are peeled, washed, cut into pieces and steamed. The steaming process helps the potatoes to ripen and still retain the sweetness, without losing nutrients. Steaming time is about 15 minutes. Cucumbers are washed and thinly sliced. Chopped onion. Prepare 2 bowls of filtered water, mix with a little salt and pour in melons and onions, soak for about 10 minutes. Then take out, squeeze or squeeze to reduce water. Thinly sliced ​​carrots, boil in boiling water for about 3 minutes, then, take out, squeeze to drain.
Potatoes are mashed or mashed. Spoon eggs (both whites and yolks) into the potatoes. Season to taste while the potato mixture is still hot. Pour rice vinegar and milk into the potatoes, mix well. Continue to add carrots, cucumbers and onions. Sprinkle a little pepper to taste. As a final step, add the mayonnaise, mix well and finish the dish. You should keep the salad in the refrigerator for at least 30 minutes before serving.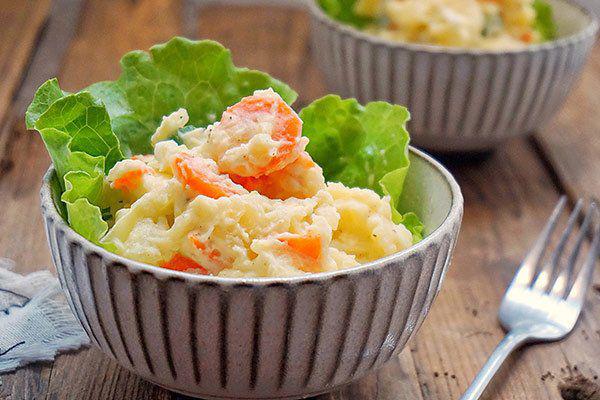 Good luck!
You are reading the article
Lunch is simple, easy to cook, but it makes you want to eat it right away

at
Blogtuan.info
– Source:
Eva.vn
– Read the original article
here