Hosts (also known as MCs) are those who lead the audience in an event or performance, which is considered a profession belonging to the arts of entertainment. Nowadays, young people who are still students with their own talents, a good voice and confidence in front of the crowd often choose to work as MCs to be able to make ends meet, and earn extra income for themselves.
Here are some young people who have chosen to be MCs since they were students. Let's listen to their sharing to better understand about conquering MC career while still a student!
MC: Because of passion, money is also an indispensable factor
For students, when they don't have much experience, they often receive MCs for small cultural programs at school, events, weddings, etc. with the sand level fluctuating quite low from a few hundred to millions. for an event.
"Since I was in high school, I had the opportunity to hold the mic at small stages at schools and villages. Before that, I didn't know what it was like to be an MC. Every evening, I ate dinner when I saw 24h Motion. I saw Ms. Thuy Van, Ms. Thu Huong led me, and I also hope to be a editor like you in the future. When I was in 11th grade, when I started searching for majors and universities, I happened to know the AMC Club of the Academy of Journalism and Propaganda – This is the place where many talented and famous MCs have been found and trained. . I have been watching this common house, the seniors' brothers and sisters have come out of the club since then and the love for the mic has grown.
In grade 12, I was invited by the Secretary of the School Union to lead the Mid-Autumn Festival program for children and teachers in the school, it was probably the first official program, I was able to come up with program ideas, write scripts, rent dresses, makeup to be beautiful on stage. Stealing started quite smoothly even though it was a super simple program, but maybe because it was smooth, I was motivated enough to continue conquering."her friend Phuong Anh (4th year student, Faculty of Public Relations and Advertising, Academy of Journalism and Propaganda) shared.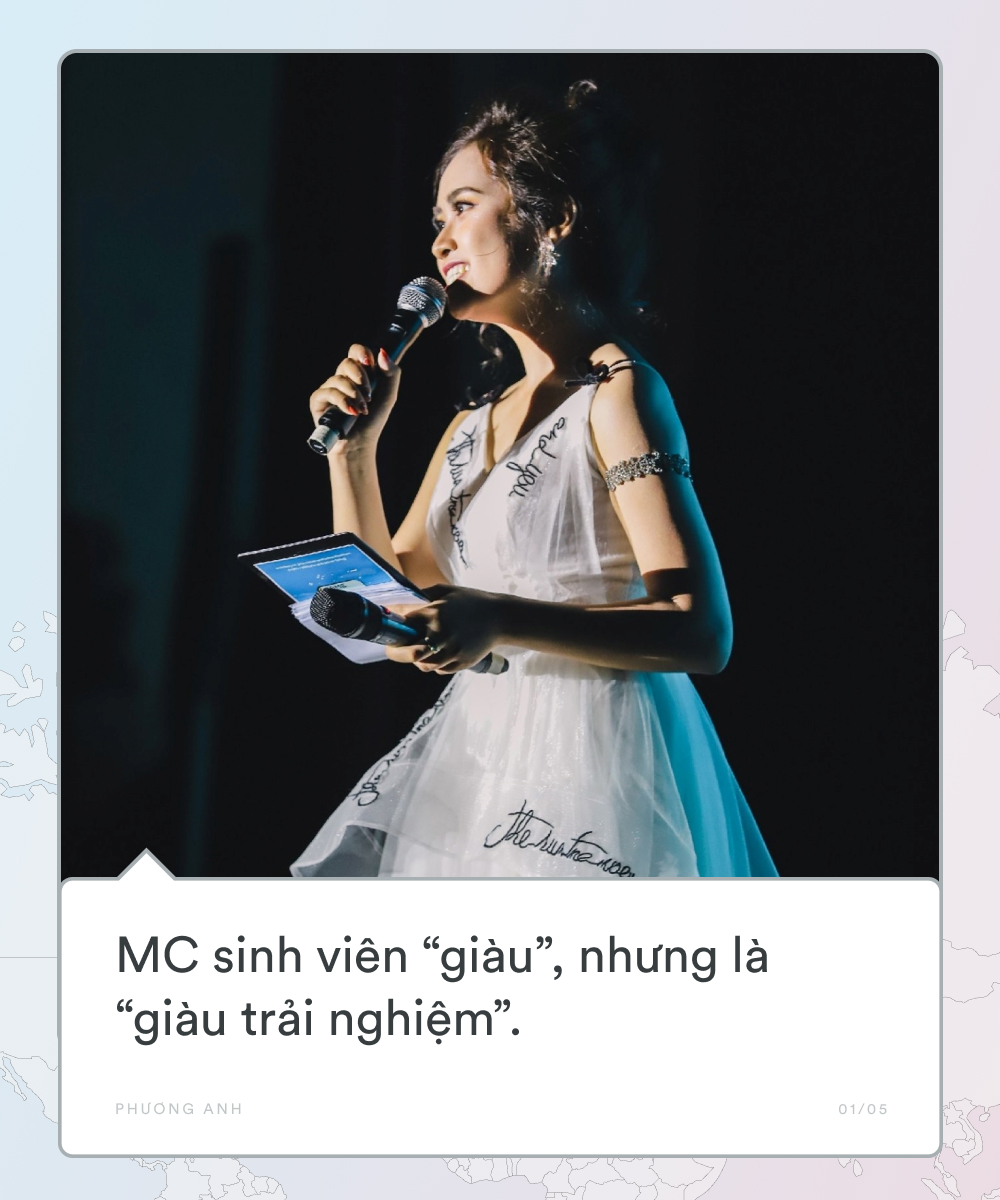 Phuong Anh shared that MC is an "experienced" profession.
As for Le Minh Duc (3rd year student of Television class 39, Faculty of Broadcasting, Academy of Journalism and Propaganda) said that MC career came to him by accident.
"I did not have any experience in MC field until my freshman year of university. Also because in high school, I wasn't exactly a timid person, but I didn't have a "acting ground", didn't have the right environment to really reveal my stage ability. So it seems that I always label myself an "introvert", and MC's job is "too extroverted" for myself.
The first stage that I remember the most was on the Mid-Autumn Festival that year, a female friend in my university class invited me to host a program to give gifts to children at a hospital. Not having a bit of experience, skills are also extremely instinctive that have not been through a school, nervousness and anxiety are of course my feelings at that time. At that time, I did not necessarily accept the invitation because I "dare to do" but was afraid to refuse because I was "afraid". That's why I just stick my head in the script, prepare the costumes, and then try to practice a lot, thinking "wherever you go".
It was also the first time that I understood all the processes an MC must prepare before each program, what situations may arise that MC needs to handle. Frustrations even while flipping through each script, then slurring, stuttering to the point of "ripe face" are of course inevitable. It is true that "go a day to learn a sieve". Even though it's only a non-profit program, the audience is mostly children, but that transformation into "Uncle Cuoi" has made me a lot bolder."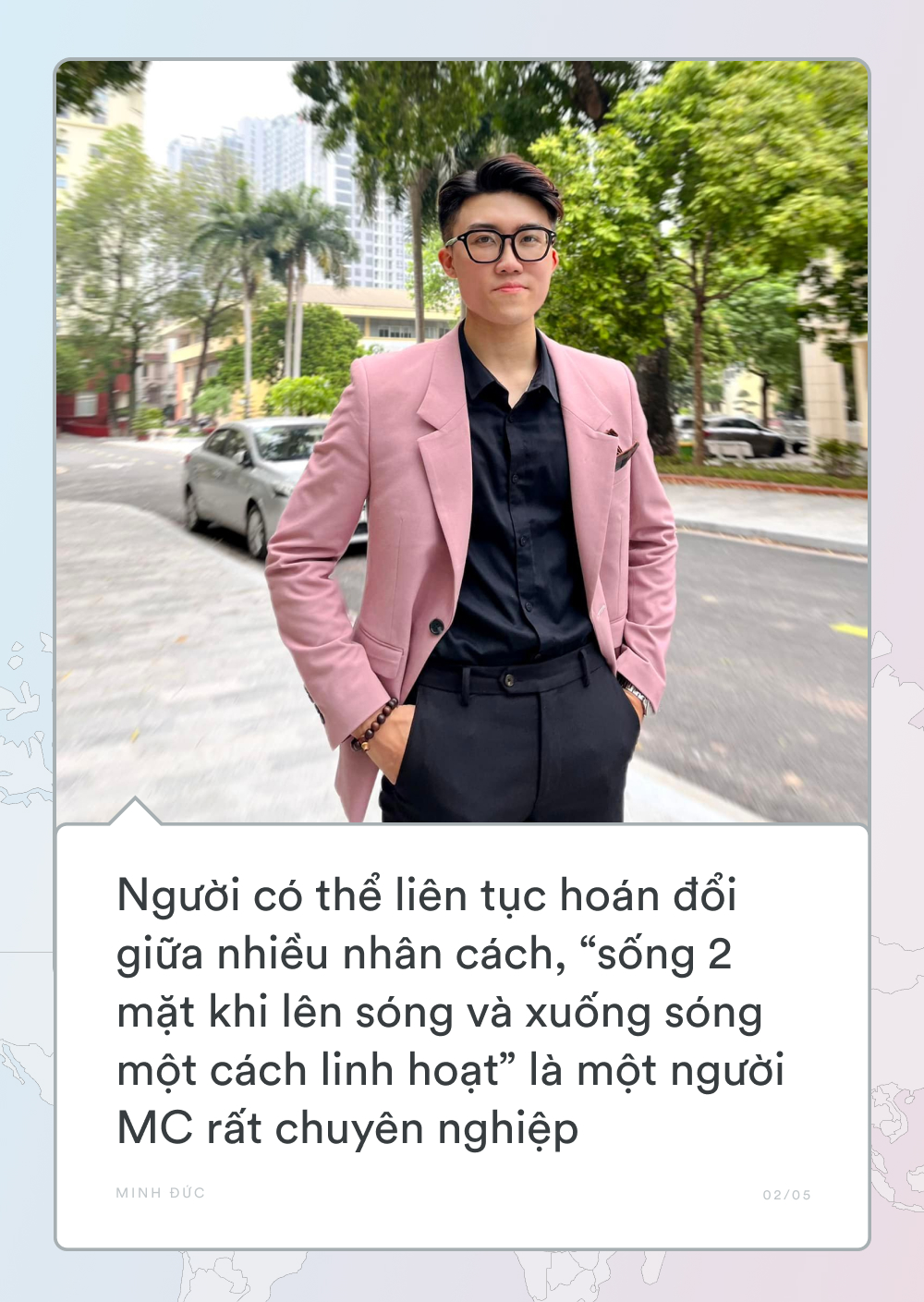 Minh Duc confided about MC profession.
Many of you think that, at first, when you started working as an MC, your income was just enough to pay for gas, clothes, and other miscellaneous expenses. However, in return, you learn a lot from this job.
Phuong Anh said that she was predestined with the teaching profession since the first year, so she did not depend on the family's finances much but was completely independent: "I think leading students will have a decent income, higher than many occupations but also lower than many occupations. In general, student MCs are "rich", but "experienced". As for the job that receives a high salary, it is enough for me to become a companion sponsor for a program at my school."
Meanwhile, when asked about the salary when working as an MC, his friend Ngoc Tan (3rd year student, Faculty of Management Science CLC TT23, University of Social Sciences and Humanities) was honest: "The MC job after one lead has a pretty high salary, but that is for seniors, MCs with long-term experience, famous or long-term relationships with partners can receive a salary. from 2-3 numbers or even more".
He further shared that for me, or young MCs who are students, it must be difficult to be financially independent from MC because he has to care about more things in the living environment at the University. Tan revealed a secret, once the host boy had an amount of nearly 10 million dong in just one lead, this is the highest amount that a job Tan has ever earned.
Learn from the predecessors to overcome difficulties in the profession
To become a professional MC requires not only looks but also mindset, such as stage bravery, communication skills, situational handling skills, voice editing skills, smiles, etc. .. To do so, every day, in addition to learning at school, students also have to learn from the experiences of their predecessors, so that they can find their own "self-guided substance".
With Dieu Anh, right from the moment she entered the profession, she has determined that the leading style and guideline for the job is calmness and sincerity. At the same time, knowing his own prominence is also one of the important things that helps Dieu Anh become a face that makes an impression on the audience.
"The MC job is a job that many young people aim for and compete with. But I always know how to make myself stand out and know where my weaknesses are, every day I know how to improve and overcome my weaknesses, and my strengths will promote and turn it into my own color. me. Until people remember me through programs, I will use that as a motivation to move forward and develop."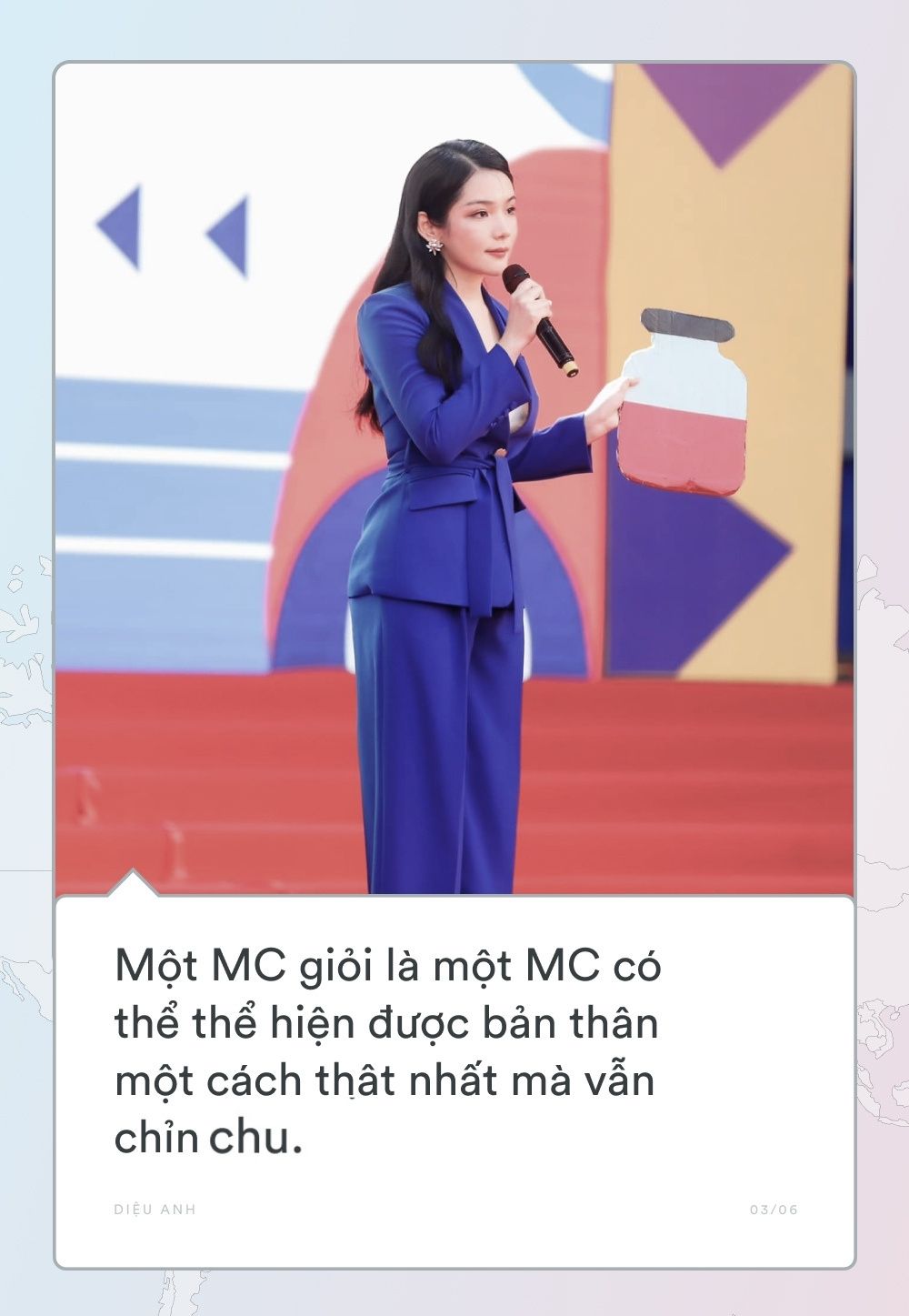 Her friend Dieu Anh always shows the most thoughtfulness.
For his part, with the accumulated experience, Minh Duc said that besides learning and cultivating from his predecessors, a successful MC needs 3 factors:
Have content: they simply have the ability to turn information that "everyone knows" into something "everyone wants to hear".
– Having an audience: not necessarily a fan, but a recognition and love from a part of the people who listen to them.
– Having seniority: "Time will tell", I will not be able to consider someone as "successful" in the profession if their career age is only 1, 2 years.
Many argued that: "If you want to see whether a person is successful or not, then look at their future, career. If they have a solid future, they will get everything they want and will definitely succeed.". As for the MC profession, the success of the profession is the recognition of the audience.
It is the love of the audience that will be the driving force for each of you to realize that there are many beautiful things in this life, and being a TV MC will be a bridge to help spread the goodness to tens and hundreds of thousands of children. others.
Phuong Anh always considers invisible pressure as the key to help herself know what she really wants and needs. "I don't seem to put too much emphasis on "more different" compared to others, because each person inherently has a life and a journey.
There is a saying like this: "When the inside is full, the pressure to thicken the outer shell is also relieved." When I see myself that I have the right thing, I will immediately be different."
Balance your studies with your own passion, sometimes it can be contrary to the industry
Not everyone is lucky enough to find a job they love or the right major that they are studying, and not everyone can balance between study and work. The same goes for MC students, balancing the workload and pursuing a dream is an arduous process.
For Ngoc Tan (3rd year student, Faculty of Management Science CLC TT23, University of Social Sciences and Humanities), to be able to balance studying, MC and joining clubs is a rather difficult journey. nan, but he still tries to balance study and work.
Ngoc Tan confided: "Study is still my top priority and MC is a passion, so after school, I will spend time studying and practicing at vocal training centers. If there is an event, I will discuss with the organizers about the time to best balance between studying and working as an MC.".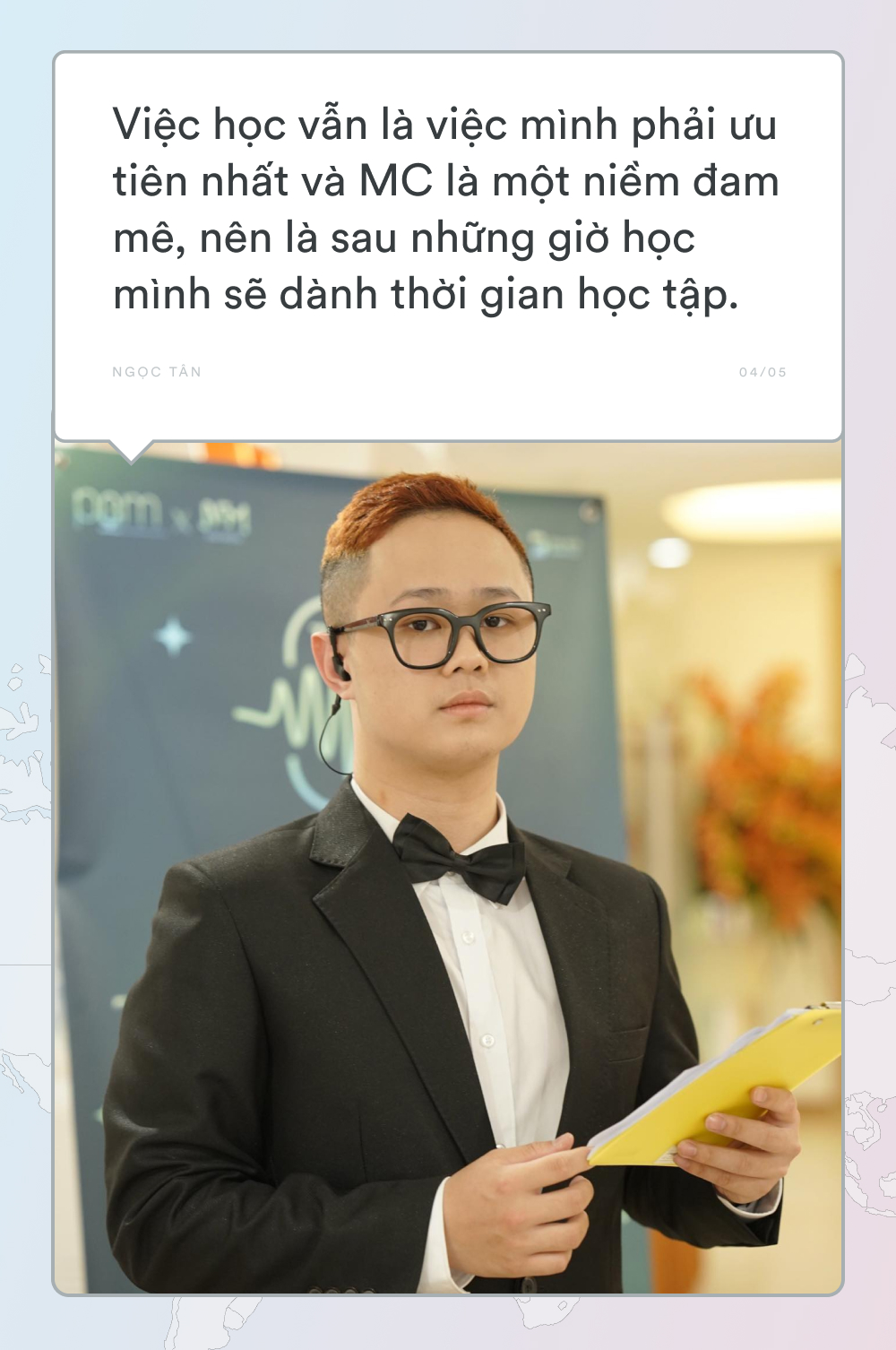 Ngoc Tan always considers learning a top priority.
The boy also shared his advantages of youth, fresh colors and his spirit was not tied too much because he was still a student, so he could create more diverse colors and a more youthful perspective. Ngoc Tan did not study MC-related majors, he majored in Management Science, so he considers MCing as his second major.
"I will still work hard and pursue my major at the University. And MC is a passion, I can make money from that passion, so I will have to study more, practice more, just consider it as a "double degree" study.Ngoc Tan laughed.
Dieu Anh (3rd year student, Faculty of Broadcasting, Academy of Journalism and Communication) also wondered, trying to find a balance between studying and hosting. However, her friend considers MCing as a job to be able to maintain and cover tuition fees.
Dieu Anh says: "MC has a pretty high salary compared to students, this job helps me to be financially independent without having to ask for a subsidy from my family. The first salary I received when I went to lead was about 12 million / month, then I also worked part-time and got more jobs from outside to cover tuition and living expenses.. Dieu Anh always tries, arranges and prioritizes learning over the arrangement of the program host, as an MC how to make the most convenient class schedule.
For her part, Quynh Diem (3rd year student, Economic Law, Hanoi Law University) has only been hooked on holding a mic since her 2nd year of University, since then she has found a way to follow her passion for MC. Before that, Quynh Diem's ​​initial orientation would be to follow the law profession because this is the traditional profession of Diem's ​​family. While studying and working, sometimes Diem also feels a little difficult because many times her friend falls into the case of shows and events that coincide with the school schedule, because the MC profession does not have a fixed time.
"There was a time when I was really stressed between having to choose what I really needed and myself. I think this balance should also be flexible. At different stages, I organize my time in different ways to align with my goals. For me, being able to live and do what I'm passionate about is happiness." Quynh Diem confided that sometimes she also has some difficulties.
Talking about the disadvantages of studying while working, Quynh Diem shared that she cannot spend all her time pursuing her passion because she still has to go to school.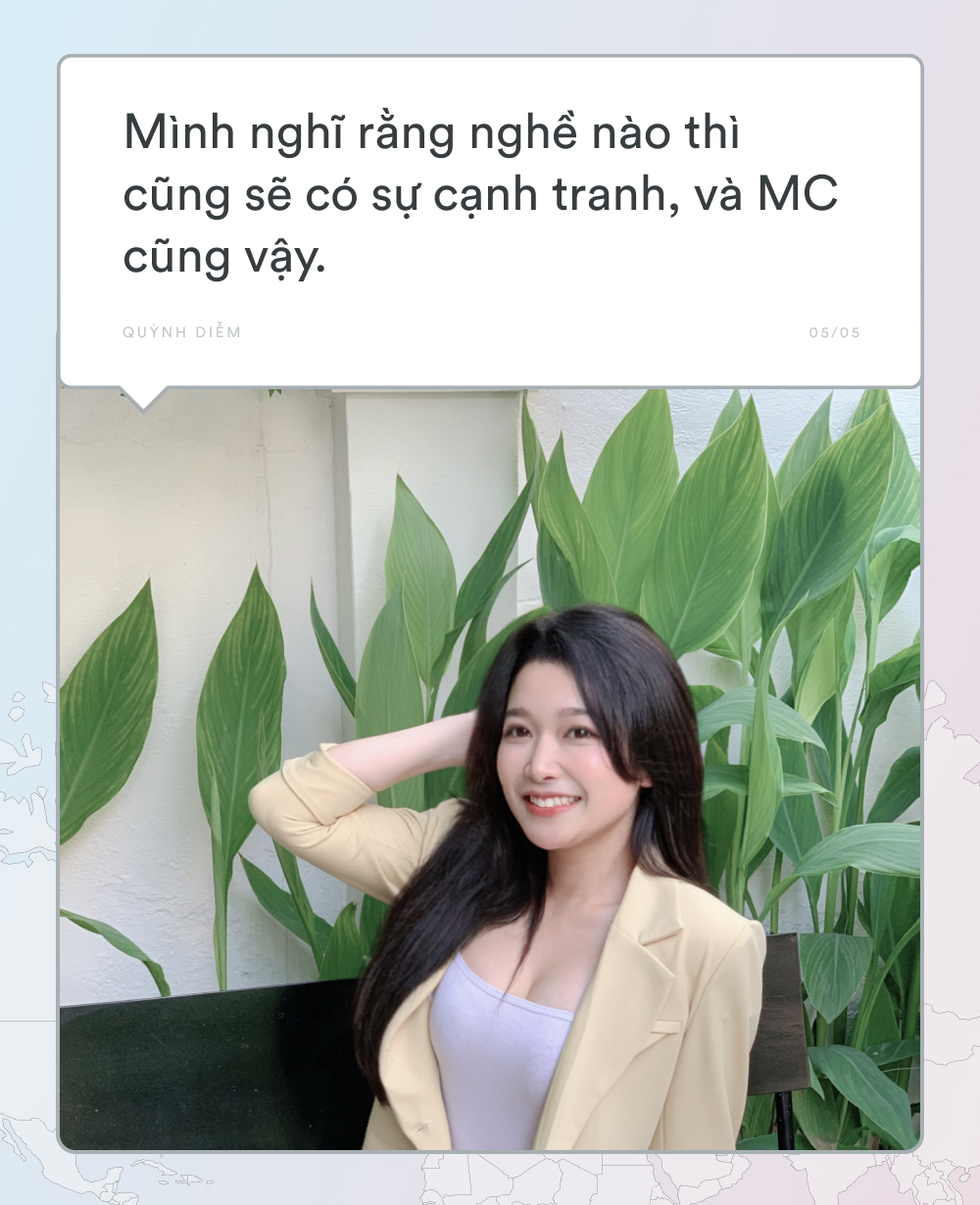 Quynh Diem, a pretty MC from Hanoi Law University.
It can be seen that MC is considered as one of the hot professions, and is the dream and goal of many young people, especially students. Many people mistakenly think that being an MC is just saying, simple and gentle, but in fact it is extremely difficult and hard. For students, it is not easy to pursue MC workload while balancing study, but with enough time, investment and dedication, this is really a potential job. enormous capacity.
Photo: NVCC
You are reading the article
Students working as MCs earn nearly ten million/night

at
Blogtuan.info
– Source:
Afamily.vn
– Read the original article
here