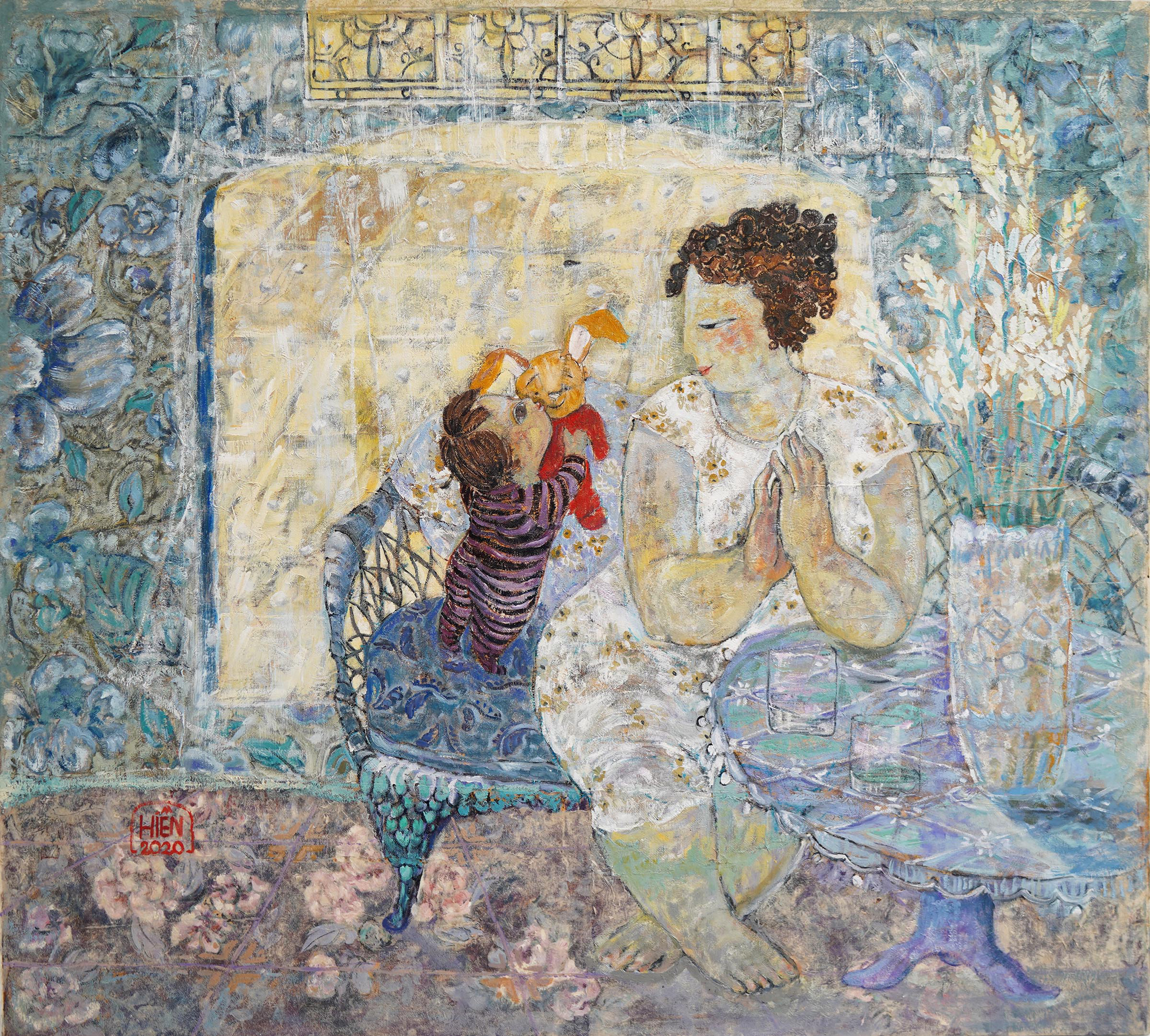 The first solo exhibition of Nguyen Thi Thu Hien (born 1990) lasted from May 3 to 9 at the Fine Arts Association of Ho Chi Minh City with more than 60 paintings and nearly 30 large and small ceramic statues.
The exhibition also has a gallery dedicated to recreating a part of the family space, where Hien lives, composing in the presence of baby Cam (born 2019) – daughter – is an essential part of creative inspiration. create.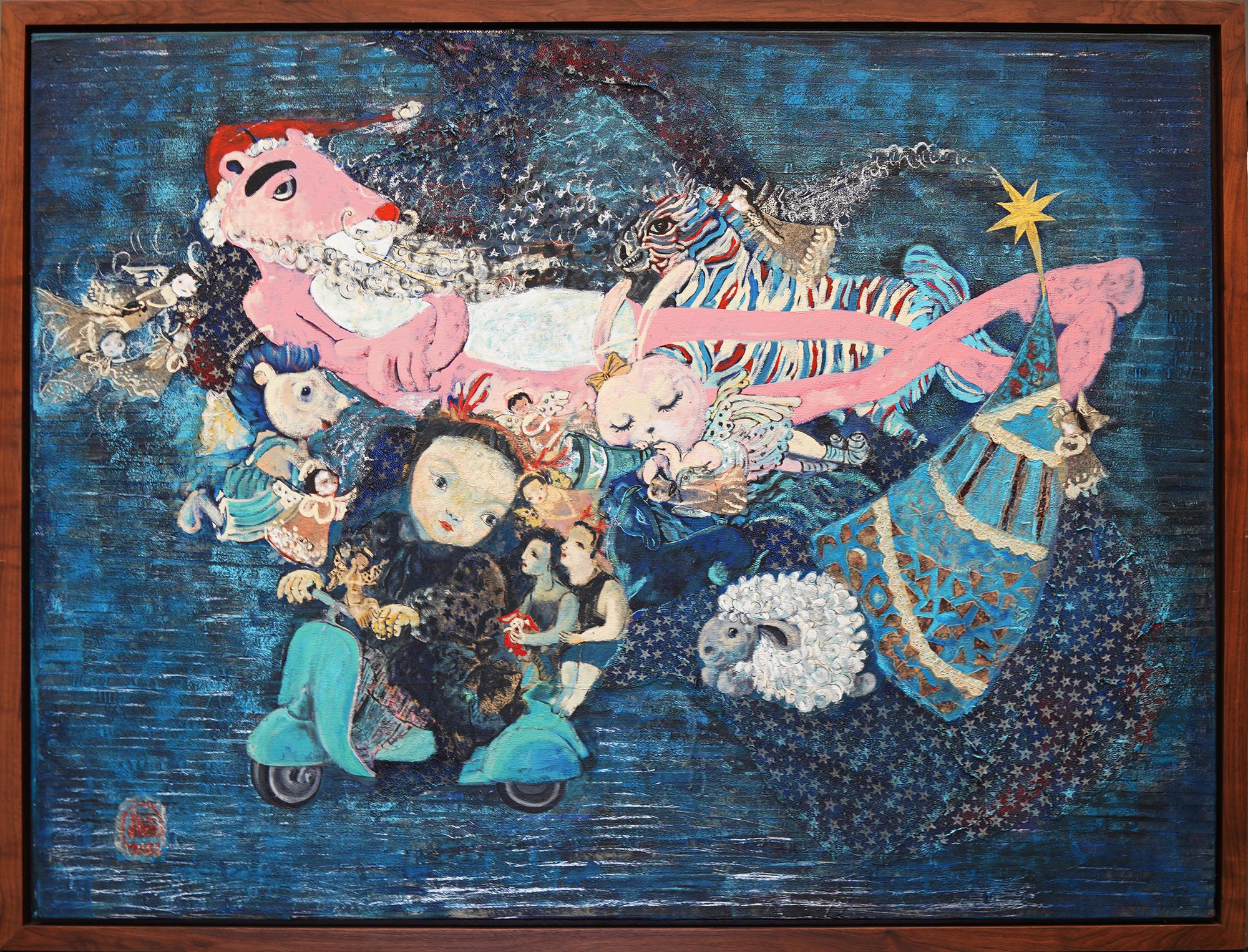 Thu Hien graduated from Fine Arts University in 2015, got pregnant in 2018 and gave birth to baby Cam in early 2019. Unlike other female artists who were forced to stop composing to take care of their children, Hien has enough renewable energy to paint many consecutive pictures of motherhood, the lively, innocent child world and the love of children. Busy fun of adults.
Therefore, the fact that Thu Hien selected more than 60 paintings and nearly 30 statues for this solo exhibition is a very significant and respectable number. Not to mention, in the past 5 years, the number of works that Hien has sold is not small. This shows the ability to work and the ability to arrange and balance between composing and everyday life. In Vietnam, it is quite rare to find a female artist who can paint in a variety of genres and materials while also making ceramic and lacquer statues.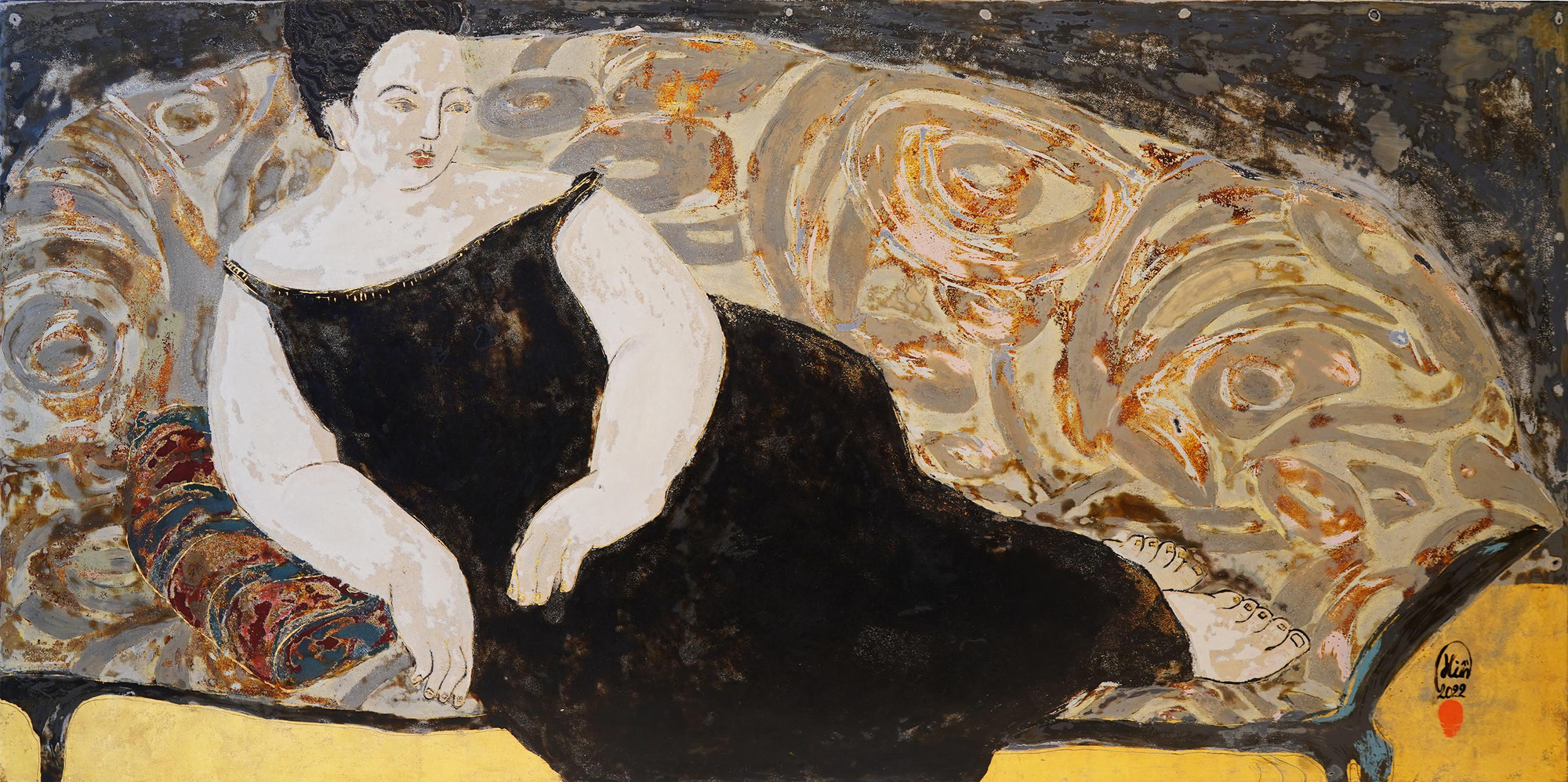 In terms of materials, she has strengths in lacquer and oil paints, but because of her pregnancy and breastfeeding, Hien switched to silk paintings, dó paper, or acrylic to make it safer for Cam, as well as convenient. , faster in composing.
When little Cam could walk, Hien applied pottery making as a way to play with her children and the children in the apartment complex. This explains why the exhibition The sun tilted its back such a variety of materials. Many of the works in this exhibition are named Cam.
An example of material efficiency is the application of dó paper to canvas/canvas before painting. It is the grain of the paper and the folds of the paper that make storytelling with acrylic or oil paint more visually effective. The material is romantic, floating stories, visualizing everyday life, now thanks to the surface effect of Dó paper on canvas, it is more vivid and multi-dimensional.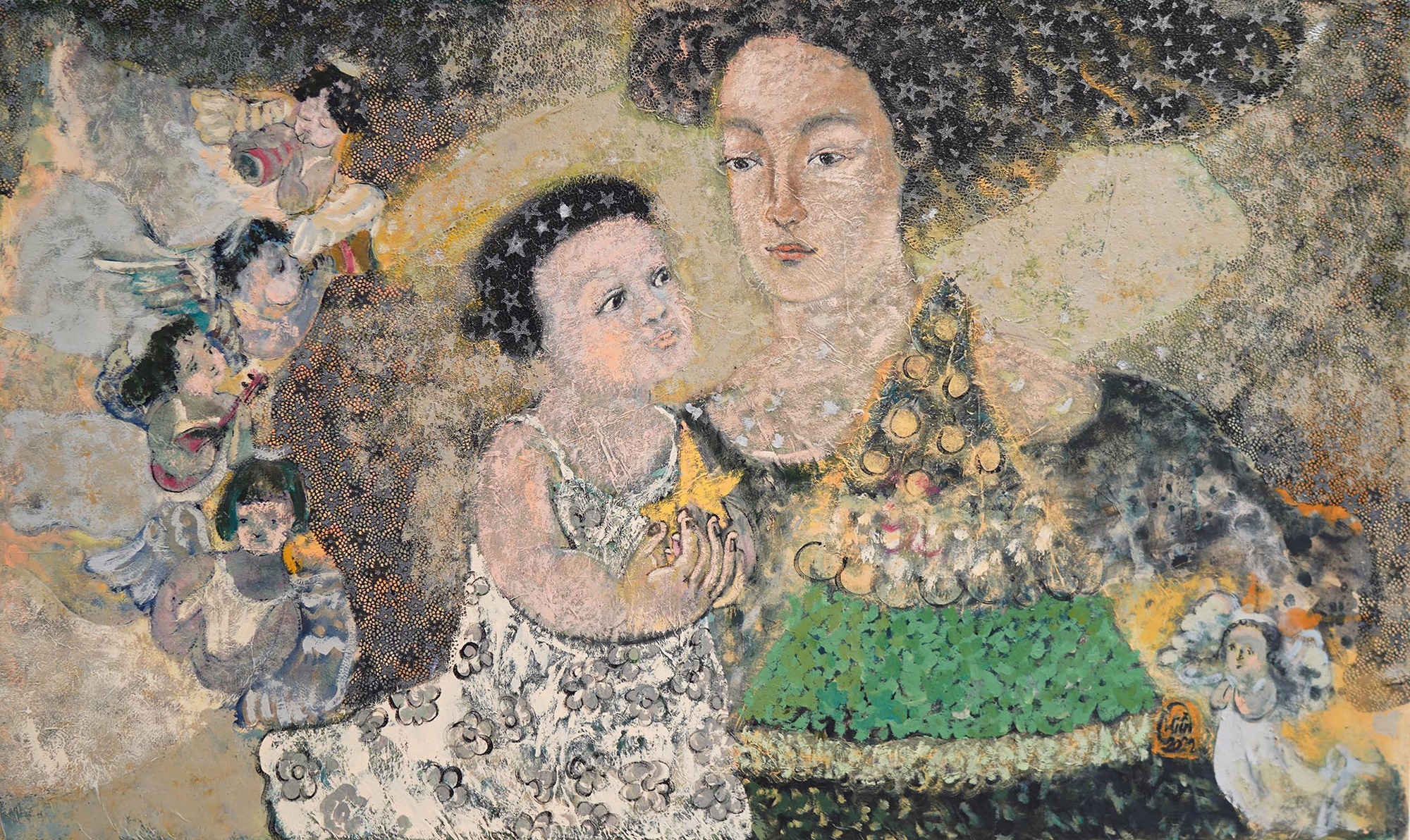 "When I wanted to go back to drawing, I was also pregnant with Cam, so I stayed at home more. I suddenly liked going back to what's inside. Cam gave me an opportunity, a very precious gift, so I'll just keep going. I feel like drawing Cam and drawing about close things.To be honest, my work is nothing new, daring, but just a new feeling, a new joy of living.
I don't care what I draw, but I just want to keep the pace of my work, so that I don't have to tear my hair to find inspiration and motivation. Composing is like eating, like taking care of children, like doing housework.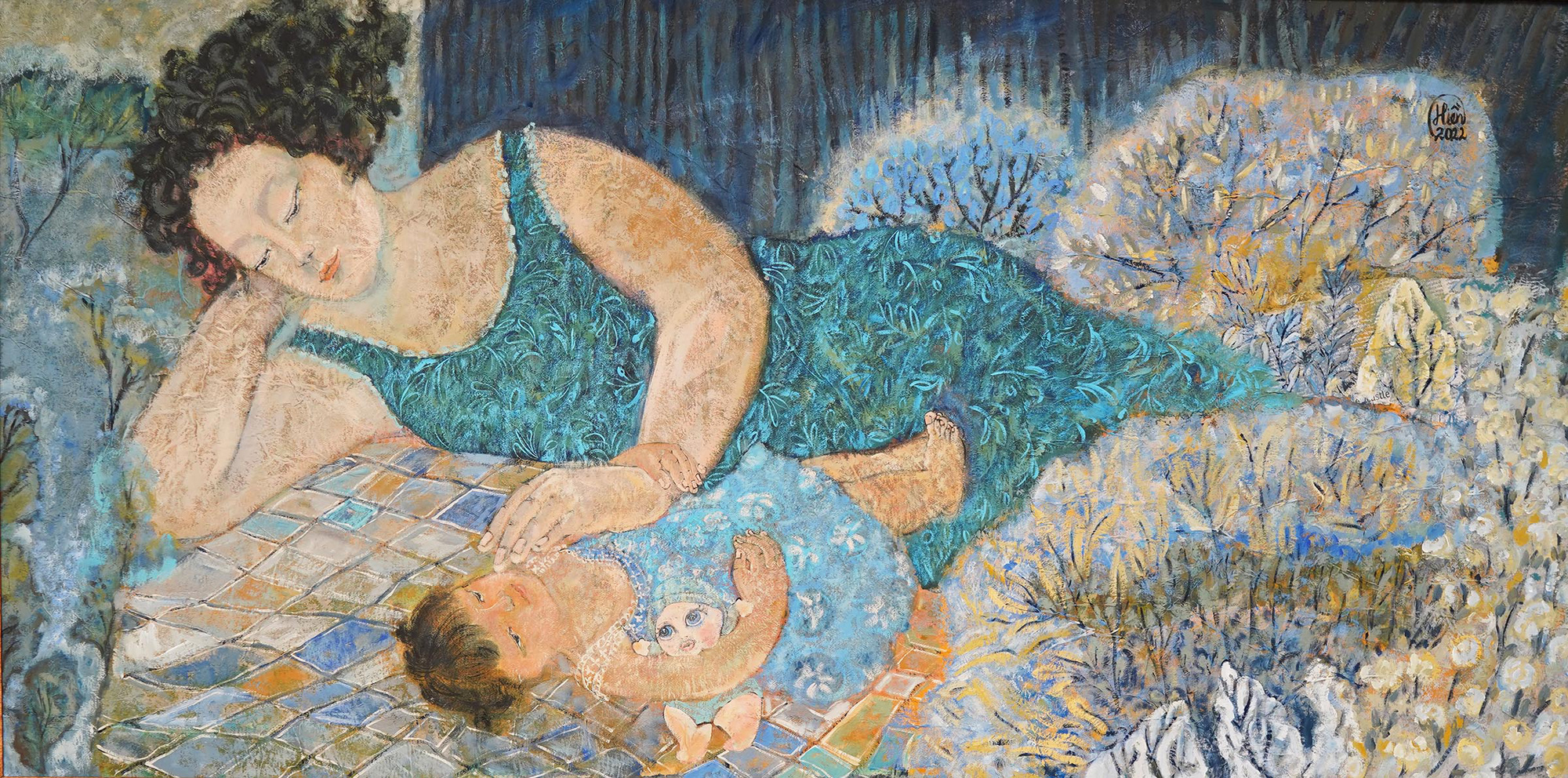 I find myself extremely busy with housework and taking care of young children, so at first drawing became something to take advantage of, to be flexible, to do whatever you want, not to wait. But many times when I wait, I forget the idea, thanks to taking advantage of this, it becomes a natural reaction, becomes light, so for the past few years or two, I have been able to work every day, sometimes sketching, sometimes sketching. then grind, sometimes draw, sometimes shape, sometimes glaze…" – Nguyen Thi Thu Hien shared.
The main point of view in Nguyen Thi Thu Hien's compositions is a blend of inherent innocence and fairy-tale qualities found in everyday life. Although he did not intend to follow a particular school, the romance and poetry brought many works of classical mythology into a very natural way.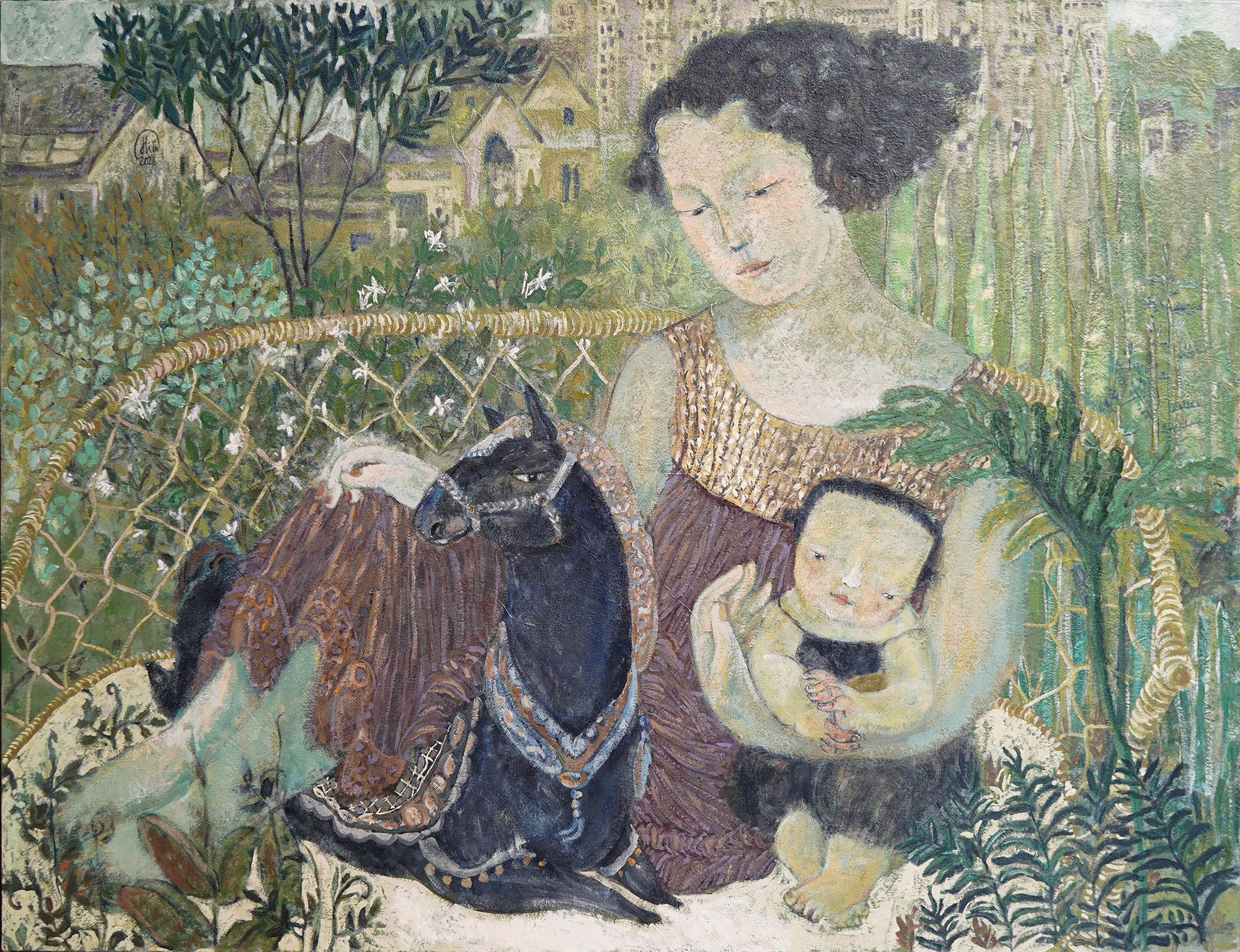 Beauty, love, and the joy of living make up the aura of life itself, of the subjects in the work. Just had a look and saw a few paintings with a religious atmosphere, such as depicting angels with wings and radiant light.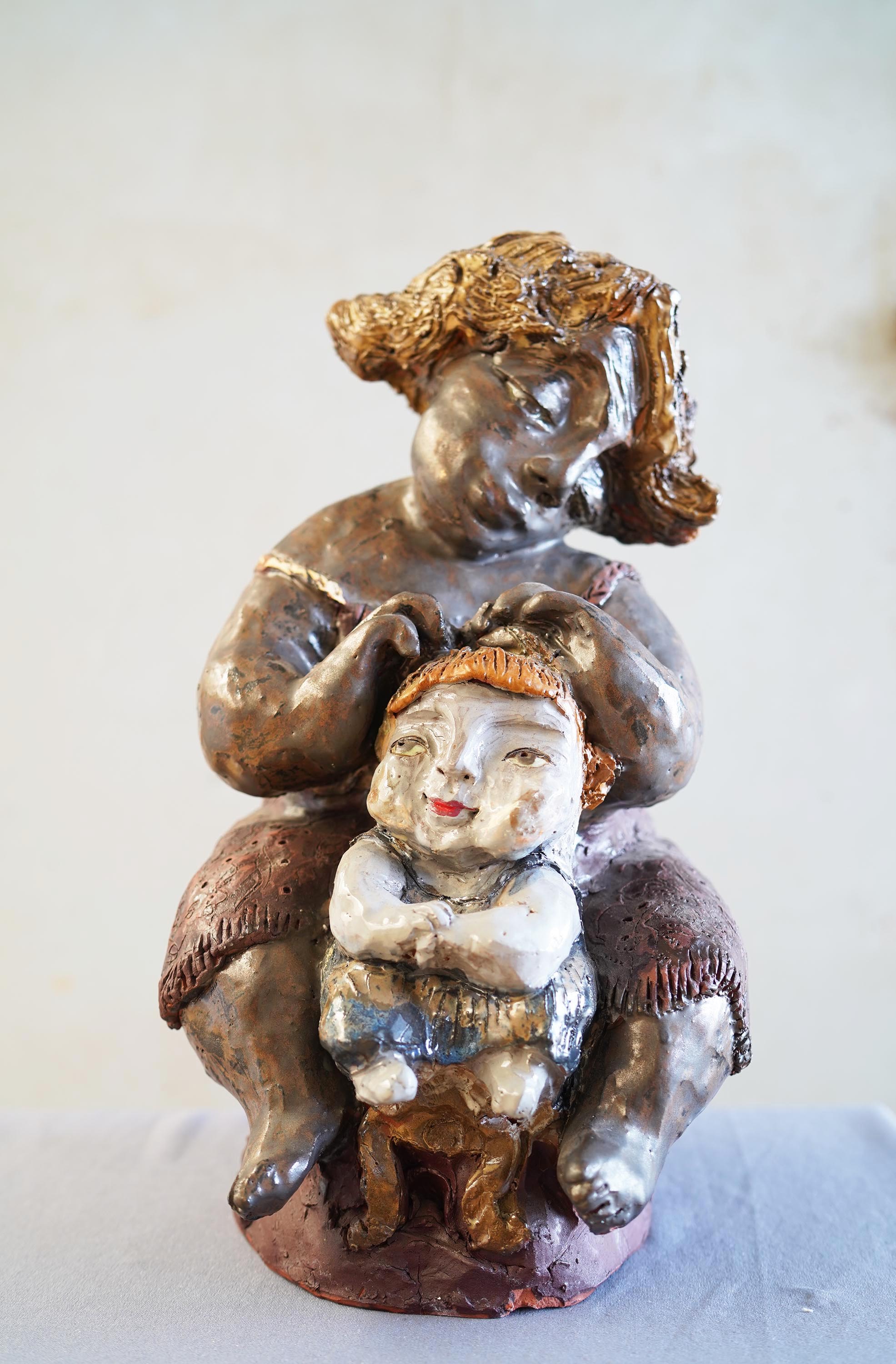 But when I talked to Hien, I realized that this is just a concept: "Love, happiness, positive energy always radiates aura, it doesn't need angels to have it. Everything is not there. It's good to just look straight ahead, but sometimes looking at it a little sideways, like the sun slanting through the window, will see everything lighter, more positive and more attractive."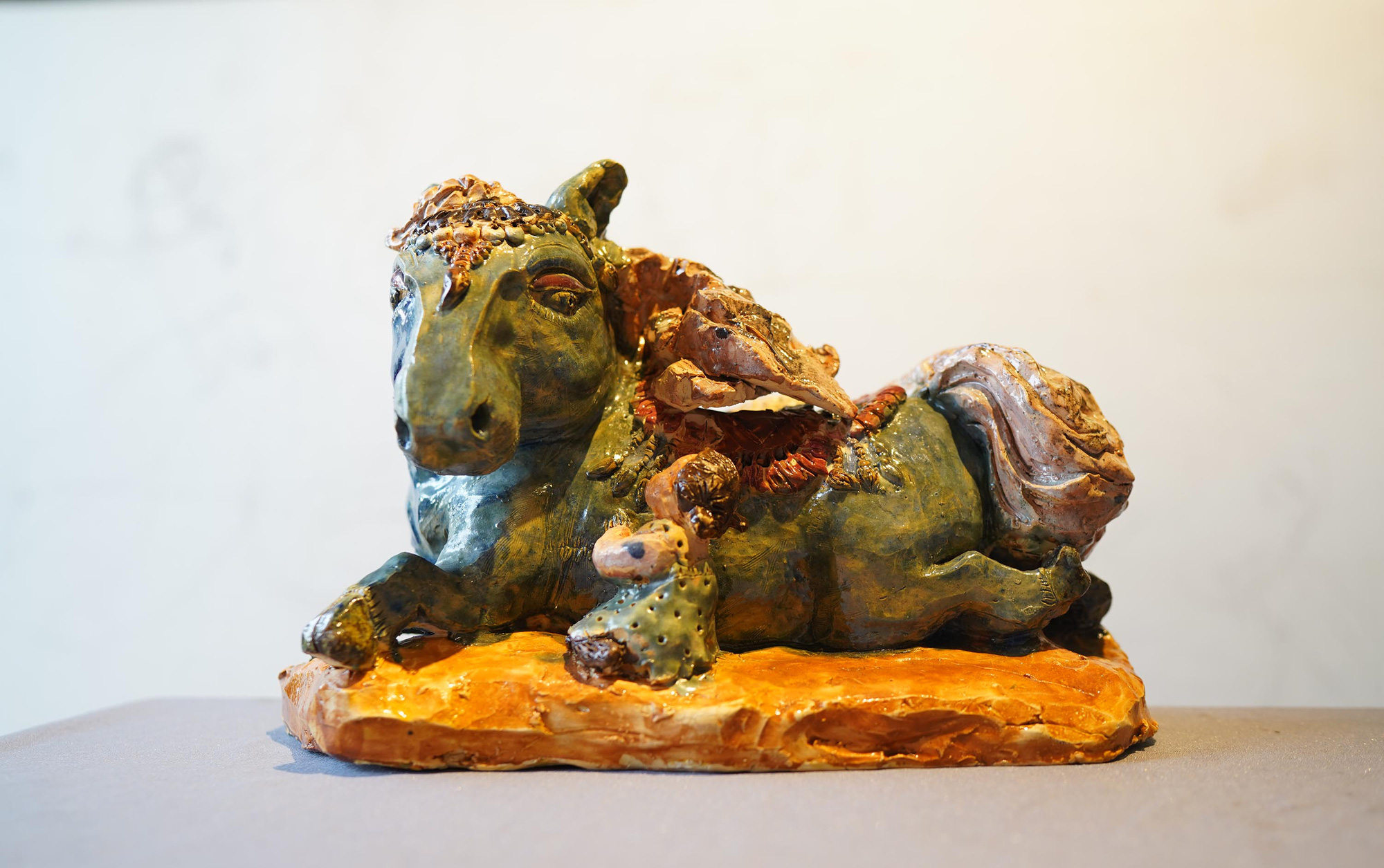 Hien also went through a number of jobs, sometimes having a fleeting thought to stop composing, to make way for her husband to go leisurely.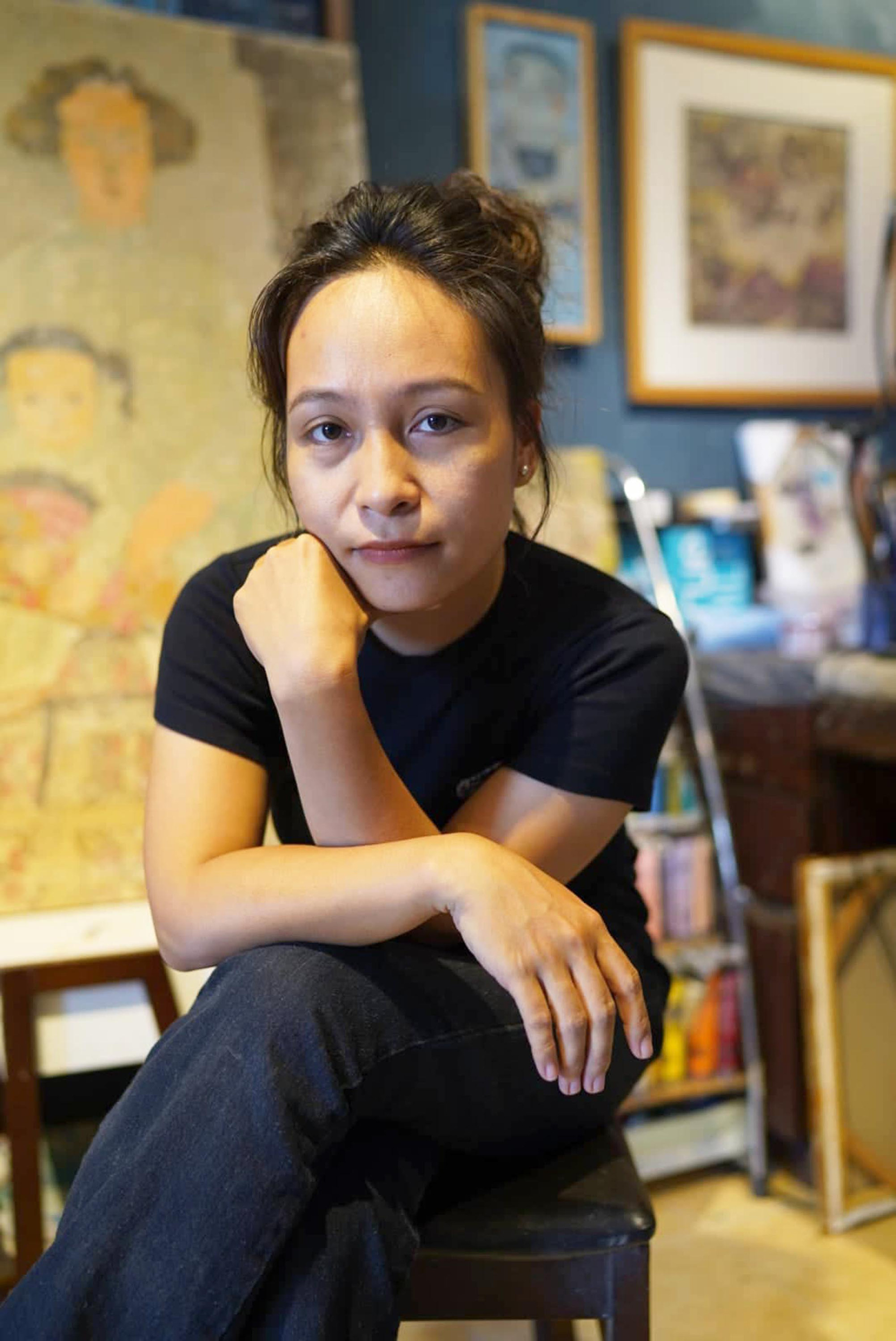 Hien's husband is painter Dinh Van Son, a new face full of talent, remarkable work capacity, has gradually asserted himself in the field of lacquer and ceramic. But then it was Dinh Van Son who encouraged and helped his wife with many things, so Hien found inspiration again with painting and creativity.
"When I returned to painting, I really felt that I was the most myself, felt the most freedom. My daily work is housewife, child care and drawing, the total time can be 3 to 5 times more. ordinary people, but still feel happy and comfortable.
I no longer need to work hard to stay at home, but now being at home is already a joy. I take my daughter to kindergarten in the morning, then go back home to paint, make pottery, and don't see the need to go out or shop. what.
Most of the outings are invited by her husband, sometimes going to coffee, eating, and sometimes going to a colleague's exhibition. Cam has a natural talent as an artist, so that's even more motivation for me to work more.
I find myself living as simple as possible, just focusing on drawing and playing with my children. I am satisfied because I have a happy small family, complete with art and fit everything I have," – Nguyen Thi Thu Hien said.
You are reading the article
Take your daughter as an inspiration for "Sun tilts the sky"

at
Blogtuan.info
– Source:
danviet.vn
– Read the original article
here