Đời sống
The woman who fell into the cliff in Yen Tu recounts the days of eating fern leaves and finding water in the landfill to survive
On the morning of May 4, talking to PV Infonet, Ms. Nguyen Thi Bich Lien (SN 1963, living in My Dinh, Nam Tu Liem, Hanoi) recounted 7 days of difficult survival when she fell into the cliff in Yen Tu, miraculously escaped death.
Mrs. Nguyen Thi Bich Lien (SN 1963, residing in My Dinh, Nam Tu Liem, Hanoi) went to Yen Tu pagoda, unfortunately fell and fell into the abyss at Dong pagoda area on April 27. On the morning of May 3, officials of Yen Tu relic site (Uong Bi city, Quang Ninh province) organized a search, discovered and brought her to a safe place.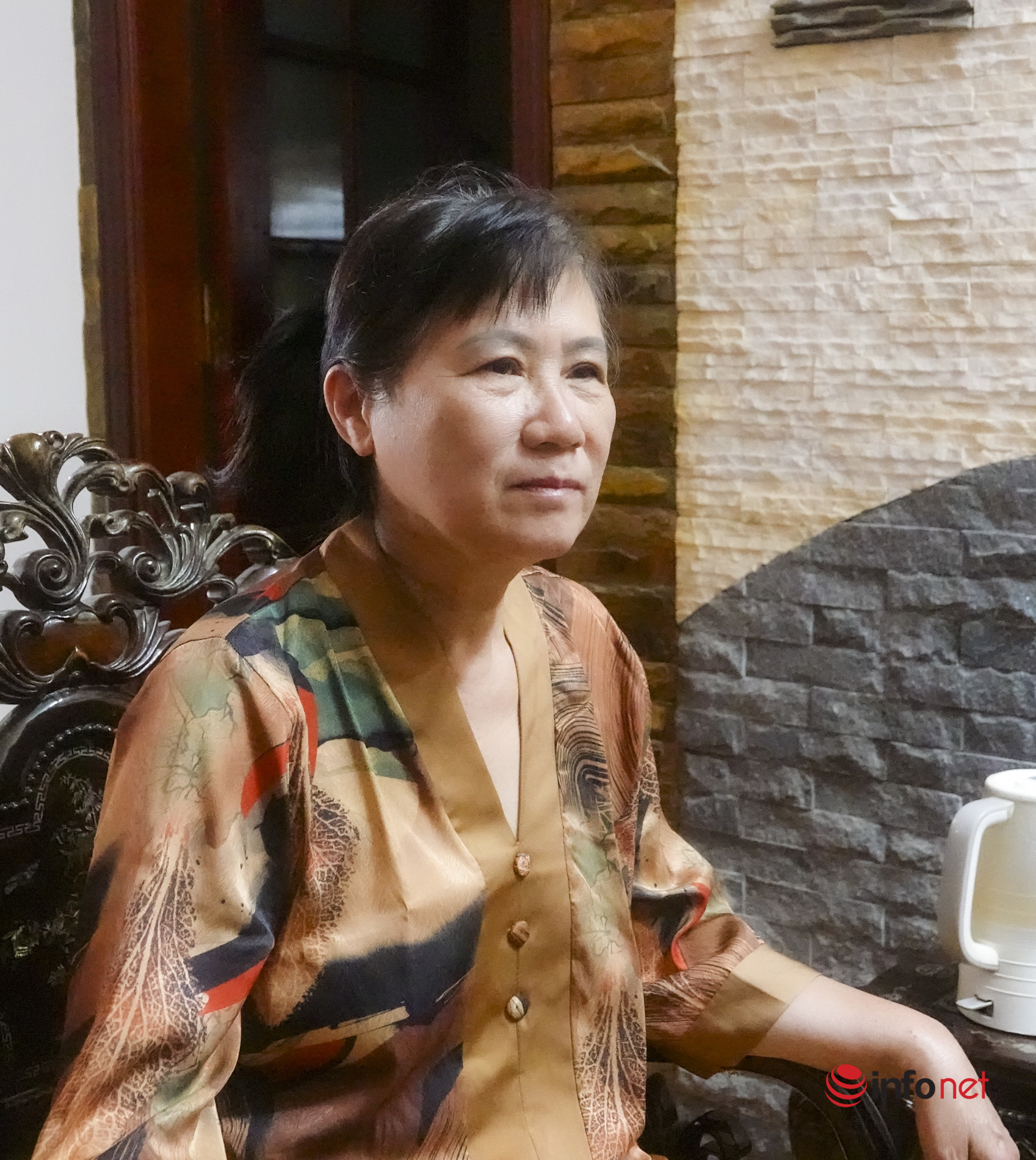 Mrs. Nguyen Thi Bich Lien (born 1963, residing in My Dinh ward, Tu Liem district, Hanoi) went to Yen Tu pagoda, unfortunately fell and fell into the abyss at Dong pagoda area on April 27.
After one day, Mrs. Lien returned home, her health gradually stabilized.
Talking about the dangerous days she had just passed, Ms. Lien's spirit was quite calm. According to the woman, who is nearly 60 years old, at first she only went up near Yen Tu to get medicine, but heard that Yen Tu pagoda was nearby, she decided to visit, sightsee and worship Buddha.
"I went from noon by bus to the relic site, then took a motorbike taxi to go in. Up to where I bought the cable car ticket. It was also quite late to reach Dong Pagoda, at that time there were still many people above. At that time, it was raining, windy, and foggy. Everyone told each other to go down, so I went with them. After walking for a while, I saw a stone slab, so I stopped to rest. Sitting for a while, when I stood up, I was dizzy and dizzy, so I fell.
When I was sitting there, there was a sign warning of danger that I didn't pay attention to. By the time I fell, I didn't know anything. When I woke up, I don't remember how long I fell, my limbs were all scratched, fortunately I didn't break my leg or arm. Then I reconfigured and called for help, but no one answered," said Ms. Lien.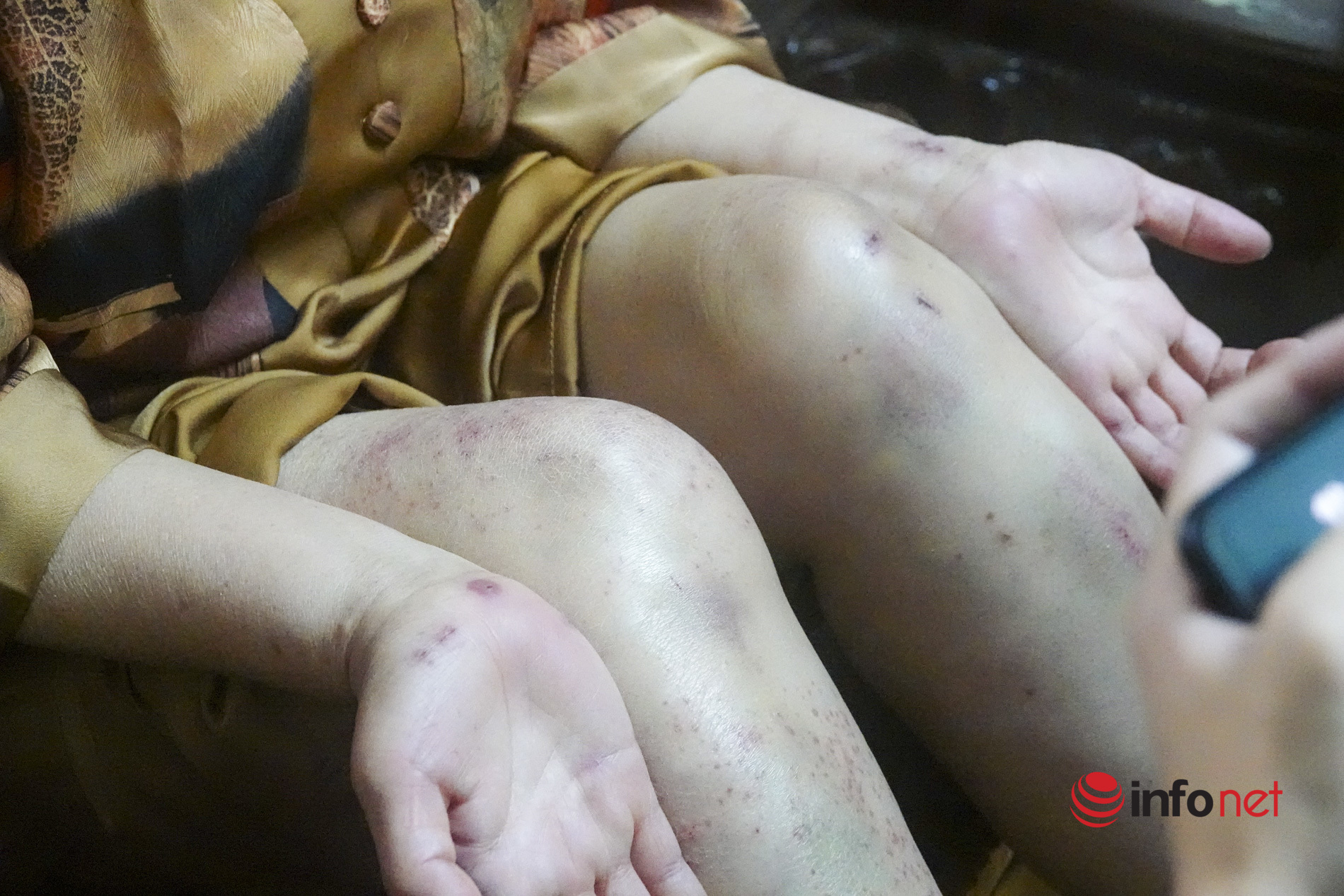 Lien's limbs were covered with scratches and bruises after falling down a cliff in Yen Tu.
Knowing that she had fallen into the abyss, she tried to cling to the tree trunk to go up but unfortunately fell down a bit more and fainted again. When she woke up, she continued to cry for help but due to the position of falling too deep, bad weather, strong wind and rain, no one heard.
"It is very cold. When I woke up I could still hear people in the Dong Pagoda but I couldn't call anyone, then I guess it was the next morning. I reached for a can of water from the garbage pile right where I was lying and threw it down. After a while, I heard a noise. At that time, I was very calm so that I wouldn't fall again," continued Ms. Lien.
Calming down, she saw a rock near where she fell, so she tried to cling to the bamboo tree to go over.
In order to survive for 7 days, Ms. Lien said she had to find food on her own. In addition to the unfinished bag of burnt rice and the water bottle she brought, she also picked fern leaves and passionflower bulbs to endure. When the water ran out, she rummaged through the garbage dumps for half-finished water bottles, looking for clean leftovers and putting them into a clean bottle to drink. She also found plastic bags, disposable raincoats that covered her head, wrapped her body, and covered her feet to prevent rainwater from soaking into her body.
When it stopped raining, she continued to cry for help and was fortunate to be discovered. When it was discovered that it was exactly 1 week, the package of burnt rice in Mrs. Lien's body only had one piece the size of a finger.
Ms. Lien said that in the early days of falling into dangerous situations, there were times when her spirit was panicking and broken, wanting to give up. But then, she got up and tried to preserve her life in the best way, not knowing how long she had to stay so she had to try and wait for someone to save her.
When the story of Ms. Lien's escape from "death" back home was shared on social networks and the press, many people believed that Ms. Lien fabricated the story because it was too hard to believe. When reporters talked about this, Ms. Lien insisted that she did not make up stories, just sharing so that people would appreciate life more and need to hone survival skills when falling into unexpected dangerous situations.
She said: "The cable car ticket is still here. If you see it, you will know that I went up on the 27th, the itinerary in the ticket shows all. I can't go down to the garbage to pick up that ticket…. I can't buy a ticket to go up and then slide down like that to make up a story about 7 days in the middle to tell everyone."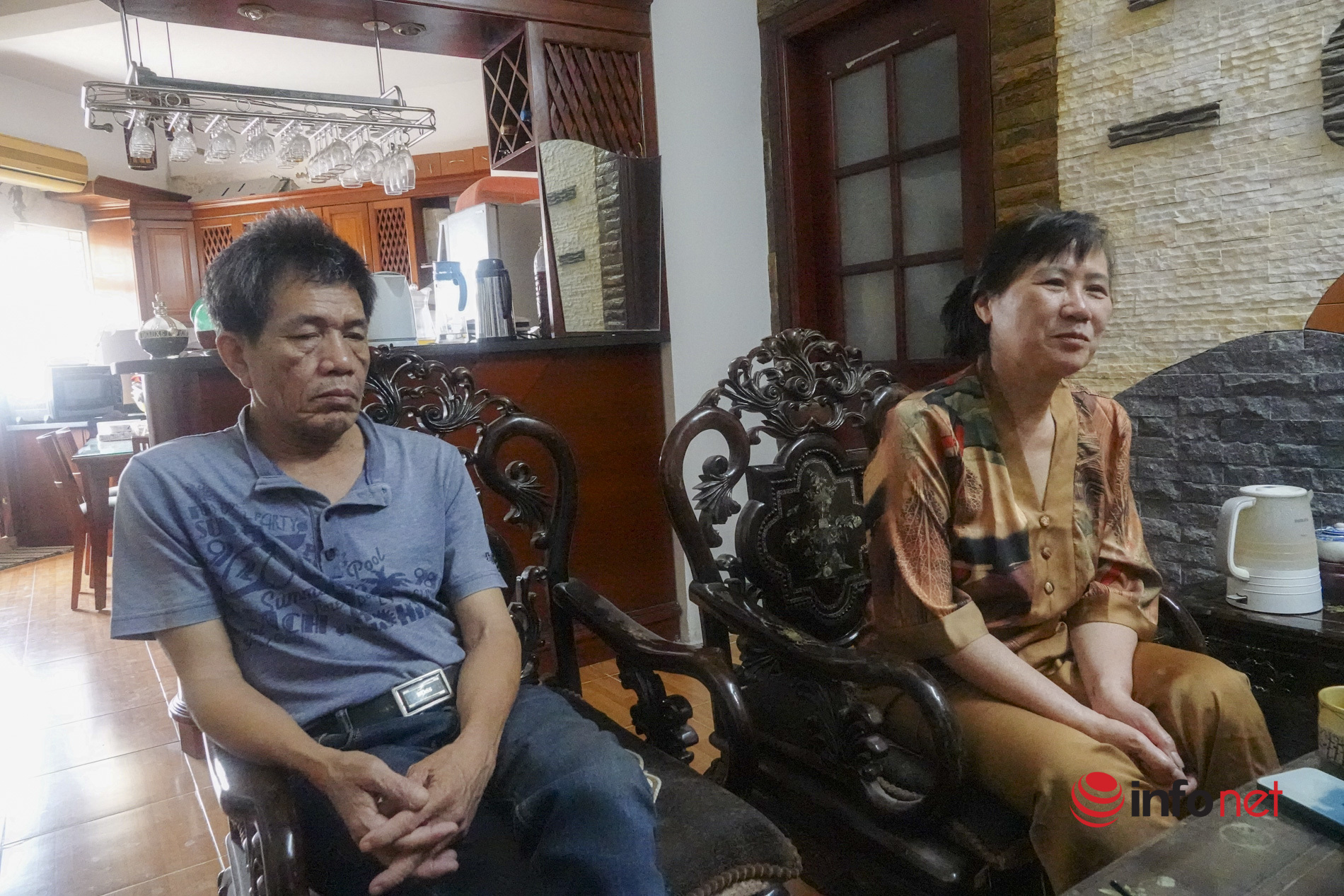 Mrs. Lien was happy when she escaped death and returned to her husband and children.
Mr. Hoang Phuc Khanh, Ms. Lien's husband, shared that the days when she "disappeared" made him extremely worried and restless, not knowing what was going on. When Ms. Lien went to Quang Ninh, he was at the hospital taking care of Ms. Lien's biological mother. During the 7 days she was away from home, he received a number of phone calls from unknown numbers claiming to owe Ms. Lien, but the family could not contact her because her phone was lost.
At about 10:00 a.m. on May 3, when there was a call from a strange number saying she had an accident in Quang Ninh, he didn't believe it, thinking that the stranger had made up a story to cheat, until he received a picture of Mrs. Lien, Mr. new peace of mind, "indescribable joy".
Bao Khanh
You are reading the article
The woman who fell into the cliff in Yen Tu recounts the days of eating fern leaves and finding water in the landfill to survive

at
Blogtuan.info
– Source:
infonet.vietnamnet.vn
– Read the original article
here