Life Style
The young generation decided not to have children because their finances were not stable
01.
"People need to stop telling me 'do it' if I want to have children," The exasperated Jen Cleary spoke plainly. "Most people of my generation simply can't afford it. Childlessness is out of my hands and it's a devastating and disappointing reality." Cleary, a 35-year-old former teacher, shares that financial insecurity makes her dream of having a complete family may never come true. It's an experience many Millennials – born between 1981 and 1996 – are experiencing.
The birth rate in the UK is at a record low, especially for women under the age of 30. There are many factors that contribute to this, including the fact that many people struggle with infertility; some make the choice not to have children; even because of the uncertainties and dangers of the climate crisis. But low incomes and rising costs of living are a persistent and growing problem. Many people are being forced to take a break from settling down and having families due to cost pressures.
Jody Day, founder of Gateway Women, a support network for involuntary childless women: "One in five women is childless by middle age (including involuntary and by choice) and 80% of that is due to circumstances rather than infertility." The main causes are systemic problems such as student loans, which spend most of their time focusing on their careers, meaning that marriage is later and seemingly difficult to achieve. achieve the desire to have children.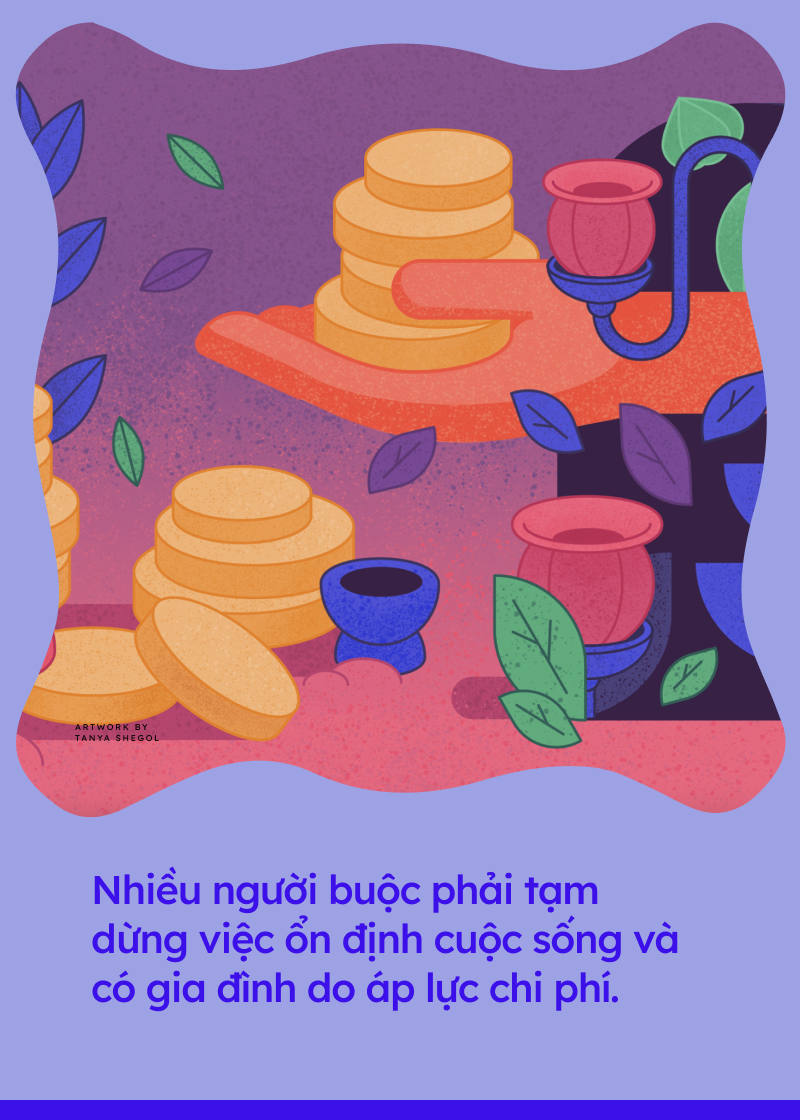 These are all factors that contribute to Cleary's story. Having met their current partner nine years ago while studying to become teachers, the couple started saving for a deposit on an apartment when they rented a house in London. Cleary says: "We hope that we will receive a high salary, find a good place to live and have children. However, after owning an apartment, we do not have enough money to pay for it. installment payments and apartment service fees based on the teacher's salary."
The couple had to put aside the story of having a baby because of financial problems. After selling her flat, losing more than £20,000 in the process, Cleary struggled to find a new place to live. The couple rented four different apartments for six months and kept losing their credit scores due to too much debt.
02.
Rahul (character name has been changed) is a 40 year old first generation immigrant who came to the UK to earn money and support his family in India. He and his wife live in Manchester and have a 7-year-old daughter, and two years ago they decided they couldn't have any more children. "My wife is very frustrated, because she wants to have at least two children. It has created quite a bit of tension between us. When we sit down and consider how much we will have to pay for babysitting if she keeps going. Besides sending money home and sending our daughter to school, we realized we wouldn't be able to give our second child the same quality of life that our first daughter had."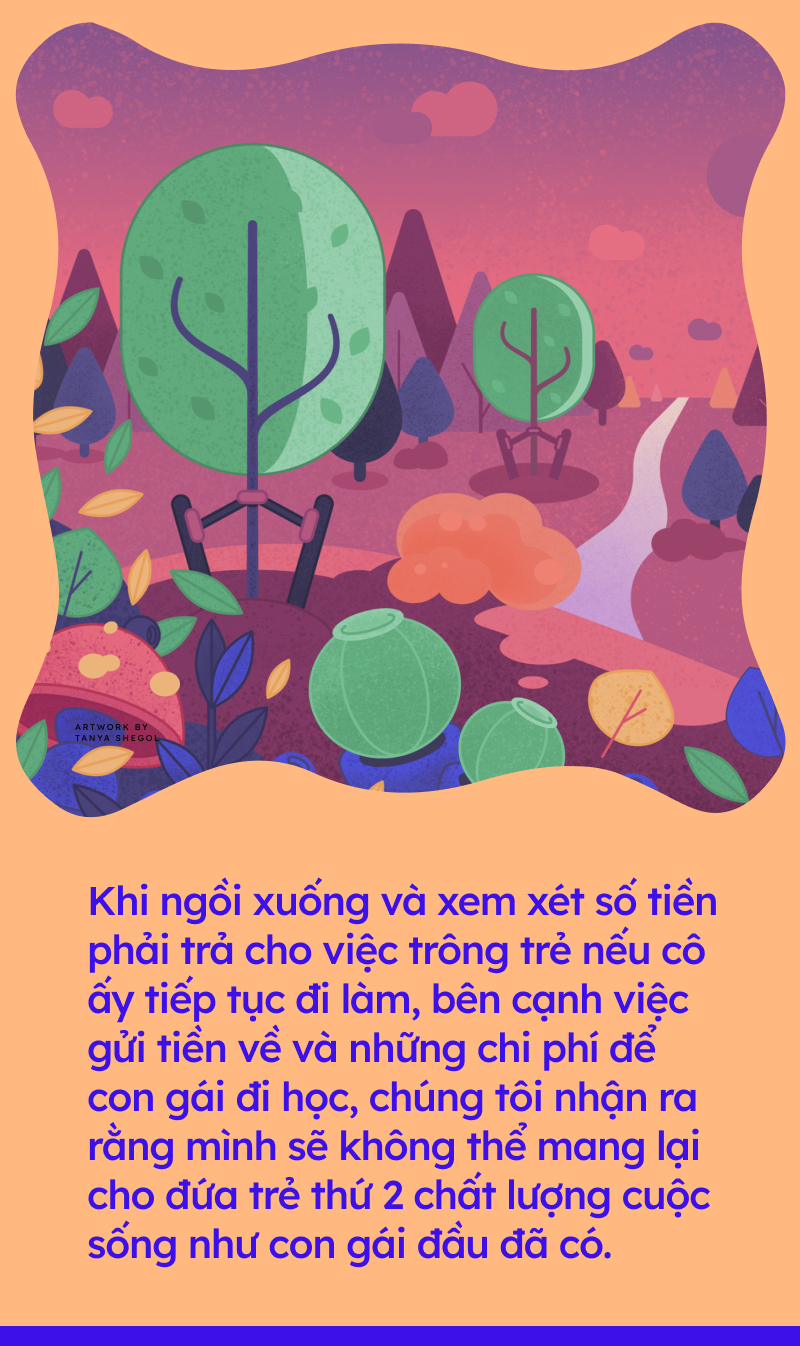 Rahul's family in India was very disappointed by that. They worry that his daughter will be lonely when she is alone and it is not common to have only one child in his family's mind. "But I hope we made them understand why my wife and I came to this decision."Rahul shared.
According to Child Poverty Action Group, the cost of raising a child to 18 by 2021 could reach £71,611 (about VND 2 billion). Academic Joanna has a 3-year-old daughter and wants to have another child, but realizes it's not financially viable, mainly due to the cost of childcare. In a recent survey of more than 20,000 working parents, 97% of respondents said childcare is too expensive. The situation has gotten so bad that Joanna is taking another better paying job abroad to see if she can make enough money to have a second child.
03.
Professor Bobby Duffy, Director of the Policy Institute at King's College London, said housing crisis in the UK are particularly affecting Millennials and younger generations who want to get married. "There's been an amazing shift from 80 percent of our parents' generation owning their own home to just 40 percent of Millennials. That's pushed people into a rental market, which isn't allowed. control, very expensive and unsafe."
He thinks it is necessary to make this rental market more stable and more affordable. Because when you add in the high cost of childcare, income levels that can't keep up with inflation, and austerity measures that cut quality of life, it creates a collapse in confidence in a good future. than of the younger generation.
But it's not just housing that causes precariousness. Fiona, a 29-year-old administrative assistant, lives in the same house with seven other people. She works 2 part-time jobs to have better income. Fiona shared that she couldn't seem to find a path of financial stability that could help her have a family. "I can't even buy a dog, so how can I raise a child? There's a huge gap between rich and poor in the UK. That means you don't have the space to breathe, constantly having to try to make money if born into a family with normal finances."
For Fiona, not having children is the best decision for her life at the moment. Although it was a difficult decision, at least now Fiona can focus on making money and making her life better. "We don't have a choice about how to be born, but at least I can take control of life, make it better by living it to the fullest."
Photo: Synthesis
https://kenh14.vn/dieu-nay-that-tan-khoc-co-mot-the-he-tre-muon-sinh-con-nhung-khong-du-tien-de-co-mot-gia- Dinh-2022050313584992.chn
You are reading the article
The young generation decided not to have children because their finances were not stable

at
Blogtuan.info
– Source:
Kenh14.Vn
– Read the original article
here