Khỏe - Đẹp
What is the effect of eating the fern leaves of the woman who survived 7 days after falling in the Yen Tu abyss, how to cope when lost in the river?
After seven days of falling into a cliff in Yen Tu, Nguyen Thi Bich Lien, 59, ate a fern, rummaged through trash to find excess water in plastic bottles to drink.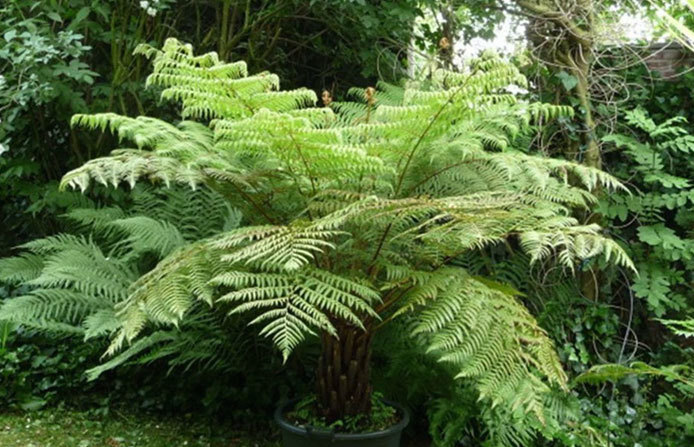 Fern
So what is the effect of the fern?
The fern has the scientific name Microsorum Pteropus, belongs to the family Polypodiaceae, native to Asia. This plant grows in tropical and subtropical regions. In Vietnam, ferns grow a lot on the edges of forests, streams, damp walls,…
The fern is a herbaceous plant, almost without a stem, with an average height of 15 – 30 cm and a width of about 15 – 20 cm. The fern has compound leaves growing in clusters, about 20 to 35cm long, shaped like a comb, tapering at the tip.
There are more than 12,000 species of ferns with different sizes, from small leafy ones to giant trees over 40 feet tall… In which, there are 3 common types of ferns grown as ornamental in our country, including : ornamental ferns, woody ferns and aquatic ferns.
In oriental medicine, fern is also an herbal medicine, treating sprains, kidney damage, back pain or weak blood, vitiligo, vitiligo, and urinary incontinence; Diarrhea, help stop bleeding, treat rheumatic fever, …
Talking to reporters, Dr. Ngo Duc Phuong, director of the Institute of Traditional Chinese Medicine, said that ferns are a basic non-toxic plant, possibly based on this factor to choose this plant to eat.
"To survive after 7 days, besides energy, the most important thing is water.
Fasting from a few weeks to a month is normal, but fasting only for a few days. In Yen Tu just now, if she knows how to eat ferns and drink water, the most important thing here is that she can withstand the cold. Because theoretically, if the body is hungry and loses heat, especially in the elderly, the risk of death is very high, "said Dr. Ngo Duc Phuong.
With many years of experience in the forest looking for medicinal plants, Dr. Ngo Duc Phuong said that in the forest there are many dangers: snakes, sudden floods, falling trees, falling, rolling stones, eating poisonous plants, being injured. cold, hungry, thirsty..
Therefore, if unfortunately, get lost, or fall in the forest, Dr. Ngo Duc Phuong shared his experience that now the victim must really calm down and follow the stream (in order to have drinking water, they will descend to a safe place. whole, have people, have villages,…).
As for the leaves of trees in the forest that can be eaten, Dr. Ngo Duc Phuong shared, basically the poisonous plants are very little, the amount of poison is usually not enough to cause death, so you can nibble on the leaves.
"A sour plant is never poisonous. Ferns are also rarely poisonous (only they are a bit tough and fibrous). Or finding a forest banana tree is a very good solution: get water from the stem, eat the young stem, eat the tuber", said Dr. Ngo Duc Phuong.
In addition, people in distress can find water by getting water from banana trees, ropes, forks (if there is a knife), biting roots, etc.
A rule to ensure safety when going to the forest should go in groups or groups. If you are unfortunate enough to get lost, you should sit still and wait for someone to come and rescue you. The more wandering around, the easier it is to get lost and away from the starting point, then people are hard to find.
"In case there is a fire, it is necessary to light a fire, especially in the evening to keep the body warm while chasing the animals and easy for people to detect," said Dr. Ngo Duc Phuong.
Previously, at 9:10 am on May 3, after hearing the cry for help coming from the bottom of the cliff, the staff of the Management Board of Yen Tu National Park relic site searched and saved Ms. Lien.
Ms. Lien said, on April 27, she alone took a bus from Hanoi to Ha Long to get medicine, then went to Yen Tu to worship Buddha at Dong Pagoda. This is also her first time going to Yen Tu. When she went down, she had low blood pressure, so she sat down near the temple railing. When she stood up to continue, she was stunned and fell into the abyss about 30m deep.
Calling for help but no one heard, the phone fell while falling, Mrs. Lien tried to climb up but fell down again. Because she was wearing a raincoat and had a tree to support her, she was not injured.
To endure, she ate rice cakes and burnt rice available in her carry-on bag, only breaking a small piece to eat each day. In addition, she eats the leaves of the ferns around, the water is dug in the garbage and the water bottles thrown by tourists.
On the morning of May 3, hearing people talking above, Ms. Lien cried for help and was saved.
Dong Pagoda is located on the highest peak of Yen Tu range (1,068 m), was built in the Later Le Dynasty with the name Thien Truc Tu; In 2007, the new pagoda was cast entirely of pure copper. Lien's accident area is a deep abyss, about 50m from the top of Dong pagoda, often with strong winds and clouds.
N. Huyen
You are reading the article
What is the effect of eating the fern leaves of the woman who survived 7 days after falling in the Yen Tu abyss, how to cope when lost in the river?

at
Blogtuan.info
– Source:
infonet.vietnamnet.vn
– Read the original article
here