Business
33% of revenue comes from export and "mountain of money" more than 2 billion USD
During the Covid period, many businesses actively clustered to stay safe, while some businesses actively reached out to the region and boosted production for export.
According to data of the Vietnam Steel Association, Vietnam's steel product exports in 2021 achieved positive results, reaching more than 14 million tons of finished and semi-finished steel with more than 12.7 billion USD, contributing a great deal to the country's financial resources. foreign exchange for the country. Vietnam's steel products are exported to more than 30 countries in the region and the world.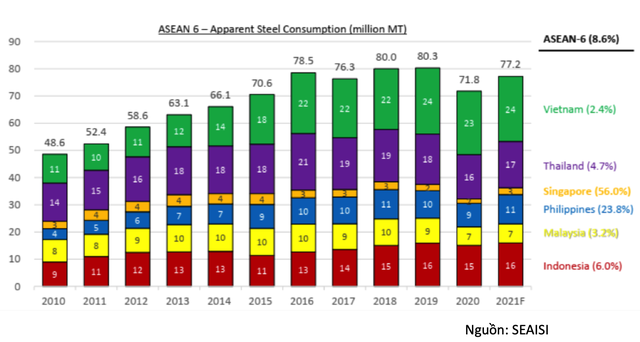 Vietnam is leading ASEAN in steel product output
Of these, Hoa Phat Group alone earned more than 49,000 billion VND in revenue from exports, equivalent to more than 2.13 billion USD, accounting for 33% of the group's total revenue.
In 2021, strong export growth contributes an important part to Hoa Phat's total output. Although the economy will be deeply affected by social distancing in 2021, Hoa Phat's total sales volume of steel billet, construction steel, steel pipe and galvanized sheet will still reach 8,871,000 tons, an increase. 35% compared to 2020. Hoa Phat construction steel and steel pipe continued to maintain the No. 1 market share in the market at 32.6% and 24.8% respectively.
In 2021, the consolidated revenue of Hoa Phat Group reached VND 150,865 billion and VND 34,521 billion in EAT, up 65% and 55.6% respectively over the same period in 2020, exceeding 26% and 92% of the business plan.
Steel sector is still the core and mainstream, accounting for 84% of revenue and 82% of NPAT of the whole group.
When Hoa Phat Dung Quat Iron and Steel Complex was operating at full capacity, Mr. Tran Dinh Long's vision went beyond the borders of Vietnam. Last year, the "steel king" boosted international trade when he bought the Roper Valley iron ore mine in Australia with an estimated reserve of 320 million tons, with a mining capacity of about 4 million tons/year. Hoa Phat's vision in the coming years will be to buy more coal and iron mines in Australia to ensure a long-term supply of at least 50% of the group's iron ore needs, equivalent to 10 million tons/year.
In addition, Mr. Tran Dinh Long last year also bought 3 large vessels, in which two large bulk carriers, The Evolution and The Harmony with a tonnage of 90,000 tons, purchased at the beginning of the year and at the end of the year bought more ships The Evolution and The Harmony. Prosperity has a tonnage of more than 80,000 tons, all of which are built in Japan to proactively need to transport coal and ore materials for the corporation. During the period when logistics costs skyrocketed, Hoa Phat was able to reduce losses significantly thanks to the initiative of the fleet.
Holding more than 2 billion USD in cash, borrowing more than 60,000 billion VND from banks
On average, in 2021, Hoa Phat earns 413 billion VND in revenue and 94.5 billion VND in EAT every day, including holidays. Therefore, it is not surprising that Hoa Phat is the enterprise that owns the largest "mountain of cash" on the Vietnam stock exchange. The latest updated data as of March 31, 2022 shows that Hoa Phat is holding more than 46,300 billion VND in cash and bank deposits, equivalent to more than 2 billion USD, an increase of 5,600 billion VND compared to the end of 2021.
Despite owning a huge mountain of cash, Hoa Phat is still borrowing more than 60,000 billion VND, of which more than 46,200 billion are short-term loans. Hoa Phat believes that the Group's bank debt to equity ratio at the end of 2021 is at 0.63 times, the net bank debt to equity is currently 0.18 times, which is the level low average in terms of financial leverage. The Group believes that, although this is the year with the highest bank debt milestone ever due to the sharp increase in scale (total assets as of December 31, 2021 is 178.2 trillion billion, up 36% compared to 2020), but debt ratio is still controlled at a safe level, helping the group to have a very strong bounce in the near future.
Hoa Phat promotes debt financing to focus resources on Dung Quat 2 iron and steel project, which is about to start construction in May 2022, the construction unit is Coteccons. Hoa Phat Dung Quat 2 Iron and Steel Complex Project has an estimated area of ​​283.73 hectares in Binh Dong and Binh Thuan communes, Binh Son district, Quang Ngai province. Project capacity is expected to be 5.6 million tons/year; only hot rolled coil (HRC) is expected to be 4.6 million tons/year (up from 3 million tons/year previously); high quality steel bar and wire 1 million tons/year. The project is expected to be built, completed and put into operation within 36 months from the date of land handover and construction permit issuance.
At that time, the total output of Hoa Phat Dung Quat Steel reached 11 million tons of steel/year, contributing about 18 trillion VND to the state budget.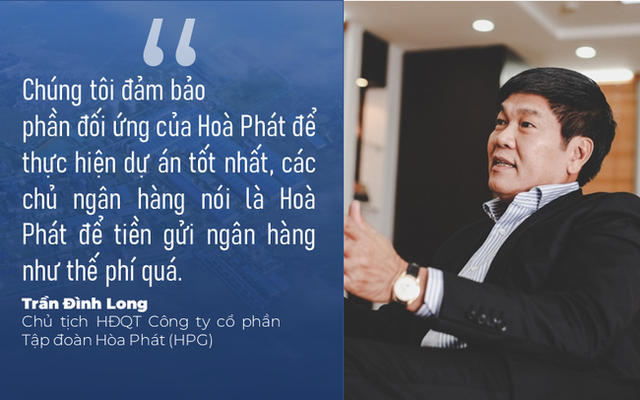 In 2021, Hoa Phat contributes VND 12,500 billion to the State budget, an increase of 70% over the same period in 2020, of which the three Hoa Phat provinces that contribute the most to the state budget are Quang Ngai, Hung Yen and Hai Duong.
Will develop 10 industrial parks in the next 10 years
The next period will be the period when Hoa Phat promotes the real estate segment. In 2021, Hoa Phat's industrial parks were handed over 42 hectares of land, a sharp increase compared to 2021. Real estate revenue increased 126% compared to 2020.
In the next 10 years, the group will develop 10 industrial parks, including the existing ones.
For housing projects – urban areas, the group will focus on developing megacities with an area of ​​300-500 hectares, contributing to the urbanization process of existing local residential areas.
At the end of 2022, Hoa Phat will put into trial operation the container factory.
According to the Vietnam Steel Association (VSA), the prospect of Vietnam's steel market in 2022 will be better when the Government issues a direction to stabilize and develop production and business activities to flexibly adapt to the Covid-19 pandemic. throughout. Resolution 01/NQ-CP was issued on January 9 with solutions for socio-economic development, recovery and budget estimate in 2022. Three focuses to maintain growth momentum, exploiting driving forces new growth is determined by the Government in 2022, including restoring and promoting production and business; boosting exports and speeding up disbursement of public investment capital, mobilizing all resources for infrastructure development.
https://cafef.vn/vua-thep-tran-dinh-long-vuon-tam-khu-vuc-33-doanh-thu-den-tu-xuat-khau-va-nui-tien-hon-2- ty-usd-20220504182937894.chn
You are reading the article
33% of revenue comes from export and "mountain of money" more than 2 billion USD

at
Blogtuan.info
– Source:
cafebiz.vn
– Read the original article
here