Thế Giới
Cross-border embargo: gradually revealing the risk of a global food crisis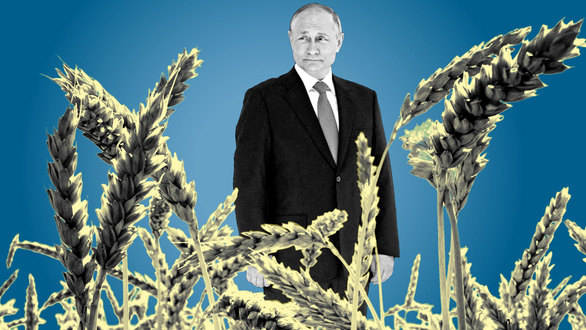 Russian President Putin believes that it is the sanctions that the West imposes on Russia that will lead to a global food crisis – Photo (Illustration): FT
This "wicked wick, thrown back" situation between Russia and the West, according to experts, can have many negative consequences for the world economy, including the obvious danger of a crisis. serious food.
Out of stock and increase in price
Putin's decree did not specify which individuals or legal entities would be sanctioned, but announced that Russia would ban the export of "products and raw materials" to them. The decree also includes a ban on dealings with foreign individuals and companies, giving Russian legal entities the right to refuse to enforce contractual agreements with those subject to sanctions. The decree says the Russian government will have 10 days to complete the list.
A day after signing the decree, Putin analyzed the very sanctions that the West imposed on Russia that would lead to a global food crisis. Reuters quoted the Kremlin boss as saying at a meeting on the development of the food industry in Russia that soaring fuel prices and fertilizer shortages mean Western countries will print more money to buy necessities. that will cause food shortages in poorer countries.
"They are clearly aggravating food shortages in the poorest regions of the world, causing new waves of migration and, in general, pushing up food prices," Putin said. He also said: "We will have to be more careful about supplying food to foreign countries, especially more closely monitoring exports to countries that are hostile to us."
Both Russia and Ukraine are major exporters of wheat and corn (maize). Russia accounts for nearly 17% of the global supply of wheat, being the largest exporter, while Ukraine accounts for 12%. World wheat prices have now increased by about 33% compared to the end of 2021, according to the New York Times.
Business Insider quoted a World Bank spokesman as saying "the war in Ukraine comes at a bad time for the world", because "the poor and vulnerable everywhere are already suffering". driven by high inflation and rising food prices, not to mention rising fuel costs and trade restrictions.The shortage of those goods and the rise in prices in general further put pressure on inflation and wage security. real".
Back to "bead armor season"
According to the United Nations' World Food Program (WFP), even before the war 811 million people were undernourished worldwide, and that number is expected to increase sharply this year's "coffee season" – a period of time. time from planting the new crop in early spring to harvesting in the fall.
Many people now, especially the urbanites who now make up more than 56% of the global population, have almost forgotten the concept of "early season". But in the near future, this concept will most likely be repeated if a food crisis occurs.
Climate change is also adding to the risk, as droughts are worsening in many key agricultural regions of the world. As early as March, United Nations Secretary-General António Guterres warned of a "global hunger crisis".
Russia is also a country that produces more than 50 million tons of fertilizer per year, accounting for 13% of the total global production. Putin said the sanctions had disrupted the logistics of supplying fertilizers from Russia and Belarus, while rising gas prices made fertilizer production more expensive in the West.
The cumulative effects of supply chain disruptions due to the COVID-19 pandemic, soaring fuel prices, and the Ukraine war will be very unpredictable. The Food Price Index of the Food and Agriculture Organization of the United Nations (FAO) increased by 38% from January 2020 to February 2022, and then increased by another 12.7% from February to March 2022. to record levels. The International Monetary Fund (IMF) predicts that global food prices will increase by 14% in 2022 and continue to increase next year.
Some countries will be more severely affected. For example, in 2018, Yemen imported 58% of flour from Ukraine and Russia, equivalent to 125kg per capita, or about 80% of the total calories consumed by the average Yemeni person each day. Therefore, price increases and supply disruptions will have unpredictable consequences for this impoverished Arab country that has not yet escaped the civil war.
Cooking oil is also scarce
Ukraine and Russia are major producers and exporters of many other key food commodities, such as sunflower seed oil, accounting for 48% and 29% of total global exports, respectively. Wheat flour is the basic grain for 35% of the global population, while sunflower oil accounts for 9% of the world's total vegetable oil consumption. Both are fertilizer producing countries.
You are reading the article
Cross-border embargo: gradually revealing the risk of a global food crisis

at
Blogtuan.info
– Source:
tuoitre.vn
– Read the original article
here