Giải trí
Little is known about the marriage of "boss" of swordsman Truong Ky Trung with his 31-year-old wife
Director Truong Ky Trung is now over 70 years old but still works non-stop. Since marrying a young wife 31 years younger than him, he has received more fame.
Truong Ky Trung was born in 1951, known as "The Swordsman of the Sword" in the Chinese language film industry. He performed dozens of historical – martial arts works, prominent from Kim Dung's novels such as: Tieu arrogant Gypsy, "Hero of the Condor", "Thien Long Bat Bo", "The Condor Heroes", "Ỷ" Thien Do Long Ky", "Passenger Hiep"… According to statistics, he owns a fortune of 300 million yuan (more than 46 million USD).
Regarding his private life, he married Phan Hinh Man and had a marriage that lasted for 14 years. By 2016, they decided to divorce but faced many lawsuits. The couple used to spend a lot of ink in the press, when accusing the other of adultery and unfaithfulness. In particular, Ms. Phan Hinh Man confirmed that the director, surnamed Truong, was dating and had a child with Do Tinh Lam, who was then his assistant.
After a while, director Truong Ky Trung confirmed to the Chinese media that he was married and had a child with the beautiful Do Tinh Lam. The two officially became husband and wife in 2017. The couple's youngest daughter was born in 2020. In addition, Do Tinh Lam also has a son and a boy who lives with Truong Ky Trung and his wife.
Although married to a wife 31 years younger, director Truong Ky Trung is quite open to sharing his family life. He often appears with his wife and children in livestreams, posting happy family photos on social networking platforms.
Director Truong Ky Trung once affirmed that Do Tinh Lam was really a "lovely" woman and did not run after his fame or fortune.
Although he was ridiculed for marrying young or having children when he was over 70 years old, the famous director affirmed that he did not mind and focused on enjoying family happiness. In early 2022, rumors that the couple was about to have a third child were published by the Chinese media, but the couple, surnamed Zhang, were silent.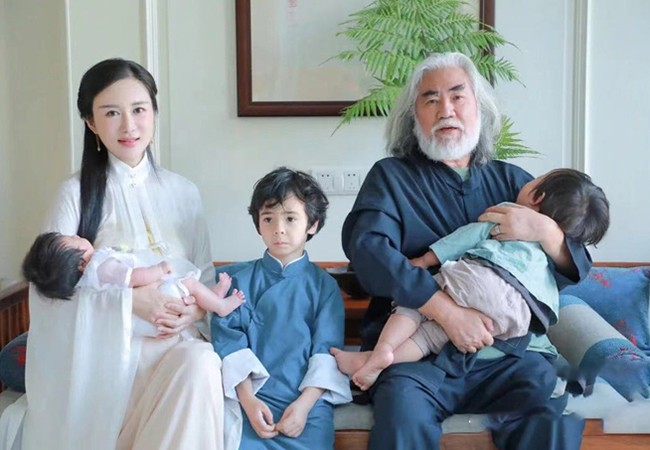 The 71-year-old director is living with his wife and three children, of which the youngest is just 2 years old. Photo: Sina.
The marriage of both has been entangled with many market scandals and noises from public opinion since it was made public. Most critics say that there is no love between him and his wife. Many people even guessed that his younger wife married him just for the sake of money. Because Do Tinh Lam also has a son with a foreign ex-boyfriend.
Talking about this second marriage, Truong Ky Trung affirmed that married life had brought him "a cool spring breeze". Besides, he also confidently responded to negative comments directed at his second marriage: "Are such painful words good? Don't impose your thoughts on others, I will keep them. negative comments like this so that people can reverse their observations and evaluate accounts that leave negative comments."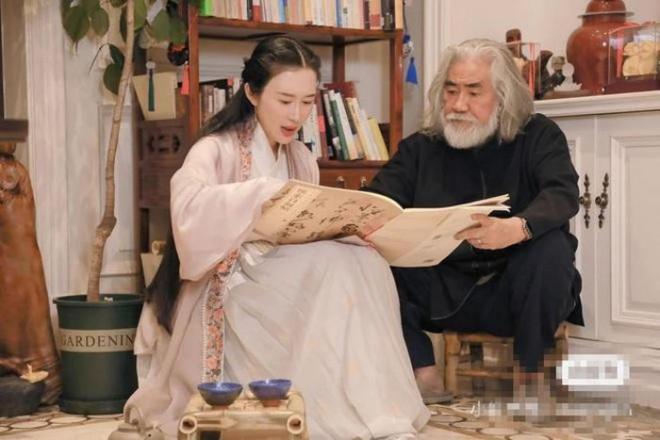 He commended his wife for being attentive, wholeheartedly taking care of her elderly husband and small children.
The director surnamed Truong always gives a lot of praise and respect to his current wife, from appearance to temperament. Before becoming husband and wife, they had time to collaborate at work.
You are reading the article
Little is known about the marriage of "boss" of swordsman Truong Ky Trung with his 31-year-old wife

at
Blogtuan.info
– Source:
24h.com.vn
– Read the original article
here