Thế Giới
QUICK READ 5-5: Russia conducts attack drills with ballistic missiles carrying nuclear warheads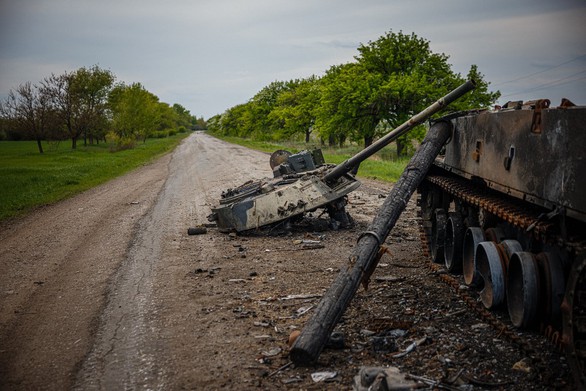 A damaged Russian BMP-3 infantry fighting vehicle on a road near the settlement of Pokrovske, eastern Ukraine on May 4 – Photo: AFP
* May 5, The Russian Defense Ministry said its artillery hit several Ukrainian military bases overnight, destroyed 61 units of weapons and military equipment, and killed more than 600 nationalist gunmen, according to Reuters. The ministry also said the missiles destroyed an aviation equipment at Kanatovo airport in Kirovohrad region, central Ukraine, and a large ammunition depot in the city of Mykolaiv, southern Ukraine.
* May 5, Russia's Defense Ministry said it had practiced hitting important targets with ballistic missiles capable of carrying nuclear warheads. Iskander in the city of Kaliningrad, a Russian enclave between Poland and Lithuania on May 4, according to AFP news agency.
* CNN quoted Petro Andriushchenko, an adviser to the mayor of Mariupol, as saying Fierce attacks continue at Azovstal thép steel house all night from 4 to 5 morning. "The last 11 square kilometers of freedom in Mariupol have become hell," said adviser Andriushchenko. He added that the residential areas near the factory had to evacuate themselves without waiting for a warning.
* On May 5, the Armed Forces of Ukraine said that Russia had "unsuccessful" in its efforts to break the front lines in the Lugansk and Donetsk regions in the past 24 hours. CNN was unable to verify this claim.
* At noon on May 5, The Guardian newspaper quoted the latest military update of the General Staff of the Ukrainian Army Ukrainian forces recaptured several settlements near the regions of Mykolayiv and Kherson southeastern Ukraine. The Ukrainian side also accused Russia of inciting tensions in the breakaway region of Transnistria of Moldova and concentrated its fire on complete control of the Azovstal factory in Mariupol.
Smoke rises from the area of ​​Azovstal Steel Plant in Mariupol city on May 2 – Photo: REUTERS
* Citing US media, on May 5, Russia's Tass news agency said Washington is stepping up the training of Ukrainian soldiers to use weapons transferred from the West. According to Tass, more than 220 Ukrainian soldiers have been trained in the use of howitzers, and another 20 have been taught how to operate the Phoenix Ghost drone. Training takes place in several European countries.
* In a video message broadcast on Facebook on the morning of May 5 (Vietnam time), the President of Ukraine Zelensky said: evacuated 344 civilians from the Azovstal . factory in Mariupol. He thanked everyone who tried to help the people but said there were still many women and children inside the factory. "We need another ceasefire to rescue them," Zelensky said.
* On May 4, speaking to the Danish people on the occasion of the 77th anniversary of the country's liberation from Nazi occupation, Ukrainian President Zelensky affirmed Russia's "dream" of controlling Ukraine and the neighboring countries. other European countries will not come true. Instead, he stressed "the dream of peace will come true just like it did 77 years ago".
"No one can say how many more days this war will last. But I believe the day of our liberation is drawing near," the newspaper said. The Guardian quote Mr. Zelensky.
* Speaking during his visit to Italy on May 4, Japanese Prime Minister Kishida Fumio called Russia's entry ban on him and 62 other Japanese including officials "unacceptable". Newspaper The Guardian Kishida quoted Kishida as saying that Russia will "take all responsibility for the breakdown of Japan-Russia relations".
* According to Canada's CTV News, in a statement sent to this station on May 4, Canada's Ministry of Defense denies combat training of fighters from Ukraine's Azov battalion. The Canadian side affirmed that it "did not and will not" train the Azov battalion and related units. The Azov Battalion is accused by Russia of being a unit of far-right and neo-fascist elements.
* Answering Radio RFE/RL, MP David Arakhamia of Ukraine said Russian forces have entered the Azovstal plant. "Attempts to attack the plant continued into the second day. Russian troops were on Azovstal's land," Arakhamia said.
According to Mr. Arakhamia, until the evening of May 4, contact between the Ukrainian Government and their forces in the factory was maintained.
On May 4, the Kremlin still denied accusations from Ukraine that the Russian military launched a major attack on the Azovstal Steel Plant in Mariupol.
* On May 4, the commanding officer Denis Prokopenko of the Ukrainian forces inside the Azovstal Steel Plant in the city of Mariupol said the war took place and they fought very hard with the Russian army.
Announced via a short video broadcast on Telegram, Mr. Prokopenko said he was proud of his soldiers.
* According to Reuters news agency, the office of the President of Ukraine said that Zelensky had called on United Nations Secretary-General Antonio Guterres to help rescue those trapped in Azovstal.
"The lives of the people there are in danger. Everyone is important to us. We ask for your help in saving them," the office quoted Zelensky as saying in a statement. .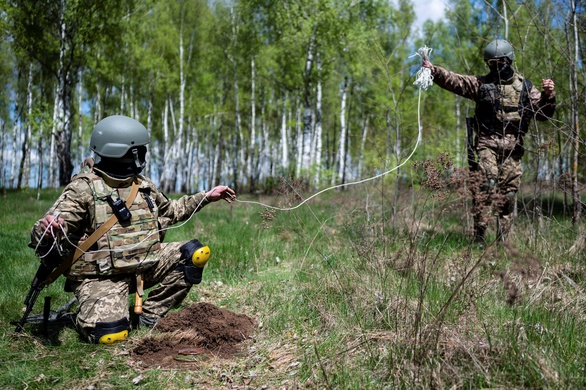 Soldiers of the Ukrainian Territorial Defense Forces participate in a mine clearance training in the northern Zhytomyr region, Ukraine on May 4 – Photo: REUTERS
* On May 4, the Russian military said it would open humanitarian corridors from the Azovstal Steel Plant on May 5, 6 and 7 to allow civilians to leave.
Specifically, the humanitarian corridors will be open from 8 am to 6 pm Moscow time every day, ie 12 am to 10 pm Vietnam time. During this time, Russian forces will cease all military activities and withdraw units to a safe distance.
* Ukraine Railway Authority President Olexander Kamyshin said that the Lviv city power plant was among six railway facilities in central and western Ukraine that were targeted by the forces. Russia attack on the night of 4-5.
According to CNN, Russian attacks temporarily knocked out power in some parts of the region and delayed more than 40 trains.
Lviv deputy mayor Serhiy Kiral said several of the city's water pumping stations were also disrupted by the attacks.
* On May 4, Ukrainian President Volodymyr Zelensky made a call for peace in a speech delivered in Denmark, on the 77th anniversary of the country's liberation from Nazi Germany during World War I. two.
In his speech, Mr. Zelensky claimed that Russia's war could spread to other European countries.
The Ukrainian president also thanked supporters in Denmark and called on them to remember the children who lost their lives in Ukraine.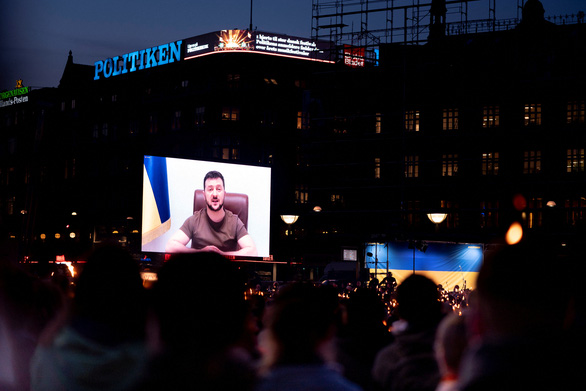 Mr. Zelensky's speech was broadcast in Denmark on 4-5 – Photo: REUTERS
* Secretary-General of the United Nations affirmed that the problem of global food security cannot be solved without restoring Ukraine's agricultural production, as well as Russian food and fertilizer production.
Russia's "special military operation" in Ukraine has increased financial market volatility, driving commodity prices higher and affecting the flow of goods.
"Our analysis shows that the war in Ukraine has only made things worse, triggering a three-way crisis that wreaks havoc on the global food, energy and financial systems for developing countries." , Mr. Guterres told reporters during his first visit to Abuja, the capital of Nigeria.
You are reading the article
QUICK READ 5-5: Russia conducts attack drills with ballistic missiles carrying nuclear warheads

at
Blogtuan.info
– Source:
tuoitre.vn
– Read the original article
here