Used to be the richest man in Soc Son district (Hanoi)
For a long time, there have been rumors about people man over 70 years old 11 wives in Hanoi cause many people to sell credit, sell doubt. They even think it's gossip on social networks.
One day in mid-April, following the address, we found Thang Chi village (Minh Tri commune, Soc Son, Hanoi). And just like the rumors, around a radius of a few kilometers, just ask his house "Pick up 11 wives" Everyone knows this place, everyone points to the house "the biggest in Thang Chi village".
Entering the house, what caught our eyes was the red brick courtyard, the massive property, thousands of square meters wide. Mr. Duong Van Chuot wears clothes "labor" welcome guests with a warm spirit.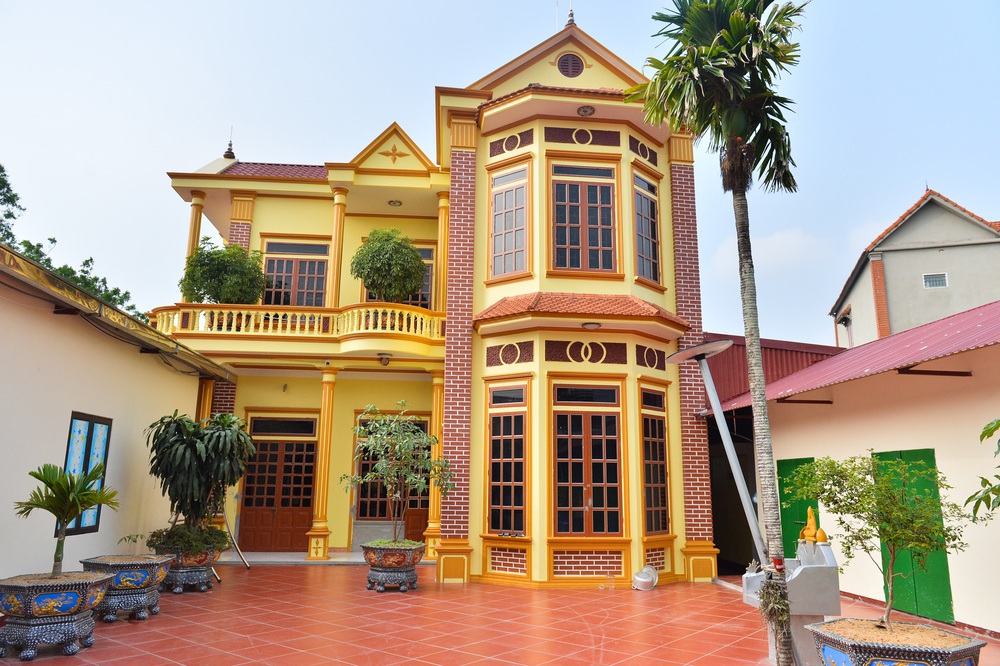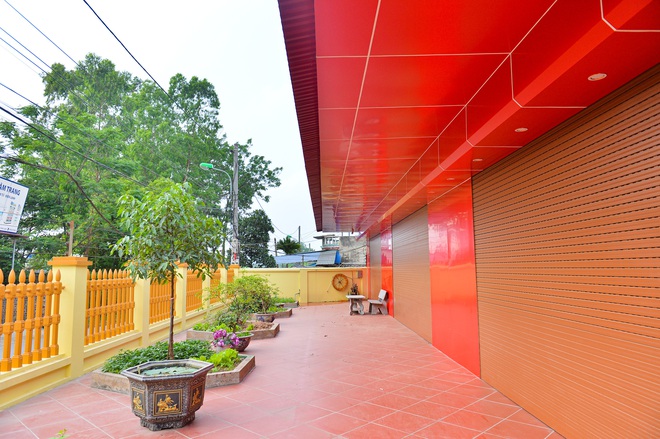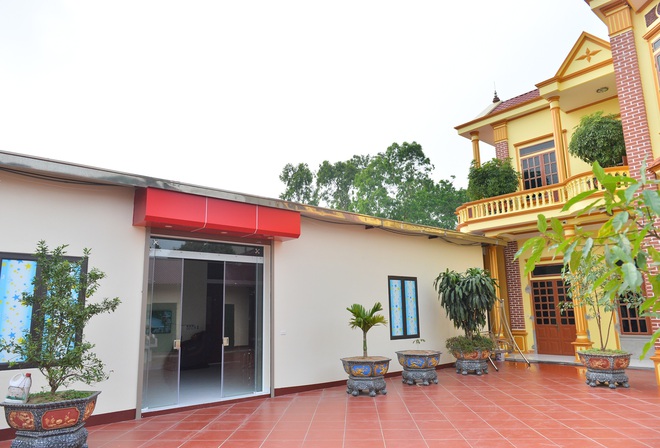 The red brick floor is paved from the entrance to the house, and around the wall is a security camera installed by Mr. Chuot
"Tea, my house only has this kind", he said and quickly unpacked herbal tea to invite guests. Mr. Chuot has a small, toned, agile figure and brown skin. At home, he dresses quite simply. However, he is very talkative, his mouth is like "whatever you know".
While talking, he clicked the phone, iPad and boasted that he used 10 phones with 20 sim cards. Now, even at the age of seventy years old, he still remembers about 200 phone numbers without looking for contacts.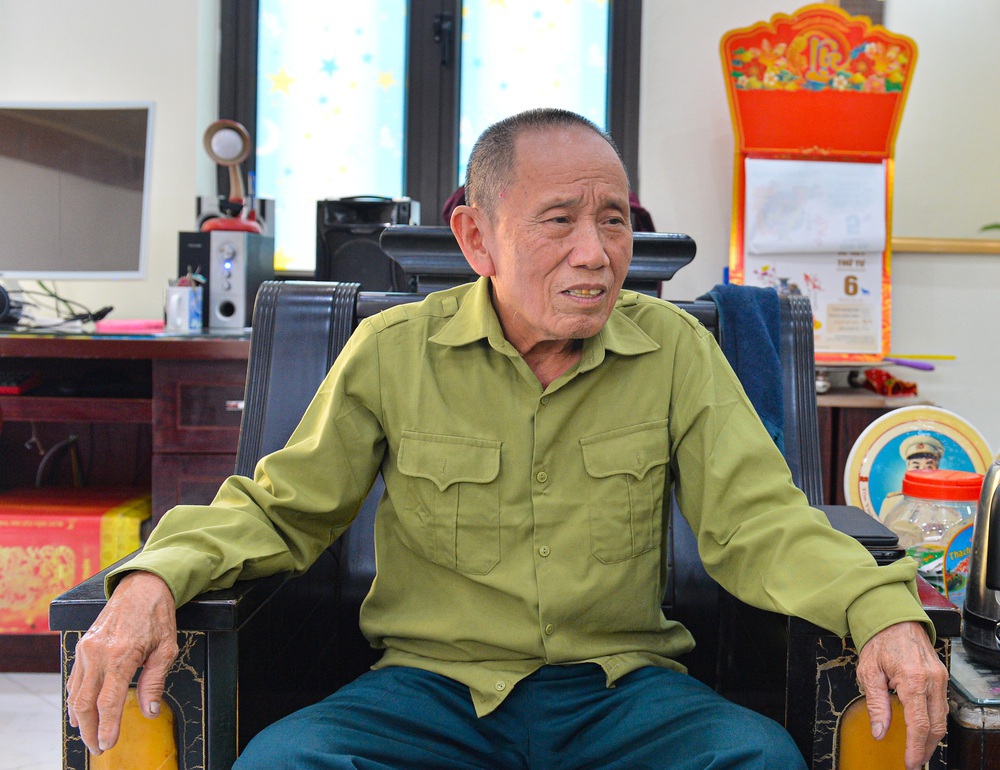 Then he took us for a walk around the house. Inside is a massive house with a fairly classic design, in front of the house is the largest yard in the property. To the left of the front of the house is a mechanical workshop, he often works, making his own products. There are a lot of machines in the workshop, he can't remember how much he bought all of them, just remember "pretty much".
"This is an old motorcycle engine that I rebuilt into a water pump, and this is a pesticide sprayer… no one taught me, I just tinkered with it, I did whatever it took to make money" , Mr. Chuot proudly introduced.
Inside there is a backyard for his wife to raise chickens and grow some plants. To the right of the house is the reception area. The front of the house is close to the main road and the gate has a yard to plant trees.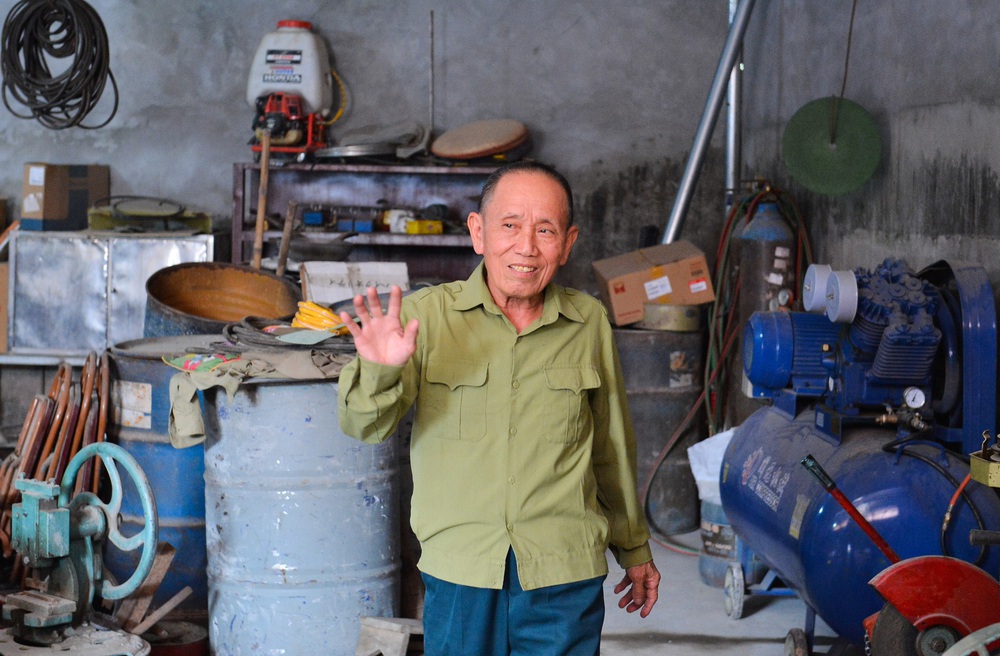 Mr. Chuot's factory. He shared that he had to work hard and do many jobs to get the results he is today
"If you can do anything, where's the money? It's rumored that you're very rich." I asked and got an answer from Mr. Chuot. There was a time when he was the richest man in Soc Son district.
In the house, Mr. Chuot also does not hesitate to spend money to buy technology items such as computers, phones, tablets, relaxing massage chairs, even drones. The equipment and technology he bought are in the best and newest line.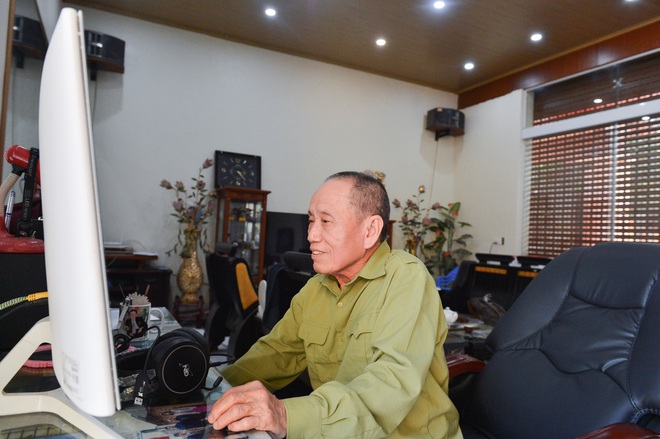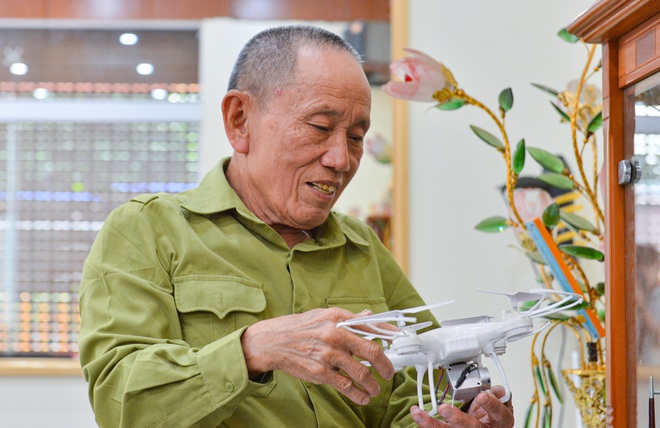 Mr. Chuot is very proficient in using computers, drones…
Besides being a mechanic, he also farmed and managed to make a living. "I do a lot of jobs, whatever makes money, I do it, from real estate to mechanics. No one teaches me, I just tinker with it."
More than 70 years old, 11 wives, still asserting themselves as a "young man"
Referring to the story of 11 wives and 27 children, Mr. Chuot said it was old information, now he has 30 children. Although he is living with his 6th wife and son in a house of thousands of square meters, Mr. Chuot still insists on being alone.
"Each person has a job, my family is independent, free, no one is in charge of anyone"Mr. Chuot said.
"I'm still a virgin now, I didn't register my marriage with anyone. The first lady was the eldest, at that time I was 18 years old, she was 17 years old, there was no way to get married. Just stay together and have children, then I go on business trips everywhere from Mong Cai to Cape Ca Mau and then here and there." Mr. Chuot said.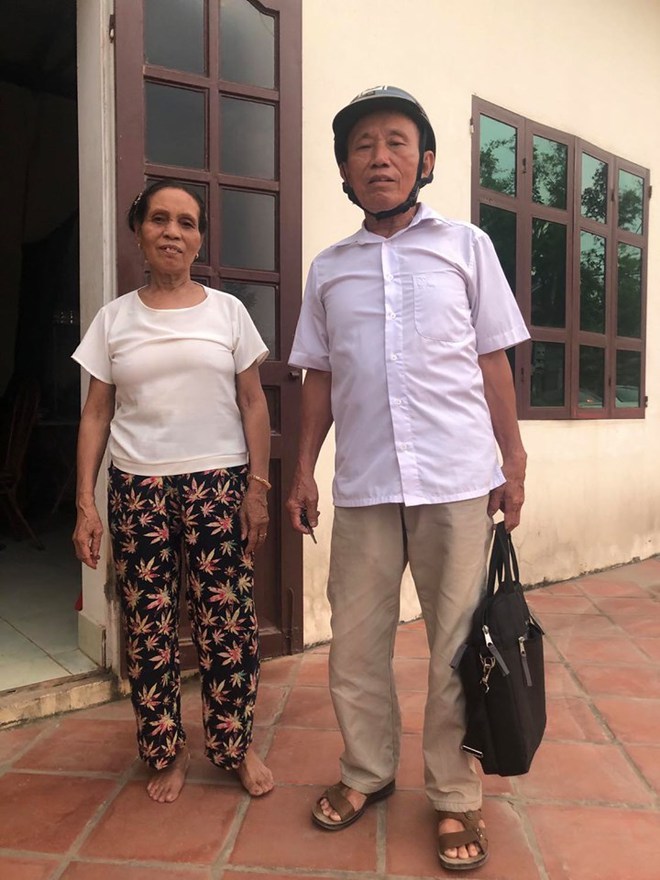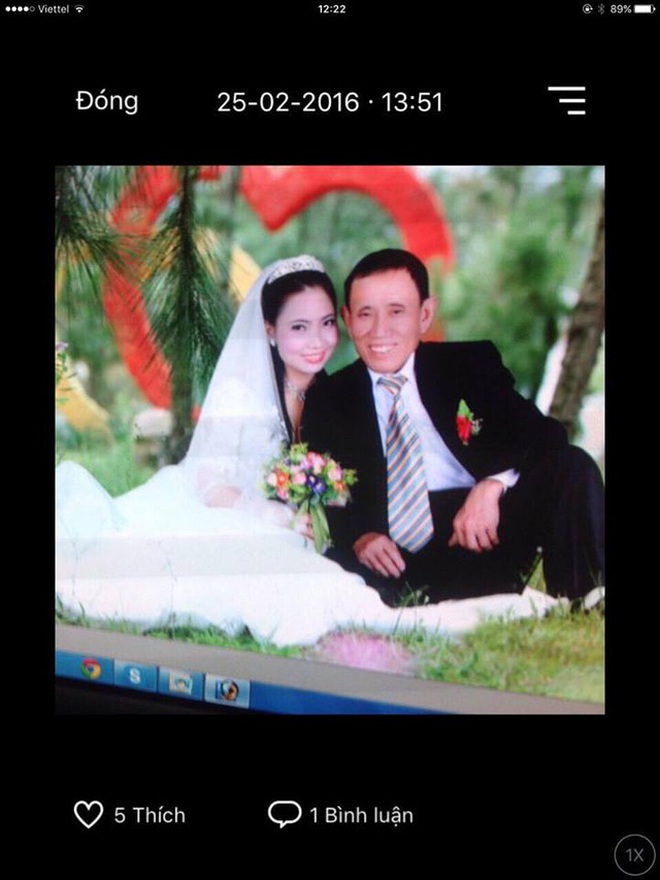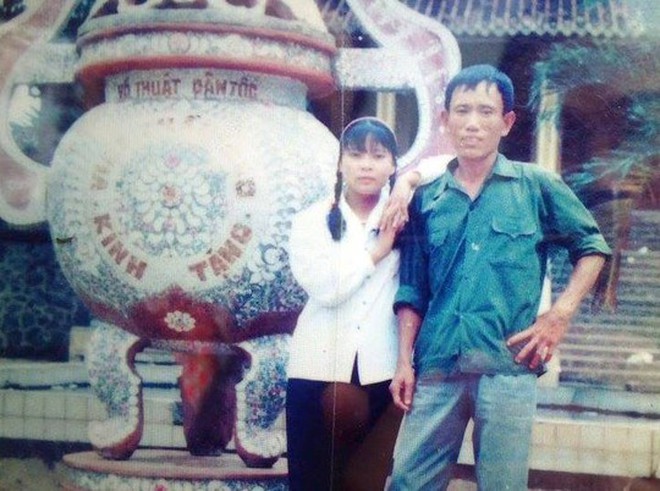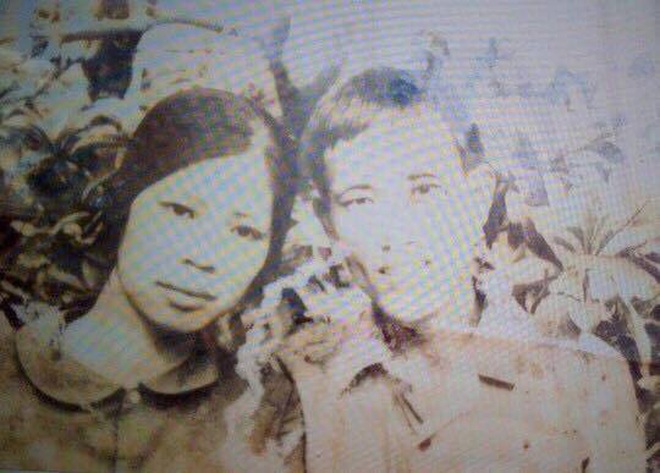 Mr. Chuot took pictures with his wives
Mr. Chuot said, all women are proactive, he does not flirt, everyone in his family is monogamous or monogamous, I don't understand why "My number is like that."
"They all took the initiative and told me to give 'I'm asking for a child'. Up to the present time, he has 11 wives and 30 children, of which the youngest wife is SN 1998.
Recalling his journey to wives, Mr. Chuot said, after coming to his wife at the age of 18, in 1980, when he had five children with her, Mr. Chuot met his second wife, from Ly Nhan's hometown. Ha Nam), is a woman born in 1960.
Two years later (in 1982), Mr. Chuot fell in love with a woman in Quang Ninh, who later bore him two children. Due to his job, he had to wander many places in the South, he continued to have a fourth, five, and then eleven women. In which, there are 3 women living in Minh Tri commune.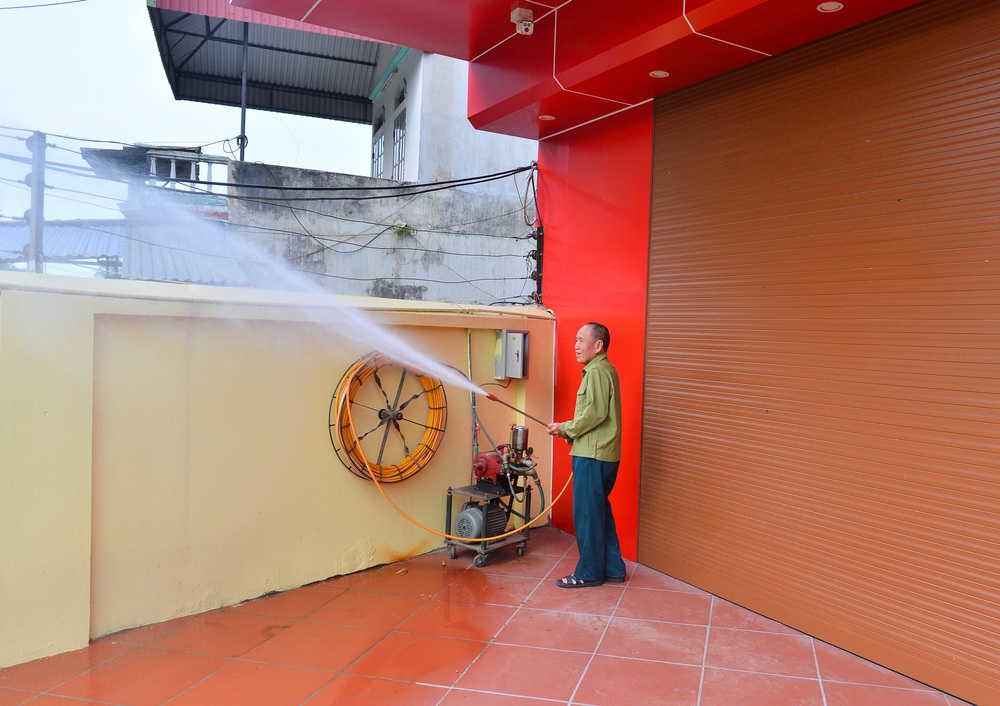 Currently, Mr. Chuot is living in the same house with his 6th wife
Now, Mr. Chuot's 30 children, including 1 adopted son, many have their own families and successful careers. His eldest son is 51 years old this year, while the youngest is only a few years old. He also showed off the messages that often send money regularly to help raise his children.
According to Mr. Chuot, every year on New Year's Eve, his children and grandchildren everywhere flock to his house to visit and have fun. Due to the large number of children and grandchildren, Mr. Chuot built a separate row of houses, set up tables and chairs for his wife and children to have a place to eat and drink. This place is also made into a reception room.
Mr. Chuot also boasted that he has many spacious houses in other provinces for his children. Life has many wives, but Mr. Chuot thinks that there is no binding, forcing these people to stay with him.
"When I live with people, they call me a wife, but I don't actually register my marriage", Mr. Chuot said and gave us more lines of letters "lin li, smell" of him and his wives.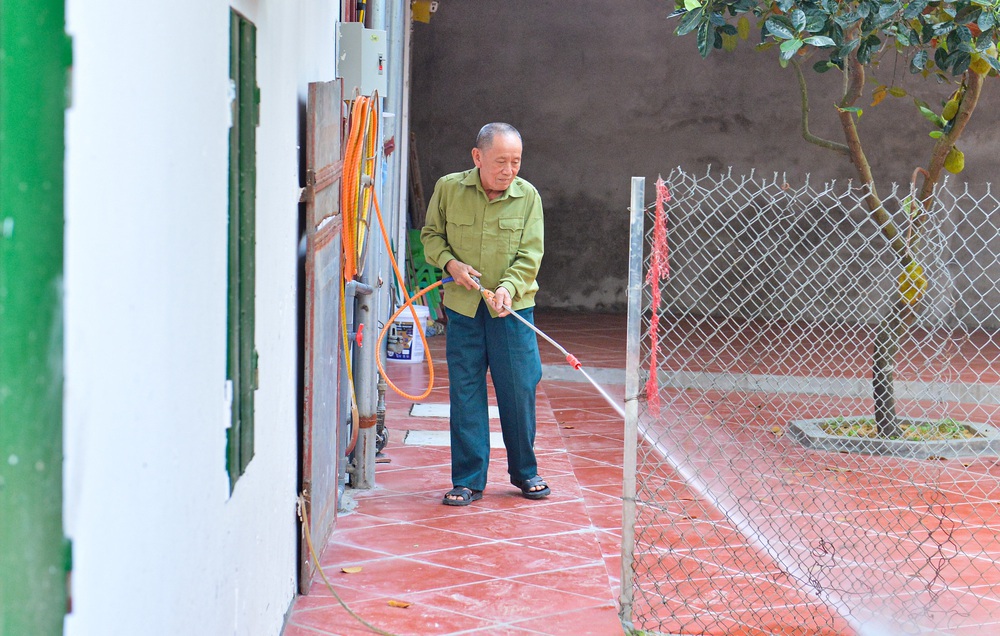 Mr. Chuot looks very healthy, alert and agile
He even remembered a lot of previous love letters sent to his wife. Every month, any wife who needs money or requests anything, just call, he will transfer the allowance. "So for simplicity, comfort, money is not an issue for me", Mr. Chuot confirmed.
Now, he still works from home every day. Although he is more than 70 years old, Mr. Chuot looks very healthy, alert and agile.
Besides his work, Mr. Chuot also boasted that in the past, if anyone had difficulty in litigation and needed legal help, he volunteered to file a complaint for him. Or whoever disputes him, he comes out to mediate, as a reluctant judge, without paying anything.
https://kenh14.vn/gap-nguoi-dan-ong-11-vo-tung-la-dai-gia-mot-thoi-o-ha-noi-su-dung-10-dien-thoai-voi- 20-cai-sim-20220502175442216.chn
You are reading the article
Use 10 phones with 20 sim cards

at
Blogtuan.info
– Source:
Soha.vn
– Read the original article
here