Business
2 no 3 notes when drinking water in summer to avoid HARMFUL
TS.BS Nguyen Trong Hung – Head of the Department of Adult Nutrition Examination and Counseling (National Institute of Nutrition) said that regardless of the season, proper and adequate water supplementation is essential.
Drinking enough water will support all of the body's functions, including digestion and metabolism, eliminating waste, maintaining a normal body temperature, and keeping organs and tissues healthy.
In the summer, when the weather is hot, the exercise process will make the body lose water faster and more, so people can quickly thirst, drink more and have the mentality to use cool water to cool down. body heat.
According to Dr. Hung, in hot weather, many people like to drink cool water, cold water is understandable. However, people need to avoid the following habits so as not to affect their health:
– Do not drink cold water right after coming back from the sun, need to let the body cool down before drinking.
Don't drink too cold water, just drink cool water.
– With cool water, do not drink much at the same time, but need to divide the drinking time of the day, the amount of water will depend on weight, age, and pathology.
– For people who do intense physical activities outdoors such as heavy laborers, athletes…when they come back from the sun, don't drink too much cool water in particular and water in general even though they are very thirsty. Drinking too much water at once will cause electrolyte disturbances, darkening of the face, even falling, endangering yourself.
– For those who have throat problems, are sensitive to ice, it is necessary to pay attention to choosing the right drinking water in the summer.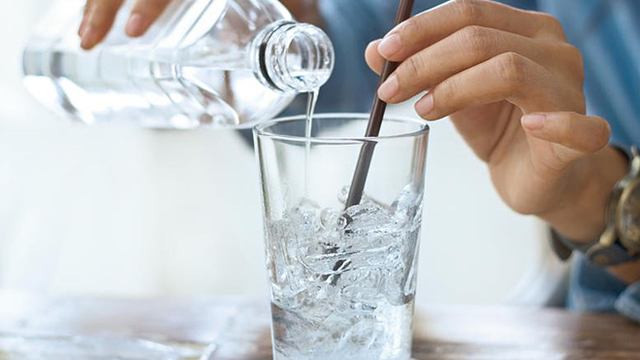 Drinking cold water, illustration.
According to Dr. Hung, drinking cool water in the summer is not harmful, as long as it is scientific, reasonable and listens to your body when drinking. Specifically, like drinking spread throughout the day, should increase the coldness of water slowly, should not drink too cold. Even young children can drink cold water, but need to gradually get used to it, gradually increasing the temperature to avoid causing harm to the body.
Dr. Hung also noted that drinking a lot of water is not a good thing, but it needs to be supplemented properly to promote its effects. Specifically, drinking water depends on your weight, age and underlying medical conditions if any, because drinking too much water will increase the burden on the heart and some other organs.
According to recommendations, adults should drink 40ml/1kg of weight, so people about 40kg should drink about 1.6 liters/day; 50kg people will drink 2 liters/day; 60 kg person will drink 2.4 liters / day. As for the elderly, the amount of water to drink less can be only about 30-35ml / 1kg of weight. Because as we age, the functions of the heart, liver, and water metabolism also decrease.
People with a disease of drinking water need to have a doctor's specific recommendation depending on the specific case. For example, kidney disease, heart disease, edema, ascites… the amount of water should have specific recommendations. This person needs to limit the water to reduce pressure on the organs.
In the summer, especially young children often like to use ice cream, Dr. Hung noted that the amount of sugar in the ice cream is very large. If children eat freely and comfortably, the amount of sugar will be loaded into the body, thereby making it easy for children to become overweight and obese. However, it is also not advisable to absolutely prohibit children from eating ice cream, but need to control the quantity. eat. For example, you can only eat one cup at a time and even if you want to, only feed your child once a week.
https://soha.vn/bs-dinh-duong-khong-phai-ai-cung-uong-2l-nuoc-ngay-cach-tu-tinh-luong-nuoc-co-the-can-20220505081916225.htm
You are reading the article
2 no 3 notes when drinking water in summer to avoid HARMFUL

at
Blogtuan.info
– Source:
cafebiz.vn
– Read the original article
here