After being dumped by her lover, Nguyen Thi Thanh Hang (27 years old, Vung Tau) had the opportunity to meet Damian Gerber (33 years old, British nationality). At the first meeting, Hang confused Damian when asked "What is real love?" and Hang never thought that this man was the person she wanted to stick with, her future husband.
Hang and Damian.
Vung Tau girl holding a saw, British boy falling
Hang was born and raised in Vung Tau. Before meeting Damian, she used to do makeup. Damian has a fateful relationship with Vietnam and has been with the beautiful S-shaped land for 4 years as an English teacher.
Share about your relationship with your husband and wife. Hang said that she and her husband happened to meet each other on a dating app. When I first talked to Hang, I did not have much sympathy or impression with Damian. However, gradually she fell in love with this handsome British boy. As for Damian, the first time he talked, he was impressed with Hang, especially with Hang's question "What is real love?".
"At that time, I was just dumped by my boyfriend, so I asked him that. We share the same zodiac sign, have the same birthday, so we can talk freely." Hang shared.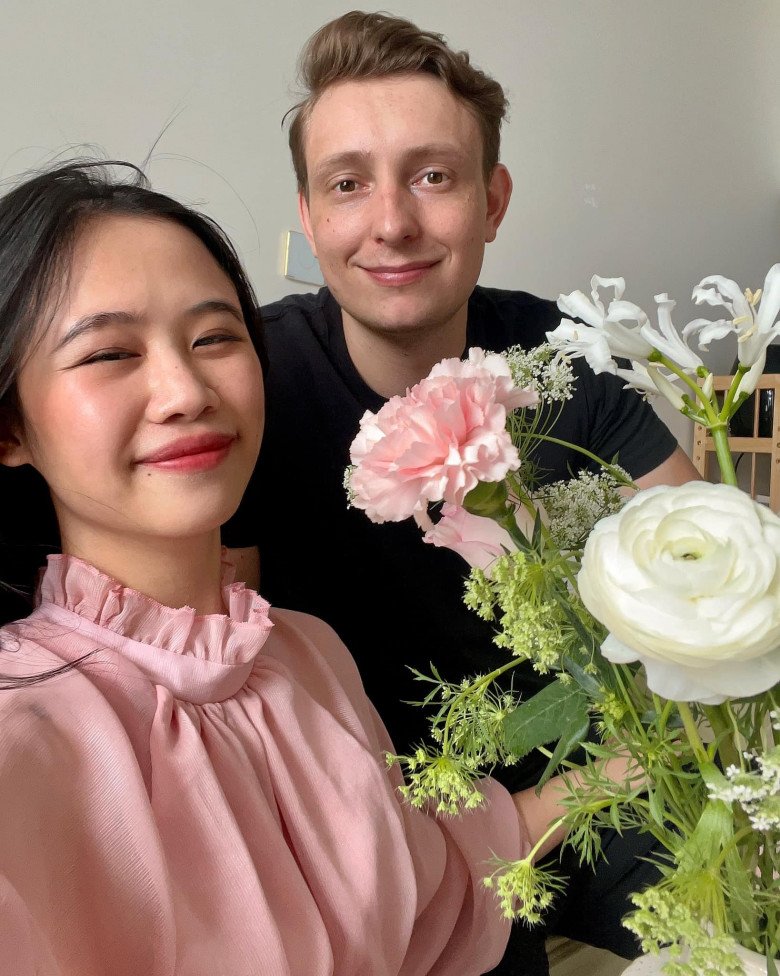 The two met on a dating app.
After talking for a long time, feeling that they were compatible, Hang did not hesitate to "take the saw" Damian first. She frankly asked Damian, "Now I don't like the vague or no-where type anymore, I want the two of us to be serious." After that sentence of Hang, Damian thought for a few minutes and was "cut down" by Hang.
Falling in love with a foreign guy, but Hang did not face many difficulties and was not prevented by her family. Hang confided, her parents are quite easygoing, before she loved anyone, her parents never objected. Her parents always said "No matter who you love, poor or rich, as long as you are happy and respect each other, that's fine". That's why, Hang always lives for herself, she doesn't care much about what people around her say about bad views when Vietnamese girls love Western boys. She ignores them as long as she feels happy.
"Remember that time when we met each other, during the New Year, when I talked about my hometown, I asked for him to come back. As soon as I got back, I put down my backpack and my father made the two of us go pick things up. So that's a "Western" guy in Vietnam for a few months, when he first went to his girlfriend's house to celebrate Tet, changed clothes and carried a basket to pick up what he remembered and found it cute. I'm sure my father has always loved me since then." Hang smiled as he remembered.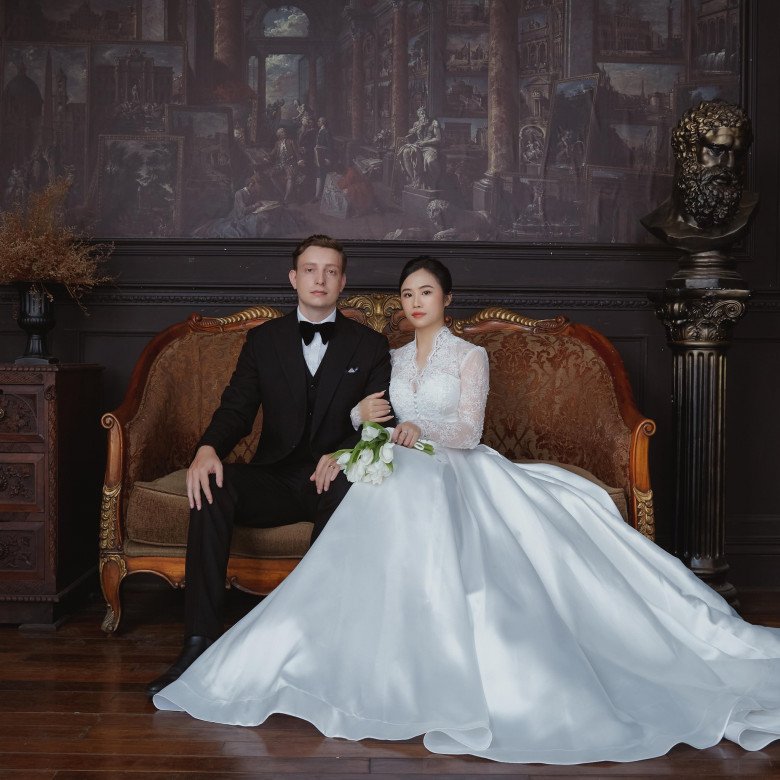 Damian took the initiative to ask for permission from Hang's parents to marry her.
For Hang, her husband is extremely mature, practical and serious. When his feelings were ripe, he took the initiative to ask her parents' permission to marry her. Damian promised her parents that he would love and take care of her. And his parents' request to marry her was his proposal to her.
"He proposed not like what I thought would have flowers and shimmering candles. That time on Tet holiday, we went back to our hometown in the evening, he asked his parents to sit down, he told his parents directly that he wanted to ask for permission to marry me as his wife, he promised to love and take care of me. So he proposed to me like that, quite realistically, he probably knew he was okay with it, so he didn't ask. Later, when I told him that my parents didn't let me, I wouldn't mind."Hang laughed and shared.
I feel lucky and happy to marry you
It is known that after 3 years of dating, Hang and Damian got married. Last April, Hang and Damian's wedding took place with the blessing of both families. Despite the epidemic situation, Damian's mother and his brother and sister still made it through to attend their wedding. His mother gave Hang a pair of earrings as a wedding gift as well as a gift for her grandchildren. after that.
"The big day of the couple, we are very happy that your family has come to attend. The two always whispered to each other how happy they felt on that day. Although my mother-in-law and I met for the second time on our wedding day, I know that she loves me very much and so do I."Hang said.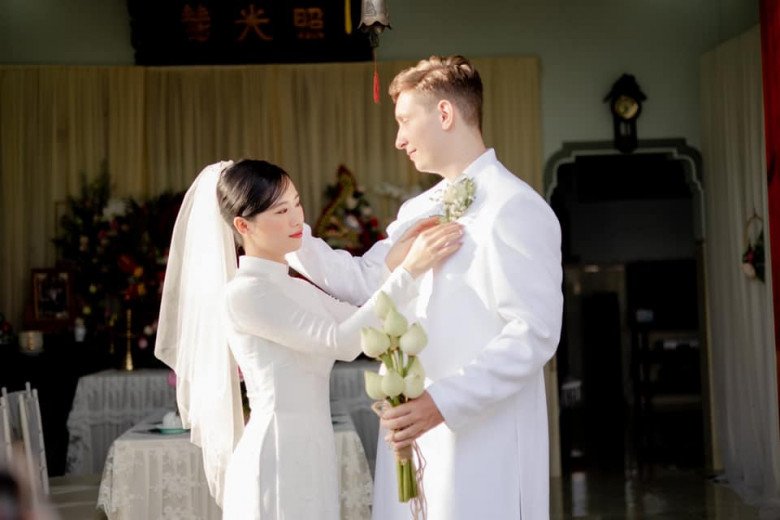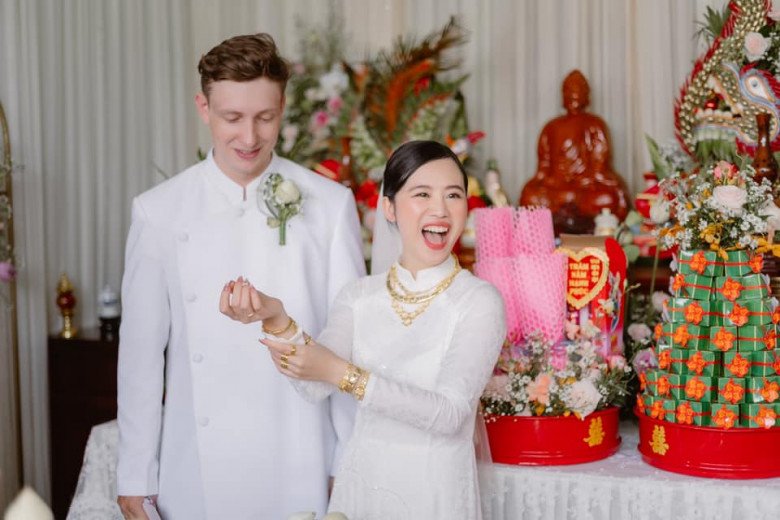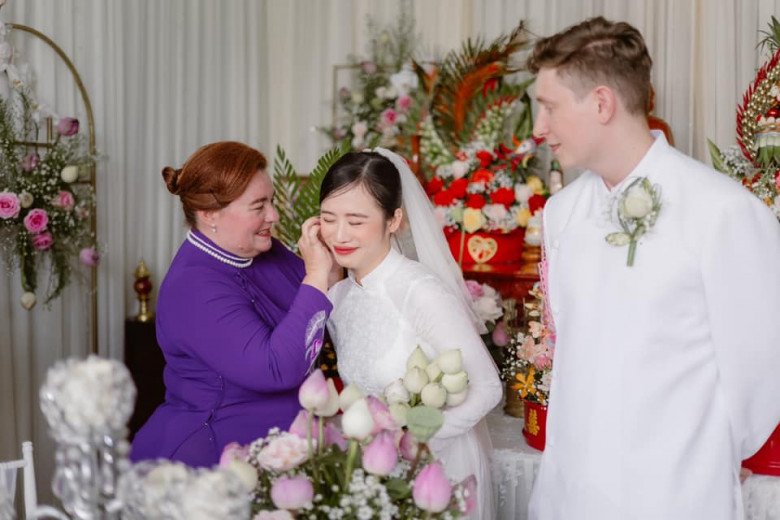 Her mother-in-law gave Hang a pair of earrings as a wedding gift.
Sharing about life after marriage, Hang confided that because the two lived together for more than 3 years before returning to the same house, life did not change much. For Hang, getting married is just a change of name and legalization of the relationship, but the lifestyle and everything remains the same. Hang does not have anything disillusioned about Damian and vice versa because both of them already "know everything" about each other. That's what makes the two want a long-term relationship.
For Hang, the love story must be from two sides, love, understand, trust and respect each other. That's why whenever there is a problem, she and Damian always sit down to solve it right away and then don't mention it anymore. Fortunately, the two have never been angry with each other for more than 2 hours. Whenever there is a conflict, she and Damian will sit down and explain to each other how they feel so that the other person can put themselves in the other's position to understand.
"Every conflict we have to clarify immediately and always, sometimes when it is too stressful, I often leave a corner and sit and think. As for you, the more angry I get, the more wax I get. That's why the two of us rarely get angry with each other for a long time, but when we stay together for a long time, we rarely argue."Hang confided.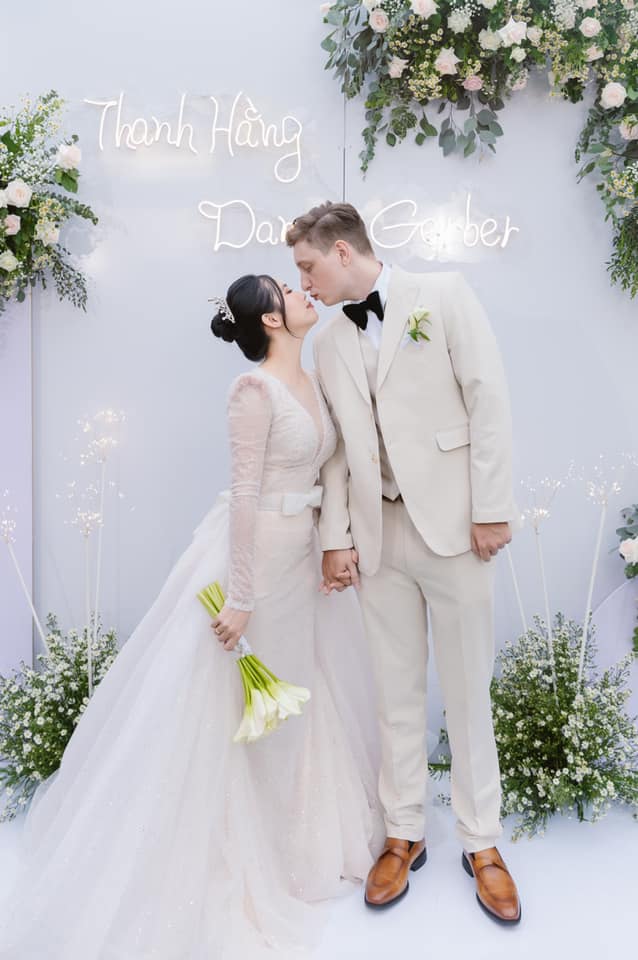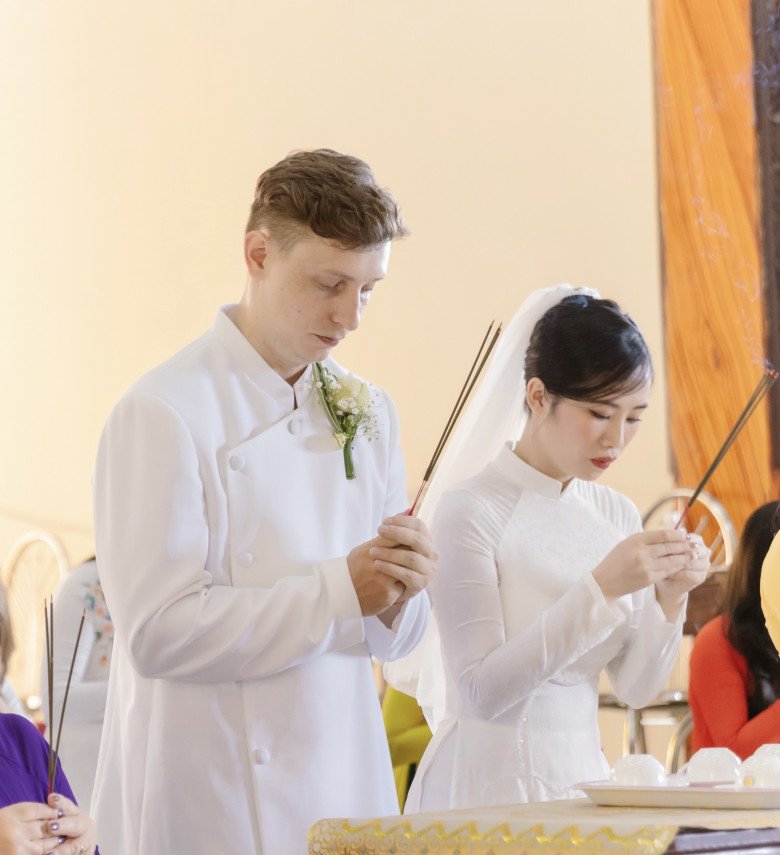 The two are never angry with each other for more than 2 hours.
Hang confided, she does not know what will happen in the future, but now she feels lucky and happy to be married to a loving and respectful husband. As for her, she still respects and trusts Damian. She hoped that the two of them would still hold hands like that through everything. And in the future there will be new members in the house.
You are reading the article
9X Vung Tau holds a saw for a handsome Western teacher, the mother-in-law's wedding gives an expensive gift

at
Blogtuan.info
– Source:
Eva.vn
– Read the original article
here