Giáo dục
Life Style
Hanoi recommends that students return to school for the new school year from August 2022
Worried about students sitting in the wrong class
In the school year 2021-2022, teachers and students in Hanoi schools are quite struggling and disadvantaged when they have to teach and learn online for nearly the entire school year. However, Hanoi decided not to prolong the school year, but to allow students to take summer vacation as planned. Currently, schools are testing the second semester, completing the assessment at the end of the school year.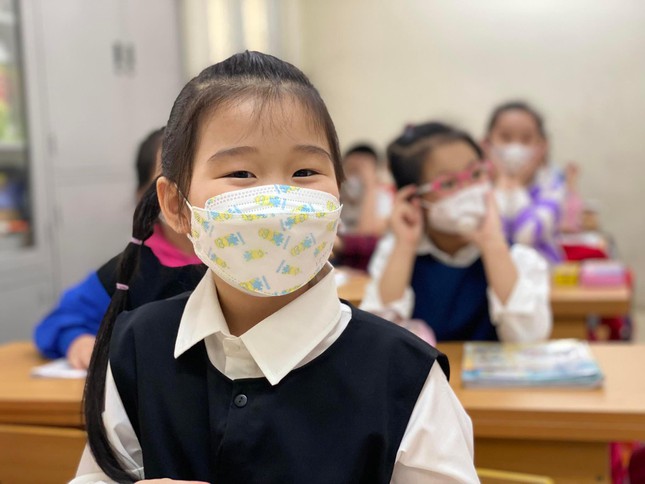 However, many parents shared that their children's second semester test scores and quality survey scores were lower than expected. There are parents of 9th graders who originally planned to let their children apply for 1st choice to the top school, but after their child got the assessment score, they were shocked and decided to change the direction of applying to a non-public high school. Take the 10th grade entrance exam.
Some 1st grade teachers also shared that at the end of this school year, the quality of students is not as good as in previous years. Specifically, most of them read well, but write badly, and have not yet formed the necessary skills. The reason is that before that students mainly studied online, new students came to school in a short time, not enough to practice.
The head of the Education and Training Department of Me Linh district Nguyen Van Hau said that the lower in-person test scores than online are a true reflection of reality. Because, in addition to the basic reason, the online test results will not ensure fairness and objectivity among students. There are students who are conscious of studying and doing their homework seriously, but there are also children who open documents and seek help to get higher scores. When testing face-to-face, teachers observe closely, or test questions are slightly more difficult, students' scores will also be reduced. "In order to control the quality as well as prepare for the 9th graders to take the 10th grade exam, the district Department of Education and Training issued a general survey for this grade, the rest of the grades are actively checked and evaluated by the school. ", said Mr. Hau.
Online learning takes a long time, it is difficult to ensure quality
Mr. Le Xuan Trung, Principal of Le Loi High School, Ha Dong District (Hanoi) affirmed that in order to assess the true capacity of students, it is always necessary to do it directly.. It is hard to deny that the results of online teaching will not be as good as face-to-face. If comprehensively and seriously assessing this is a worrying situation, schools need to have solutions to compensate students before starting the new school year.
"With the unprecedented length of online learning like last year, next school year, Hanoi should let students return to school from the beginning of August. At that time, the school will have 3-4 weeks for students to review. old knowledge, prepare conditions for the new school year. Especially the 9th graders who have gone to 10th grade this year have just implemented a new general education program, if the background knowledge is left gaping, it will be very difficult to ensure quality," said Trung.
Mr. Nguyen Xuan Khang, Principal of Marie Curie School (Hanoi) also said that last school year, students in the capital studied online for a long time, the internet connection was unstable, they had computers, they had to study by phone, study hard… leading to the quality of education cannot be guaranteed. Therefore, it is very important to have time for teachers to refresh and consolidate knowledge for students before changing classes. Hanoi has decided to give students a summer break as planned, ending the school year at the end of May 2022 for students to rest and have fun. "In the new school year, non-public schools may allow students to return to school from the beginning of August, then teachers and students have 3-4 weeks to review knowledge and organize experiential activities to ensure knowledge. , skills, etc., I think, public schools should also have a plan for students to have more time to settle down and consolidate knowledge before entering the new school year," said Mr. Khang.
Some primary school principals also believe that the period of students in grades 1 and 2 is very important in forming habits, skills as well as the ability to read and write Vietnamese. If they cannot read and write fluently when they go to higher grades, it will be very difficult for them to access other subjects and knowledge. Therefore, after a long time of online learning, it is very necessary for schools to have time for teachers to practice more for students, especially those who are average, weak, and have not kept up with their peers.
Previously, the leader of the Ministry of Education and Training said that the unit had guided localities to flexibly teach different forms to cope with the epidemic, but still had to persist in ensuring quality, fair assessment, and customer satisfaction. In fact, avoid the phenomenon of students sitting in the wrong class.
You are reading the article
Hanoi recommends that students return to school for the new school year from August 2022

at
Blogtuan.info
– Source:
Afamily.vn
– Read the original article
here