Giải trí
Hong Que was upset because a notice was sent to her door because she affected her neighbors
WATCH VIDEO: Hong Que and how to teach children not to put their hands in the door.
Hong Que was angry at the warning notice of the building management and scolded the person who accused her
Recently on my personal page, former model Hong Que attracted attention when sharing the story when staying at the apartment building received many comments from everyone. Accordingly, the model said that she received a notice from the building management regarding the neighbors' complaints about her apartment.
Specifically, the content of the notice reflects that the female model's apartment makes noise affecting the surrounding apartments in particular and the building in general. Receiving a complaint from the apartment management board, Hong Que was upset on her personal page: "I was taking a shower when the front desk of the apartment building rang the bell and sent a note with the content: Second reminder about noise! ​​Wow? What's the noise? I still don't understand? Old man downstairs! Well, after today, I'll have enough reasons to go home and live on the ground I live in. What else!"
Hong Que urgently shared about being accused of making noise by neighbors, affecting everyone.
Through the status line, it can be seen that the former super lady is not satisfied with the way the building is handled. Besides using harsh words for her neighbor, Hong Que said this incident was the motivation for her to buy a house on the ground.
Under the comment section of the article, many of Hong Que's friends have interacted, including Miss Ngoc Han, who also left comments. The queen also wondered: "Why is that so absurd, they know it by themselves!", Hong Que immediately responded: "Stupidly angry!"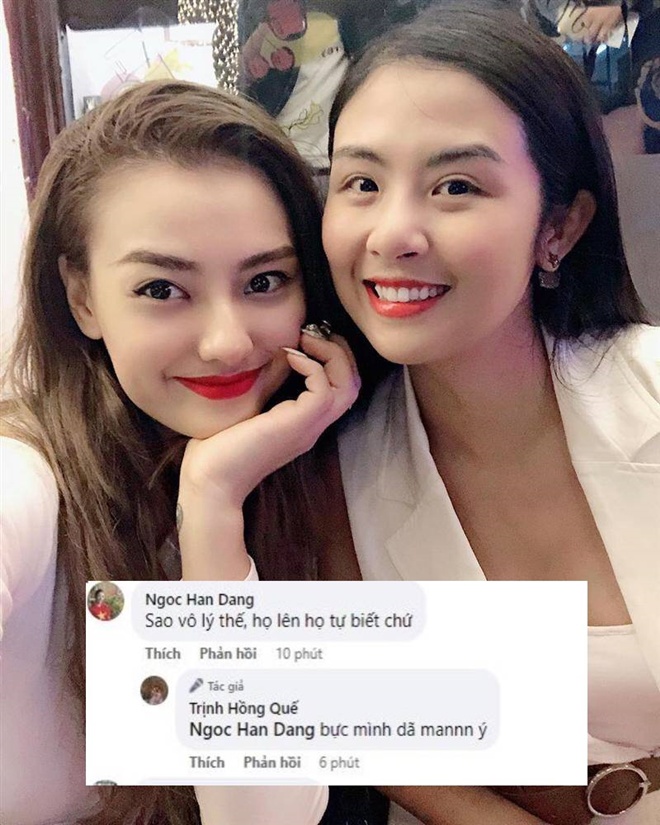 Many people sympathize with Hong Que's frustration, including Miss Dang Ngoc Han.
Hong Que used to be a famous model in the Vietnamese model village years ago, then she retired to hide for a long time. Currently, the former supermodel was born in 1994 as a single mother, taking care of her young daughter alone, and rarely appears at entertainment events.
It is known that in July 2021, Hong Que and her daughter moved to a high-class apartment in Tay Ho district. After being reminded twice for making noise, Hong Que said that she has more reasons to buy a house on the ground and will not live in this apartment anymore.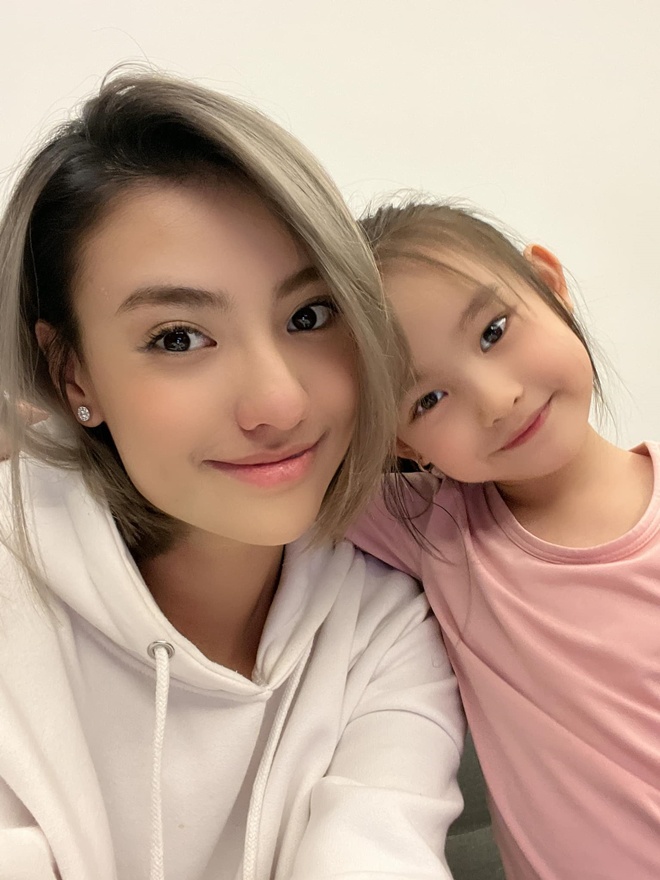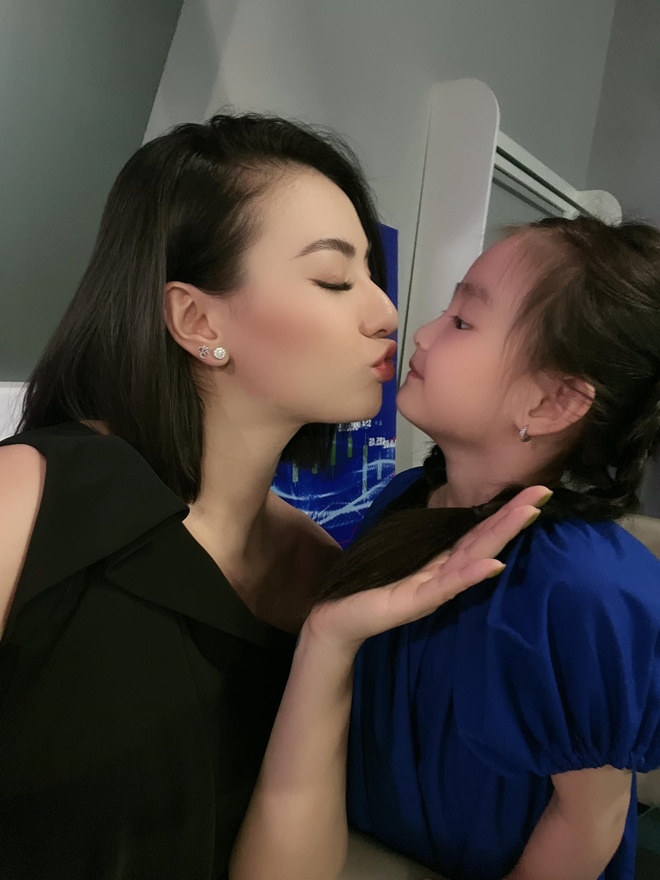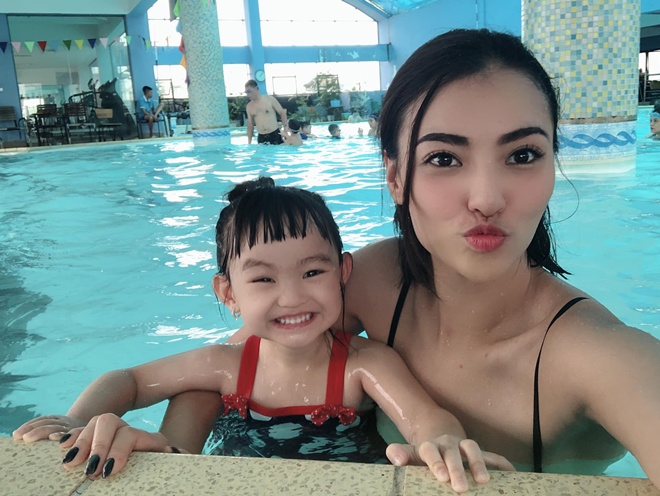 Hong Que is a single mother, taking care of her young daughter over the years.
In addition, there are other notable images on Facebook/Instagram of Vietnamese stars: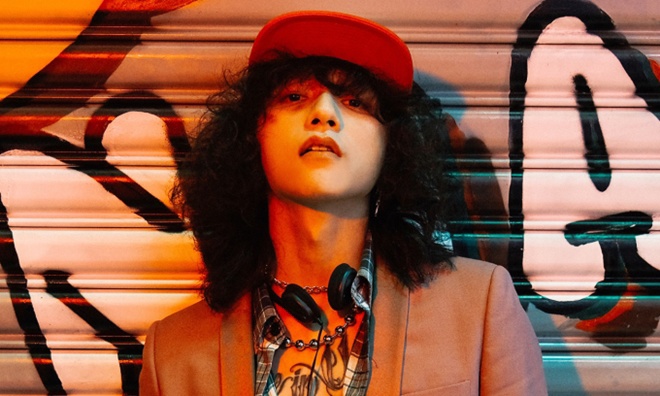 The Inspector of the Ministry of Culture, Sports and Tourism had a working session with the representative of Son Tung M-TP at the headquarters of the Ministry in Hanoi. The Chief Inspector of the Ministry decided to sanction the company for the following acts: Circulating the video recording There's no one at all on the YouTube social network with images, movements, means of expression, and forms of performance that negatively affect morality, public health and psychosocial well-being, violate Clause 3, Article 13 of Decree No. 38/2021/ND-CP on sanctioning of administrative violations in the field of culture and advertising".
In addition to being fined 70 million VND, the authorities asked Son Tung M-TP's company to destroy the video recording There's no one at allremove the MV video recording in electronic form on the network and digital environment.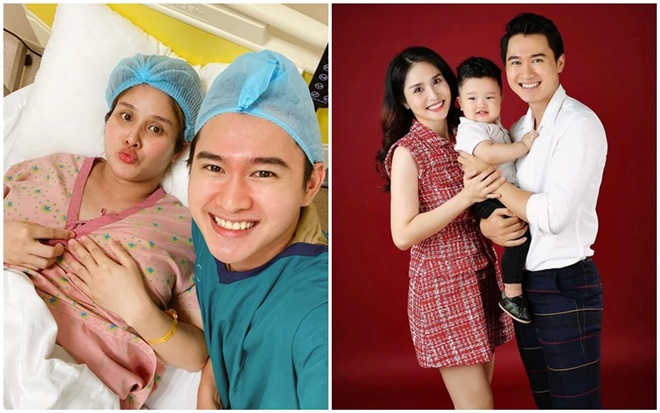 Recently on her personal page, actress and runner-up Thao Trang has just shared a series of photos of the day she gave birth a year ago. In the photo, the runner-up is like a "stranded shark" when giving birth to a child for her husband who is 8 years younger. As for the son, after 1 year, he is getting fatter, white, and adorable. Through the recent picture of the beauty, it can be seen that after only 1 year after giving birth, she has regained her slim figure like when she was a girl.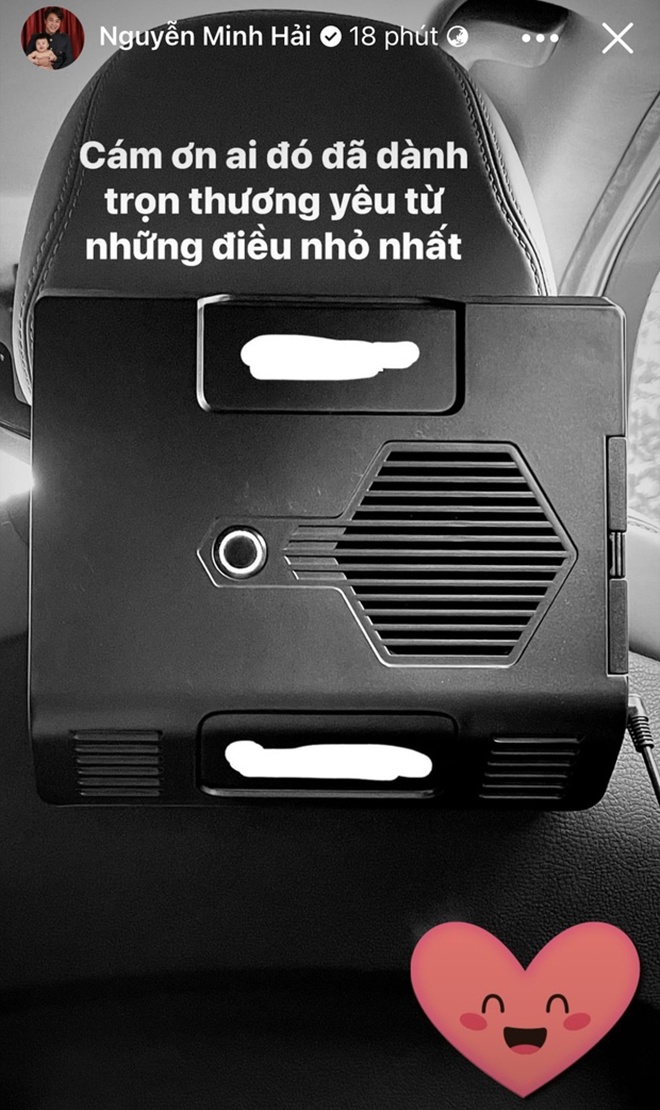 After "everyone went their separate ways" with the singer Hoa MinzyYoung Master Minh Hai is still working in Australia. Recently, ex-husband Hoa Minzy suddenly posted a status line on her personal page: "Thank you to someone who has given love from the smallest things."
The photo has a heart attached, but it is not clear who the giant Long An wants to mention. This move of former love Hoa Minzy is causing people to stir and talk, is this young master having new happiness?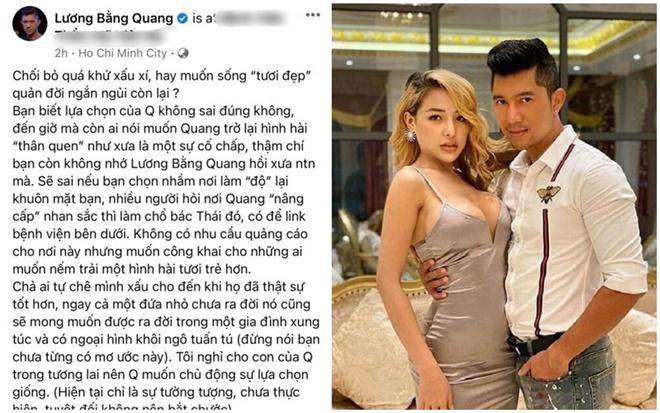 Keeping up with the noisy fiancée like a Western man to give birth to a child, Luong Bang Quang suddenly talked about cutlery and also mentioned children on his personal page.
Specifically, the male musician said: "Reject the ugly past, or do you want to live a beautiful life for the rest of your short life? You know Quang's choice is not wrong, until now, who says that wanting Quang to return to his familiar form is a matter of fact? stubborn, you don't even remember how Luong Bang Quang was in the past."
At the same time, he also shared that he agreed with Ngan 98 about children: "No one calls themselves ugly until they are really better, even an unborn child will want to be born into a wealthy family and have a handsome appearance (don't say You have never had this dream.) I think for Quang's children in the future, so Quang wants to take the initiative in selecting breeds (Currently it is just an imagination, not yet implemented, absolutely should not be imitated). Shape is due to DNA and aesthetics, thinking and success is due to the ability to take care of parents".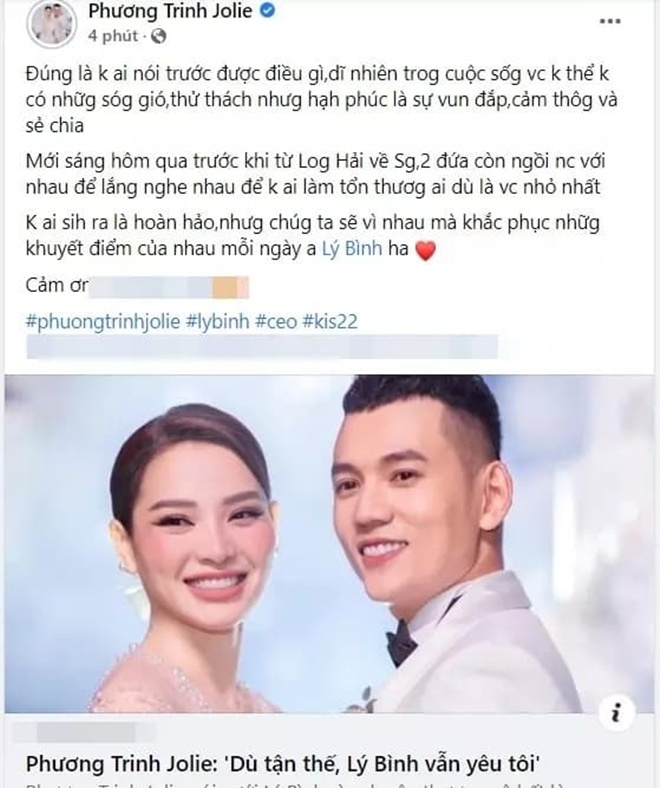 Recently, in an interview, Phuong Trinh Jolie said that she married Ly Binh because he loved her wholeheartedly and loved her stepchild like her own. She also shared about her personal page with a status line like a declaration of love.
Phuong Trinh Jolie sent a message to Ly Binh: "It's true that no one can predict anything, of course in a married life, there can't be no waves and challenges, but happiness is cultivation, sympathy and sharing. Just the morning before from Long Hai Back to Saigon, the two of us sat down to talk to each other to listen to each other, so that no one would hurt anyone even the smallest thing.No one is born perfect, but we will overcome our shortcomings for each other. each other every day, ha."
Below the comment section, many netizens suddenly expressed disagreement with the actress. Netizens believe that Phuong Trinh Jolie should cherish and focus on preserving happiness in the present rather than talking about such distant things in the future.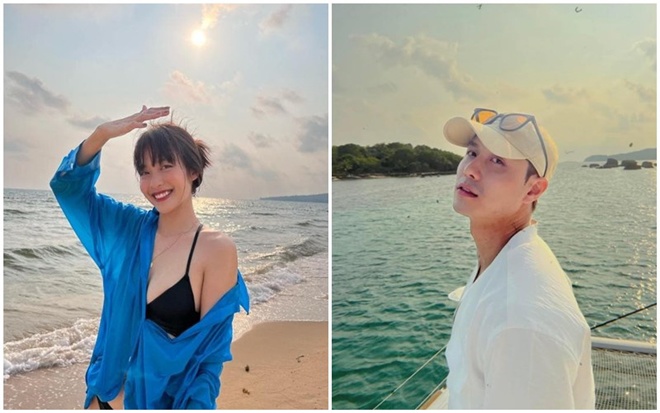 Since playing a couple in love in the movie 11 May Days, two actors Kha Ngan and Thanh Son are constantly entangled in love rumors. Recently, netizens also discovered Thanh Son and Kha Ngan traveling to Phu Quoc together. Specifically, at the end of April, Kha Ngan continuously posted travel photos in Phu Quoc with someone, but kept the identity of the accompanying person completely secret. And recently, Thanh Son also posted a photo of check-in in Phu Quoc. It is this that makes netizens think that the couple invited each other on a date but posted photos on different days to avoid noise.
Not stopping there, a netizen also said that he had seen Kha Ngan and Thanh Son at the same hotel in Phu Quoc. However, because there is no proof, this sharing is still a question for many fans.
Before the rumors were spreading, Kha Ngan's side gave a very short answer to the press: "Rumors are just rumors." and no further comment.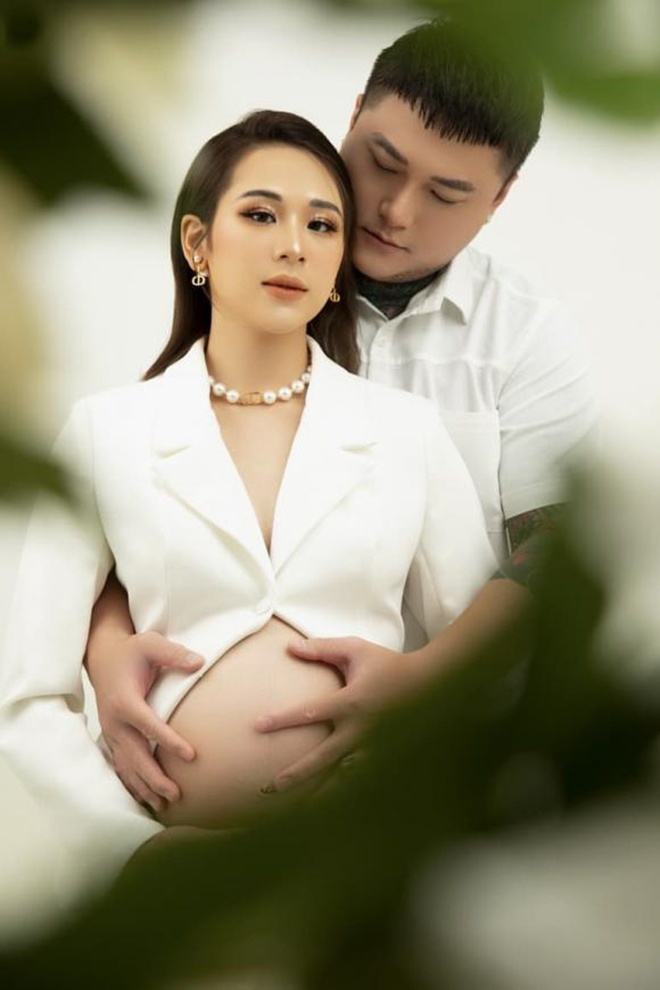 Recently, on his personal page, Vu Duy Khanh shared sweet status lines to his soon-to-be wife, attracting the attention of netizens: "You came to me, in my most desperate moment, my hand had nothing but a good heart and a complete love. Your sacrifices and losses, I remember and use it as motivation. to live better every day.
Just a few more days, I will be in the operating room, my emotions are mixed with joy and sadness, happy to see the baby born, but also sad because I see you in pain. He looked up at the sky and prayed. I trust the above will listen to my heart and bless us. I also stopped my EU tour to be with you. Everything I do, is because of my love for you, not for anything or to prove to anyone. Love you and love you."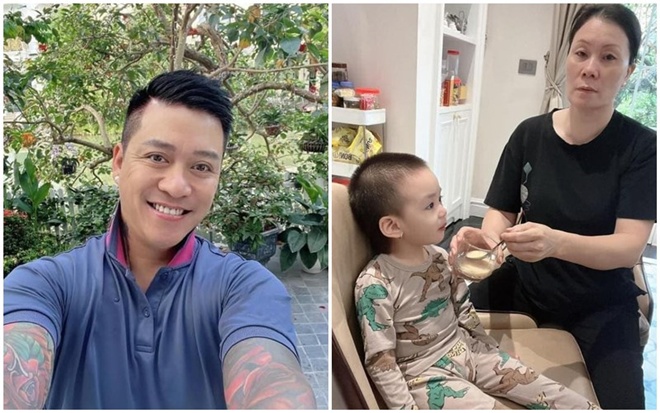 Tuan Hung shared about his daily life with his children: "Every morning, wake up with familiar tasks: make breakfast for the children, then take the children to class, try to do fun in the car to give them energy for a new day of fun before going to school. enter the classroom.
Accepting to step back on the career path to leave a mark on my loving family is what I have chosen and feel happy about. Your children's memories will never have a rich father or a music star, but simply an ordinary father like many other fathers, lovingly caring and guiding every step of the way. foundation for them."
You are reading the article
Hong Que was upset because a notice was sent to her door because she affected her neighbors

at
Blogtuan.info
– Source:
Eva.vn
– Read the original article
here