Chuyên đề
If mysterious hepatitis enters Vietnam: How to prevent the disease?
Mysterious hepatitis has killed 4 children, many of them need liver transplants, with the speed of the virus spreading into our country.
Not related to Covid-19
Worldwide, there have been 228 cases of acute hepatitis of unknown cause in 20 countries, including 4 deaths.
According to Dr. Truong Huu Khanh – Vice Chairman of the Infectious Diseases Association, Ho Chi Minh City, said acute hepatitis in children is currently considered a mystery. At first, it was not found that it was related to Covid-19. or not? However, so far this new hepatitis is completely unrelated to Covid-19 and the Covid-19 vaccine.
Mysterious hepatitis but actually acute hepatitis. Dr. Khanh said that in the years 1988-1990, acute hepatitis also occurred and the patient's condition was the same as now, because of acute hepatitis, liver failure, liver atrophy and death.
Every year, the Department of Neurological Infections, Children's Hospital 1 also has several dozen cases related to hepatitis. Some time later, he was tested for hepatitis B and had a vaccine. It was later found that it wasn't hepatitis B, then assumed it was caused by a virus A then C.
Dr. Khanh said that there are many viruses that "love" the liver, attack the liver, so viral hepatitis has many groups of viruses and they named it A, B, C, D, E… the most current are B, A, C, E. This virus is transmitted through blood, food. Some viruses are transmitted through the respiratory tract and enter the liver.
In addition, hepatitis can be caused by acute exacerbation of metabolic disease or by taking drugs.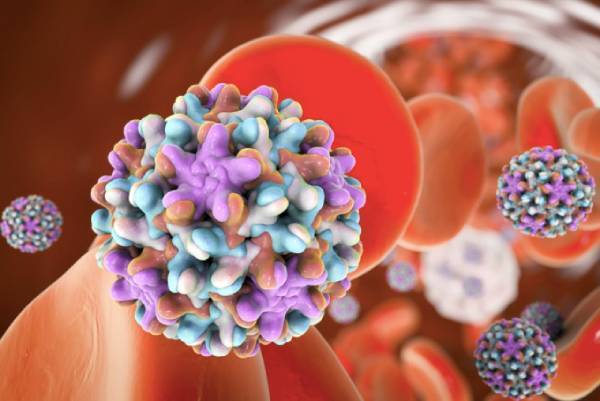 New hepatitis virus. Illustration.
According to Dr. Khanh, if mysterious cases of hepatitis appear in poor countries, with poor testing standards, they may just say viral hepatitis because tests cannot be done. But cases of hepatitis virus this time appeared in advanced countries, so they found it. The liver "loving" viruses were not found, so it became a mystery.
Patients often appear scattered in many places such as the US, Europe and now most often in the UK. The patient's condition is similar, so it can be confirmed that the cause is viral. And so far, researchers have done PCR, gene sequencing and found that it is related to the Adenovirus virus.
What is adenovirus?
Adenovirus causes hepatitis so far, it has only been recorded in infants and immunocompromised people. The remaining Adenovirus causes respiratory infections and normal people will have immunity to this virus.
Adenovirus is considered the most common respiratory virus after influenza virus and syncytial virus. Adenovirus can cause conjunctivitis such as pink eye, or severe cold and cough, severe pneumonia.
The virus that causes respiratory infections attacks the liver again, Dr. Khanh said that it is suspected that in the past time, due to isolation because of Covid-19 it is more likely that children will not be exposed to the Adenovirus virus, so when exposed to the virus, the virus will become infected. attack on the liver
The nature of the virus Adenovirus spreads through the respiratory tract and spreads quickly to many people.
Dr. Khanh said that if it is true that mysterious hepatitis is caused by the Adenovirus virus, then surely many people have been infected with this virus but only cause respiratory symptoms, only a few people "jump" into the liver to cause acute hepatitis. Most children with acute hepatitis will recover. A small number of children require a liver transplant or die.
In order to prevent the Adenovirus virus, Dr. Khanh said people need to wash their hands and wear masks. If the adenovirus comes to Vietnam, it will most likely cause the flu. As for children who need to take care of children as usual, if they see dark yellow urine, jaundice, they need to quickly send the child to the hospital for screening.
Patients do not take miscellaneous drugs because there are drugs that are toxic to the liver. This mysterious hepatitis is also treated like acute hepatitis ever.
On May 6, the Ministry of Health requested units to strengthen surveillance of this strange disease in Vietnam. The Department of Preventive Medicine said that according to updated information from the World Health Organization, the disease occurs in children from 1 month old to 16 years old.
Most of the children recover completely, but there are some cases of severe transformation, nearly 10% of cases require a liver transplant. The cases identified as acute hepatitis mentioned above presented with abdominal pain, diarrhea, vomiting and markedly elevated liver enzymes.
According to the Department of Preventive Medicine, the majority of reported cases have no fever and no infection with common viruses that cause acute viral hepatitis (hepatitis A, B, C, D and E viruses).
The World Health Organization and the European Center for Disease Prevention and Control say the exact cause of hepatitis in these children is not known, and investigations are ongoing. However, cases have occurred in areas where the adenovirus is high.
Khanh Chi
You are reading the article
If mysterious hepatitis enters Vietnam: How to prevent the disease?

at
Blogtuan.info
– Source:
infonet.vietnamnet.vn
– Read the original article
here