Business
This is the factor the company will evaluate to consider the salary for employees
Starting salary when fresh out of college is always a matter of concern for university students? How much salary is high? Is that salary commensurate with the value of labor power? How long will the salary increase and how to improve the total income?… These are the concerns of many students today.
Recently, a female student from a famous university in Hanoi asked a question on social media, causing a stir in public opinion. Female students feel bored when the salary of fresh graduates ranges from 7-8 million VND. The text of the female student's sharing line is as follows:
"Brothers and sisters, is the salary of 7 million after graduating from college? I'm in my first year, preparing to go to my second year of university. My academic strength is also average! But I think after I graduate, I will have a salary. It's higher than other schools. Suddenly, people say that when they graduate from school, the salary is only 7-8 million, but I feel so sad, is it worth it for 4-5 years of college, costing hundreds of millions of parents?
At least, employers have to look at the candidate's profile to see which schools are potential, which schools are not? I just hope that students will have an open future, but seeing my siblings go to school to work and tell stories, I feel so pessimistic!".
Before this issue, we contacted Ms. Hoang Thi Hong Hoa – Senior Human Resources Director of American Study Education Joint Stock Company (Hanoi). With more than 10 years of working experience, Ms. Hong Hoa will answer questions related to personnel recruitment, salary and bonus.
Ms. Hoang Thi Hong Hoa – Senior Human Resources Director of American Study Education Joint Stock Company (Hanoi).
– Before the sharing lines of female students, what do you think?
I think this is the honest thoughts of freshmen and sophomores. You don't know what your next job will be. And you can't even imagine what you have accumulated in 4 years of university, which will help you in your work. Students need to have experience by working part-time, working part-time to understand what the company pays will have to be worth the dedication.
I assess that the salary of 7 million dong when fresh out of college is neither low nor high. Salary depends on the position in the company. There are many students who work part-time but earn much higher than the above salary. Even if they have not graduated from school, they have not spent 4 years studying, but they can still earn 10 million, 15 million if they find a suitable job.
There are also many students who graduated from college but struggled to find a job all year. At that time, 2 million was not available, let alone 7-8 million dong. As self-worth is, the income will be commensurate with it. Not all students are equally qualified. Different capacity will have different income.
– The female student in the story is worried about going to the top school but has a low income. So in your opinion, is going to a top school the top criterion in recruiting personnel?
When selecting candidates, employers will consider recruiting through many factors. Employers provide job descriptions, position requirements, and competitive salaries to find the right candidate. Then, they will consider the factors of schools and training disciplines.
For fresh graduates, the employer will first consider the field of study related to the job requirements. For example, a job that requires IELTS 7.0 must see if the candidate has majored in English and has a certificate. Or majoring in Marketing, it is necessary to see if the candidate participates in any activities or clubs. All of these factors are more important than the "field" factor.
There are students who do not study in top schools but are high-quality students who are still evaluated well when recruiting. High-quality students are active students with many contributing activities, not just high scores. These students will have the opportunity to be selected over "average students" of famous schools. School is only a factor for admission, not a deciding factor. The most important factor is the specialization. Universities that are training majors directly related to the job position will be given priority.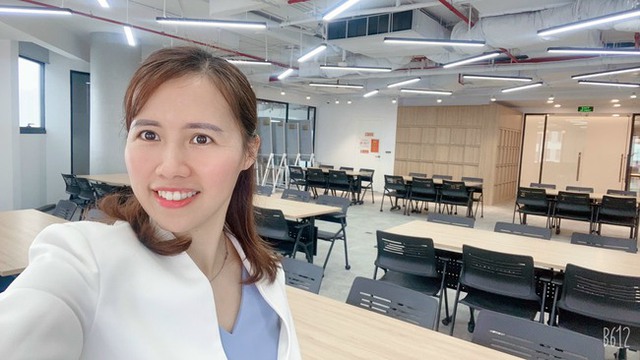 Ms. Hong Hoa said that 7 million is neither high nor low, but 7 million must be commensurate with the labor force.
– For new graduates looking for a job, in addition to their academic qualifications, what skills do employers often ask candidates to have, ma'am?
My company often focuses on candidates who actively participate in activities during the learning process such as: Volunteers, participating in programs, clubs, seminars, events,… That's a plus point. very large, helping to assess whether the candidate is dynamic, agile, enthusiastic and the level is suitable for the job position. Through the activities, soft skills such as communication, teamwork, presentation, organization, management, etc. will be assessed.
– After graduation, how long will it take human resources to improve salary and bonus?
The salary level depends on the regulations of each company, maybe every 6 months or 1 year, there will be a salary increase once. After the specified period of time, the company will re-evaluate the personnel in terms of job completion, limitations, etc. From there, the company adjusts the appropriate salary and organizes courses to help employees improve their skills. specialize. There are employees who do not get a raise but can go to school, each company will have different regimes.
– What advice do you have to prevent students from being "disillusioned" with their starting salary after graduation?
Every profession has high-paying positions and low-wage positions. It is important that the candidate chooses the job position. For example, a person you choose to be a Marketing employee is different from a receptionist. Graduated at the same time, studied in the same department, majored in the same class, but the salary will be different. If you work as a receptionist, you like normal work, without much pressure, the salary is not high.
And you do Marketing much harder. She has to use her brain to write content, she has to go take pictures and then write articles, edit videos at events, etc. Even have to go to work on weekends and Tet holidays.
Thus, new graduates must consider choosing the desired and suitable job. The value of the job is reflected in the salary, so I want to emphasize again: 7 million is not high, it must be low, but that 7 million must be commensurate with the labor force. As for whether 7 million is high or low, it must be based on specific jobs.
Thank you for the chat!
Photo: NVCC
https://afamily.vn/vu-sinh-vien-suy-sup-vi-luong-tot-nghiep-chi-duoc-7-trieu-giam-doc-nhan-su-he-lo-day-la- cute
You are reading the article
This is the factor the company will evaluate to consider the salary for employees

at
Blogtuan.info
– Source:
cafebiz.vn
– Read the original article
here