As the new face of Korean politics, Yoon Suk-yeol, who has worked as a prosecutor for 27 years, will face a series of challenges when he succeeds President Moon Jae-in on May 10.
Defense fulcrum
The threat from North Korea has always been at the top of Yoon's agenda. During the election campaign, much of Yoon's campaign focused on taking a hardline stance on North Korea, a departure from President Moon's current approach, which has always promoted dialogue and peaceful reconciliation.
Cheong Seong-chang, director of the Center for North Korean Studies at the Sejong Institute, said negotiations between the two Koreas have stalled since the US-North Korea summit in 2019.
"It is hard to expect any progress in the denuclearization negotiations unless the next administration offers a denuclearization solution that is acceptable to both the United States and the United States," Cheong said. North Korea".
Mr. Yoon has pledged to build up the South Korean army, even hinting to strike first if there are signs of an attack on Seoul.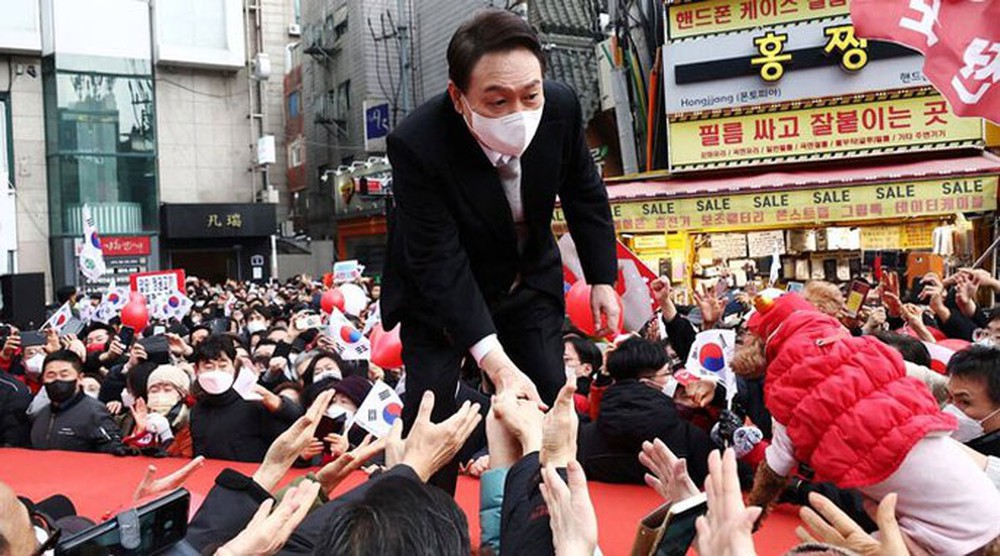 New President Yoon Suk-yeol shakes hands with supporters during the election campaign in Seoul, South Korea on March 1. Photo: REUTERS
During his election campaign, Mr. Yoon always stressed that he would not relax sanctions or prepare a peace treaty until North Korea makes active efforts for complete and verifiable denuclearization. .
Speaking in Seoul on January 24, Yoon said that the door to diplomacy and dialogue would always be open but he would pursue a peace based on a firm defense posture.
According to CNN, experts warn that the hard line of the new South Korean president could worsen relations between the two countries. Some fear that military tensions could return to a crisis level like in 2017, when North Korea was actively testing weapons, prompting the US and South Korea to increase their military strength.
Yoon's rule could also change South Korea's relationship with two major powers, the US and China. Over the years, South Korea has forged a close security alliance with the United States and a growing economic relationship with China.
However, Kim Jiyoon, a researcher at Sogang University's Institute of Social Sciences (South Korea), thinks that the time and period of that traditional "wired" relationship is coming to an end.
A series of domestic problems
In this regard, the 61-year-old new president made it clear early on which relationship he would prioritize. In January, Mr. Yoon said South Korea must re-establish its alliance with the US. He pointed to the technological advantages gained from a closer alliance with the US that could help South Korea maintain its position against competing nations, including China.
To boost ties, the new President Yoon has hinted at the installation of a second anti-ballistic missile system, a move that is sure to anger China.
South Korea announced in 2016 for the first time that it deployed the US Terminal High Altitude Area Defense (THAAD) system to guard against North Korean missiles. Beijing criticized the move as endangering China's national security, leading to years of diplomatic tension.
Domestically, the new president also has to deal with a series of issues including gender inequality, economic recovery after the Covid-19 pandemic, public debt, an aging population, corruption and political divisions…
The fact that Mr. Yoon promised to abolish the Ministry of Gender Equality when running for the election to attract young male voters was met with a backlash. South Korean men in their 20s and 30s are fighting what they see as "reverse discrimination" stemming from feminism and women-centered policies.
However, whether Mr. Yoon can fulfill this pledge or not still needs the approval of the parliament – which is controlled by the ruling Democratic Party.
According to the Korea Herald, the two main issues that Mr. Yoon mentioned while running for the election were jobs and housing. Faced with pressure from the public over rising house prices, the new South Korean president pledged to reduce property taxes and build 2.5 million new homes by 2026, including small homes suitable for housing. financial capacity of young people in their 20s and 30s.
Mr. Yoon also promises a just society in which young people can develop for their own future.
Participated in the prosecution of 2 former presidents
As a veteran prosecutor, Mr. Yoon Suk-yeol participated in the prosecution of two former South Korean presidents, Ms. Park Geun-hye and her predecessor, Mr. Lee Myung-bak.
His illustrious prosecutorial career also included several "breakthroughs" into powerful politicians and oligarchs. His important imprint was recorded in investigations involving the National Intelligence Service, the leadership of Samsung Group and a former chief justice of the Korean Supreme Court on corruption charges…
According to Xinhua news agency, in May 2017, President Moon Jae-in appointed Mr. Yoon as chief of the Seoul district prosecutor's office, then appointed him as prosecutor general in July 2019.
Mr. Yoon resigned as prosecutor general in March 2021 and announced his candidacy for the presidency in June of the same year. A month later, he joined the opposition National Power Party.
On March 10 of this year, Mr. Yoon won a narrow victory over Lee Jae-myung of the ruling Democratic Party, becoming the 20th president of South Korea.
You are reading the article
A new breeze in Korean politics

at
Blogtuan.info
– Source:
Soha.vn
– Read the original article
here