One dog The dog is muzzled, but not to prepare to be led by the owner for a walk in public, but instead, the dog will go into the forest to perform a very important task. Can you guess its upcoming work?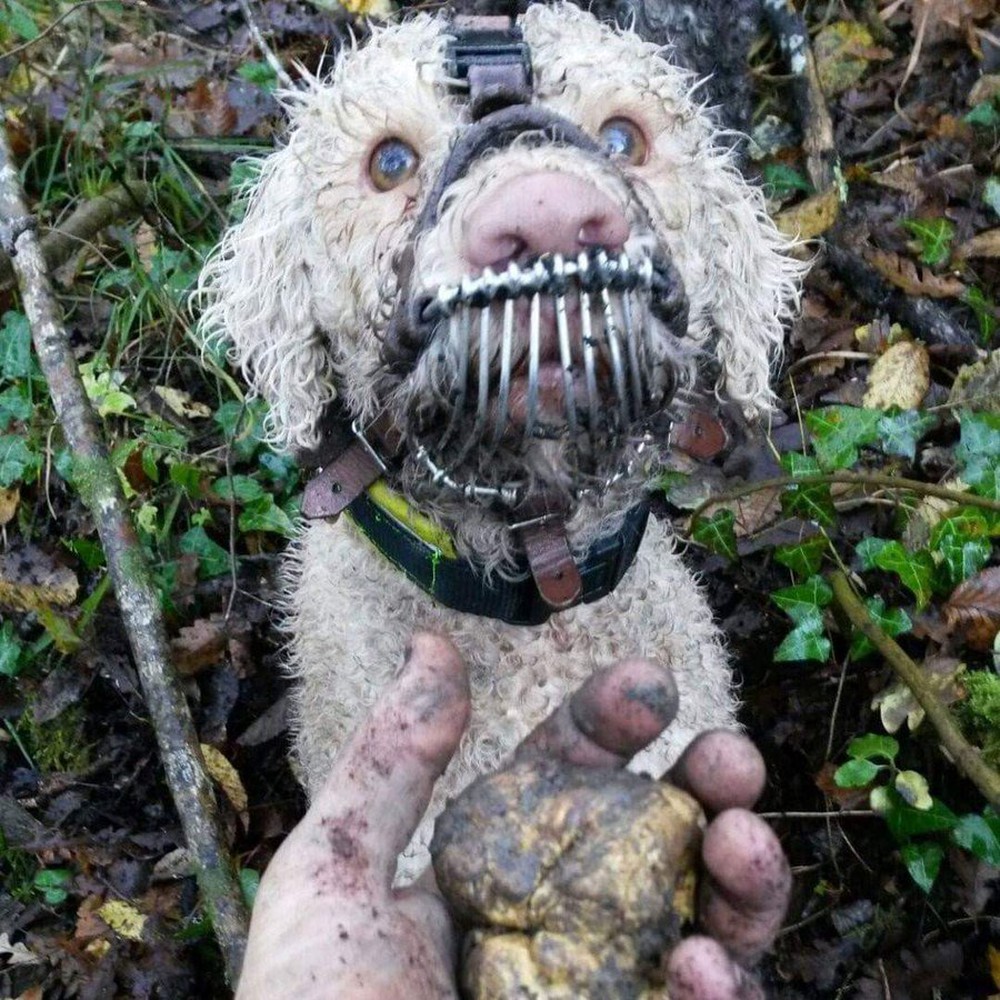 Why is the dog muzzled when entering the forest? Photo: Twitter
Hunting for culinary 'diamonds'
The reason why the dog is muzzled is because it will have to find something extremely valuable, even more expensive than gold, and is considered a 'diamond' in the culinary world. This is commonly found in oak forests and deep underground: Truffles!
Truffles are known as the king of mushrooms because of their nutritional value and special flavor. Mushrooms contain many important minerals and vitamins for the body such as carbs, protein, fiber, unsaturated and saturated fatty acids, vitamins C, D, B12, minerals…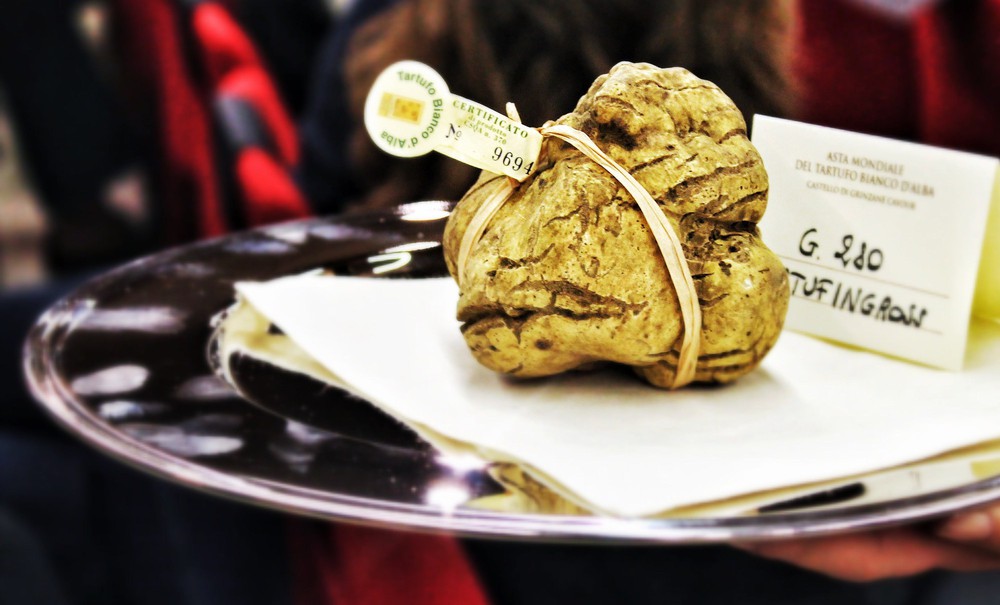 Truffles often appear in auctions. Photo: Most Rarest And Expensive Foods In The World
The world's largest truffle tree weighing about 2kg was auctioned for up to 61,000 USD (about 1.4 billion VND) at Sotheby's auction held in New York, USA in 2014. 2017, price per kilogram mushrooms are equivalent to the starting price of the 2018 Mercedes Benz-S-Class Sedan.
Therefore, hunting for truffles like hunting for gold has become a job with huge profits. Of course, finding this is as difficult as digging for gold because truffles grow deep below the ground.
In fact, truffles are a type of fruiting of an ascomycete fungus symbiotic with trees such as oaks, chestnuts, conifers… They will have a close relationship with the roots of these trees to grow and be brought to the surface to release spores as animals dig and eat them.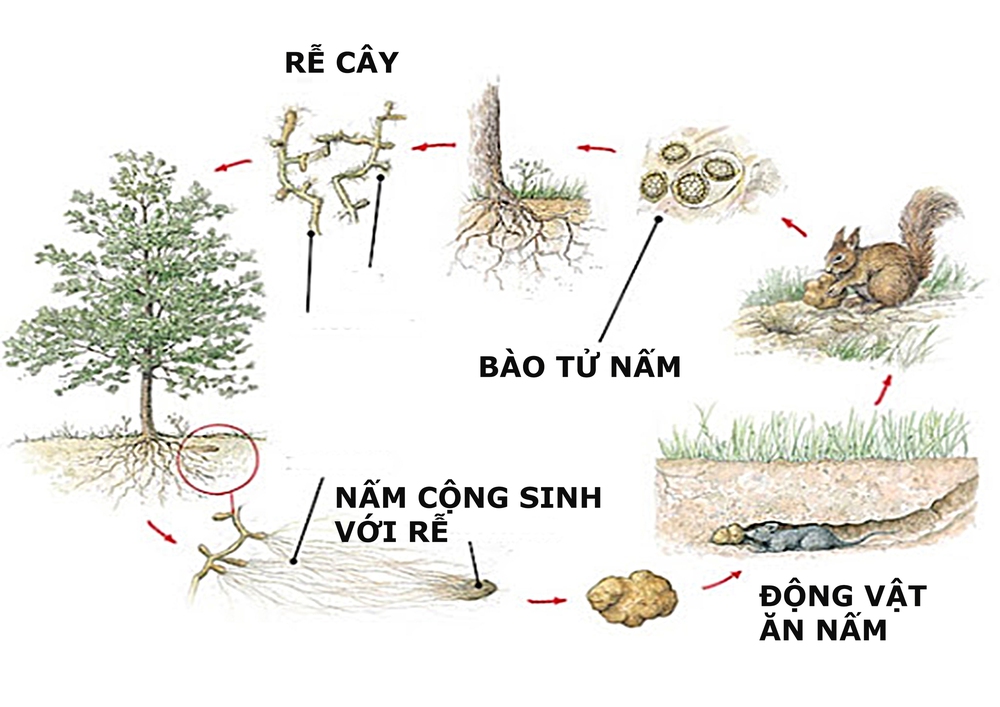 The symbiotic relationship between truffles and plant roots. Photo editor: Thanh Luan
The symbiotic relationship between truffles and plant roots is called Mycorrhizae (root symbiotic fungi), in which the fungus will facilitate the absorption of water and nutrients in the plant, in return the plant will provide amino acids and carbohydrates. for the mushroom.
That is also the reason that truffles are difficult to detect and are located deep under the roots of trees and the necessary condition to find them is under the tree stumps. In other words, if there were no trees, there would be no truffles.
The first mention of truffles is in the inscriptions of the Neo-Sumeric period (late 4th to 3rd millennium BC) – one of the first human civilizations.
According to research by scientists, truffles also appeared before humans, about 360 to 280 million years ago (according to Trufflespecialty). Since ancient times, people have known to use truffles in food and medicine.
There are two types of truffles that are favored and have the highest value, which are white truffles (Scientific name: Tuber Magnatum Pico) and black truffles (Tuber Melanosporum Vitt.), in addition there are summer black truffles ( Tuber Aestivum Vitt.) and winter black truffles (Tuber Brumale Vitt.)…
The pig hunts truffles. Photo: WorthPoint
Dogs are substituted for pigs to find truffles
Of the above mushrooms, the white truffle is the most valuable and the most sought after, people often use pigs to search for truffles because they have a particularly sensitive sense of smell.
People have been using this method of hunting truffles since the time of the Roman Empire. This method was also applied during the Renaissance and to this day. In 1875, the price of the truffle pig was up to 200 francs.
Even today, people use truffle hounds – truffle hounds (any type of dog trained to look for truffles) as a substitute for pigs – but dogs' ability to find truffles is still much worse than pigs. a lot of.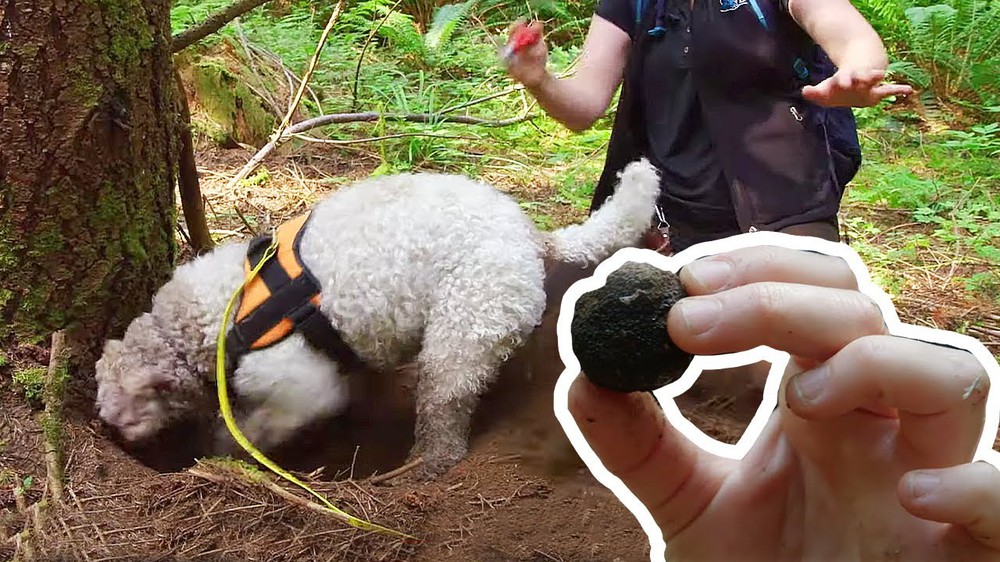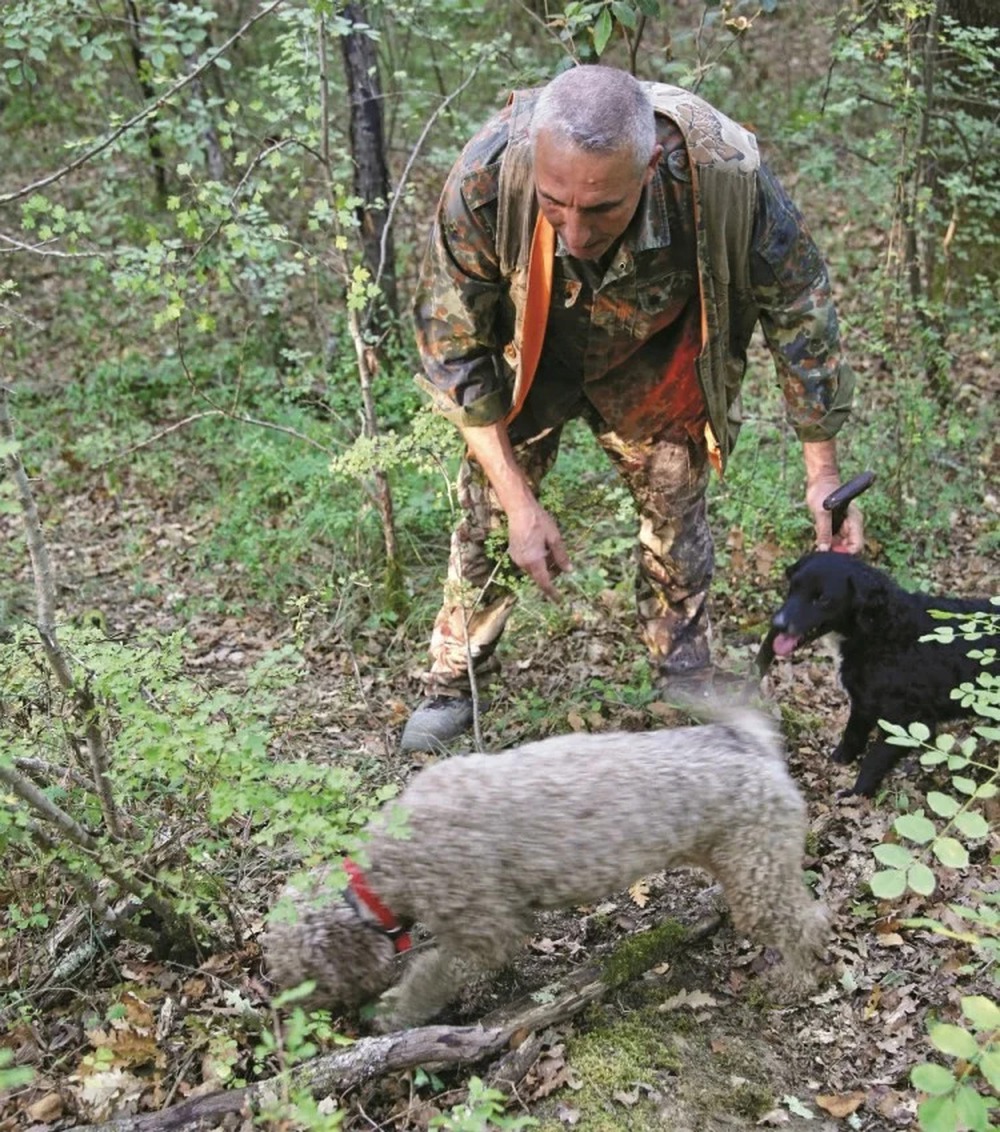 Truffle hound. Photo: Pinterest
The reason for this substitution is that pigs are usually very voracious and will immediately eat truffles when found; while dogs will be more obedient and trainable, have better digging abilities and they are not as interested in this truffle as pigs.
An Italian Lagotto Romagnolo trained to find truffles can cost up to $10,000 (nearly 230 million VND). However, dogs can accidentally bite or injure truffles when digging, so one solution is to muzzle them.
If a truffle is chipped, of course, their value will also be greatly reduced, so people will muzzle them when starting the process of hunting for truffles in the forest, this is the answer. for the question posed at the beginning of the article.
https://soha.vn/chu-cho-nay-bi-ro-mom-ngay-ca-khi-di-vao-rung-sau-ly-do-bat-ngo-tim-kim-cuong-am- thuc-20220504100136075.htm
You are reading the article
Find culinary 'diamonds'!

at
Blogtuan.info
– Source:
Soha.vn
– Read the original article
here