Boiled meat that is light, does not contain much fat and is easy to cause boredom, has become a very popular dish in busy or tired days.
And the most popular of the meats used by chefs is pork. Because the taste is easy to eat, easy to make into many different dishes, not picky people to enjoy. But not everyone can boil pork well without making them stinky skin or the smell of the meat lingers.
Material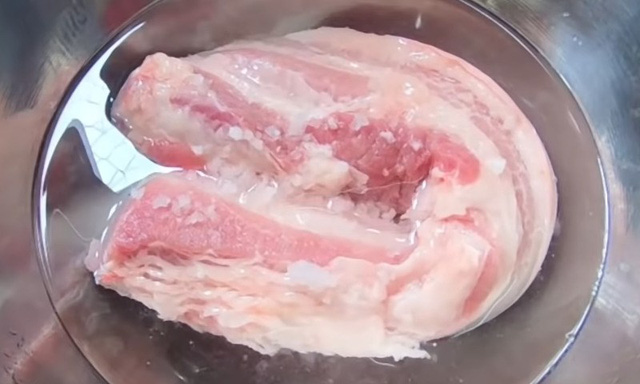 – Pork: 0.5kg (you can buy pork belly, rump meat, shoulder meat… however, you should choose any meat that has both lean and fat spread throughout the length of the piece of meat so that when eating it doesn't dry out, it's presented. nice again).
– 1 teaspoon salt
– Dried onions, sugar, vinegar.
Making:
Step 1: First, in order to boil good pork, you need to choose a good piece of meat.
Choose fresh and delicious pork by observing that the color of the meat must be bright red, no strange odors. And to cook well, you should choose pork belly or pork calves, because these parts have both meat and fat when boiled, they will be much softer.
Step 2: Preliminary treatment
Wash the meat, remember to shave off any remaining hair on the skin, to make sure you should use tweezers to pull out hard-to-scratch hairs. Then, lightly blanch the meat in boiling water and then rinse with water again. This will help to remove the dirt in the meat and make the meat more delicious.
Step 3: Boil 1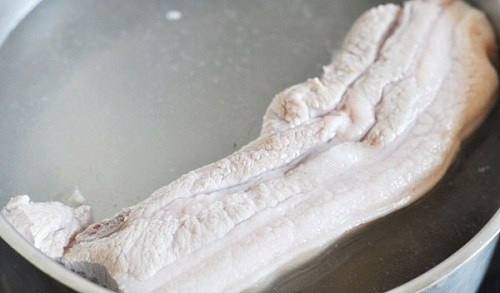 According to the experience of many housewives, it is advisable to boil meat twice. The first time just boil, put a few slices of ginger in the pot, 1 teaspoon of vinegar and 1/2 teaspoon of salt, then boil the meat for about 3 minutes, then take it out, rinse it with cold water. With this first boiling, the meat reduces the odor and becomes whiter after it is cooked.
Step 4: 2nd boil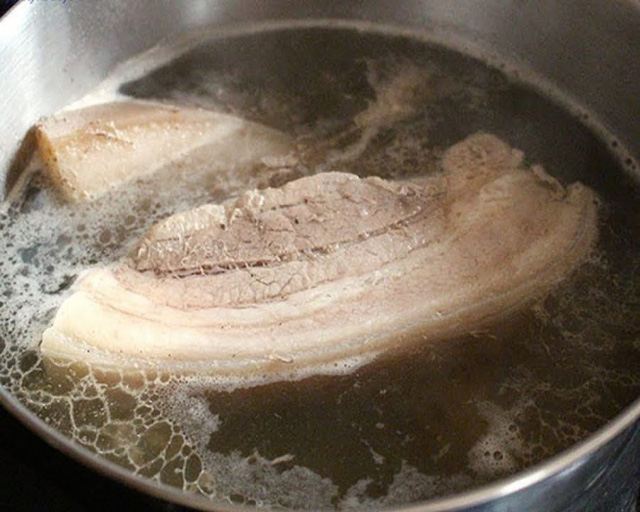 Put a pounded dried onion into the pot to boil the meat, the dried onion will eliminate the smell of the meat.
The sisters put the meat in the pot first, then submerged it in water, smashed a few onions and put it in. Onions have the effect of eliminating the residual odor of meat.
Boil the meat for about 5 to 10 minutes and check if the meat is cooked by using a pair of chopsticks to pierce it, if the chopsticks go through easily it means the meat is cooked, otherwise it should be left for a few more minutes.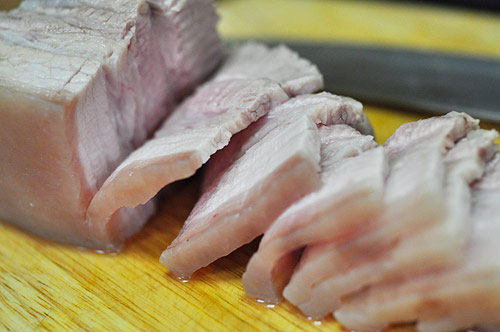 Fragrant, white, tender pork
When the meat is cooked, add a teaspoon of white wine to it to enhance the flavor and make it more appetizing. During the process of boiling meat, remember to pay attention to skimming, this helps to reduce the smell of meat.
You are reading the article
How to remove the smell of boiled pork surprisingly effective

at
Blogtuan.info
– Source:
Soha.vn
– Read the original article
here