Thế Giới
QUICK READ 7-5: Russia destroys the arsenal of weapons sent by the US and Europe to Ukraine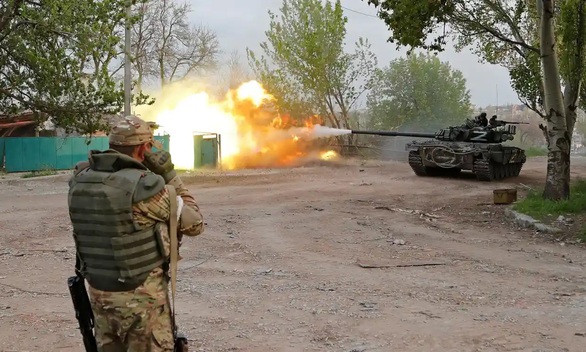 Russian tanks open fire near the Azovstal iron and steel plant in the city of Mariupol, Ukraine – Photo: REUTERS
* According to Reuters news agency, on May 7, the Russian Defense Ministry said: Russia destroyed a large stockpile containing military equipment of the US and European countries near the Bohodukhiv railway station in the Kharkov region of Ukraine. Also they attacked 18 Ukrainian military facilities overnight, including three ammunition depots in Dachne, near the port city of Odessa.
* In a video posted late on May 6, Ukrainian President Volodymyr Zelensky said that he was making diplomatic efforts to save the lives of suicide soldiers inside the Azovstal steel plant in the city of Mariupol.
According to Reuters news agency, the soldiers refused to surrender, although their number is unknown. The Ukrainian side was worried that Russian forces could wipe them out on May 9, the anniversary of the victory over fascism.
* Deputy Prime Minister of Ukraine Iryna Vereshchuk informed about the meeting Latest prisoner exchange between Kiev and Moscow, according to the Guardian newspaper on May 7. Accordingly, the Ukrainian side was returned 41 people, including 28 soldiers and 11 women. Ms. Vereshchuk did not disclose the number of people on the Russian side.
* G7 leaders, including US President Joe Biden, will hold a video call with Ukrainian President Volodymyr Zelensky on May 8 to show solidarity before Victory Day 9-5, the 77th anniversary of the defeat of Nazi Germany, of Russia, according to the Guardian newspaper.
* Goverment The UK announced that it would send Ukraine 287 portable generators enough to supply electricity for nearly 8,000 households. The funds will be used for hospitals, bunkers and other essential services in eastern Ukraine, Reuters news agency reported on May 7.
The UK will also relax regulations on supporting fossil fuels abroad to boost energy supplies to Ukraine.
* According to the Guardian newspaper on May 7, The Russian Foreign Ministry has summoned the British ambassador to Russia to strongly protest new British sanctions against Russian media. The ministry said it would continue to respond "strongly and decisively" to all measures imposed by the UK.
* May 6, US First Lady Jill Biden has arrived in Eastern Europe during a four-day trip to reaffirm the US's commitment to support Ukraine, according to the Guardian. Biden is expected to meet with leaders of countries and US troops, as well as Ukrainian parents and children fleeing in Romania and Slovakia.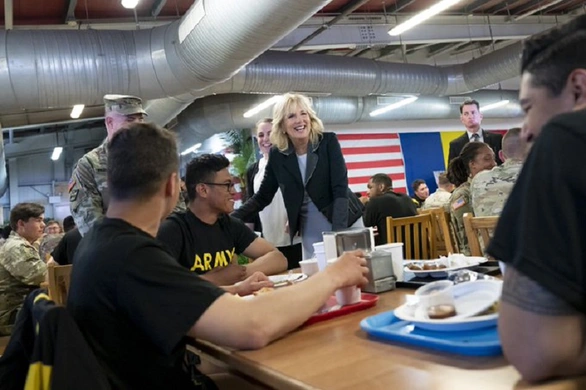 US First Lady Jill Biden visits US troops at Mihail Kogalniceanu Air Base in Romania – Photo: TWITTER
* According to AFP news agency, with package support 150 million USD for Ukraine announced on May 6, the amount that President Biden has the full right to use to support Kiev without passing Congress is only about 100 million USD.
A senior US official said the new support package includes 25,000 rounds for 155mm howitzers, radar to identify enemy artillery, electronic jammers and some spare parts.
"Congress urgently needs to provide the funding requested to strengthen Ukraine on the battlefield and at the negotiating table," Biden said in an appeal on May 6.
Earlier, the White House asked Congress to approve a huge aid package of 33 billion USD for Ukraine within 5 months, including 20 billion USD in military aid.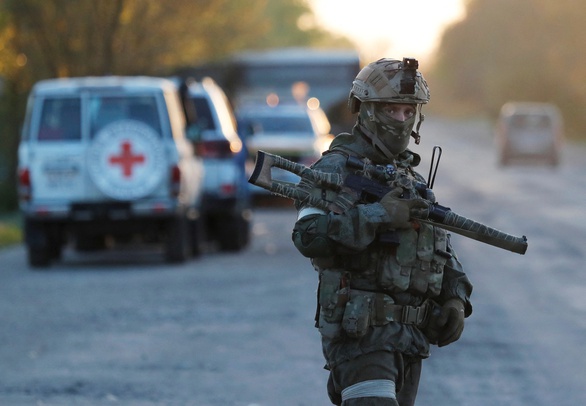 Soldiers of the pro-Russian forces guarding the evacuation of civilians from the Azovstal factory on May 6 – Photo: REUTERS
* On May 6 (US time), for the first time since the outbreak of conflict in Ukraine, The United Nations Security Council (UNSC) adopted a statement in favor of a "peaceful solution".
The statement, drawn up by Norway and Mexico, was approved by all 15 members of the UN Security Council, including Russia, and confirmed the support for UN Secretary-General Antonio Guterres' reconciliation efforts.
In a later statement, Guterres expressed his joy and described this as the first time the Security Council "speaks with one voice" for peace in Ukraine, according to Reuters news agency.
* In the interview that was reported Washington Post Posted on May 7, Ukrainian President Volodymyr Zelensky announced the Peace talks with Russia will begin only after Moscow withdraws from all territories it controls after February 24..
The Ukrainian leader stressed that he had hope for a diplomatic solution but that Kiev would stick to its preconditions.
* On May 6, about 50 civilians including women, children and elderly people were evacuated from bunkers under the besieged Azovstal steel plant in the city of Mariupol. "Tomorrow morning we will continue the evacuation operation," Deputy Prime Minister of Ukraine Iryna Vereschuk told the newspaper. New York Times at the end of May 6 local time.
* Worried about a new wave of Russian attacks on the anniversary of the 9-5 victory over fascism, Kiev mayor Vitali Klitschko has urged Ukrainians to stay at home for two days, May 8 and 9.
"In the coming days, there is a high probability of missile strikes in all regions of Ukraine. Be aware and take care of your own safety!", Klitschko called on June 6. 5 and left open the possibility of imposing a curfew.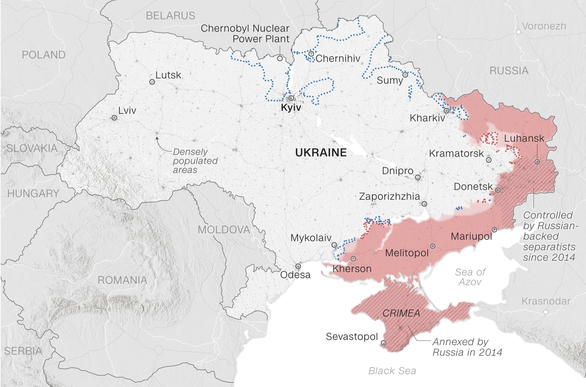 The situation of Ukraine's war on May 6 with the red areas is where Russia and pro-Russian forces are controlling – Photo: CNN
* In a statement on the Telegram channel on May 6, Serhiy Hayday, head of the Lugansk regional military command, accused Russia wants to control the city of Severodonetsk in the Donbass region. According to Mr. Hayday, if Severodonetsk is controlled, Russia will consider this a big and meaningful victory right before the 9-5 anniversary.
Severodonetsk, an important industrial center in eastern Ukraine, has been shelled by Russian artillery for weeks, destroying much of its infrastructure. However, Ukrainian troops remained in and around the city.
* On May 6, the government Italy confirms the seizure of Scheherazade, a luxury yacht worth 700 million USD which according to Western media is possibly owned by Russian President Vladimir Putin.
Scheherazade has two helipads and can accommodate up to 18 guests and a crew of 40. Its owner has never been publicly identified, but there have been rumors claiming it belonged to Mr Putin or someone in his inner circle, according to Reuters.
You are reading the article
QUICK READ 7-5: Russia destroys the arsenal of weapons sent by the US and Europe to Ukraine

at
Blogtuan.info
– Source:
tuoitre.vn
– Read the original article
here