Business
"Sitting idle" earns millions every day thanks to bicycle rental service in West Lake
West Lake is known as a place of relaxation and sightseeing for many people, especially young people in Hanoi. Taking advantage of the beautiful terrain and fresh air, some people here have opened bicycle rental shops. With an affordable price, being environmentally friendly, and supporting health promotion, cycling activities are chosen by many people.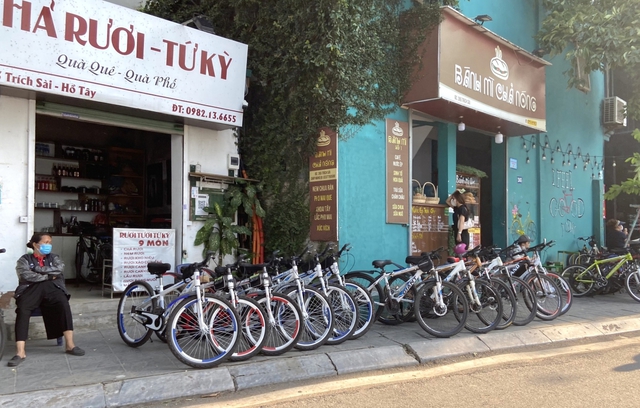 Bicycle rental service in West Lake can bring in revenue up to several million VND/day.
According to a survey by a VOV reporter, there are 4-5 bicycle rental shops along Trich Sai Street (Tay Ho, Hanoi). This is a street with convenient traffic, so it is preferred by tenants. Here, car hirers can conveniently start a cycling route around the lake.
Car rental shops are usually located on the street, with a small area, taking advantage of the sidewalk to store about 40-50 bicycles. The average rental price is from 40,000 to 80,000 VND/car/time. In which, a single bike is about 40,000 – 50,000 VND / vehicle / 3 hours, a double bike is 100,000 – 120,000 VND / vehicle / 3 hours.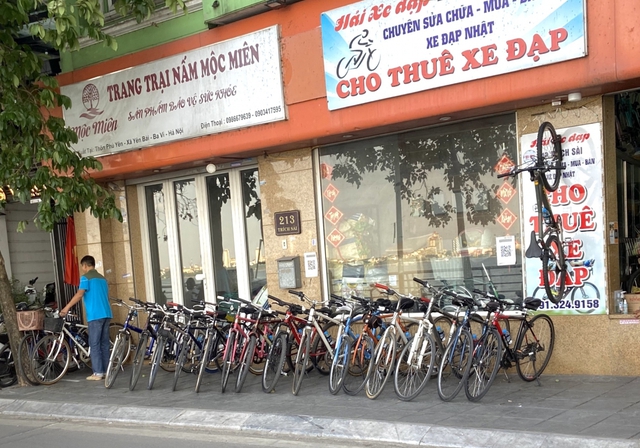 Bicycle items are arranged on the sidewalk, including: double bicycles, dirt bikes, regular bicycles, … suitable for all ages, genders, customers freely choose.
Mr. Nguyen Hai, owner of a car rental shop in West Lake, said that in the past, his family opened a small shop selling iced tea and soft drinks. Recently, grasping the trend of many people who want to "change the wind" to enjoy the West Lake as well as cycling to practice sports has gradually become "hot" again, the shop has opened a bicycle rental service.
"Realizing that the number of car rental customers is increasing day by day, my family spends more capital to import cars for customers. Because there are peak days like weekends and holidays, the shop doesn't have enough cars for renters. Some customers also stop by to drink tea, rest and wait for others to finish renting and return to pick up the car.On average, a day for renting a car, my family earns 1-2 million VND, on peak days, approximately 5 million VND. Dong", Mr. Hai shared.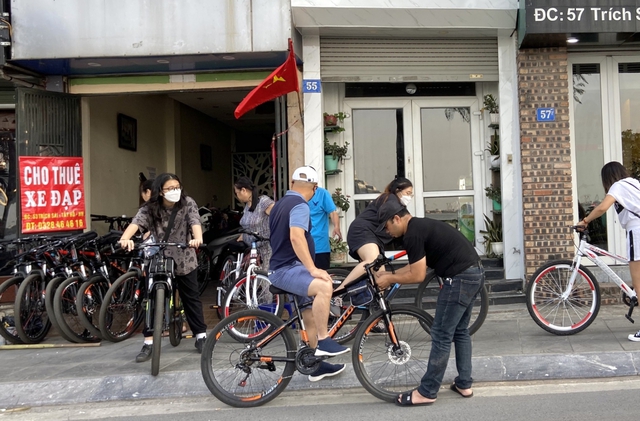 Before each rental car, customers will be carefully edited by the shop owner about the brakes, pedals, and chains.
Just opened the service on Trich Sai Street (Tay Ho, Hanoi) for 6 months, Mr. Dinh Dat, owner of a bicycle rental shop expressed: "Since the Covid-19 epidemic, the need to relax, exercise People's sports in West Lake increased. Realizing that, my wife and I rented a small shop up here that rented bicycles and sold soft drinks. My shop has 50 rental cars, every day there are about 100 car rental customers. On weekends or afternoon rush hour, the store often "burns out" cars, many people often have to register in advance to wait for their turn.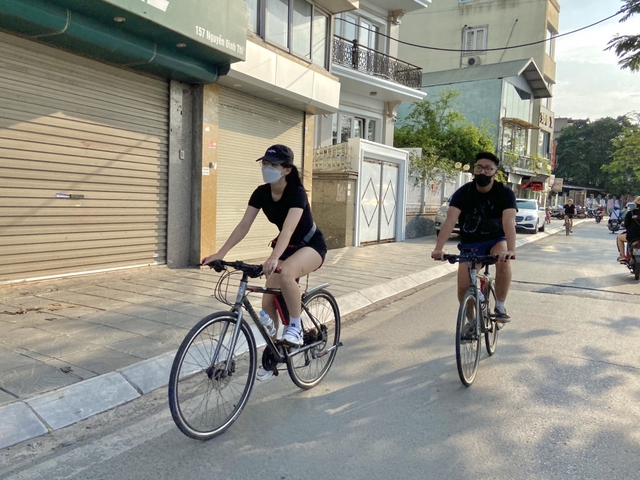 Cycling around West Lake is both a healthy sport and an enjoyable experience.
According to Mr. Dat, doing this service on a crowded day can earn 3-4 million dong, but in the first days of the week or when the weather is bad, you can only earn a few hundred thousand dong.
Mr. Dat added: "Bicycle rental also needs to ensure safety for guests when renting. Every time a customer "borrows" a car to return, I have to carefully check from the chain, oil, … to the pedals of the bike. Except for those little expenses, the bicycle rental service also brings my family a significant source of income.I find renting a bicycle is quite risky, since I rented it, I have not met the school. In case of car theft or money theft. When the tenant has to leave a citizen ID and a deposit. If the customer leaves the motorbike, there is no deposit."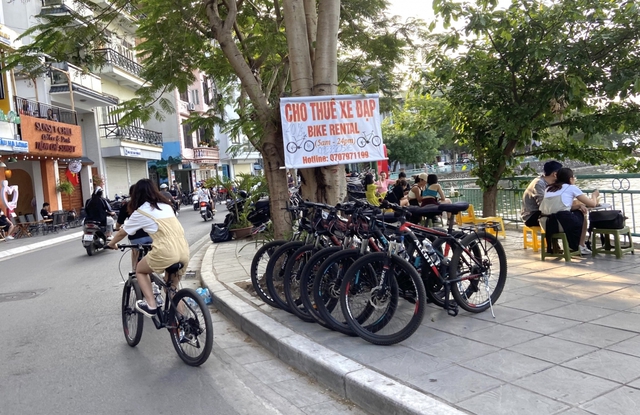 On Nguyen Dinh Thi Street (Tay Ho, Hanoi) there are also rental cars with phone numbers and rental times.
Since knowing that there is a bicycle rental service in West Lake, Mr. Ngoc Anh (Nam Tu Liem, Hanoi) often invites his friends to ride bicycles every afternoon. Mr. Ngoc Anh shared: "The company I work for is nearby, so around 4-5 pm, my friends and I often rent bicycles to "run" around West Lake. I find this activity helps to relax the spirit very well after each day. Stressful working day.
"In the past, I only cycled in the gym, but since the West Lake cycling activity, my cycling has become less boring because I can both exercise and enjoy the scenery. For me, this is this place. It's a very good sport for health, so we need to promote positive activities like this", Mr. Ngoc Anh confided.
Many people from far away ride motorbikes here to rent bicycles to exercise.
In addition, in West Lake, there is also a SUP and Kayak boat rental service with a cost of about 200,000 VND / boat with no time limit, which is very attractive to renters to experience.
You are reading the article
"Sitting idle" earns millions every day thanks to bicycle rental service in West Lake

at
Blogtuan.info
– Source:
cafebiz.vn
– Read the original article
here