Minh Anh (Joyce Pham) is known as the beloved daughter of giant Minh Plastic. Although not participating in showbiz, Joyce Pham always receives the attention and attention of everyone. From the most expensive billion-dollar wedding in Saigon with her boyfriend at the age of 20 to life after marriage and as a mother of 2 children. It is known that after more than 2 years of marriage, this famous rid kid is a mother of 2 children and she just gave birth to her second princess a few days ago.
Joyce Pham shared the good news that she had successfully given birth to a daughter to everyone.
Recently, Joyce Pham has also officially shared the good news that she gave birth to a daughter, a mother with a square child, to everyone. 9X beauty wrote: "The time when my parents just found out that I have you is right at the time of separation, so it is really difficult to meet and visit you.. so they really appreciate the times when they can visit you, see How did you grow up in the womb, how are you?
Every month, every day that passes, my parents look forward to the day I meet you and then this day has come. Mixed emotions like the first time parents wait to meet their second brother.
This time, my mother is more experienced, she has prepared everything better to be able to welcome you to the fullest. My mother especially saved every moment and every emotion from pictures to videos of the journey to pick you up."
Attached is a picture of her and her husband before and during labor. According to the pictures Joyce Pham shared, although she had a hard time giving birth, she always had her husband by her side, a firm support, always holding hands during difficult times.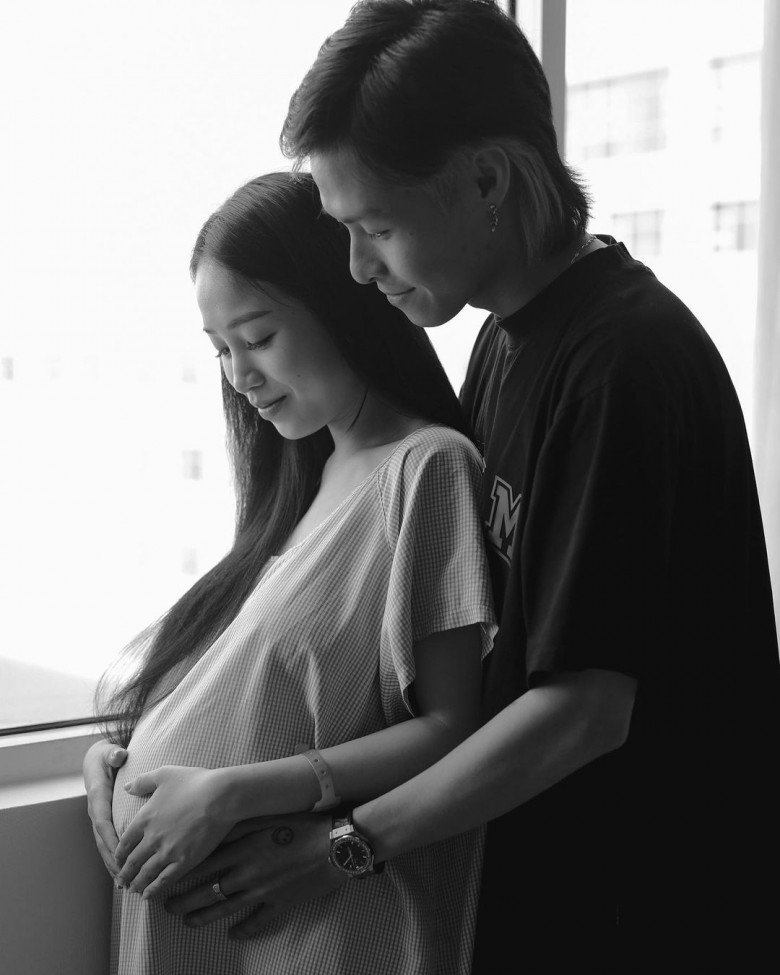 Her husband is always by her side.
Also according to the share of the daughter of the Minh Plastic family, the time when she learned that she became a mother for the second time was also at the time of separation, so she and her husband faced many difficulties when they wanted to see and visit their children. Therefore, she and her husband always cherish the antenatal care visits to see how the baby in the womb grows, is it healthy?
Although pregnant for the second time, every month, every day that passes, she and her husband look forward to the day they meet their child. And when I met my son, my emotions were still mixed like when I gave birth to my son Jayden for the first time.
Sharing more, Minh Anh said that thanks to the experience from the first birth, this second time she gave birth, she prepared everything to welcome the child to the fullest. In particular, she saved every moment and every emotion in this second birthing journey. The sharing of the rich daughter of Minh Plastics received a lot of congratulations from everyone.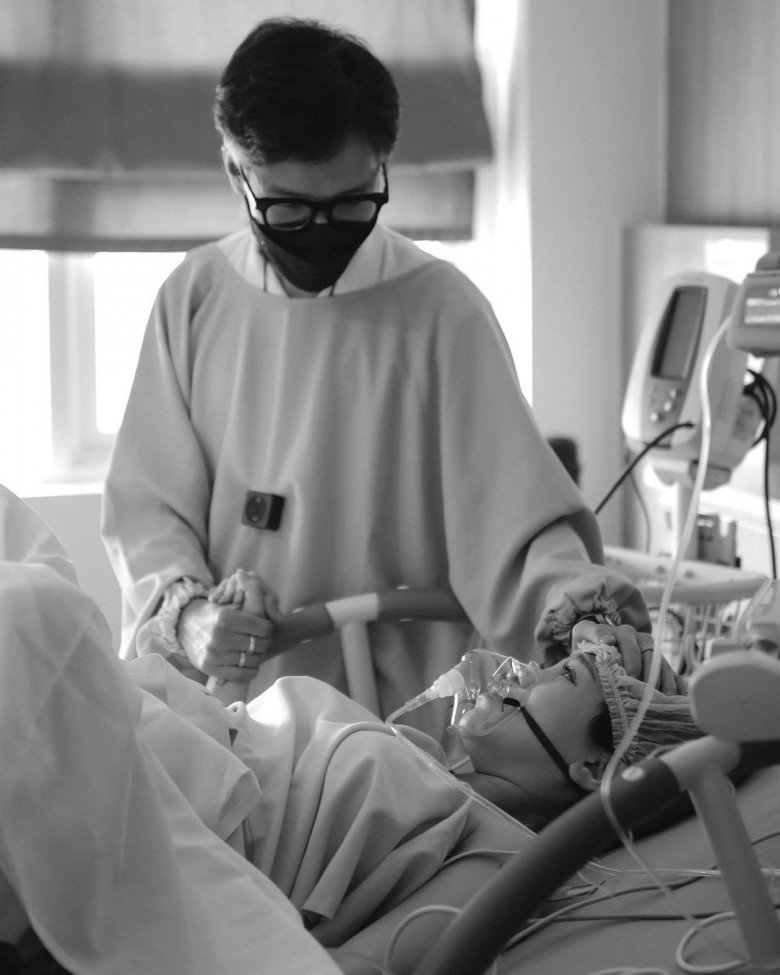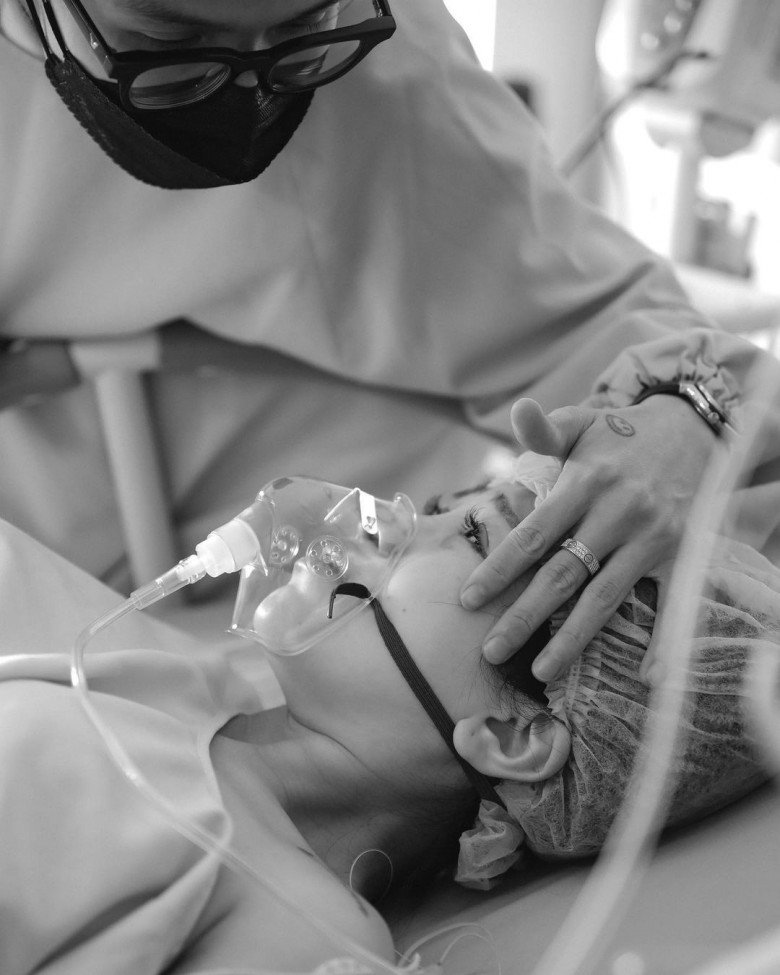 The images Joyce Pham revealed during her second labor.
It is known that before officially announcing that she gave birth to this daughter, people "semi-credible" about Joyce Pham giving birth for the second time because she often posted pictures on the story with a few "hidden" words. .
First, she posted pictures of bouquets of flowers sent to her with the content "congratulations" or "congratulations to the mother and child". This has led people to "guess old and guess young" but still can't confirm anything.
Then, it was time to set Joyce Pham's alarm clock once again, when it was regularly timed every 2 hours like a mother who had just given birth and had to pump milk. But perhaps the most expensive is also the implicit announcement of the "daughter" of the Minh Plastics is a picture of two children, which she captioned: "Jayden and Jayla". It is worth mentioning that this is the name of the son and "princess" that Joyce Pham and his wife have chosen for their children.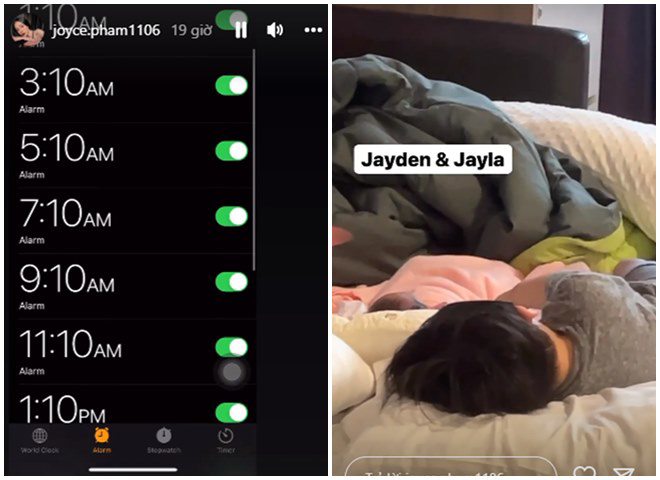 Joyce Pham shared the hidden meaning of having a second child.
Next, Joyce Pham continued to post a few more photos on the story to let everyone know that she was in confinement. First, it was a bed to lie on, a belly pack and a salt tree for the eyes. The mother of two also revealed: "It's been a long time since we last saw each other. Companion for 1 month".
Next is a photo of Joyce Pham holding her stomach and encouraging her to "Try". At the same time, by the way, she said that the effect of eye compresses for pregnant women is to prevent the eyes from swelling, swelling, puffiness, reduce blurred vision, reduce dark spots, and reduce wrinkles. And yet, Joyce Pham also continued to post pictures of her applying a mixture of turmeric to her body to regenerate and beautify. But the most important point so far is Joyce Pham's "confession" when she announced: "Family of 4 members", and also posted pictures of her husband, son and daughter lying down playing together. . Thanks to those "hidden" photos, everyone can confirm that the "daughter" of giant Minh Plastics has "given birth" for the second time.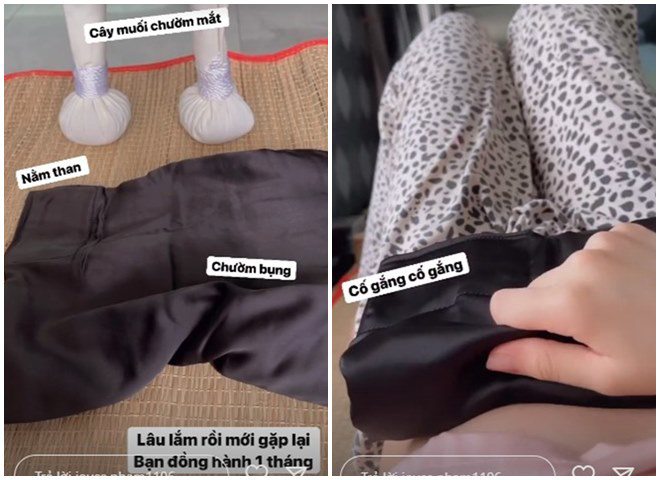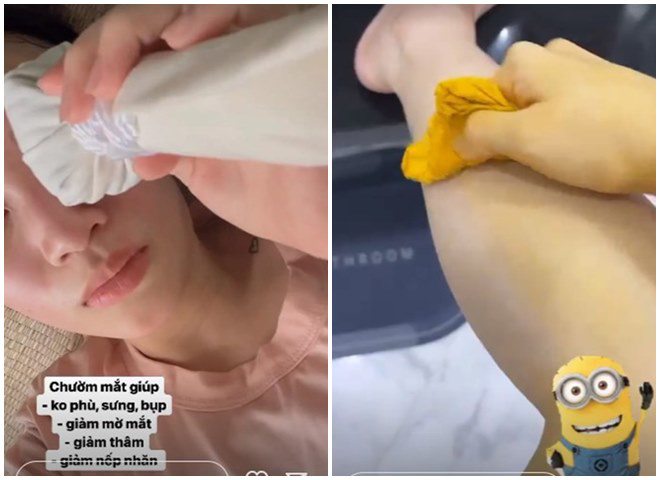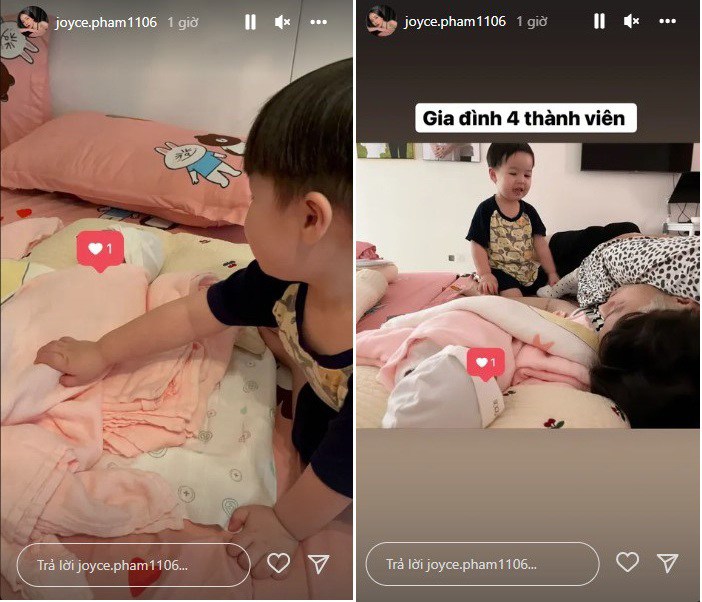 She applied the traditional methods of confinement as the first time.
She is currently in confinement. Although she has not revealed her postpartum picture, it is certain that with the experience of her first birth 2 years ago, Joyce Pham will quickly regain her youthful shape thanks to the traditional diet secrets.
Remember about 2 years ago, when Joyce Pham had just given birth to her first son, she spent the first month after giving birth to stay with traditional methods. She once shared that after giving birth 3 days, she could wash her hair: "My family follows tradition, not "Western", so I have to do everything a birth mother does in the first month of confinement. A month is really hard, counting the days. Because I am a person who has to shower every day, must be clean and fragrant to endure. But a month of the birth mother does not have a bath."
Besides, Joyce Pham was also personally prepared by her mother for medicinal herbs to regenerate skin and beautify postpartum. She regularly steams with herbs, applying a mixture of ginger, lemongrass and turmeric. Not only that, Joyce Pham was also prepared by her husband for a brazier to lie down. Although many people advise against lying on coals, she said she chooses charcoal instead of peat. After lying down, Joyce Pham continued to apply hot salt to her stomach, then brought the belly band gene. And according to the mother of two, this is the secret to helping her quickly regain her slim waist after giving birth. More than a month after giving birth, she returned to her weight of 41kg.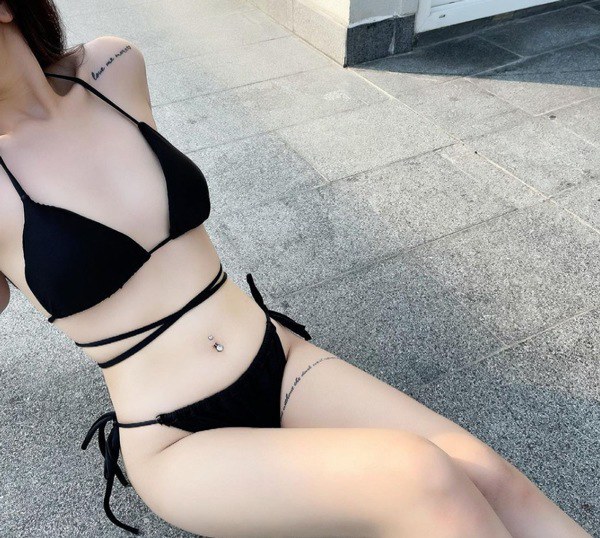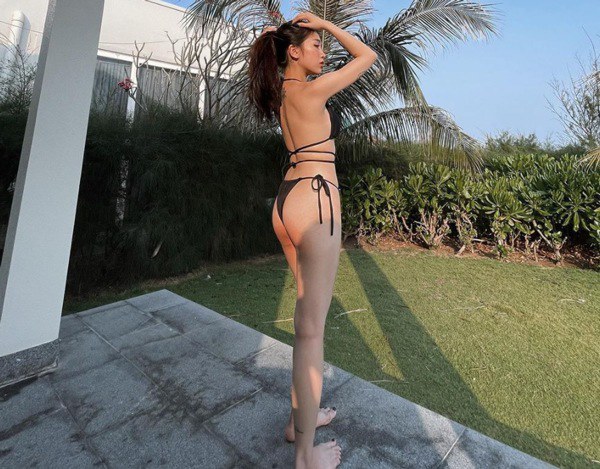 Minh Anh's hot body after giving birth.
In terms of nutrition, Joyce Pham does not abstain but eats a lot of nutritious foods to have milk to feed her baby. However, during the confinement period, she still ate pork. "Many people ask me about the secret to losing weight after giving birth, but in fact, during the whole month of the diet, I ate a lot to have milk for baby Titus, not on a diet. The food I ate the most during the pregnancy was meat. pork, it's only pork, so now that I think about it, I still feel bored." she used to say.
It is impossible to confirm whether her methods of confinement are really effective or not, but looking at Joyce Pham's body after giving birth for the first time, everyone has to admire because it is so beautiful, there is no trace of pregnancy. each pregnancy, giving birth. Hopefully, after the second pregnancy, Joyce Pham will not be inferior to "episode 1".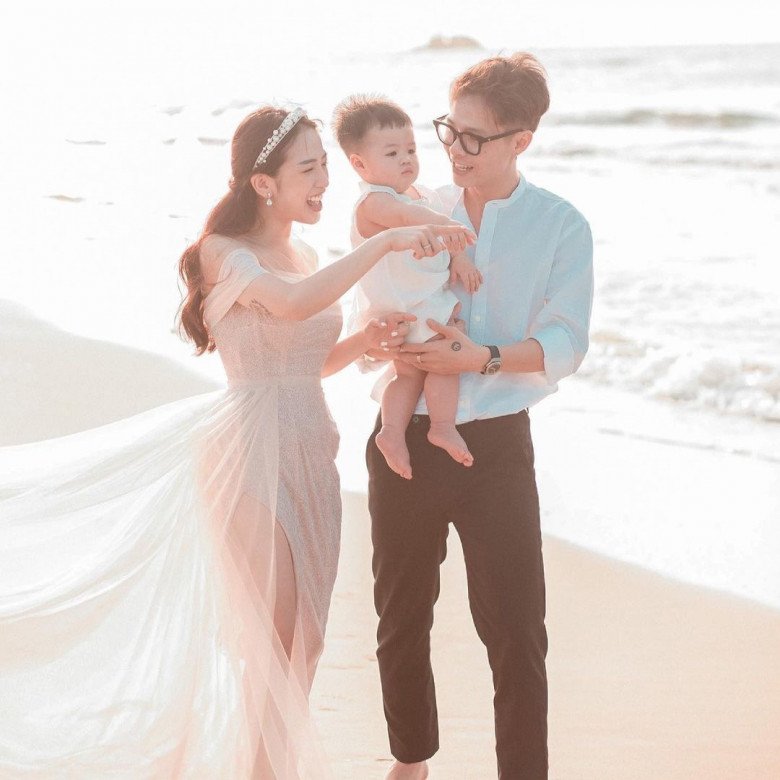 It is certain that after giving birth to the second daughter, Minh Anh will quickly regain the same shape as the first time.
You are reading the article
The daughter of the Minh Plastics gave birth for the second time, revealing a very difficult time when she was pregnant

at
Blogtuan.info
– Source:
Eva.vn
– Read the original article
here