If you pay close attention, there are quite a few champions that deal damage in the form of "directional skills" that are extremely hot in the game. Truth Arena. Jhin, Ahri, Syndra… are typical champions for this when they can deal great damage to stationary, little moving targets and take a big advantage.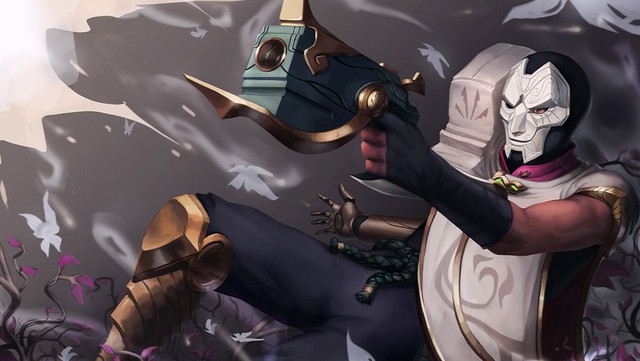 Jhin's bullets can be completely dodged if the target moves fast enough
And then this made some gamers think of ways to counter the ability to launch "direction" skills. And then the Mutant – Machine lineup using Kha'Zix and Kai'Sa as the mainstay was born when they are both highly mobile champions, dodge extremely well and launch powerful counter attacks. . With the use of champions that are not too fiercely contested, you can feel more secure in the process of building the squad.
In terms of team building, you will play like an Inventor player in the early game with the use of Ezreal, Singed and Zilean early. In addition, you should also use Camille and Kassadin at this stage when these are cheap, quality and fairly resistant units at 2 star level. Moreover, Kassadin also makes the process of reaching the milestone of 3 Mutants easier later on.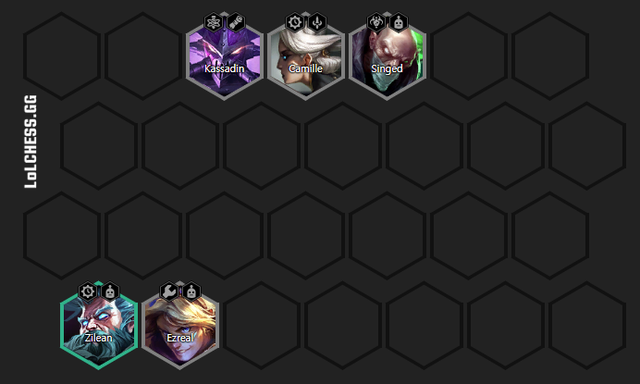 The starting lineup at level 5 that you should aim for
Going into the mid game, you can remove Singed and replace it with Ekko to put more pressure on the opponent's backline. You can even use Talon as a mainstay at this stage when it holds Kha'Zix's equipment very effectively. In addition, you can also use some good Scholar units like Zyra, Syndra, Renata at level 7 to both add damage, restore energy, and hold them items for Kai'Sa.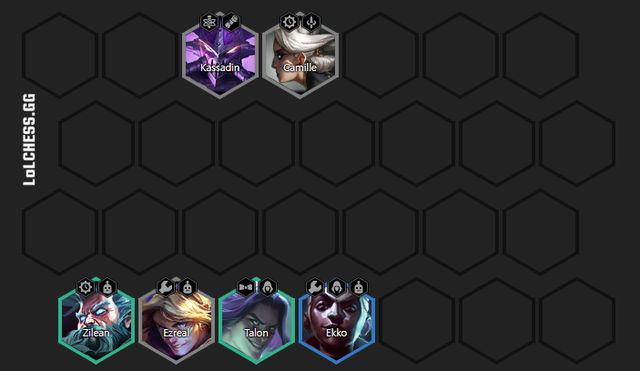 When you have Ekko, you can remove Singed and add Talon to the field
At the later stage of the game, you can choose 2 styles: "splash money" right from level 8 to roll to Kai'Sa and Silco. If you are too green, it is safer to play rather than keep gold, raise it to level 9 slowly to complete the squad with 5 gold 2 star units. In addition, you should also abandon Ezreal at this stage instead. replaced by more powerful, versatile units like Seraphine or Jayce.
Complete lineup at level 8
In terms of technology core, level-up upgrades, gold is extremely necessary for this squad because it needs a lot of 5-gold generals. Cores like TiNatural Chemistry, God's Gift… are extremely suitable for this lineup. In addition, the Token Zone core is also a strong choice when it comes to helping you own 5 gold champions more easily at level 9.
In terms of equipment, Kha'Zix most needs are Infinity Sword and Blood Sword to maximize damage and recovery. You can pair the Shadow Cloak or Alchemy Towel to help Kha'Zix deal more safely, for example. As for Kai'Sa, this unit can take advantage of most magical items, so you can match her with any equipment, as long as it's from Oversized Staff.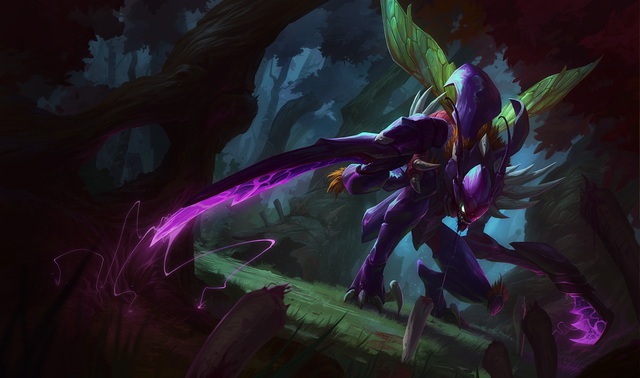 Kha'Zix desperately needs items from Sword BF
https://gamek.vn/dau-truong-chan-ly-doi-gio-voi-doi-hinh-dot-bien-may-moc-sieu-bay-nhay-tu-thach-dau-20220506115149724.chn
You are reading the article
Truth Arena: Change the wind with the Mutant lineup

at
Blogtuan.info
– Source:
gamek.vn
– Read the original article
here