Du Lịch
Unexpectedly, the wedding at the height of 11,000 meters of the tourist couple was continuously delayed/cancelled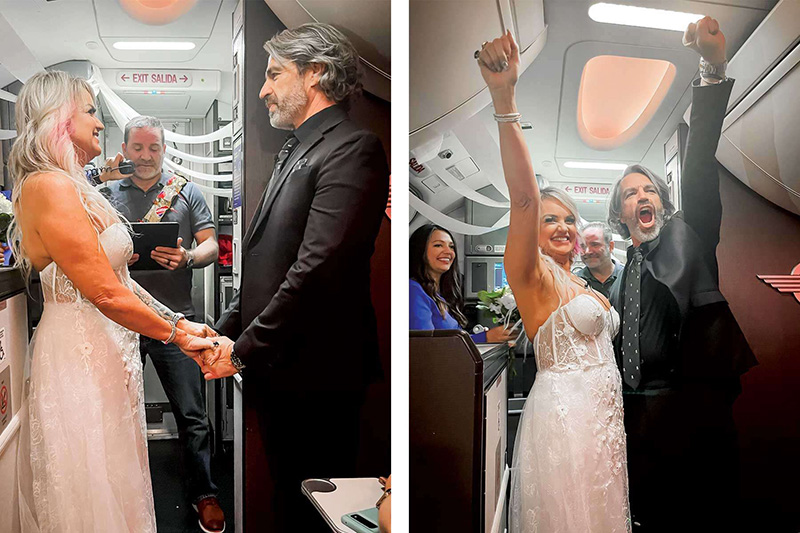 The first dance the newlywed couple Jeremy Salda -Pam Patterson performed on the background of the song "Marry You" in the small aisle of the plane's cabin. (Photo: Southwest Airlines)
The dream wedding plan of a tourist couple is caused by stormy weather
After two years of knowing each other through online dating, in January 2022 graphic designer Jeremy Salda proposed to Pam Patterson (who is losing his job due to Covid-19) on a beach in the famous tourist destination of Cancun. Mexico.
Last week, they planned to hold a wedding on Sunday, April 24 in Las Vegas (Nevada). The couple booked a church to get married, booked a hotel, bought tickets on a direct flight from Oklahoma City (Oklahoma State Capital) to Las Vegas (Nevada)…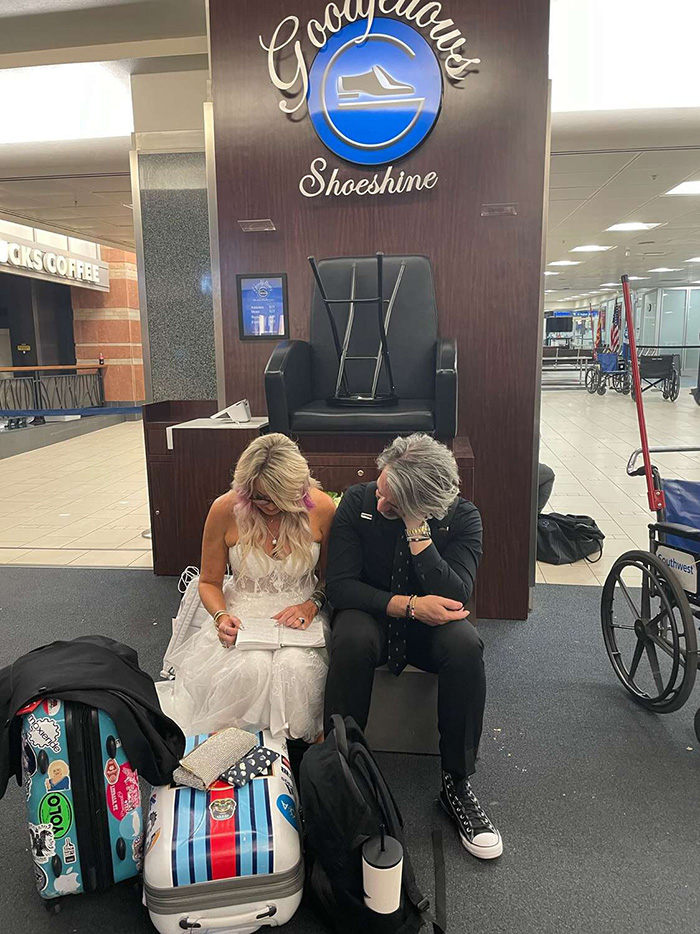 Tourist couple Jeremy Salda and Pam Patterson wait for their flight at Dallas-Fort Worth International Airport in Texas. (Photo: People)
But their seemingly perfect plan soon encounters turbulence due to a flurry of weather. Just two days later, Jeremy Salda and Pam Patterson received a notice that their direct flight had been cancelled, prompting them to rebook another flight with a connection outside of Texas.
On April 24, tourist couple Jeremy Salda and Pam Patterson arrived at Dallas-Fort Worth International Airport in Texas. But their connecting flight on an American Airlines plane leaving Dallas was delayed and delayed several times, eventually being canceled due to bad weather.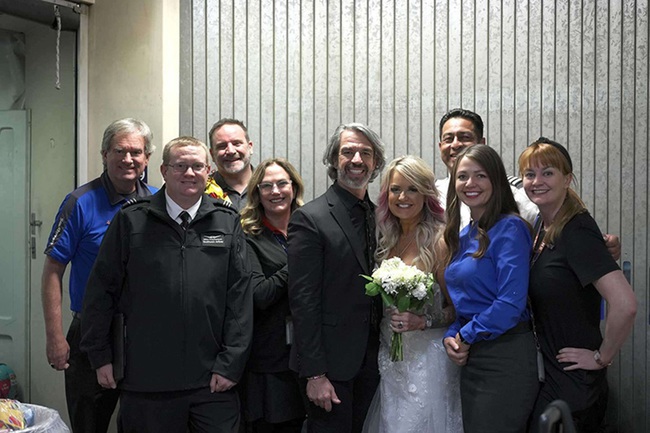 Tourist couple Jeremy Salda and Pam Patterson (who then wore wedding clothes because they were worried that when they arrived in Las Vegas there would not be much time to prepare for the wedding) were wondering what to do next, the pastor Chris – who was ordained and also went to Las Vegas – stepped forward. He offered to help celebrate the wedding if they missed their wedding date in Las Vegas.
Three people found tickets on Southwest Airlines flight 2690, scheduled to take off after 50 minutes but from another airport – Dallas Love Field, to connect in Phoenix. They took an Uber taxi and urged the driver to "drive as fast as possible!" Fortunately, they not only caught the flight, but were able to exchange the vows of "Agree" to live together while the plane was en route to Las Vegas.
Unique wedding dance of the couple on the plane
"It was like a scene in a movie… Literally, I wore a wedding dress and ran into the airport, through the security gate… Everyone shouted congratulations to us," – bride Pam Patterson recounted.
As the couple wore wedding gowns boarded the plane, the pilot asked if they could get married in time in Las Vegas. Bride Pam Patterson said: "We will try, but if we don't make it in time, we will get married on this plane."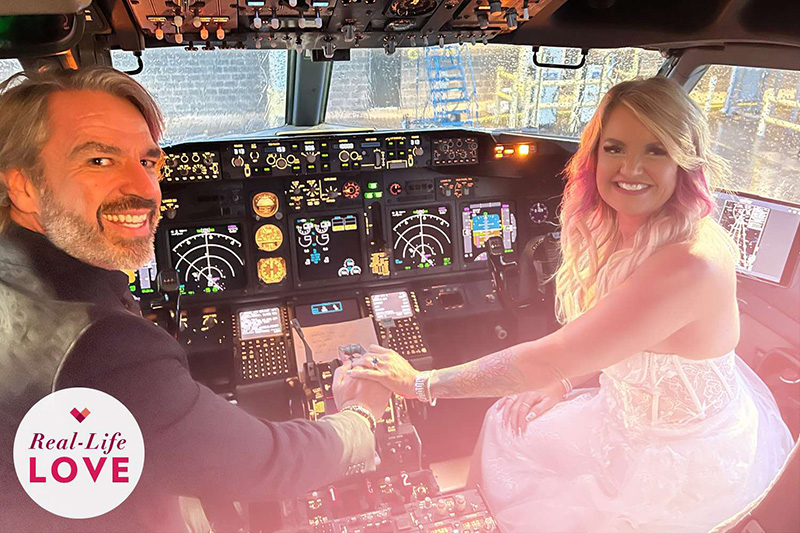 Celebrating the unforgettable memories of tourist couple Jeremy Salda and Pam Patterson with their wedding flight. (Photo: People)
Surprisingly, the crew also supported that idea and immediately started preparing for the wedding on the plane, including: Decorating the cabin with… toilet paper, downloading the wedding song "Here Comes the Bride" (Bride is coming), bring out Champagne… A passenger presents a small cake for a wedding cake. Accidentally on the flight there was a photographer who took pictures of them. A small notebook is passed from hand to hand by passengers to write guestbook for the bride and groom.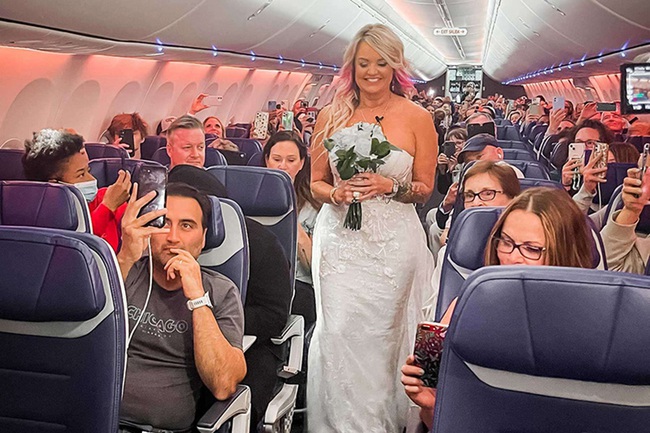 When the plane stabilized at an altitude of more than 11,000m somewhere in the sky over the state of Arizona, Pastor Chris blessed the tourist couple Jeremy Salda and Pam Patterson in the presence of the crew. While other passengers were surprised and delighted to experience a very unique wedding in the sky.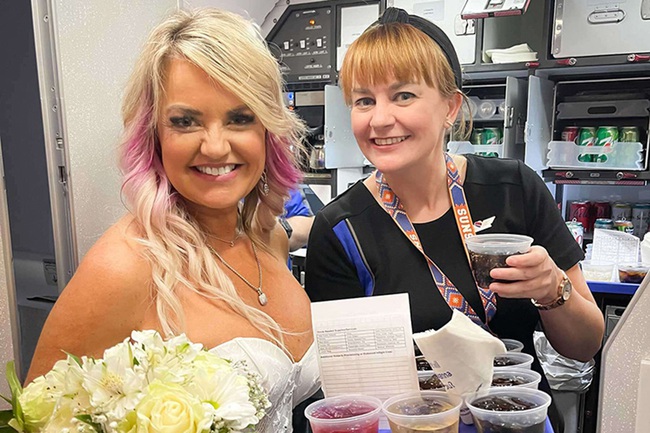 Videos and images of the romantic wedding in the air of tourist couple Jeremy Salda and Pam Patterson then went viral, attracting countless people around the world to watch the sweet moments taking place on the flight. .
You are reading the article
Unexpectedly, the wedding at the height of 11,000 meters of the tourist couple was continuously delayed/cancelled

at
Blogtuan.info
– Source:
danviet.vn
– Read the original article
here