"You don't need a guide to enjoy local cuisine when traveling in Vietnam," CNN affirmed when writing about street food, one of Vietnam's unique attractions. .
Dubbed as one of the world's best destinations to experience street food, Vietnam offers visitors the opportunity to enjoy rich, varied flavors without ever having to step foot in a restaurant. .
CNN suggests that visitors go to markets to try "cheap and delicious" dishes in Vietnam.
Recently, Adriana and Dylan, a couple of travel vloggers from Sweden and Wales, owners of Youtube channel 2Passports 1Dream had the opportunity to discover this experience when doing a snack challenge with only 5 USD (equivalent to 115,000 VND). ) for 2 people in Ho Chi Minh City.
The place chosen by 2 young people is Ho Thi Ky food night market, near Le Hong Phong apartment building, ward 1, district 10. This is considered a culinary paradise with more than 100 food stalls of all kinds, many Diverse food and drink, with flavors of many different provinces such as Nha Trang, Hue, Dong Nai…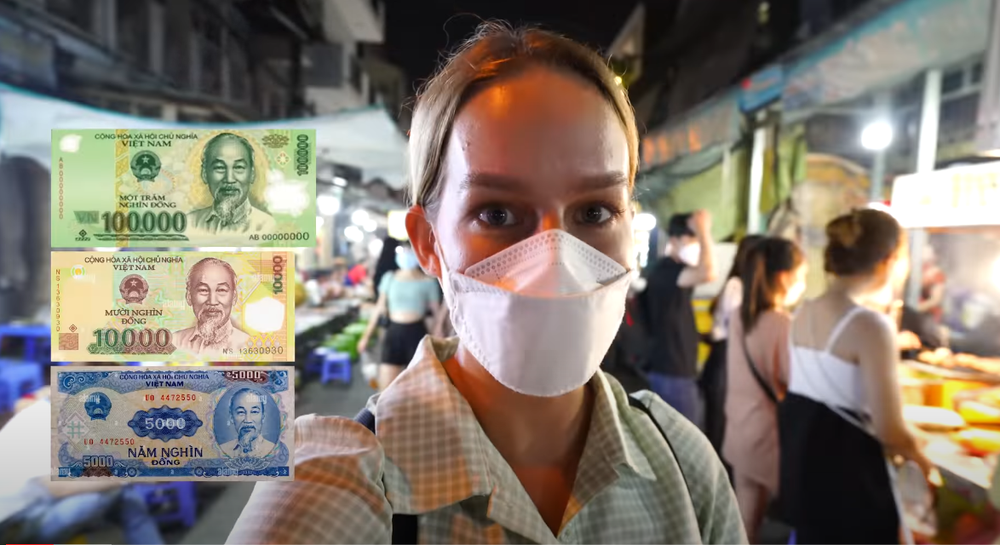 Adriana at Ho Thi Ky night market. Photo: 2Passports 1Dream
Travel "food paradise" with only 5 USD
This challenge took the two young people from one surprise to another, and here is their unique journey:
1. Bubble potato: 20 thousand VND/bag
The first dish is bubble potato with cheese powder sold for 20 thousand / bag.
"I don't know this dish at all but it looks delicious and the flavor is very appealing," Adriana commented before enjoying. The first bite made her say "delicious". Not only that, the very cheap price (less than 1 USD) of the dish means that the couple's wallet is still quite rich to continue the challenge.
"I think this is a hit," Adriana said.
It is known that this dish is made by grinding potatoes with a machine and then frying, the potatoes swell like bubbles and hence it is named. This dish is said to be quite popular at the Taiwanese night market.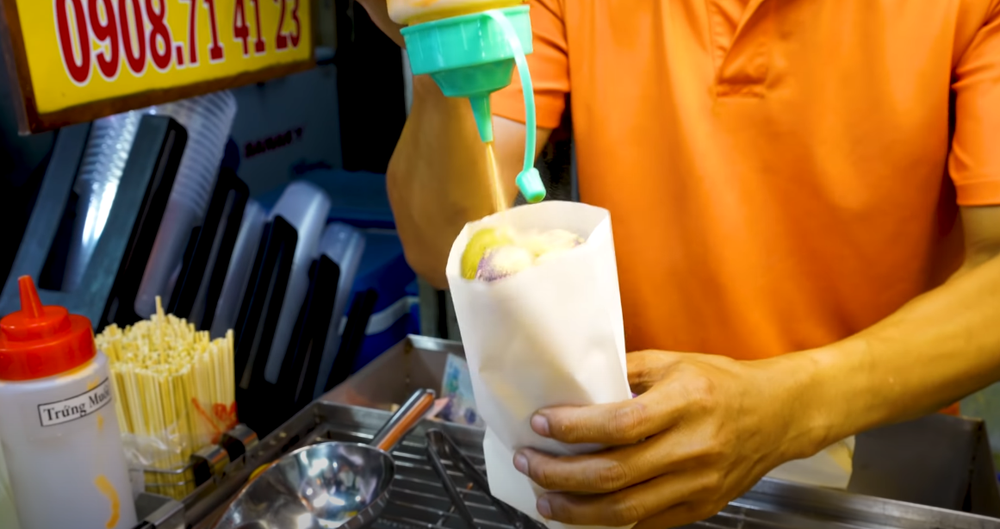 2. Grilled cheese skewers: 23 thousand VND for 2 skewers
The second dish is grilled cheese skewers. Dylan ordered 1 piece of pork (10 thousand dong) and 1 portion of beef (13 thousand dong). This popular street food is seasoned with unique flavors and Dylan admits that the grilled skewers are "very very tasty".
After this dish, two people still have up to 72 thousand VND.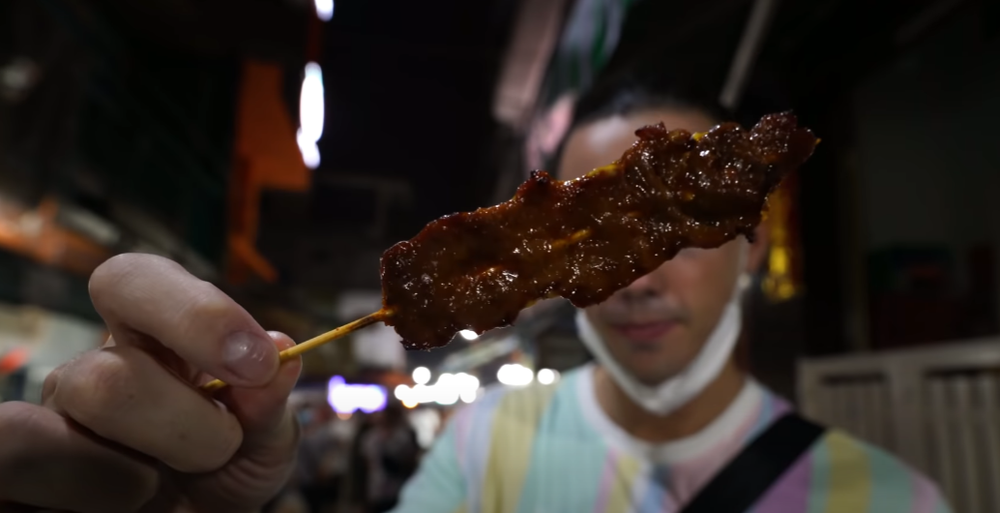 Pork skewers cost 10 thousand VND. Photo: 2Passports 1Dream
3. Spring rolls: 9 thousand dong
The next dish Adriana chose was spring rolls. Spending 9 thousand dong to buy a spring roll, she was also given a dipping sauce.
"Oh my god, it's delicious. However, I have to admit that this is not my favorite. I don't see any coriander, but mint leaves instead. I prefer fried spring rolls but it's real. For 9 thousand dong, this dish is very delicious," Adriana said.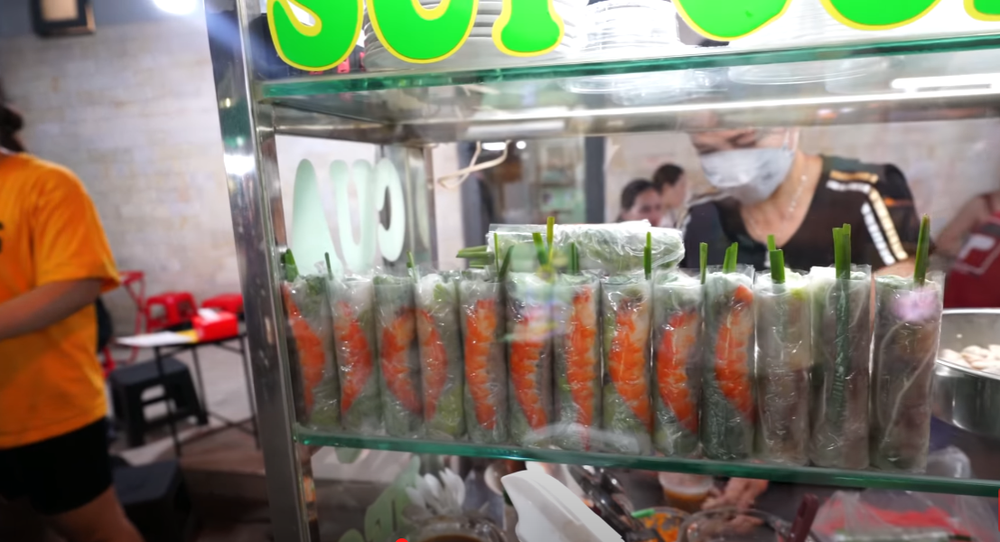 Salad stall at Ho Thi Ky night market. Photo: 2Passports 1Dream
4. Baked eggs: 15 thousand VND
An equally interesting dish is a baked cup egg with the price of 15 thousand.
"It seems to have some mushrooms in it, shrimp, eggs, sweet corn, cheese, a little more herbs and spices. It looks like a small version of the omelette, but it's absolutely delicious." – Adriana said.
Dylan commented: "My favorite thing about this dish is that it has sweet corn. We love sweet corn."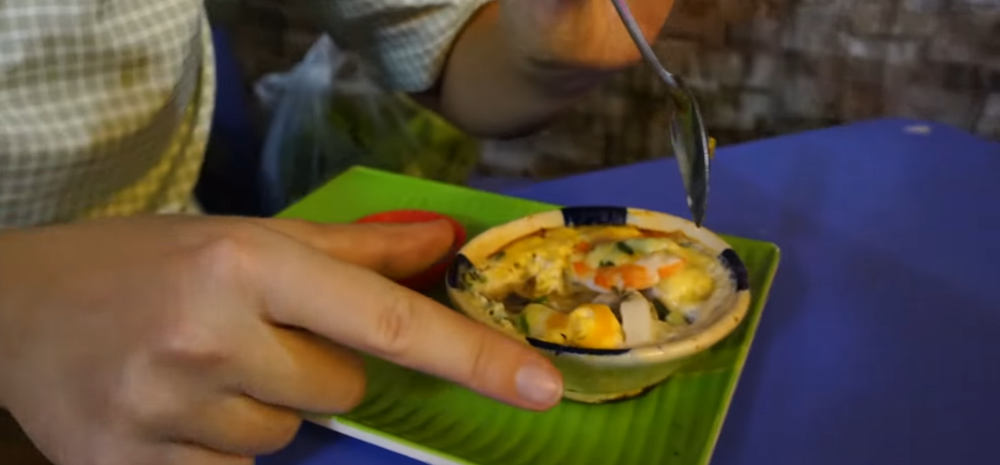 5. Cacao flan cake: 30 thousand VND
Continuing the journey, Adriana and Dylan chose cocoa pickles with flan. This dish costs 30,000 VND.
"I think the highlight of this dish is the pearls. It's very cool, chewy and sweet. It's amazing." – Adriana exclaimed.
Dylan: "This is truly chocolate heaven. It's amazing. I still say that everything has been amazing so far but Vietnamese street food is really amazing."
6. Strawberry tea: 15 thousand VND
When there were 18 thousand VND left, the couple decided to choose a drink to end the culinary journey at Ho Thi Ky night market. And that is the strawberry tea with the price of 15 thousand / cup, a drink that is loved by young Saigon people.
"I find the flavor very strong, very sweet. I feel like strawberry syrup and I can even see the pieces of strawberry in the cup" – Adriana said.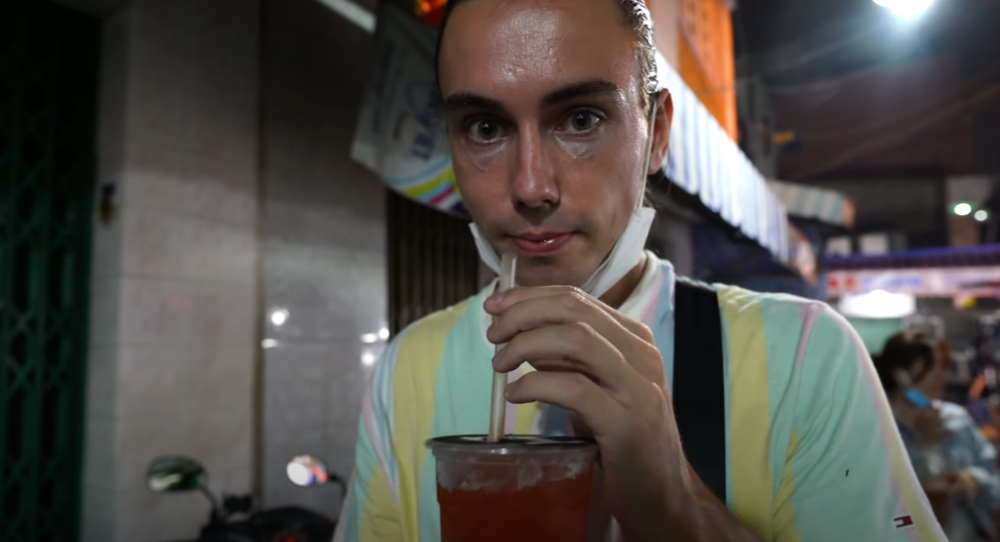 Dylan ended the experience with strawberry tea, a favorite drink of Saigon youth. Photo: 2Passports 1Dream
At the end of the challenge, Dylan said it was an "overwhelmingly successful" experience and that the two hadn't even spent all their money.
"Vietnam has so much to explore. So many people in a food street. It's amazing!" – Dylan said.
It can be seen that the price of snacks at Ho Thi Ky flower market is quite "soft", which can make diners "full" at a reasonable price. This experience has given travelers like Adriana and Dylan unforgettable memories in Vietnam.
https://soha.vn/thu-thach-an-vat-o-viet-nam-chi-voi-5-do-la-my-khach-nuoc-ngoa-thot-len-qua-king-ngac- 20220505233242466.htm
You are reading the article
Foreign guests exclaim "so amazing"

at
Blogtuan.info
– Source:
Soha.vn
– Read the original article
here