Ký sự pháp đình
From a kidney patient to an operator of a transnational kidney trafficking ring
On May 5, the People's Court of Ho Chi Minh City opened a trial for a body part trading line led by Ton Nu Thi Huyen (SN 1975, living in Phu Nhuan district, Ho Chi Minh City).
The trial is expected to last for two days.
Before that, in mid-January 2021, the trial was opened. However, after half a day of trial, the jury decided to return the case file for additional investigation. Regarding the reason for returning the files, the presiding judge of the trial announced, "There are some testimonies showing that the defendants sold their kidneys in 2017, before the current Penal Code took effect and other reasons. so the court returned the file for additional investigation".
By the end of April 2021, due to a serious illness, Ton Nu Thi Huyen had to be hospitalized and the doctor prescribed dialysis every day. A month later, Huyen died. After that, the People's Court of Ho Chi Minh City issued a decision to suspend the case against defendant Ton Nu Thi Huyen.
In addition to Huyen, the human body part trading ring also includes defendants Dao Duc Hai Viet (SN 1994, hometown of Bac Ninh), Hoang Duc Tung (SN 1991), Pham Quang Canh (SN 1996), Huynh Linh Tam (born 1996). SN 1992), Nguyen Minh Tam (SN 1999), Dao Quang Hung (SN 1992, living in District 10, HCMC) and Huynh Kim Ngan (SN 1995).
According to the prosecution, in 2009, when going for a kidney transplant in China, Huyen knew Doan Thanh Nhan (Vietnamese, whose identity is unknown) living in Cambodia.
At the end of 2016, Huyen went to Cambodia and met Nhan. During the conversation, Nhan invited Huyen to find a kidney seller with a doctor named Tran (Singaporean), who works at a hospital in Phnom Penh.
After meeting Tran, Tran said that Huyen returned to Vietnam to find someone who wanted to sell his kidney to Cambodia. According to the agreement, Tran will pay Huyen from 15 to 17 thousand USD/kidney.
Seeing that the profit was too large, Huyen quickly agreed. Next, Dr. Tran instructs Huyen on how to select people and how to do cross-checking tests.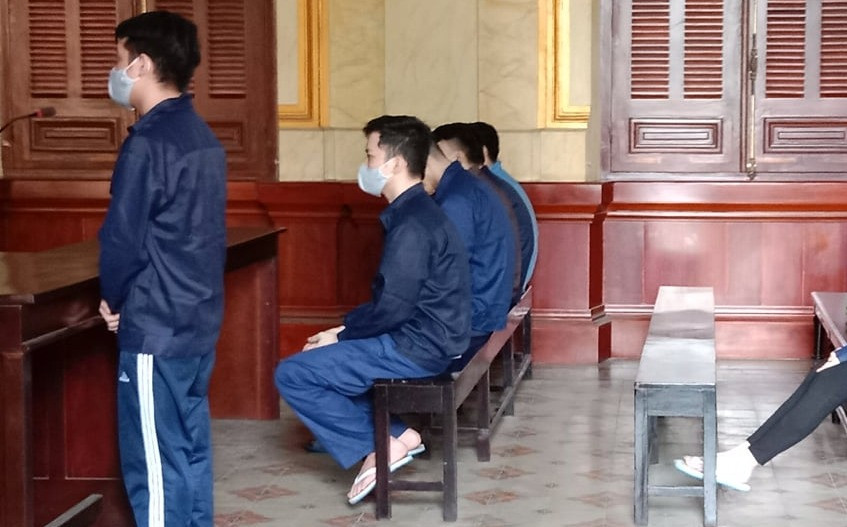 Returning to Vietnam, Huyen found Dao Duc Hai Viet and brought him to Cambodia to sell his kidney. From this buying and selling relationship, Huyen coaxed Viet to join her kidney trading line. According to Huyen's assignment, Viet went to social networks to look for a kidney seller. Each successful Vietnamese case will be paid by Huyen from 15-25 million VND.
In addition, Huyen also assigned Viet to bring kidney sellers for testing at Hanoi Medical University Hospital with a fee of 1-3 million VND. These samples were given to Tran by Huyen for cross-checking and results.
During the times of brokers selling kidneys, Huyen continued to lure Dao Quang Hung – the victim of kidney selling to join his line.
From Huyen's direction, Hung and Viet led 5 more people to join her kidney trafficking ring. All of these 5 people sold their kidneys to Huyen and were coaxed to join.
Through social networks, Huyen's team found and brought kidney sellers to hospitals such as Cho Ray, Hoa Hao, Thong Nhat, Tri Duc, 115, Thuan Kieu clinic… to conduct tests according to instructions. Previously of Dr. Tran.
When the test parameters of the kidney transplant recipient and the seller matched each other, Huyen organized to send these people to Cambodia for a nephrectomy.
In Cambodia, these people were gathered in one area. Every day, Huyen will organize to bring 2 people to the hospital for kidney surgery.
After the job is done, the kidney seller will rest at the hospital for 12 days. When their health was temporarily stable, they were sent home and Huyen paid 200-210 million VND.
According to the investigation, from April 2017 to January 21, 2019, Huyen's team found 100 kidney sellers and sent 37 people to Cambodia for kidney transplants. The remaining victims have not found a suitable kidney transplant, so Huyen has not taken them over.
According to the assessment results, the injury rate of the victims who sold their kidneys to Huyen, the lowest lost 45% of their health, the highest lost 69%.
Thanh Phuong
You are reading the article
From a kidney patient to an operator of a transnational kidney trafficking ring

at
Blogtuan.info
– Source:
vietnamnet.vn
– Read the original article
here