Giải trí
Miss Universe Vietnam contestant is half paralyzed because of weight loss
Thuy Anh wants to use her story to inspire young people at Miss Universe Vietnam.
Hoang Thuy Anh (SBD 324) was born in 1999, 1.75 m tall, weighs 56 kg with measurements of 86 – 63 – 97 cm. She possesses a hybrid beauty when her father is an American, her mother is of Vietnamese origin. 9x is currently a student majoring in Educational Psychology, Hanoi National University of Education.
Sharing with VietNamNet, Thuy Anh said she cares about mental health, especially children. "In Vietnam, people have begun to understand psychological diseases, but they are still not common and do not understand the importance of mental health. Having had psychological problems since childhood due to stigmas about appearance, study pressure; I was fortunate to overcome it, but it still affects my current psychology somewhat. Therefore, I want to study Educational Psychology to help children," she confided.
Once a semi-finalist at Miss Vietnam 2020, Thuy Anh returned to the beauty contest because she wanted to inspire her story to young people, always trying her best, believing in herself to pursue her passion. The beauty used to be hemiplegic 1 year ago but tried to persevere in treatment.
"I encountered this incident stemming from a subjective health and eagerness to lose weight quickly. I destroyed my fitness by losing weight in the wrong way such as fasting, abusing weight-loss drugs, exercising too much. All of that made my body exhausted and gradually became paralyzed on one side," the beauty recounted.
Unable to function as before, visited many places but no change, Thuy Anh was surrounded by negative emotions, so desperate that she suffered from severe depression and thought of suicide.
To overcome, the female student struggles with negative thoughts with the love of her family. "When I want to commit suicide, I look at pictures of my family and think if I do that, the people who stay will suffer even more. Because I'm a Psychology student, I know ways to stabilize my state of mind. I also research the reasons for the disease to cure myself because only I can understand myself best", Thuy Anh confided.
Through the journey of "reviving", Thuy Anh hopes that young people who want to lose weight need to know that this is a long process. Each person needs to eat right and complete nutrition, exercise in moderation and prioritize comfort first; Listen to your body and don't follow unscientific weight loss trends. She wanted to convey the message: your body is fat or thin or whatever shape you are; as long as you are confident, happy and love yourself.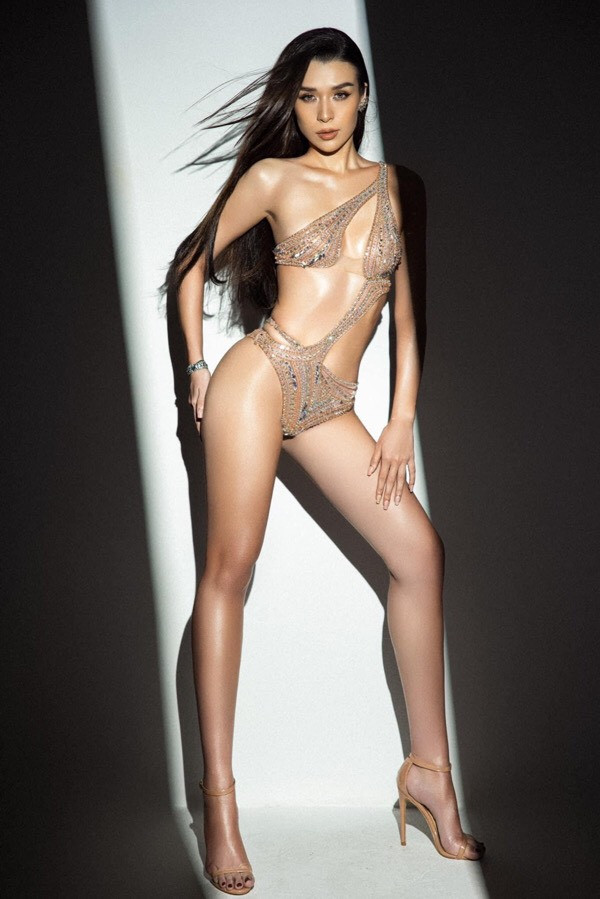 For a 23-year-old female student, not only women but everyone needs to learn to love and take care of themselves because if they don't love themselves, no one can do it. She believes that love will nourish a healthy body and soul, always positively facing life.
Thuy Anh wants to work towards the image of a female leader. She is also interested in social activities when regularly participating in donating clothes, food and funds to a number of charitable organizations and individuals to help poor children, the homeless and the sick.
The social issue that beauties are most concerned about is child abuse. She wants to do projects that call on parents and their loved ones to be aware of their actions because they can influence their children's thoughts and actions throughout life. "I hope to be able to cooperate with social organizations and psychologists to build a hotline to support children to talk about their difficulties in life and offer support measures. Every child deserves it. grow up in a loving, healthy and happy environment", the female student expressed.
Through the beauty contest experience, Thuy Anh learned the lesson that she needs to stay healthy to participate in activities. The beauty was happy to see her old friends from the previous contest. Among the experienced contestants, the Hanoi girl is confident with a spirit of learning and abundant energy. Being the only contestant with a hybrid beauty between Vietnam and the US also helps 9x stand out and make an impression.
Duc Thang
You are reading the article
Miss Universe Vietnam contestant is half paralyzed because of weight loss

at
Blogtuan.info
– Source:
vietnamnet.vn
– Read the original article
here