Thế Giới
QUICK READ 8-5: Russian Ambassador warns Sweden, Finland about joining NATO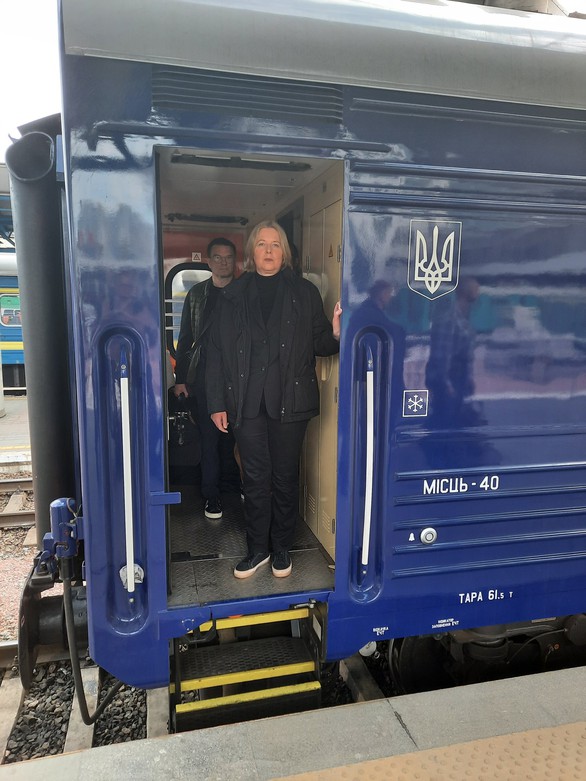 The Speaker of the German Bundestag Barbel Bas is present in Kiev, Ukraine – Photo: Twitter
* Mr. Enrico Brissa, Head of Reception Department of German Bundestag Speaker Barbel Bas, confirmed that Ms. Barbel Bas had arrived in the Ukrainian capital Kiev. Writing on Twitter on May 8, Brissa posted a picture of Barbel Bas getting off a train car and announced that she would meet with Ukrainian Prime Minister Denys Shmyhal, attend a number of memorial activities for the victims of the World second war. Barbel Bas is the most senior German official to visit Ukraine since the country was attacked by Russia.
* On May 8, Sputnik news agency quoted the Ministry of Defense Russia claims to have destroyed a Ukrainian corvette by rocket in the night 7-5 local time. In addition, the Russian air forces also shot down two SU-24 bombers and a Ukrainian helicopter in the area of ​​Snake Island in the Black Sea.
On the Ukrainian side, the Odessa Regional Military Administration said that the country's military forces destroyed and damaged three Raptor small ships, sank a small landing craft, and brought down an anti-aircraft missile system in the air. Snake Island, according to Ukrinform News Agency.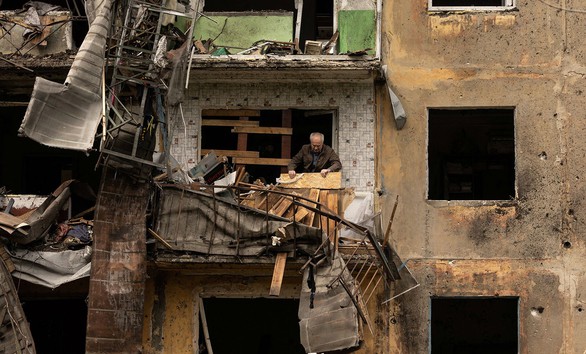 An apartment building in the Donetsk region, Ukraine was hit by a missile on April 30, 2022 – Photo: REUTERS
* Russia's Ambassador to Canada, Oleg Stepanov, warned that Sweden and Finland joining NATO would turn the region into a "battleground". On May 8, Sputnik news agency quoted Stepanov as saying that the two European countries would be forced into a confrontation with Russia if they joined NATO instead of coexisting as before. He describes NATO as a nuclear war machine that is drawing closer to Russia's borders, and with the United States, the organization is provoking the Nordic countries to abandon their peaceful way of life to become another potential battleground.
* Evening 7-5, Ukrainian President Volodymyr Zelensky said about 300 civilians had been evacuated from the Azovstal plant in Mariupol.
Meanwhile, the Military Command Ukraine Russia is still attacking the Azovstal steel plant complex in the city of Mariupol. The President of Ukraine said that he is actively diplomacy to save the number of soldiers still trapped in the factory.
The Azovstal steel factory complex with a fortified underground system is currently the last stronghold of Ukrainian forces in Mariupol after pro-Russian forces claimed to have "liberated" this southern port city.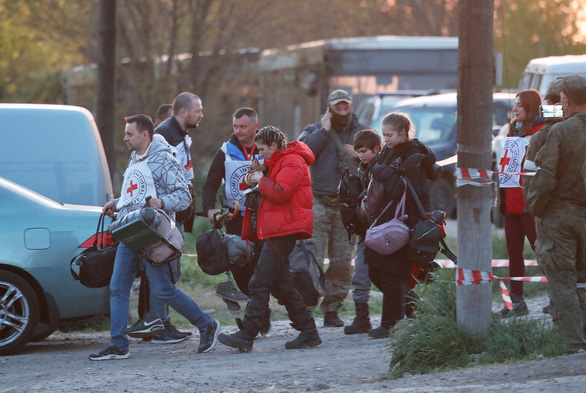 Civilians evacuate from the Azovstal steel plant in Mariupol – Photo: REUTERS
* Speaking at newspaper events Financial Times In Washington on May 7, the director of the US Central Intelligence Agency (CIA) William Burns said: The war in Ukraine will affect China's calculus towards Taiwannamely Ukraine's fierce resistance to Russia and the economic costs that Russia is bearing.
However, that does not change Chinese President Xi Jinping's long-term goals for Taiwan.
* G7 leaders including Britain, Canada, France, Germany, Italy, Japan and the US will hold an online meeting with Ukrainian President Zelensky on May 8, the day before Russia celebrates Victory Day, according to Reuters news agency.
* According to Reuters news agency, Britain will provide an additional 1.3 billion pounds ($1.6 billion) in aid to Ukraine. The British government has sent anti-tank missiles, air defense systems and other weapons to Ukraine.
The new aid doubles previous UK spending commitments to Ukraine. According to Reuters, the extra money comes from a reserve used by the government for emergencies.
British Prime Minister Boris Johnson's office said he plans to meet top defense company executives later this month to discuss increasing production in response to the war in Ukraine. The British government has so far granted visas to more than 86,000 Ukrainian refugees.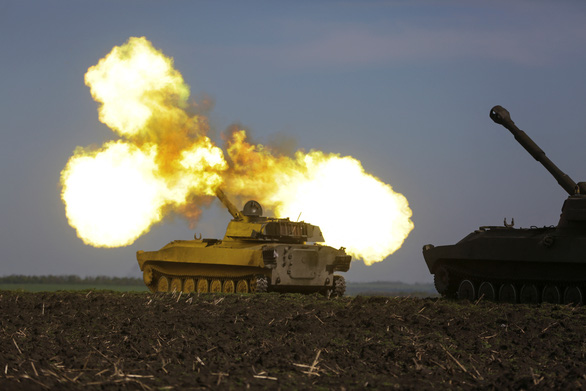 2S1 Gvozdik self-propelled howitzers of the Ukrainian forces opened fire at a location in the Kharkov region on May 7 – Photo: REUTERS
* Reuters news agency quoted World Health Organization (WHO) Director-General Tedros Adhanom Ghebreyesus as saying that WHO stands with the Ukrainian people in the conflict with Russia.
WHO has recorded 200 attacks on medical facilities in Ukraine.
* The director of the US Central Intelligence Agency (CIA) William Burns said that Russian President Vladimir Putin believes he cannot lose in Ukraine and is determined to step up the war.
* According to CNN, Russia fired six cruise missiles at the southern Ukrainian port city of Odessa on May 7. Ukrainian forces say Russia is not only wreaking havoc on the region's infrastructure, but also putting psychological pressure on civilians.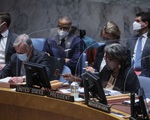 The first statement of the Security Council on Ukraine adopted in 2 minutes
You are reading the article
QUICK READ 8-5: Russian Ambassador warns Sweden, Finland about joining NATO

at
Blogtuan.info
– Source:
tuoitre.vn
– Read the original article
here