Business
Sony Walkman and a lifetime failure before Apple iPod
In 1979, the Sony Walkman personal music player was born, causing shock with its compact size and completely new headphones. Within 3 months, Walkman sales reached 30,000 and "sold out" on all fronts. Sony keeps a distance from its late rivals. A decade later, the Sony Walkman still maintains a market share of 50% in the US and 46% in Japan, although the price is about 20 USD more expensive.
By the late 90s, cassette tapes began to give way to new music formats (CDs and MP3 files). The global electronics industry predicts that the CD will soon become as extinct as the cassette. Who will be the first to launch an MP3 player and become the next "Walkman".
In 1998, South Korean company Sahan Information Systems created the first portable digital music player called MPMan. It sold 50,000 units worldwide in its first year. When the iPod was released in 2001, there were about 50 MP3 players available in the US, but none were as successful as the Walkman.
MP3 is a very different story than Walkman and cassette. You cannot buy MP3 files in brick-and-mortar stores. Downloading an album online – whether legally or illegally – takes hours. If MP3 and wideband weren't popular, no MP3 player would have developed. But the iPod changed all that, despite Apple being a latecomer.
Golden time
Apple waited until the time was right. The iPod's winning formula sounds simple: sleek, modern design combined with smart software. The late Apple founder Steve Jobs understood that if you rely solely on the device itself, the iPod is just trash. He understood that, for the device to have value, the MP3 player ecosystem needed to come together. In October 2001, when Apple introduced the iPod, both MP3 and wideband were popular.
The first generation iPod cost $399, had 5GB of memory, and could store up to 1,000 songs. It has an easy to use interface and is quite lightweight. The real value of the iPod lies in its iTunes music management software. Even though it's only for Mac users, the iPod is the best-selling MP3 player ever. In April 2003, Apple launched the iTunes Music Store, an online music library where customers browse and buy music for 99 cents per song or $9.99 per album. By the end of 2009, Apple earned $22 billion from iPod with the help of iTunes.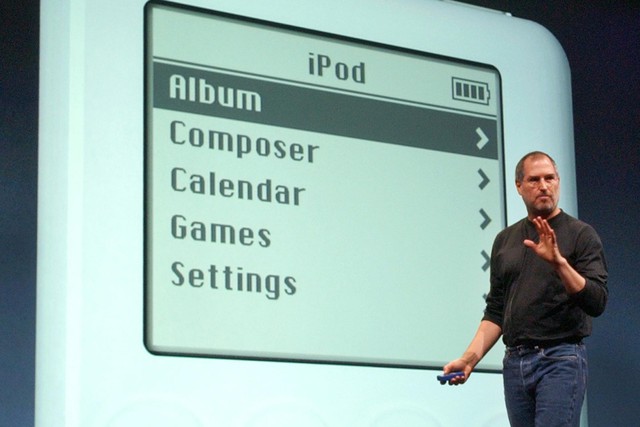 The late Apple founder Steve Jobs introduced a new iPod model in April 2003 in the US. (Photo: AP)
According to NPD Corporation, sales of portable CD players were still double that of MP3 players during the 2004 holiday season. Still, from the third quarter of 2004 to the third quarter of 2005, iPod sales increased 616%. In 2008, Apple had a 48% share of the MP3 player market, far ahead of its closest competitor, SanDisk's Sansa (8%).
iPod is a great product that not many people can deny. After all, Apple was 3 years late to the other players, but the timing they chose was very "hit". As was the case with the iPhone, Steve Jobs often tended to work later than everyone else because he wanted everything to be ready. In 2008, when talking about embracing the technology wave, he said that we often see new waves before they actually happen and have to choose wisely which waves to ride. "If you don't choose carefully, you will expend a lot of energy, but if you choose carefully, it will happen quite slowly and often take several years." His discipline paid off. In the 3-year gap between MPMan and iPod, every element of the MP3 player ecosystem matured. Thus, instead of waiting for a red light like others, consuming valuable time and resources, Apple chooses when the red light turns green and aims for victory. iPod became the "Walkman of the early 21st century", as the Economist magazine put it.
Sony's mistake
It is quite ironic that the Walkman could not continue its success and lost at the hands of the iPod. Not only that, Steve Jobs was also "infatuated" with the Walkman. In an interview with former Apple CEO John Sculley, he recalled: "Mr. Akio Morita gave Steve and me a Sony Walkman each. None of us had seen such a thing before. Steve was extremely excited. The first thing he did was take it apart and look at the parts one by one."
Steve Jobs took the personal music player to the next level with the iPod, which Sony couldn't even reach. The fact that Sony did not invent a product like the iPod is difficult to understand, especially when in addition to designing software, the group also owns a lot of content through its subsidiary Sony Music. They have their own store system and other sales channels. They have talented engineers in every field of emerging technology. They have famous brands. Sony had everything in their hands but didn't turn that advantage into money.
New York Times journalist Hiroki Tabuchi blamed larger problems inside Sony. "Initially, Sony engineers resisted the power of the communications department. Then Sony struggled with how to build a device that would let users download and copy music without hurting music sales or dealing with artists. The company went its own way, being their first digital music players using proprietary audio files, incompatible with the rapidly growing MP3 format.
In fact, Sony makes a lot of its own multimedia formats. Some (CD, BluRay) became the industry standard but many others did not. These include MiniDisc, UMD, Video8, DAT, TransferJet, S/PDIF, Memory Stick, Super Audio CD, Cell Processors and Betamax. They are not compatible with devices of other brands and sometimes do not work on devices of the same brand.
Not only that, but Sony also operates many different operating systems. For example, in the 90s, Sony's Clie PDAs ran Palm OS, Vaio laptops ran Windows, Sony Ericsson smartphones ran Symbian, and Sony PlayStation consoles had their own software format. In other words, Sony's device catalog is not cross-platform, which means programs make one device inoperable on another.
By the time the divisions came together, Sony had lost ground in two important product categories: televisions and portable music players. They are also lagging behind in the market for flat-panel panels, as well as digital music players like the iPod."
A former Sony executive admitted that they really wanted to invent a device like the iPod, but were defeated by themselves. To do that, hardware engineers must fully cooperate with software engineers; Sony Music must participate 100% without fear of being eaten into the distribution channel; other departments must not be jealous and work together to improve the product. The company must have a common goal. However, Sony couldn't do it. Each division within Sony operates as a separate organization, cooperation becomes limited, so products cannot be linked together.
Apple succeeded where Sony fell. The iPod's success lies not only in design and software but also in opportunity, while Sony's failure has become an expensive lesson for all other businesses. That is to avoid conflict of goals, leading to damage to the entire organization.
You are reading the article
Sony Walkman and a lifetime failure before Apple iPod

at
Blogtuan.info
– Source:
cafebiz.vn
– Read the original article
here