Giải trí
Squeezing acne seems to be a simple task, but many people still experience complications, even life-threatening, because of the disease
According to experts, squeezing acne is not really something that can be done arbitrarily, users can experience serious complications if they make mistakes while doing it.
Recently, a young man in Fujian, China was in trouble just because he manually squeezed a huge pimple on his face. According to the information posted, before that, this person saw a very large pimple on his face. Because he felt the acne on his face was ugly, he tried to squeeze it with his hands.
Unexpectedly, after squeezing the acne, the blood flowed non-stop, even blood from the nose also flowed continuously. Even though a bandage was used to cover it, blood still oozed out from the pimple. At the hospital, the doctor determined that the nodule on his face was not an acne but a hemangioma. It is very dangerous to arbitrarily squeeze.
Illustration
Before that, many people also had to pay a heavy price just for squeezing acne – a seemingly normal job. Like the case of a 32-year-old woman in Binh Duong a few years ago, she had to go to the emergency room at the Ho Chi Minh City Hospital of Ear, Nose and Throat Hospital in a state that the entire face area was inflamed, red, swollen, and so severe that she could not open her eyes. due to infection.
Before that, this woman squeezed a pimple at the tip of her nose. However, after that, from the tip, the inflammation of the nose wing spread, spreading to both eyes and then the entire face area, severe pain, eyes could not open…
After clinical examination, endoscopy, tomography, blood tests, the patient was diagnosed: Infection of the tip of the nose causing diffuse inflammation in the face, monitoring for sepsis, and cavernous sinusitis.
Or a young man in Ben Tre, after a week of squeezing acne, had swollen face, high fever, and had to be transferred to Cho Ray Hospital, City. HCM. On admission, the mouth area swelled, festering, severe septic shock, swollen lymph nodes; must eat through steam; use a combination of strong antibiotics, high doses…
According to doctors, in addition to serious, even fatal complications, squeezing acne is not correct, not sterile, some people squeeze more acne, or create keloids, concave scars, pitted scars, dark spots on the skin. not losing.
Mistakes when squeezing acne
Squeeze acne in the dangerous triangle area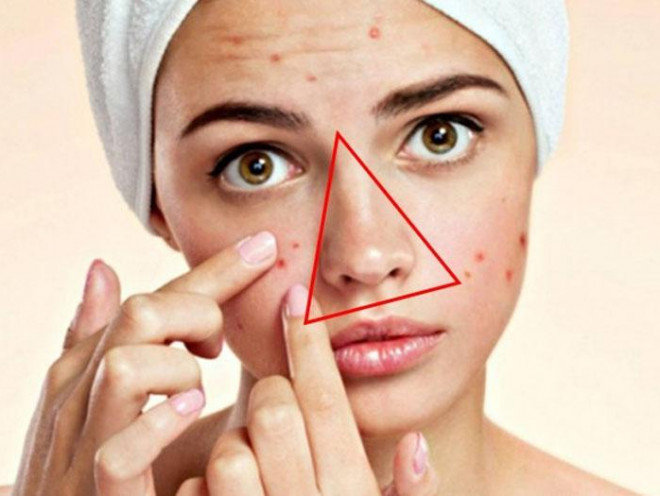 According to experts, on the human face there is a dangerous triangle area with the apex above the point between the two ends of the eyebrow arch and the sharp point of the bottom two corners being the two edges. Many people also call it the "death triangle" because squeezing acne in this area is the most dangerous. Therefore, do not squeeze acne in the middle of the forehead, around the mouth and chin because it is very dangerous.
Squeeze acne nails
Nail acne has the form of a boil, often swollen, very painful and has a pimple at the tip. Squeezing the beard can cause bacteria to enter the vein, causing blood infection, even death if not treated promptly.
Squeeze pimples with dirty hands
Arbitrarily squeezing acne or scraping with your hands on the acne spot can easily damage the surface of the skin, making it easier for bacteria to penetrate inside the skin. Meanwhile, when squeezing acne at home, many people often skip the thorough sterilization steps before and after implementation, some people even pop pimples with their hands without washing their hands or wearing gloves, thus increasing the risk of infection. infection, turning non-inflammatory acne into inflammatory acne or causing existing inflammatory acne to spread, leading to a higher risk of acne scarring.
Who should not pop pimples?
Diabetics: Diabetics absolutely should not pop pimples because blood sugar is high, so the risk of sepsis is many times higher than normal people.
Immunocompromised people: If acne occurs on the background of immunocompromised diseases such as kidney failure, cancer, etc., it is easy to get cellulitis. If it gets worse, the bacteria get into the bloodstream and cause life-threatening sepsis.
According to doctors, most pimples and boils can be treated at home by using a clean towel dipped in warm water with moderate temperature and then applying it to the affected area for 10-15 minutes each time, 3-4 times a day until when the acne breaks and drains pus. The wound is then washed with an antiseptic solution.
Go to a dermatologist as soon as you see acne with signs such as: Acne is large, many acnes appear at the same time, acne is in dangerous places like the face, acne causes a lot of pain, lasts more than 2 weeks without healing or acne accompanied by fever…
To prevent boils, it is necessary to eat and rest in moderation, keep personal hygiene clean, bathe with antiseptic soap, limit scratching, touching, squeezing and squeezing pimples.
You are reading the article
Squeezing acne seems to be a simple task, but many people still experience complications, even life-threatening, because of the disease

at
Blogtuan.info
– Source:
24h.com.vn
– Read the original article
here