Business
What's so special about Hue beef noodle soup that Japan puts on students' menus? Doctor analysis
It is estimated that about 500 students at Saijo elementary school, in Saijo city, have enjoyed Hue beef noodle soup. Most of the students asked after enjoying this dish expressed their interest and satisfaction.
It is known that the two cities of Hue and Saijo are currently establishing friendly relations. The inclusion of Vietnamese dishes on the menus of primary and secondary schools can help promote Vietnamese cuisine to Japanese people more.
Bun bo Hue also has many other names: Hue vermicelli, beef vermicelli with pork, vermicelli with pork rolls… The main ingredients are rice vermicelli, beef, pork. Hue beef noodle soup includes all kinds of flavors, flavors and tastes, meeting the preferences and requirements of each person, each gender, each time, each place…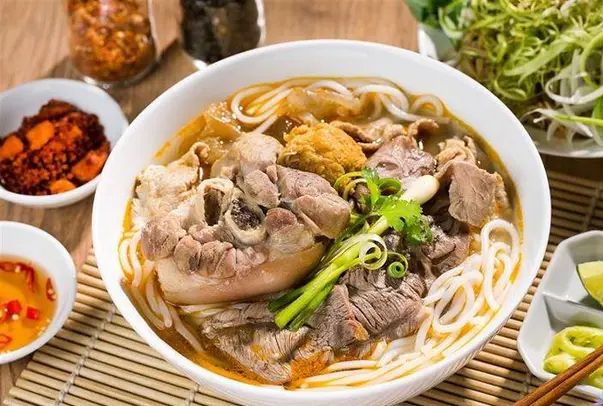 Hue beef noodle soup, illustration.
According to the Vietnamese food nutrition facts table published by the National Institute of Nutrition, a medium-sized bowl of beef noodle soup will be processed with about 150g of vermicelli, 100g of corn, 50g of water spinach, 50g of onion, a few slices of pineapple and water use. Thus, based on the above analysis, 1 bowl of beef noodle soup will have 165 calories of vermicelli, 224 calories of beef, 15 calories of water spinach, 20 calories of onion and pineapple, and 110 calories of pork bone broth. The total number of calories in a bowl of beef noodle soup is about 534 calories.
TS.BS Nguyen Trong Hung, Head of the Department of Adult Nutrition Examination and Counseling (National Institute of Nutrition) said that about the nutritional value of a bowl of Hue beef noodle soup, it is difficult to give a general number. This also depends on how big or small the bowl of vermicelli is, whether the eater orders enough food or adds or subtracts food…
The National Institute of Nutrition has announced the specific nutritional quantification in a bowl of beef noodle soup as follows: Protein 28.3g; Lipid 16.7g; Glucid 65.1g; Fiber 1.4g; Vitamin A 123 mg; Beta-carotene 1370mg; Vitamin C 61.7mg; Calcium 81.1mg; Iron 17.9mg; Sodium 686.9mg; Potassium 234mg; Zinc 1.6mg; Cholesterol 45.4mg.
With these nutritional values, a bowl of Hue beef noodle soup provides energy equivalent to a main meal of the day. Hue beef vermicelli is a dish that is quite diverse in ingredients because there are many foods combined such as starch, protein, fat, vegetables…
According to the nutritionist, the nutritional value in a bowl of beef noodle soup is very high, but the fiber is low, only 1.4g. The amount of salt in a bowl of Hue beef noodle soup is also quite high compared to the needs of 1 person/day.
Specifically, an adult is recommended to use less than 5g of salt/day, but eating 1 bowl of Hue beef noodle soup has 1.17g. Salt is also added from many other sources during the day.
Doctor Hung said Hue beef noodle soup is a delicious dish, when eating this dish, there are a few things to keep in mind as follows:
– Need to add more vegetables to the diet, can eat more raw vegetables, blanched vegetables. Because according to the recommendation, each meal should eat 1 serving of vegetables, of which a serving of vegetables is equivalent to a bowl of rice in your mouth.
– Should limit the addition of salt-containing spices, should not eat all the water, so we have loaded the maximum amount of salt in a bowl of vermicelli into the body.
In addition, because Hue beef noodle soup is spicy, people should eat spicy according to their taste, people with a history of stomach ulcers and young children should be careful not to eat too spicy. Do not eat too often, should only eat 1 to 2 times a week.
In case if you eat Hue beef noodle soup outside the store, you should only eat the cake and meat and a little water to avoid too much salt in the body. Note that you should not add fatty water or order a snack to avoid adding fat in the diet.
https://soha.vn/bun-bo-hue-co-gi-dac-biet-ma-duoc-nhat-ban-cho-vao-thuc-don-cua-hoc-sinh-bac-si-phan- tich-20220508094811974.htm
You are reading the article
What's so special about Hue beef noodle soup that Japan puts on students' menus? Doctor analysis

at
Blogtuan.info
– Source:
cafebiz.vn
– Read the original article
here