Business
A tool to help the real estate market purge naturally, and investors can "higher the pillow" before fluctuations
Illustration. Source: Money Inc.
Who is the Real Estate Investment Fund for?
Projects real estate Currently, there are 3 main trends in raising capital: Mobilizing capital from shareholders, borrowing money from credit institutions or through issuing corporate bonds.
In the situation that credit and bond capital tends to be tight, according to the Vietnam Real Estate Brokers Association (VARS), the mobilization of capital through Real Estate Investment Trust (Real Estate Investment Trust – REITs, aka Real Estate Trusts) are predicted to gradually gain popularity.
REIT is a form of capital contribution to one or more real estate projects, real estate businesses from other individuals and organizations, through the issuance of valuable documents such as stocks and fund certificates. Individual investors buy REIT fund certificates and receive periodic dividends based on the performance and operation of businesses and real estate projects.
Run and managed by investment professionals, REIT is a way to help the real estate market purify itself naturally. Potential real estate projects will attract significant cash flows from REITs. For individual investors, REIT fund certificates are a relatively safe and professional investment method.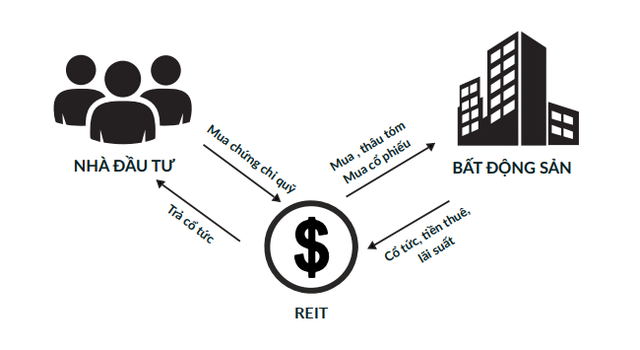 The size of the REIT market is around $1.3 trillion in the US alone, up nearly 30% in just five years, according to Statista.
In 2021, Nareit – America's leading real estate investment fund achieved a growth rate of up to 29%. In Vietnam, the first and only real estate investment fund to be listed (since 2017) is TCREIT (belonging to Technological Fund Management JSC) which has increased its net asset value by 27% also in 2021.
In the United States, where REITs have been around since the 1960s, REITs have actively contributed to the economy in creating jobs, income, and investing in a wide range of real estate products.
Numbers of REITs in the US and REITs in Vietnam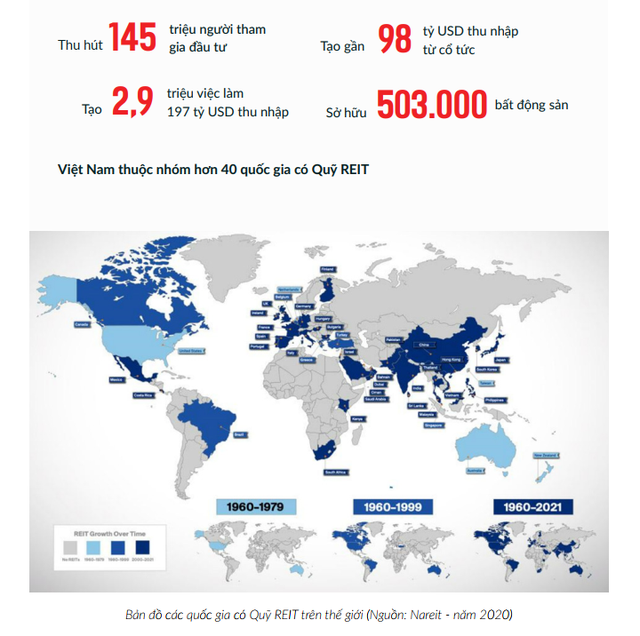 According to VARS, in Vietnam, REIT fund certificates are not a popular investment product because the regulations on the Fund are not really complete, and investors are still afraid of this new financial product. TCREIT was launched in 2015, so far the investment size of the fund has remained at VND 50 billion. Currently, the REITs operating in Vietnam market are mostly from foreign companies such as Indochina Capital, Vinacapital, Saigon Asset Management, Dragon Capital…
Instead of buying a house, investing in a shophouse, condotel, land plot, etc., investors can completely buy fund certificates from REITs and profit from the investment experience of professional fund managers. . Whether they invest in projects, or real estate businesses, each REIT will have its own investment strategy and taste. They can give priority to apartment real estate, resort tourism, land plots or retail real estate…
If you love and have an optimistic view on Vietnam's real estate market, individual investors with not too much capital can consider investing in REIT fund certificates besides directly buying real estate. real estate, shares or corporate bonds.
Compared with direct investment, investing in REITs can make investors get lower rates of return, missing out on market crazes. However, it also makes the investment of individuals, with limited capital and little experience, safer., thanks to professional fund managers to make decisions on behalf of. Investing in REITs helps investors to "high-rise" before market fluctuations and not have to spend time and effort to find out information before making decisions.
REITs have a significant advantage over direct real estate investments in terms of liquidity. With REIT fund certificates, investors can easily sell on the stock market when they need to recover the investment amount. Compared to real estate bonds, REITs also have much better liquidity thanks to their ability to be easily exchanged on the secondary market.
However, owning REIT fund certificates does not mean owning real estate. Investors can only share profits from the operation or increase in the price of that property. Normally, REITs spend most of their profits (usually 90%) to pay periodic dividends to investors instead of keeping them like other businesses.
https://cafebiz.vn/tim-hieu-ve-reit-cong-cu-giup-thi-truong-bds-thanh-loc-tu-nhien-con-ndt-co-the-ke-cao-goi- front-bien-dong-20220509103411619.chn
You are reading the article
A tool to help the real estate market purge naturally, and investors can "higher the pillow" before fluctuations

at
Blogtuan.info
– Source:
cafebiz.vn
– Read the original article
here