Get rich from being a contractor in Laos
Walking in the middle of the spacious asphalt road leading to village 5, Hoa Khuong commune (Hoa Vang district, Da Nang), many people will not be surprised with the bustling scene of residents, vehicles, and machinery like in the district town. On both sides of the road, dozens of large and splendid villas and high-rise buildings make this place feel like a town in Europe. The shops here are crowded with buyers and sellers, and there are even shopping places as big as a shopping mall. Along the two sides of the road, many luxury cars are parked, the scene reflects the wealth and abundance of this billionaire village in Da Nang.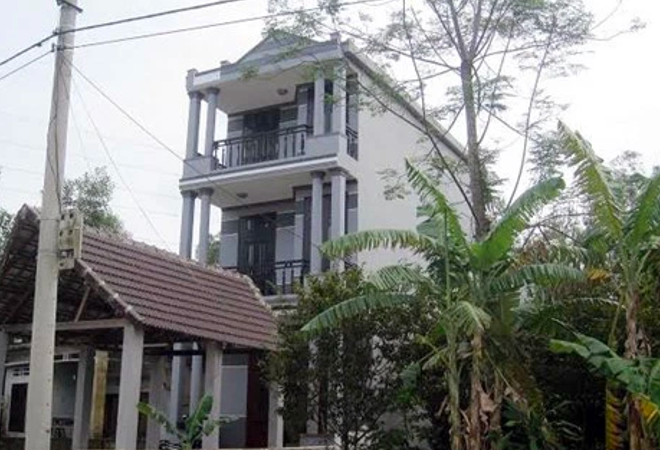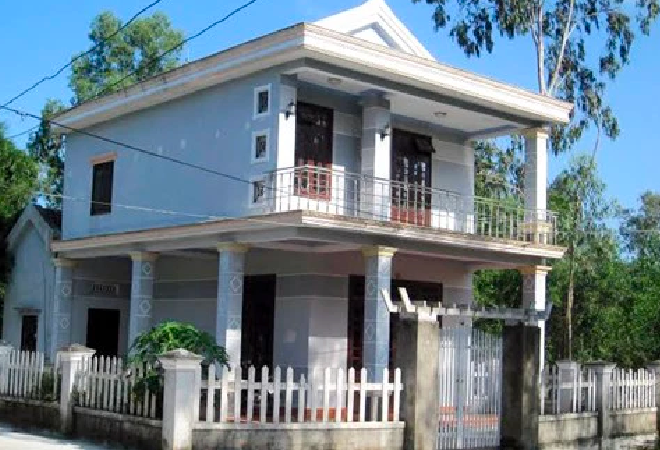 Billionaire villa close to village 5, Hoa Khuong commune (Hoa Vang district, Da Nang)
Few people know that, many years ago, village 5, Hoa Khuong commune was one of the poor villages in Da Nang. In the past few years, this place has changed rapidly. From the asphalt road covered the alleys, villas sprang up close together, people rushed to buy cars, many public works such as churches, temples, etc. were also repaired and built magnificently. People stand to contribute money to build roads, draw electricity for lighting, contribute to village 5 reaching all 19 new rural criteria in 2014.
The lives of the people here are changed thanks to the profession of "contractor". They come back rich after going abroad to Laos to build monumental projects in your country. ", the young men in the village also flocked to each other, since then Laos is considered the "promised land" of the people here.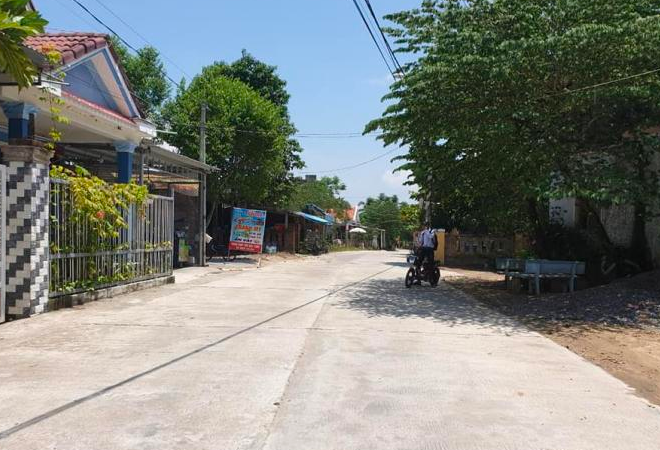 The road to village 5 is spacious and spacious.
The secretary of the Party cell of village 5, Mr. Truong Van Pham, calculated that there were dozens of people in the village who used to cling to the barren grain of rice and went to Laos to change their lives – called the F1 generation. Most of them came up from empty hands, a few people went to Laos to do business and then married Lao wives and lived quite happily. After that, they set up a business in Laos and became the boss.
The majority of young men and women go to Laos to work as construction workers, construction workers… This is the F2 generation, although not as rich as the F1 generation, but their income is stable, changing their lives after a period of work. There are previous generations who taught, relied on each other and worked hard. Just put in the effort to work, live and live with the owner, when the job is over, the boss pays, so he can collect the money to build a house and buy a car. Since then, the life of people in village 5, Hoa Khuong commune has turned a new page.
The dark side of wealth
Find Mr. Nguyen Bay – the famous construction contractor of the village in Laos, one of the F1 people who came to Laos to "find a way to get rich". At the entrance, Mr. Bay built a stylized fence on a very large scale. "It is rumored that I built this villa for tens of billions of dollars. What to do with that price, the design is made by myself, Then hire workers, buy the materials yourself, it's probably only about 3 billion. The house is built to live in, not to brag, "said Mr. Bay.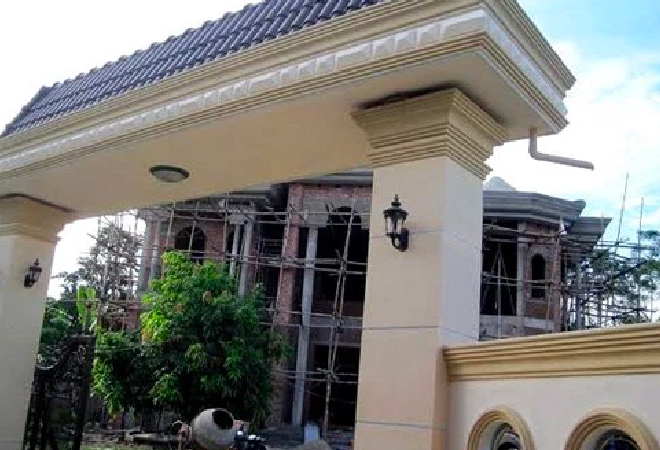 Mr. Nguyen Bay's villa is in the finishing stage.
Mr. Bay has been working in Laos since 1997. "When I first arrived, my brother and I were helped by some Vietnamese people and asked to help us get a job at a company in Laos. Having a job, good income, but the most difficult thing is still the language. Therefore, the whole group of brothers decided to learn Lao". Thanks to diligence plus hard work, more than 3 years later while working and learning the language, we were able to communicate. The whole group set up a small company to re-contract the work.
At first, in order to find a business, the new Vietnamese people not only competed with the Lao people but also with the Vietnamese. The job was quite difficult at first, but later it became stable. Not to mention the serious shortage of workers, which forced Mr. Bay to return to the village to mobilize young men to go to Laos to work for him. Since then, his life has been attached to the land of Laos and made a profit.
"If you want to do business in a foreign country, you have to be hard-working and brave, especially to understand the local language to expand your relationship," said Mr. Bay.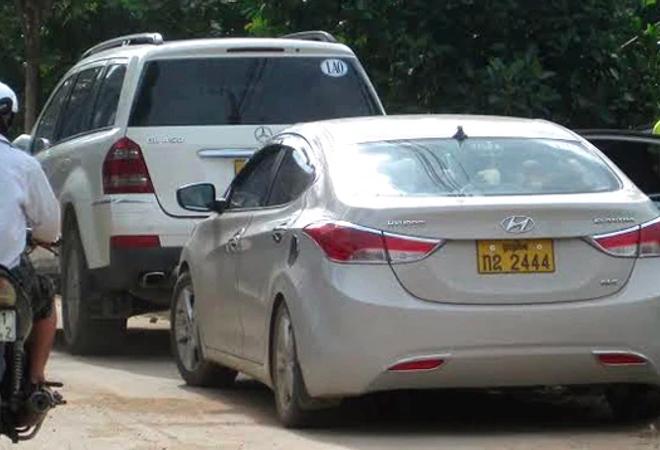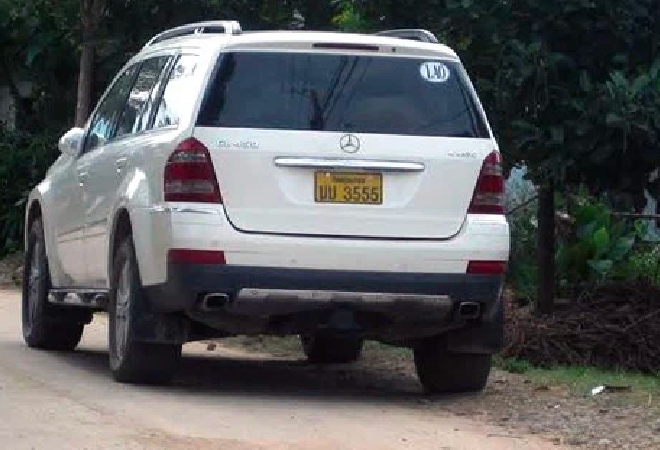 Many people return to the village with luxury cars with Lao license plates.
However, because of the large number of people going to work in Laos, there are only old people, women and children left in village 5, Hoa Khuong commune. Young men in the village only need to finish middle school and high school to go abroad to work until the Lunar New Year to have the opportunity to return. Many people go to Laos to set up a business and get married, some go back to their hometown to get married and have children, then send their children to their grandparents to take care of, and the husband and wife take each other to Laos to do business. Hamlet 5, Hoa Khuong commune, is only bustling every New Year and Spring, but it's normal because it's deserted and dull.
You are reading the article
Famous village of giants: Going abroad and then rising quickly, villas are scattered all over and the dark side is little known

at
Blogtuan.info
– Source:
Eva.vn
– Read the original article
here