Life Style
Xã Hội
Little known story about foreign prisoners serving sentences in Vietnam
Vinh Quang Prison (Ministry of Public Security) in Dao Tru Commune, Tam Dao, Vinh Phuc is currently holding about 4000 prisoners. This place is the largest detention center for foreign prisoners in the North.
Senior Lieutenant Colonel Nguyen Duc Phuong, Superintendent of Vinh Quang Prison, said that at present, Vinh Quang prison is managing and detaining more than 350 foreign prisoners with nearly 20 nationalities, of which mainly Lao and Chinese. The nature and extent of crimes committed by foreign criminals are very diverse. However, mainly possession, sale and transportation of drugs and crimes related to fraud and appropriation of property in cyberspace.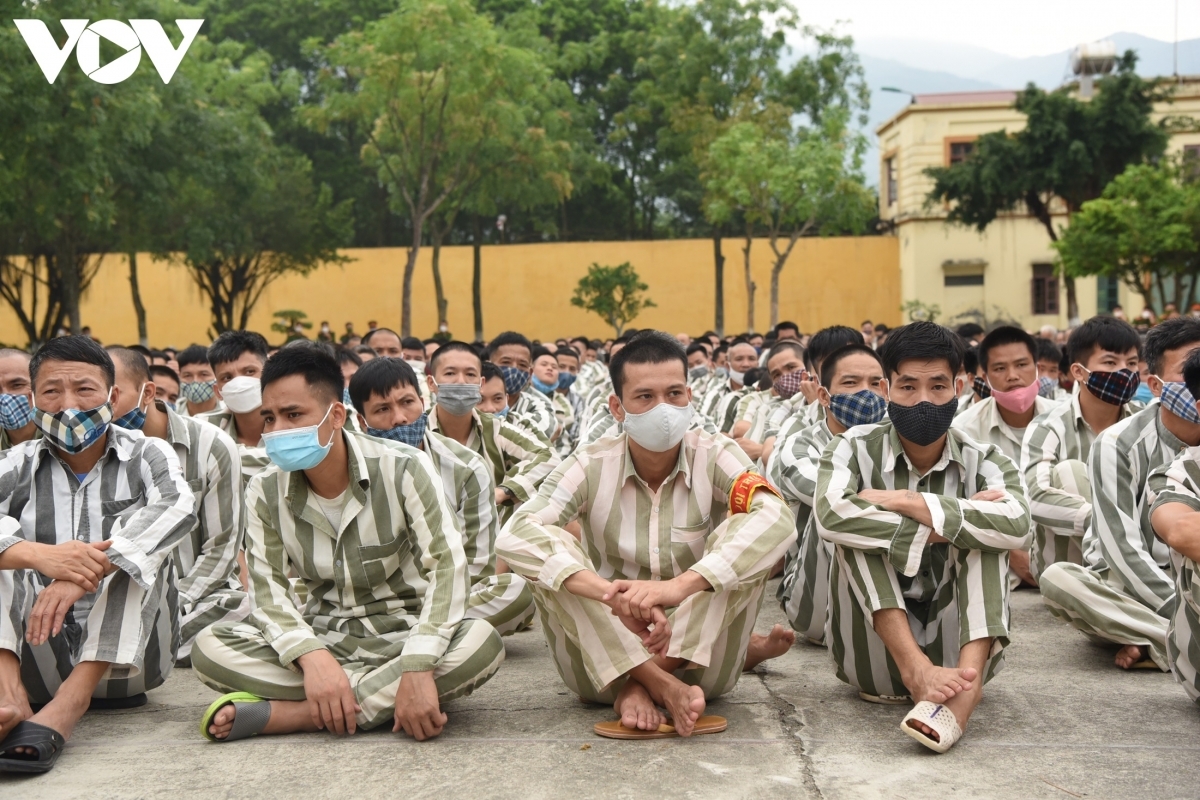 On the occasion of April 30-May 1, in the celebration of the Liberation of the South and reunification of the country, Vinh Quang Prison considered reducing the sentence for 8 foreign prisoners serving their sentences here. In order for the review to be open, transparent, and to the right audience, Colonel Nguyen Duc Phuong said, in addition to propaganda, the Board of Supervisors has asked prison officers to organize meetings of inmates' teams, introduce and comment. and secret ballot the eligible prisoners, the amnesty criteria are transferred to the board for consideration and approval.
When I get out of prison, I will work as a volunteer to propagate drug prevention
As a Nigerian, inmate Chimechidike Ben served his sentence at Vinh Quang Prison for nearly 13 years for the crime of brokering and illegally transporting drugs. His sentence to serve is life in prison.
When he learned that he received a life sentence, inmate Chimechidike Ben just wanted to "hang him and die quickly" because of the uncertain future ahead. However, when he returned to Vinh Quang Prison, with the enthusiastic help of officials and the Supervisory Board, the inmate regained his composure.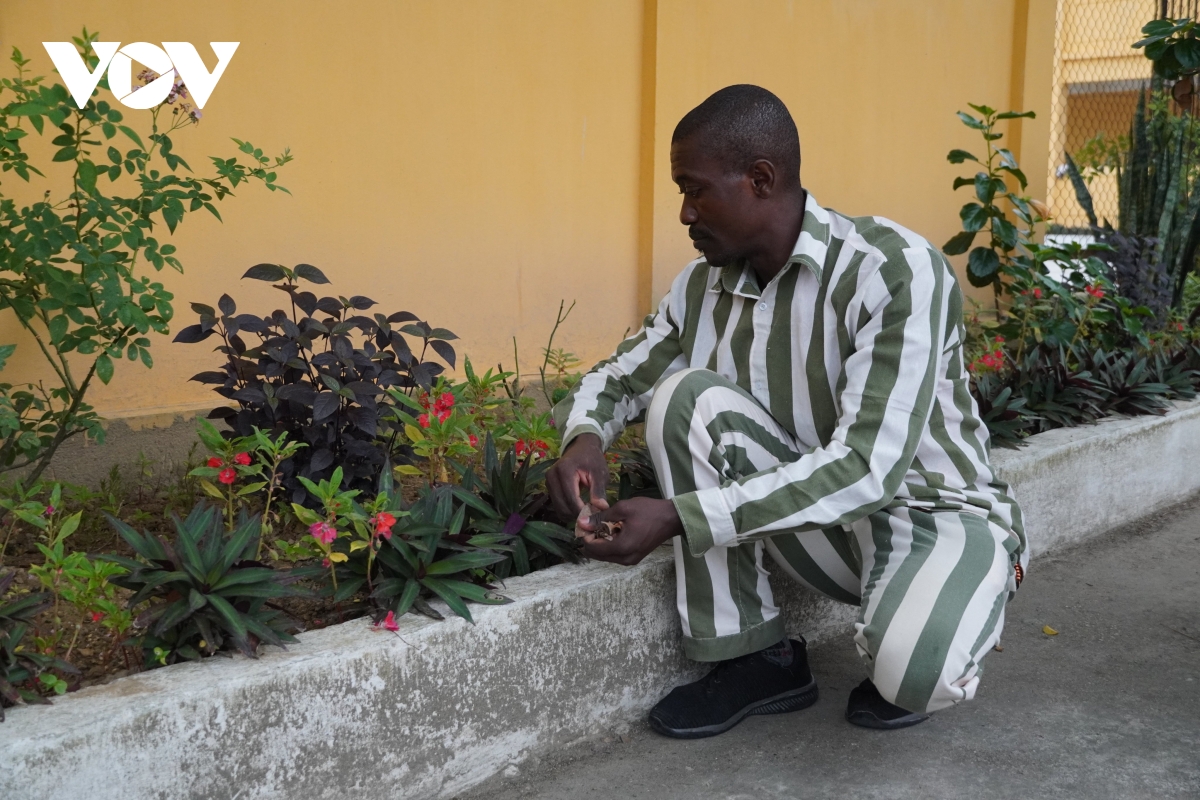 "At that time, I did not understand Vietnamese law, so I did not know that the sentence I had to receive was so high for transporting that amount of drugs. If I had known in advance, I wouldn't have done it. When I first served my sentence, I was very sad, I blamed myself for not understanding so I had to pay a high price. After serving my prison sentence, I will become a volunteer to propagate drug prevention," said Chimechidike Ben.
Chimechidike Ben shared, in 2007 he went to Vietnam to travel, then because he loved the country and people of Vietnam, he came here to trade and teach at a famous foreign language center in Ho Chi Minh City with a high level of education. salary 80 million VND/month. In October 2007, Chimechidike Ben fell in love and married a Vietnamese girl. His wife was working for an insurance company at the time.
"After being arrested and convicted, I realized it was a big mistake. Before being arrested, I also used to hire some people to participate in drug transportation. The arrest was the first time I was directly involved. I was arrested while in Hanoi, at that time I went to Hanoi to pick up some people from India carrying drugs to Vietnam. I was arrested on June 18, 2009, while boarding a taxi to Noi Bai airport to fly to Ho Chi Minh City "- Chimechidike Ben recounted.
Receiving a life sentence, having served his sentence at Vinh Quang Prison for 12 years and 10 months, Chimechidike Ben has never stopped agonizing over his mistakes: "When I was first arrested, I missed my wife very much. family. To this day I still cry. I will definitely never make this mistake again. Now I've lost everything, so I just want to have time to start over."
As a foreign inmate serving a sentence at Vinh Quang prison, Chimechidike Ben said that he always receives the attention and education of officials here: "For ten years in prison, I was well taken care of, eating and drinking. good. Sometimes when I see my hometown on TV, I cry. When I got out of prison, the first thing I did was go back to my mother to apologize to her and her family. And if I have the opportunity, I will come back to Vietnam to travel and visit again the managers here."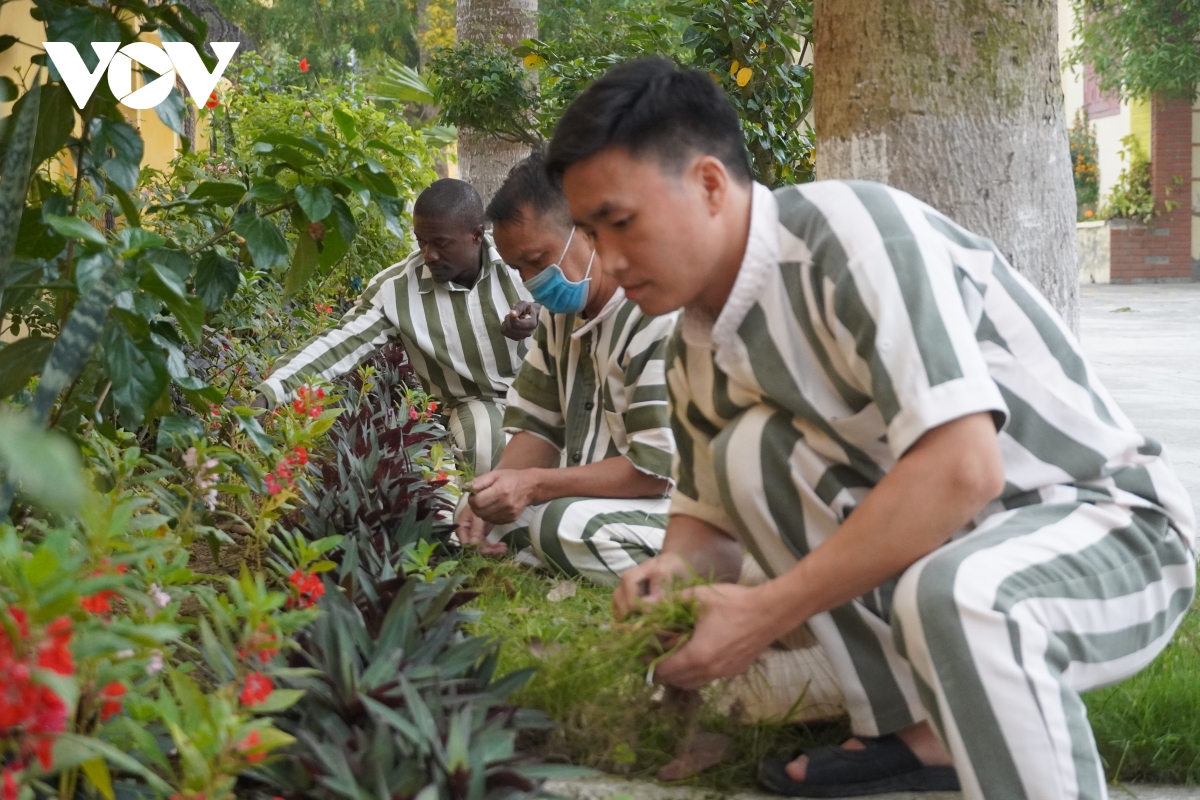 According to Ben, his drug trafficking case is relatively large, according to Vietnamese law, he must be executed, but because he is a foreigner, his sentence is reduced to Life in prison. During the re-education process here, with the help of camp officials, Ben's good rehabilitation should be considered to reduce his sentence to 30 years.
"Every cell has rules, I try to abide by them. During my sentence here, before the COVID-19 epidemic broke out, a representative of the Embassy visited me twice a year. During this complicated epidemic, the embassy visited once. My family wanted to visit me, but I stopped and encouraged everyone not to come up because I was well taken care of here."
While serving his sentence here, Chimechidike Ben worked as a rattan knitting job. Ben does a great job with this. In the camp, there are cultural and sports activities, which he all participates in. Ben added that, from the moment he entered Vietnam, he and his friends all really liked the country and the people of Vietnam, they were very happy and comfortable. In the camp, too, Vietnamese inmates have delicious food brought by their families to share with foreign prisoners.
"The prison staff, too, care a lot about foreign prisoners, and we always give priority to everything they do," said Ben.
Foreign prisoners are also entitled to reduced sentences and parole in accordance with regulations
Also a foreign inmate serving sentence at Vinh Quang Detention Center, inmate Cu A Nhia, SN 1986, Lao nationality was sentenced to 7 years and 1 month in prison for the crime of "illegal transportation and possession of narcotics".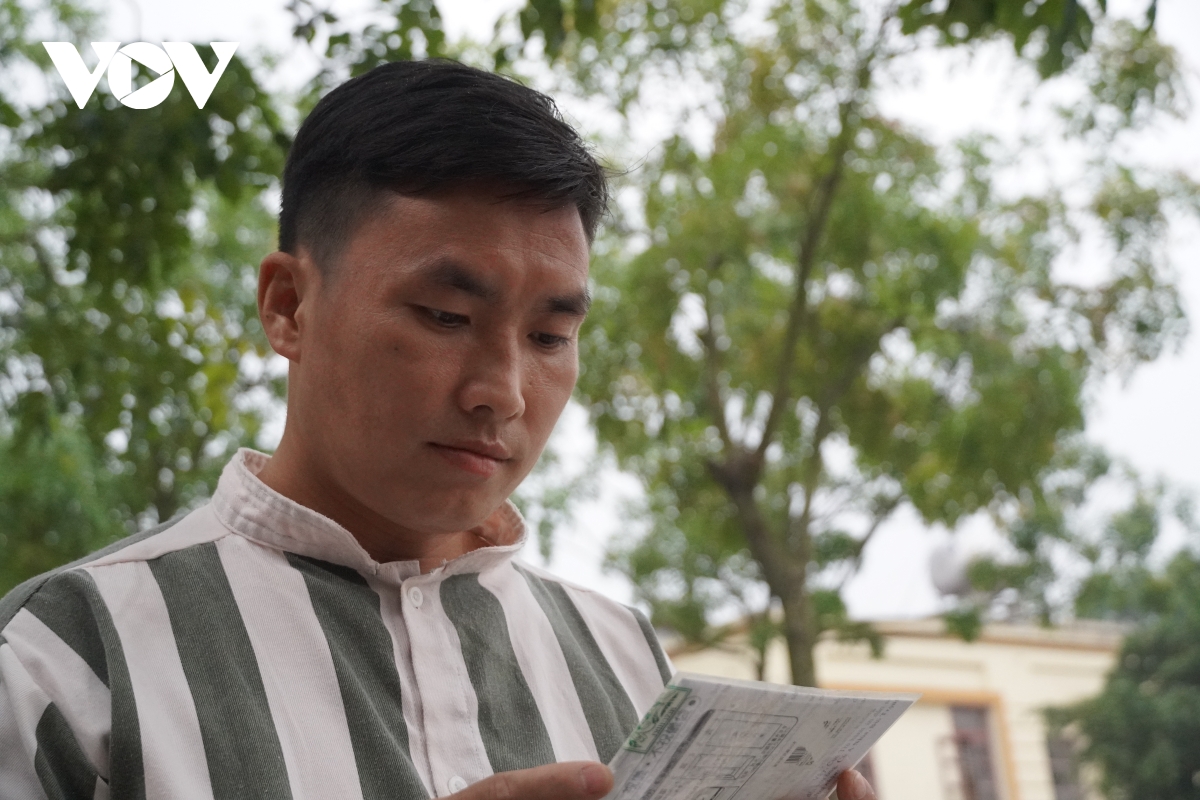 With a healthy appearance, rosy skin, Cu A Nhi is the father of 4 children. The oldest is 16 years old. A Nhia said that when he was first arrested, he was in the same mood as the foreign prisoners serving their sentences here. Those are homesickness, homesickness, confusion, anxiety about not knowing what difficulties they face in the execution process due to language barriers. However, after a period of renovation, everyone is more secure.
"I got my sentence reduced three times, the first time was 10 months, the second time was 14 months, the third time was 18 months. Two more reductions and I will be able to return to my family," said inmate Cu A Nhia.
Talking to PV VOV.VN Senior Lieutenant Colonel Nguyen Duc Phuong, Superintendent of Vinh Quang Prison, said that normally all prisoners with foreign nationality come to Vietnam for many different purposes. When committing crimes and entering prison, these subjects do not know the rules and regulations of Vietnam in judgment enforcement. There are inmates who are very confused, have not yet determined the ideology to strictly abide by the prison rules, participate in re-education to enjoy the leniency policy of the Party and State of Vietnam.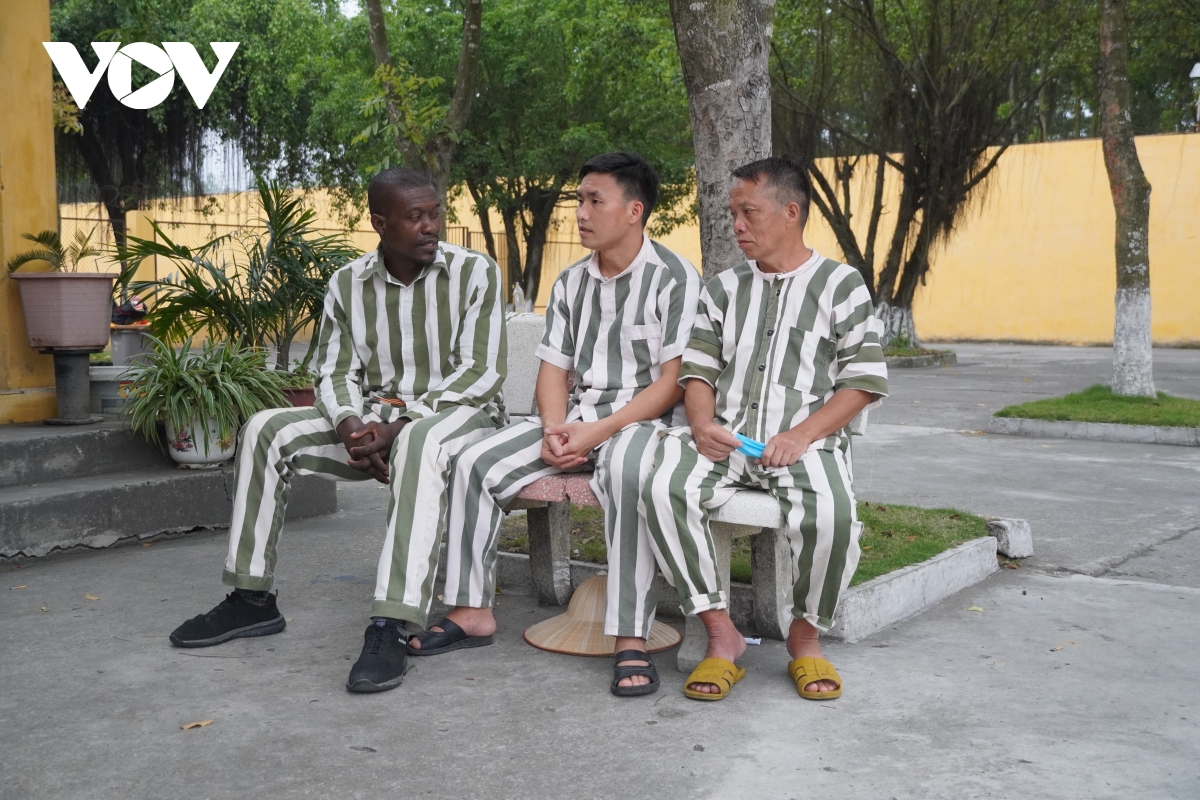 Through the work of education and persuasion, these inmates gradually see the leniency policy of the Party and State, along with the attention of the Board of Supervisors, after a while they understand and comply well.
"At Vinh Quang prison, we also did our best to convey the content and humanity of Vietnamese law, the rules and regulations of Vietnamese law to inmates so that they could accept it. practice well and understand the humanity of Vietnamese law. We have to use propaganda through billboards, posters, etc., especially, we have to make use of propaganda through foreigners who know Vietnamese and have the same nationality," said Senior Colonel Nguyen Duc Phuong.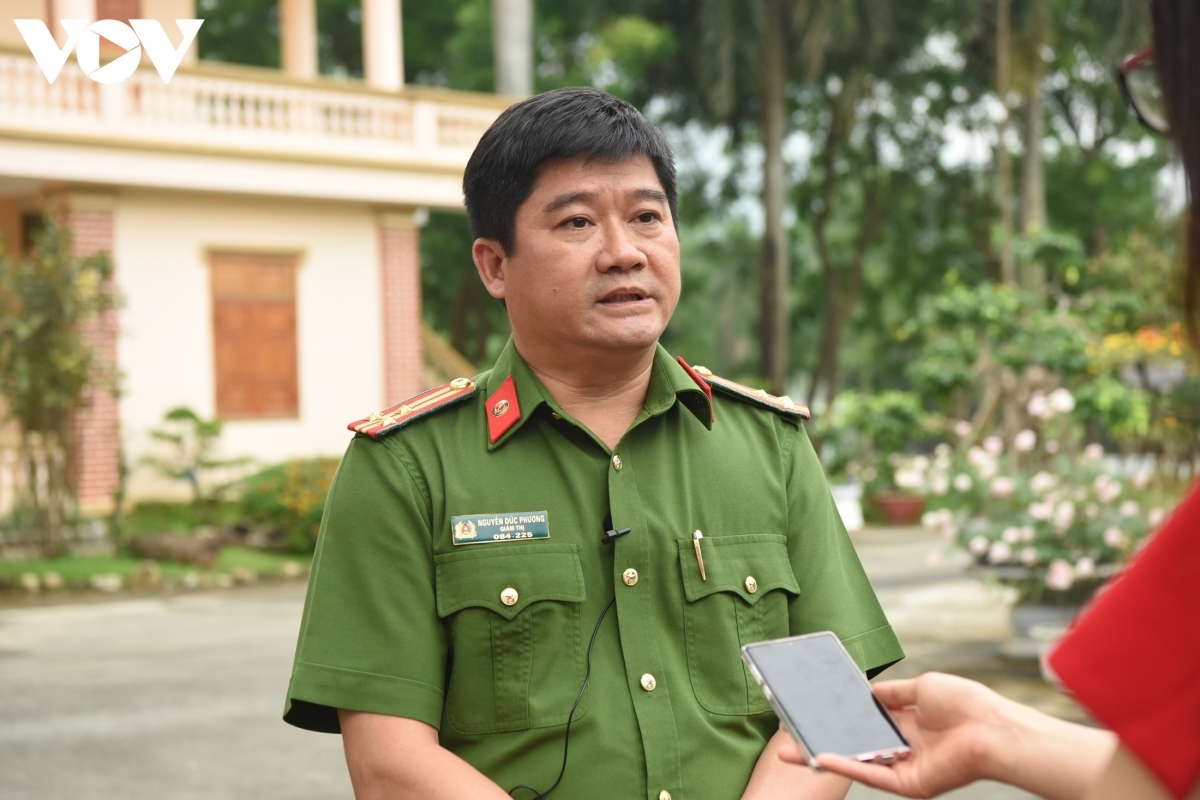 According to Senior Lieutenant Colonel Nguyen Duc Phuong, after being educated and persuaded, inmates still intentionally violate prison rules, according to regulations, the unit must use measures such as reprimands, warnings and other forms to make sure ensure the strict deterrence of the law. Thereby, also to let foreign prisoners serving sentences in prisons see, well-executed will be rewarded and violators will be disciplined. This is also one of the criteria for classifying prisoners. Senior Lieutenant Colonel Nguyen Duc Phuong affirmed that all inmates are re-education at Vinh Quang Detention Center, regardless of skin color, nationality and religion. When they participate in labor and reform well, their sentences will be reduced.
You are reading the article
Little known story about foreign prisoners serving sentences in Vietnam

at
Blogtuan.info
– Source:
Kenh14.Vn
– Read the original article
here