Suggested dinner this afternoon will have the following dishes:
– Braised carp with galangal: 70,000 VND
– Boiled gourd: 8,000 VND
– Tofu with onions: 10,000 VND
– Kimchi cabbage: 10,000 VND
Total: 98,000 VND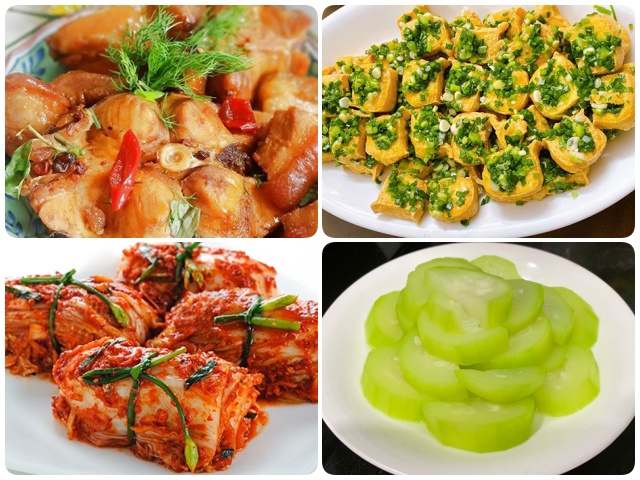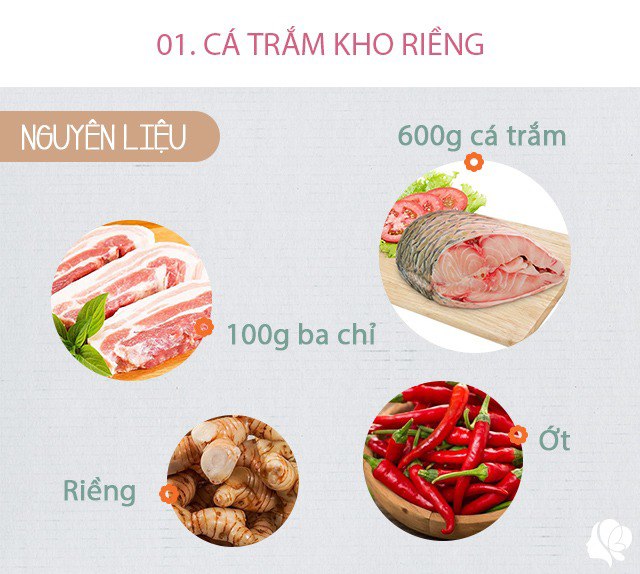 Preparation: – Carp: 600g – Bacon: 200g – Galangal tubers – Onions, laksa leaves, dill – Spices
Clean the fish, drain the water, and then marinate with a little soup powder, monosodium glutamate, pepper, soy sauce. Sliced ​​areca tomatoes, sliced ​​peppers, thinly sliced ​​galangal, onions, laksa leaves, and dill. Bacon just washed, cut into squares.
In turn, arrange galangal and tomatoes on the bottom of the fish stock pot, followed by bacon and fish. Add 2 tablespoons of fish sauce, 1 tablespoon of soy sauce, and sliced ​​chili to the fish stock pot and then put it on the stove to cook for about 30 minutes. During the fish stocking process, when the pot starts to boil, add 1.5 bowls of rice and filtered water. When the pot of fish stock runs out of water, add a little onion, laksa leaves, dill, and then turn off the stove. Let the fish cool down, then transfer to a plate and serve with hot rice. Braised fish, when eaten cold, the meat will be firmer and more delicious.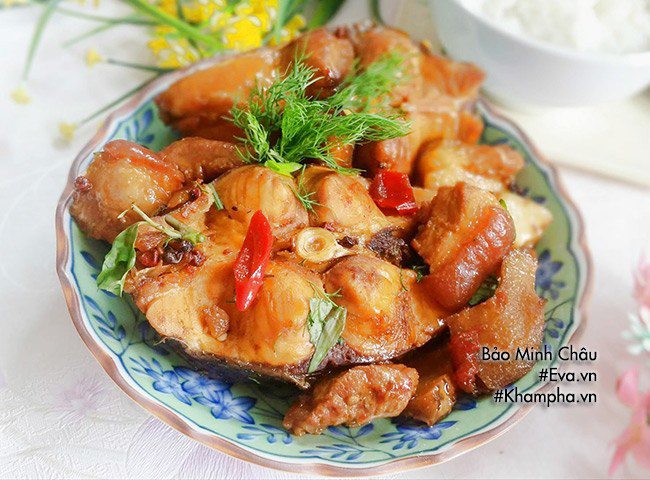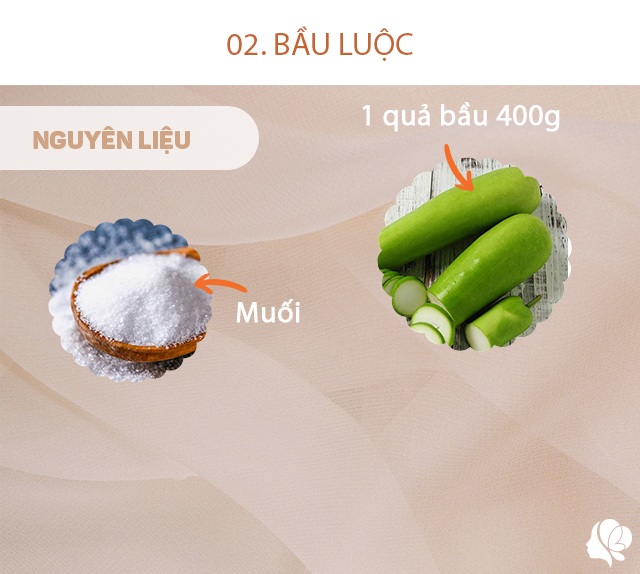 Preparation: 400g gourd, 1 little salt
Gourds peeled, washed, then cut into bite-sized pieces. Boil a pot of water, add a little salt and then boil the gourd until the inner core of the gourd turns clear because it is removed. Generally only a few minutes. Boiled water used to make soup.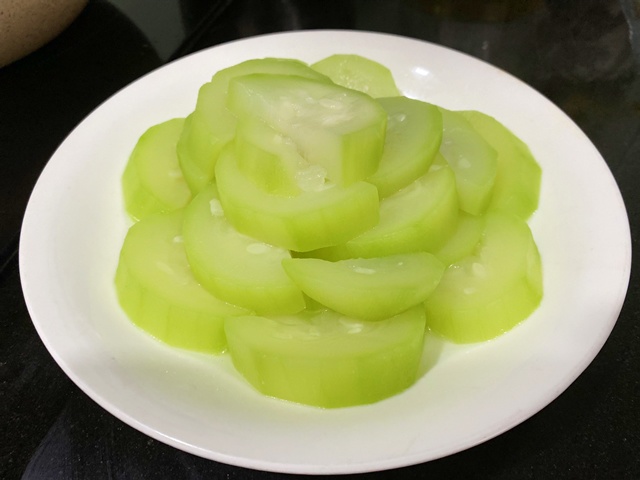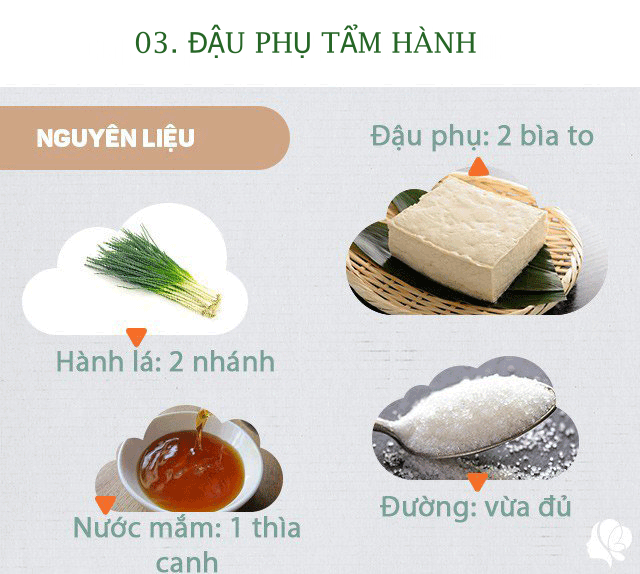 Preparation: 2 large tofu covers or 3 small ones, 1 tablespoon fish sauce, a little sugar, 2 branches of scallions.
Tofu cut into bite-sized pieces, drain to avoid splashing when frying. Sliced ​​scallions. Mix 1 tablespoon of fish sauce noodle soup with 3 tablespoons of water, a little sugar. Add the green onions and stir well to dissolve the sugar. Fry the beans until golden brown, then pick up each piece of beans and dip them in a bowl of freshly mixed fish sauce. Put the beans on a plate, put the onion in the bowl on top.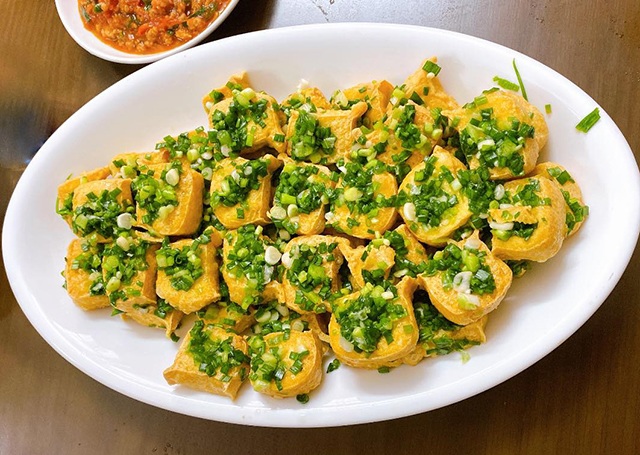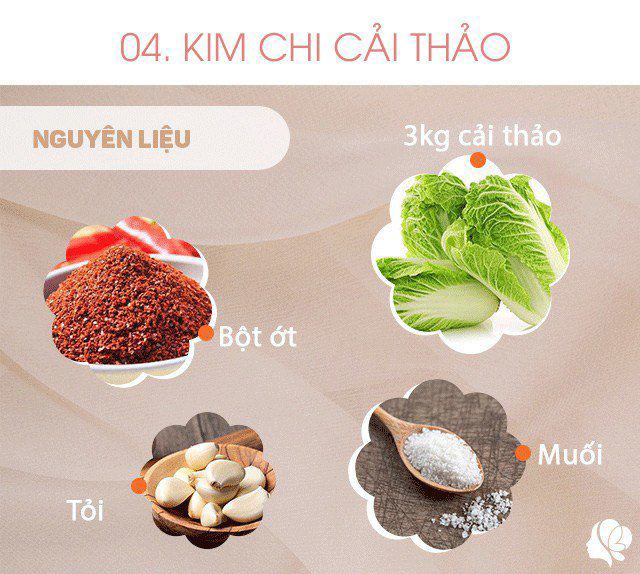 Preparation: – Cabbage 3kg – Salt 70 grams. Sauce: – 2 cups water, 2 tablespoons glutinous rice flour – 2 tablespoons brown or white sugar. Vegetables: – 2 white radishes, 1 carrot – 7 to 8 finely chopped scallions, Finely chopped shallots. Spices: – 1 minced garlic, 2 teaspoons – 1 cup fish sauce, 2 cups hot chili powder, fermented salted shrimp. Tools needed: – Knife, large mixing bowl, food preparation gloves, container
Cut the cabbage into 4 equal parts lengthwise, then put in a large basin of water and wash to make the cabbage wet. Sprinkle salt between the leaves by taking each cabbage leaf and rubbing the salt over it. Use more salt closer to the stem and where the leaves are thicker. Leave for about 2 hours. You can occasionally scoop a little salt water from the bottom of the pot to the top to allow the cabbage to soak more thoroughly if you wish.
After 2 hours wash the cabbage with clean water again to remove salt and dirt. As you wash, split the sections in half along the slots you cut earlier. Cut off the cores and place them in a strainer to drain.
Make kimchi sauce: Combine 2 cups water and 2 tablespoons glutinous rice flour in a small saucepan. Mix well with a wooden spoon and cook for about 10 minutes until bubbles start to form. Add sugar and cook stirring for 1 more minute. Then turn off the stove to cool. Pour sauce into a large bowl. Add garlic, ginger, onion, fish sauce, fermented salted shrimp and hot chili powder. Mix well with a wooden spoon until the mixture turns into a paste. Add the radish, carrot, and green onion, plus the shallot and mix well.
Spread the sauce on the cabbage leaves: Spread the sauce mixture evenly on each cabbage leaf, rub the cabbage to infuse the spices and put it in your plastic jar or container.
Fermentation: Kimchi will begin to ferment a day or two at room temperature, depending on the temperature and humidity in your room. The warmer and more moist, the faster the kimchi will ferment. Once it starts to ferment, it will smell and taste sour, and pressing on the top of the kimchi with a spoon will release bubbles from below.
Once the kimchi begins to ferment, store it in the refrigerator to use when needed. This slows down the fermentation, which will make the kimchi less sour as time goes on.
Good luck!
You are reading the article
Nearly 100k got a very delicious summer meal, the whole family ate without rest

at
Blogtuan.info
– Source:
Eva.vn
– Read the original article
here